Sansevieria Twisted Sister is not the only variation of sansevieria; Walking Sansevieria is one of them.
In 1943, a Swiss botanical illustrator named Peter René Oscar Bally..
..characterized Walking Sansevieria for the first time.
Plant collectors adore this plant because of its peculiar growth behavior.
The name pinguis comes from the Latin word pinguis, which signifies fat.
There are no underground rhizomes on this plant.
Aerial stolons shoot out of the plant and land on the ground, forming new plants.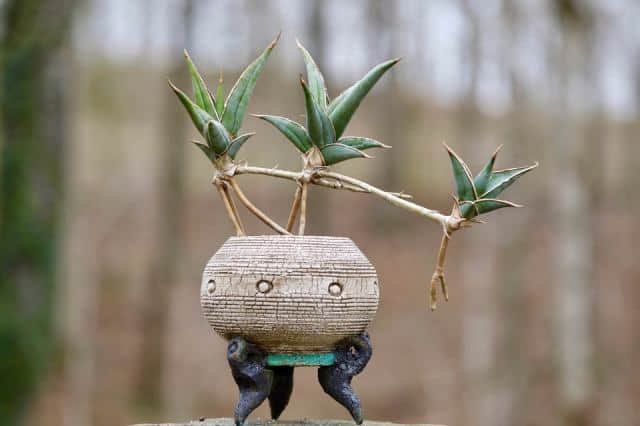 The name Sansevieria means "Walking Sansevieria."
The plant belongs to the same genus as Sansevieria bacularis,…
…which both derive from Dracaena.
It also appears to be a little Agave plant.
If you are wondering whether your snake plant can be braided,…
…we have an article on how to braid a snake plant.
You will be surprised that it can be braided.
Before we start…
Let us hear Rick's story
I have been having a hard time with plants lately..
..but this one is growing.
Already I can feel the sense of awe…
….and wonderment as my fingertips brush over its wide leaves..
..the way they almost seem to be made of feathers.
My Sansevieria Pinguicula houseplant has really taken off in recent weeks..
..so I'm feeling more hopeful…
…about having a green-life in my home. 
This one is for anyone who is thinking about getting a Sansevieria Pinguicula plant.
As someone with years of experience..
..I can't tell you how many times this has happened to me.
You get them home and they just don't seem as healthy as they did at the store.
It's such an awful feeling…
….but it turns out that there are some things you can do..
..to make sure your plants stay happy in their new homes!
Check this out:
The Leaves Appearance
The condition of the leaves can tell you how healthy a snake plant is.
Do you know…
The leaves of the Walking Sansevieria are thick…
…waxy, sharp-spined, pointed, and grouped in a rosette.
They are all the same color, a greenish-blue.
Each leaf is concave and has a large groove.
Reddish-brown edges and tips.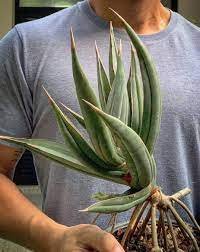 The leaves of an underwatered plant can develop longitudinal grooves.
The Size
It's a little plant that only grows to around 1 foot tall.
This plant can also expand up to one foot wide.
Each leaf is between 0.5 and 1.5 feet long and 1 to 1.5 inches thick.
Flower stalks are only around a foot tall at most.
The Flowers
Flowers are produced on a flower stalk that rises vertically from the rosette.
They are white, brownish, bottle-shaped, and come in clusters of 5-6.
Keep reading…
The rosette will cease growing after flowering, but it will not die.
Even after blooming, stolons will continue to develop.
Toxicity Level
When consumed..
..there's a good chance that this kind is somewhat poisonous.
Both humans and pets may experience gastrointestinal issues..
..as a result of the consumption.
Keep going…
Pests Infestations
Pests are quite unlikely to infest this plant.
Keep the leaves clean by avoiding allowing water to collect in the grooves.
To keep the snake plants away from pests you can spray neem oil.
Nowadays, you can find ready-to-go neem oil spray. We are familiar with this specific brand as they produce many useful products for plants.
Many issues will be avoided as a result of this.
Best Propagate For Walking Sansevieria
Plant division is the most efficient and effective way of propagation.
Leaf-cutting is also effective, but it takes time.
To do so, cut a stolon leaf and plant it to develop roots.
It can be removed and placed in a new pot after the roots are 1.5-2 inches long.
The walking sansevieria has a different shape than the regular snake plants. They have a round branch. Make sure you use a suitable pruner to cut them.
Go on…
Growth Season
This Walking Sansevieria thrives in warmer conditions..
..such as the spring and summer.
In most cases, flowering takes place in the spring.
The plant is dormant during the winter.
Use The Perfect Soil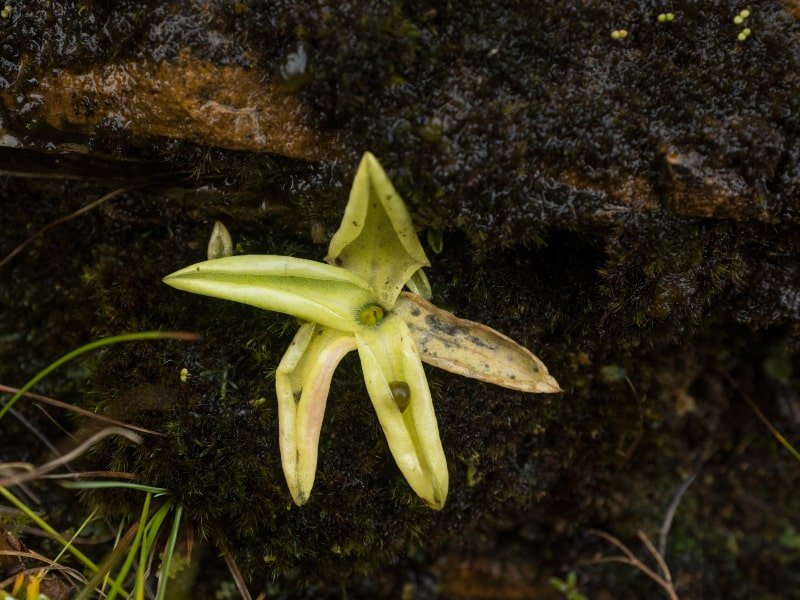 Soil Although it may be planted practically anywhere..
..it thrives in fast-draining, porous soil.
A mixture of organic and inorganic substances is recommended.
In a typical soil, combine coconut coir, gravel, perlite, or peat (max 50 percent ).
Succulents can also be grown in potting soil.
Make sure the soil is able to drain water easily.
Water Requirements
This plant is drought-tolerant and doesn't need to be watered frequently.
Before each watering, let the soil completely dry.
During the growing season, watering can be done once every 1-2 weeks.
Water once a month or less regularly throughout the winter.
Allowing the soil to remain damp for an extended period of time..
..is not a good idea, especially during the winter.
Light Requirements
It can withstand situations ranging from full sun to deep shade.
For growth, bright indirect sunlight is optimal.
In tropical climates, outdoor plants prefer shade or semi-shadow.
It can withstand full sun in non-tropical climates.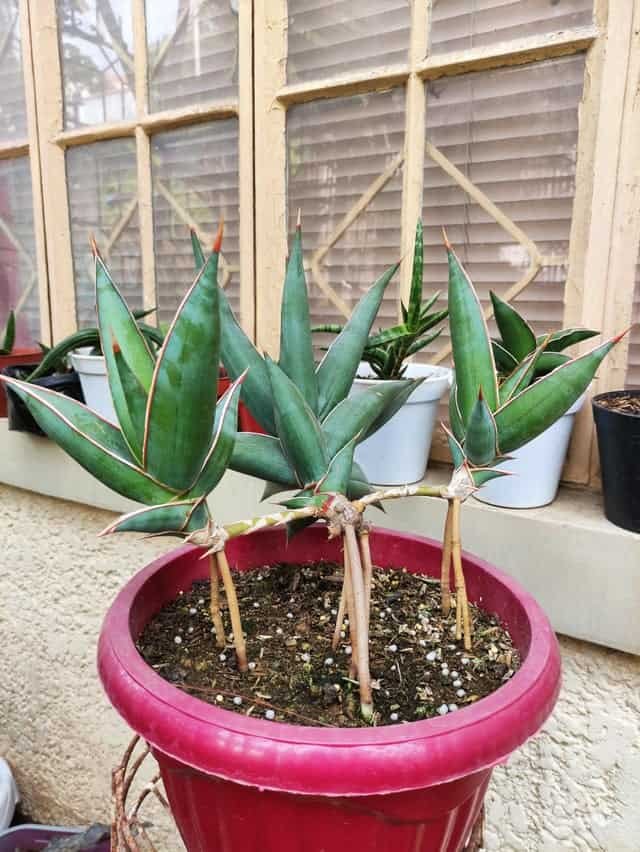 You're almost there…
Best Temperature
Usually, Walking Sansevieria recommended growing the temperature…
…range is 77-95°F (25-35°C) during the day..
..and 50-68°F (10-20°C) at night.
It can withstand freezing conditions if kept dry..
..but frost is better avoided.
The plant will die if the soil is wet and the temperature is below 45°F (7°C).
To Sum Up
Walking Sansevieria is a small, blooming shrub found in Kenya's driest areas.
This hardy plant may grow in a variety of conditions, from clay to bare rocks.
It is distinguished by its stilt-like roots.
They're thick and succulent, and they store water and nutrients.
The plant is held slightly above the soil level by its roots.
Conclusion
The Walking Sansevieria as known as Sansevieria Pinguicula..
..is native to eastern Africa. It is specifically found in most arid regions of Kenya.
You should have this one to add to your Sansevierias collection in 2021!
Or you might also be able to add the rare Sansevieria Golden Wendy in it.
Check out more of our posts like this one here!
  Let's hope you can take care of your snake plant well and grow it to its full potential now!
Thanks for reading this article! Bye!
Related Articles For You