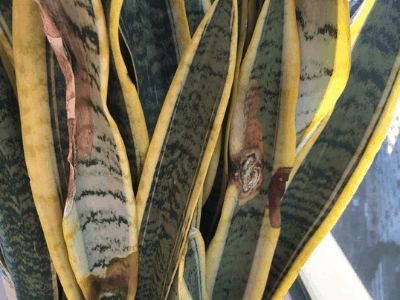 The snake plant species can withstand harsh weather conditions…
… and temperature extremes very effectively.
But the plant doesn't work for everyone…
The plants' leaves of some readers are turning brown in spots and tips, but why?
Let's examine the root cause, but first…
Hear it from Hailey!
Well, browning in my houseplants is a very common thing to see…
I tend to leave them be, because usually new leaves may occur…
But this time, it was different…
My houseplants' leaves are browning gradually, thoroughly…
I suspect something wrong might have had happened…
… but I can't seem to figure out the cause.
Don't be like Hailey…
You should always look after your houseplants…
… and maintain them for their and your goodness sake.
Here's an article to help you out if you seem to encounter a problem like Hailey's…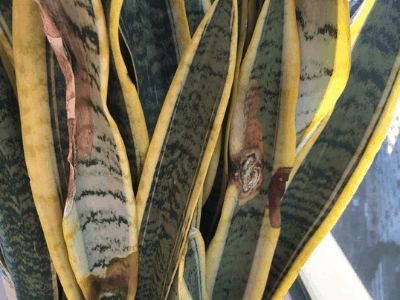 It is common for snake plants to have brown leaves due to overfertilization…
… inadequate watering, direct sunlight, and pest infestation.
A brown tip indicates a lack of water and excessive light…
… while brown spots indicate pest infestation and overwatering.
We should be able to figure out whether or not the plant itself is facing any stress or issue…
… despite being a tough warrior.
Plants communicate signals or symptoms to us that we must be aware of in order to care for the plant…
So we know that plants respond to their environments in sophisticated, complex ways — far more complex than most of us realized a few years ago.

Ted Farmer, a Botanist at University of Lausanne in Switzerland
One of the study that can explain this is found in this journal…
The snake plant's browning could be because of several reasons…
We will have to identify the issue first and then proceed with the nurture…
Don't worry. We'll simplify your life and that of your plants.
Let's get straight to it…
How To Identify Browning?
We need to decode the issue step by step to correctly understand the plant's symptoms…
The first rule here is to never solve all the issues at once because the plant is already stressed…
… and it might die if you try to solve all the issues at once. 
Consequently, we always try to fix a single issue first…
We will now examine our Snake plant…
What do you see? Where are the brown spots? 
Snake plant leaves can be brown in two ways: 
Edges or tips of leaves browning 
Brown spots on the leaves 
There are different reasons for both scenarios, so they can happen at the same time…
In this guide, we will explain what your Snake plant is trying to tell you…
Let's explore each topic individually…
Snake Plant Has Brown Tips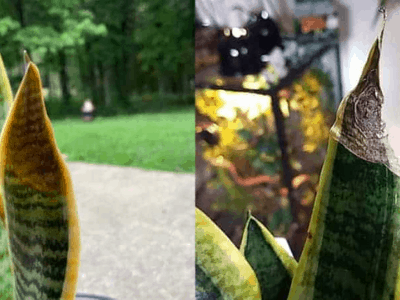 Because of its sturdiness, Snake plants are gaining popularity among plant owners and new hobbyists…
Despite being able to thrive in harsh conditions, this beautiful plant is a living thing…
… so it is bound to go through rough patches. 
Brown tipped snake plants can be caused by many reasons…
We describe a few reasons that may contribute to brown tips, and offer a solution for avoiding such situations…
There are a number of reasons behind the brown tips, including: 
Direct Sunlight 
Overfertilization of the Snake plant 
The Pest Situation 
Watering Problems 
Stress caused by the Cold weather/ Cool draft 
Changes in the environment 
The type of Water 
Here are some causes of browning snake plant tips that may be common…
However…
The list is not exhaustive in this situation…
The following is the most likely reason the plant is showing the above symptoms…
… but it may show the symptoms for some other reason simultaneously. 
Let's take a closer look at each topic and find out how they affect the Snake plant…
Direct Sunlight
Despite being drought tolerant, they are no match for the snake plant, which can be grown outdoors…
It's a bad choice to plant a Snake plant in your home or garden directly…
Although it is possible that your snake plant survive in direct sunlight, it will need to adapt first…
People who live in Siberia cannot adapt to the tropical areas instantly…
Instead…
They will need to adjust to the heat of the region and adjust to the changing season…
You can possibly move your Snake plant into the direct sun or into the garden gradually…
You should never move a plant from one extreme to another…
… as this causes stunted growth and stunted growth is not good for a plant.
Keeping your snake plant in direct sunlight will cause brown tips…
… if it is mostly indoors and does not receive enough direct sunlight.
Furthermore…
Leaf burn occurs when exposed to excessive sunlight…
For this, we will need to make sure the plant is well taken care of. Pruning is a solution!
You can either prune the brown tips of the leaves or remove the whole leaf if the damage is significant…
Decide what needs to be done, and then proceed…
It is difficult to prune, and one might find it hard, but the damaged leaves will do no good to the plant…
Plants that are taken good care of are likely to grow healthy leaves…
Before beginning our pruning, apply some rubbing alcohol to a clipper/pruner…
Once the plant has been pruned, please water it gently and keep it in good condition…
If you intend to provide direct sunlight, gradually increase the amount of sunlight by up to an hour a day…
That will make it easier for your Snake plant to adapt to direct sunlight and thrive under it…
Overfertilization of the Snake Plant 
Any plant requires fertilizer in order to grow properly…
… since fertilizer provides the plant with the necessary nutrients it needs to grow. 
Snake plants in the same nature also require fertilization…
Among snake plant problems…
… overfertilization and overwatering are two prevalent ones.
You need not worry about these two situations if you are just beginning your hobby…
The mother-in-law's tongue is not upset about overfeeding. How wonderful! No complaints, no demands! 
Users fertilize snake plants only a couple of times a year and then continue doing so the following year…
Only in the growing season can snake plants be fertilized two-three times…
During the autumn, we reduce the feed by 70%…
Snake plants don't require fertilizer during the winter, which is the dormant period…
Note also that snake plants are offered a very dilute solution of balanced 10:10:10 or 20:20:20 fertilizers…
Snake plants that have been overfertilized will show signs like brown tips and wilting…
They can also droop their leaves and shed them…
In case the plant is neglected further, it may lose interest in you. Therefore, be careful with feeding…
During the growing season, feed a very dilute solution once a month…
How can We Correct the Overfertilization?
Place the plant in running water and flush out the excess fertilizer…
Repeat the process 3-4 times until the excess fertilizer is removed…
In case things have gotten worse, we can repot the plant in a different pot…
The plant should be healthy again once the excess nutrient is removed…
Do not fertilize for at least a month. Take care of the watering situation, and the plant should be happy again…
The Pest Situation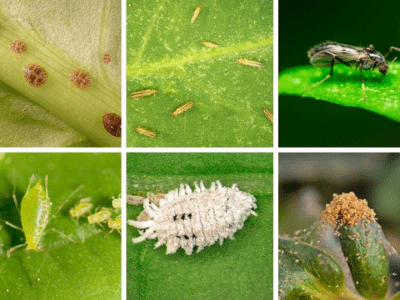 Snake plants are robust so that they can survive in harsh conditions…
… however they are vulnerable to insects like mealybugs, spider mites, and aphids. 
Overwatering causes root rot which attracts pests…
Additionally…
It is also possible for the pests to be imported from another plant that is already infected…
The plant should always be examined closely whenever it shows brown tips and checked for bugs…
If a snake plant has been infested, its tips turn brown…
We have become accustomed to the word quarantine in this epidemic…
… and we will use it with our snake plant as well. Isolate it from the other plants. 
Isolating the infected plants will help reduce the propagation of the disease…
There are two options we can use to treat the situation…
Go all organic 
Use of pesticides 
Our Snake plant treatment will be made organic by adding neem oil solution to water…
… and spraying this solution on your Snake plant. 
This process will kill the snake plant eggs after they have been laid for about two weeks…
Liquid neem oil mixed with warm water is beneficial…
If we want, we can also choose to use pesticides available on the market…
However, if we choose this option, please follow the instructions…
Avoid adding more pesticides than the amounts prescribed since this may cause even more damage to the plants… 
As the plant is already stressed, it develops brown tips. Once they are relieved, they will grow as they used to before…
Watering Problems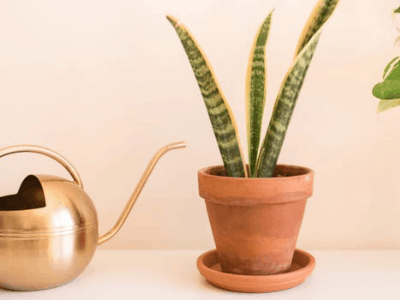 Now, we move on to that most common problem that many plant owners face…
Often, too little water causes issues, as can too much water…
Underwatering Snake plants is the topic we will discuss in this watering problem…
Underwatering Problems
Snake plants need to be watered when the soil becomes entirely dry…
Because they are succulents, water is kept on the leaves…
However, neglecting it too much can also be harmful to the snake plant…
Even though it can tolerate drought conditions, it will show signs of brown inflorescence if left dry for a long time… 
The absence of a schedule can also result in excessive watering…
The plant is considered dry if it is not watered on schedule…
… and the stem will begin to turn brown if more water is added than is needed. 
We can adhere to a watering schedule so we won't forget to water the plants…
We can also post a reminder on the plants before watering them…
The best way to water snake plants is to feel the soil only after it has become completely dry…
Our task is to avoid problems caused by underwatering by following this advice…
Stress Caused by the Cold Weather
Snake plants can endure temperatures up to 50°F (10°C) during the winter…
We need to ensure that the plant doesn't go below this temperature…
It is important to check the position of indoor plants…
If the plant is kept in a southern window, the cold draft will damage the plant…
Due to the cold draft we'll see brown tips…
It is also recommended that the snake plant be kept away from radiators to avoid it being affected…
The draft from radiators is too extreme for the plant…
Since snake plants do not complain and do not require high humidity during the winter…
… maintaining humidity is a must.
Snake plants prefer humidity levels between 40-50%. Maintain humidity levels with a humidifier.
Changes in the Environment 
What does Snake plant change in the environment mean?
Snake plants thrive in extreme environments, inside and outside…
They can be grown as house plants or outdoor plants…
Don't make the plant move from one extreme to the other…
As we define above…
If snake plants live in an indoor environment…
… then the necessary conditions must be provided gradually to bring them outside in the garden.
Under these conditions, all types of plants will develop stress, leading to stunted growth…
Provide direct sunlight every day for a few hours if we want to keep it outside the house…
Do it for several days, then increase it slightly, and you'll be fine…
Once the plant adapts to changes in the environment, it will not show any symptoms…
The Type of Water 
A high chlorine content in the available water in some places is harmful to Snake plants…
If too much chlorine is dissolved in the water, the snake plant will develop brown tips…
How to avoid the situation?
It is recommended to boil regular tap water to remove excess amounts of chlorine in the water…
… and help you avoid this situation. 
Water the snake plant with this cold water and leave it to cool…
Chlorine is only added at safe levels for human health, but some plants may be adversely affected by it…
It is crucial that the water be cooled down before watering the plant…
Snake Plant Has Brown Spots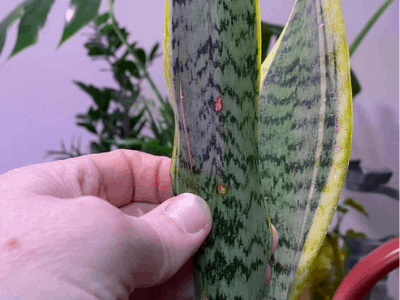 The reasons behind the brown tips are described above…
However, brown spots are somewhat different from the brown tips…
There are a few reasons why the leaves can appear brown, and we shall look into them:
Overwatering situation 
Pest Condition
Let's get to know them all…
Overwatering Situation
Underwatering causes the snake plant to develop brown spots on its leaves…
… while overwatering causes the snake plant to develop brown tips. 
A common problem with succulents is overwatering…
Since they are succulents, they need much less water…
… and should be watered only when the soil is completely dry. 
Overwatering will cause the Snake plant to wilt and its leaves to droop…
The snake plant is being overwatered, and the leaves are developing brown spots and changing their color to yellow… 
Overwatering must be dealt with immediately and without fail as it can kill the plant…
A brown spot on the leaves is commonly referred to as leaf blight or leaf oedema…
The plant may develop a root rot if the situation is neglected further, and we don't want a root rot…
How to avoid the situation?
This situation can be avoided by: 
Make a watering regime.
You should always feel the soil before watering a plant. If the soil feels wet, you should not water the plant. Let the soil dry completely before watering. 
You should check for blocked drainage holes and clean them if necessary.
Plants should not stand in still water.
If required, repot the plant.
Pest Condition
It has been established that snake plants will suffer from root rot if left undisturbed after overwatering…
If the snake plant has root rot, then pests cannot be averted…
The snake plant can develop brown spots on the leaves due to the pest situation…
The pests attack the leaves that are the newest first. The leaves will turn yellow or brown…
Brown spots will also appear on the leaves, and the leaves will start falling off the plant…
As previously discussed in the article, deal with the pest situation…
To sum it up…
The snake plant requires minimal care since they do not require much water…
It only needs a little bit of love and a bit of your precious time in order to thrive…
It is common for snake plants to develop brown tips on their leaves…
… and we have listed all the possible reasons why.
Conclusion
There are still many recent and interesting articles about Snake Plants…
… as well as other unique information from All Things Gardener…
Check out more of our posts like this one here!
I hope you can now take care your snake carefully and grow it big!
Thanks for reading this article! Bye!
Frequently Asked Questions Around Snake Plant Turning Brown
Why are My Snake Plants Turning Brown?
Snake plants are prone to browning and wilting as a result of the scorching summer heat.
The leaves become soft and fall off until there is little left of the plant except for its roots.
Make sure to water your snake plant regularly during this hot weather…
…otherwise it might not be able to cope with the conditions and may die.
Give it plenty of shade during peak hours, too!
How Do You Fix Brown Tips on Snake Plants?
Brown tips on snake plants are a common problem that can be fixed with a few simple steps.
Start by watering the plant adequately, using either lake water or from your garden hose.
If you are using tap water, make sure to treat it before use with any…
…of the various chlorineants available at your local hardware store.
Next, fertilize the plant monthly with a balanced fertilizer that contains nitrogen and phosphorus.
Be sure to mix it well into the soil so that it is absorbed rather than leaching away.
Finally, prune back one or two limbs of the snake Plant whenever…
…necessary in order to maintain an even shape and promote strong growth.
Should I Cut Brown Leaves off Snake Plants?
There is no one-size-fits-all answer to this question…
…as the best way to care for a snake plant may vary depending on its individual needs.
However, generally speaking, you should remove brown leaves if they start…
…to turn yellow or black and develop moisture spots.
You can also trim off older leaves that are starting to droop or become shrivelled.
If your snake plant receives too much sunlight or water, you may want to…
…reduce its watering schedule slightly in order not to stress it out.
Should I Cut Brown Spots on Snake Plants?
Snake plant is a houseplant that needs little to no care, but brown spots can develop on its leaves.
There are a few things you can do to treat this condition:
Use lacquer or an enzyme wash to remove the dirt and dust;
Soak the plant in water mixed with apple cider vinegar (or white vinegar) for 10-15 minutes…
…several times per week; or apply copper sulfate spray directly onto the spoted areas several times per month.
Why is My Snake Plant Turning Brown and Soft?
If you find that your snake plant is turning brown and soft, it may be time to water it less frequently.
Hydrating the plant properly is crucial in keeping it healthy and full of energy.
Aim for a light mist instead of a soaking-type watering regimen when watering your snake plant.
This will allow the soil to stay moist but not soggy, which is important for root health.
As long as you provide sunscreen and indirect sunlight exposure when possible,
Your snake plant should be just fine!
Why is My Snake Plant Turning Yellow and Brown?
If you're noticing that your snake plant is turning yellow and brown, it's likely because of the environment.
Snakes plants are native to hot climates and can't handle cold weather well.
This may cause them to lose water faster than they're able to replace it…
…which will cause them to turn yellow and brown.
If you live in a warm climate or your snake plant doesn't seem too affected…
…by the temperature changes, there isn't much that you can do at this point…
…other than waiting for the situation to improve on its own.
Related Articles!