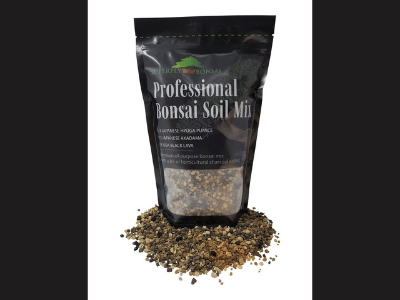 Potting soil has different varieties, according to different types of plants available…
Choosing the best soil for our houseplant is important…
… since soil is the primary medium of where plants receive their nutrients.
Throughout Earth's history, natural cycling of nutrients has occurred from the soil to plants and animals, and then back to the soil, primarily through decomposition of biomass. This cycling helps to maintain the essential nutrients required for plant growth in the soil.

Sanjai J. Parikh and Bruce R. James in Soil: The Foundation of Agriculture
Hear it from Diana!
I once bought a potting soil for vegetables for my indoor plants…
I know how that sounds, bear my rookie mind that time…
I didn't know that there are potting soil for houseplants…
There are even potting soil for succulents, specifically! Just what I needed…
I was so shy to ask for help in the store, due to my social insecurities…
Hence, I just use them for my vegetables instead…
Just imagine how much money I've spent for that particular mistake…
Oh silly Diana…
Now that you've seen the previous part on potting soil for herbs, vegetables, and indoor plants…
It's time for you to seek on the next part…
This article will go deeper through potting mix…
… after first delivering about the best potting mix for succulents.
Best Potting Soil For Succulents
Arid soil is not required for cacti and succulents.
Here's a guide to choosing the best soil for succulents.
It's best to get cactus mixes that contain bark, pumice, and sand…
… since these ingredients can offer smooth aeration and drainage.
Superfly Bonzai Cactus and Succulent Soil Mix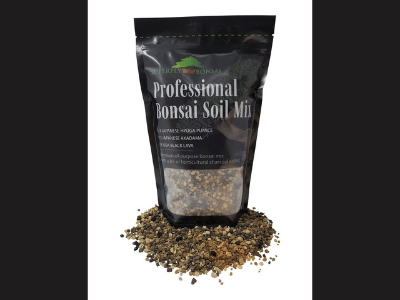 This Superfly Bonzai's Cactus and Succulent Mix is ready to use right out of the package.
Your cactus or succulent will benefit from the nutrients and air circulation provided by all of these ingredients.
You can use it on cactus, succulents, or other ornamental plants because it is not organic.
Apart from water, this mix does not require any other ingredients.
It's also okay to put pebbles in your pot or container if some plants don't like standing in water…
… so consider that some plants may not thrive on water.
You can just use your plant with drainage holes if you don't want to use anything else.
You can purchase this mix in 1.25 and 2.
It drains water and is dirt-free.
5, 6, and 12-quart bags are available.
Lithops will need a deep pot if you're using this as soil for them.
This will help to keep them moist.
Black Gold's Sun Gro Horticulture Cactus Mix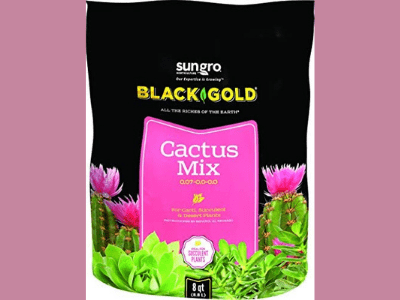 This product is intended for use only in outdoor and indoor containers.
It's good when it comes to draining water..
..and it contains coarse particles that succulents and cacti love.
It should be noted, however…
That this should not be used on plants that are not in the family of cacti, bromeliads, and succulents.
Black Gold's formula or ingredients may also vary in western regions…
… so if you notice a difference in the packaging you should immediately contact Black Gold.
Even though this mix is best for cacti, succulents, and bromeliads…
… you should always use a container with drainage to avoid root rot.
These are the potting mixes that made our list!
Please remember to consider the following things when selecting potting mix for your plants.
If you are still interested in reading about other products that did not make our list…
… go through the other articles on our website.
This part can be read again if you scroll back up!
How To Choose The Best Potting Mix
Depending on the type of plant you have..
..you will need to get the right kind of potting mix.
While there are already many ready-to-use potting mixes available…
… the ingredients used in them are crucial to ensuring that plants will grow healthy.
When selecting the right potting mix for your plants..
..you should consider the following factors:
The Drainage of Potting Soil
You should make sure that your mix allows easy drainage..
..because excess water can drown your plants…
… and this could easily happen since your plants are only in a container.
Contents of Potting Soil
Many plants prefer moist soil, such as Ostrich Ferns and Bee Balms.
Others thrive best in dry soil, such as oregano, thyme, and agave.
You need to look at the ingredients in a potting mix to see if it contains elements…
… that can aerate the mix or hold more water..
..depending on what your plant needs.
Light Exposure
Using grow lights to grow plants indoors won't pose a problem.
The light-weight mixes are useful if you do not need grow lights and are completely dependent on the sun.
Due to less light exposure..
..your soil won't run out of water easily.
The potting mix you should choose for plant that mainly stay indoors…
… or that will be heated will be able to hold water for a long time.
Organic vs Non Organic Potting Soil
Organic and non-organic mixes can allow your plants to thrive, however…
… it is always safe to go for organic mixes..
..if you are growing vegetables or herbs for consumption.
Potting Mix Ingredients Common To Potting Soil
A potting mix is made up of more than just the three main ingredients listed above.
You can get ready-to-use combinations from different manufacturers.
However, it's still a good idea to find out more about the other ingredients that some potting mixes contain.
More details about the primary and secondary ingredients of potting mixes are provided below: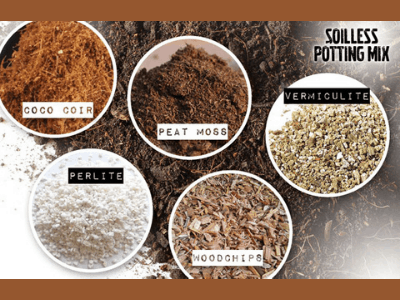 Peat Moss – As it is thick, it helps to hold water in the potting mix. It is also a good source of organic matter.
Pine Bark – You can use it to allow air to circulate within the potting mix.
Vermiculite – As a result of its spongey texture, it is also helpful for aerating the potting mix. Perlite can be used as an alternative. The perlites, on the other hand, are porous, hard, and alkaline. They are sometimes thought of as being the same thing, but they are different.
Manure – In a potting mix, there are two types of manures to choose from: animal manure or compost.
Sand – It prevents from retaining unnecessary water, protecting the roots of your plants.
Plant-Specific Potting Mixes
Because of ready-made potting mixes that are already clearly labeled…
… picking the right potting mix can be easier than you think.
Here are a few plant-specific potting mixes you can find at various gardening supply stores.
Orchid Mix – In order for orchids to thrive, they do not require soil.
Cacti and Succulent Mix – The mix is likely rich in peat moss since it can easily dry out.
Potting Mix for Herbs – It is best to use potting mix for herbs that have really dry soil, like rosemary, bay leaves, and lavender. Potting mix for herbs is typically light-weight, just like the mix for cacti.
Peat-Free Potting Mix – Peat-free mixes are manufactured to minimize the negative impact of peat extraction from plants.
Which Kind Of Soil Is Great For Different Plants
Despite knowing the various components of potting mixes and how they work…
… it can still be challenging to choose the right one.
If you are interested in growing certain types of plants in containers, here is the information you need:
| | |
| --- | --- |
| Type of Plant | Type of Soil |
| Herbs | Mixes that allow for easy drainage, such as Soilless mix |
| Greens/Vegetables | Mixtures that are moist or can hold water for a long time (preferably organic) |
| Root Crops | Planting mixes made from organic materials |
| Cacti and Succulents | Other than succulent and cacti mixes, you can also use peat moss, sand, or coconut husks. |
Comparing The Best Brands
Here we will tell you the best potting mix you can get on the market that will work well with your plants…
… since you already know or at least have an idea of what will work for your plants.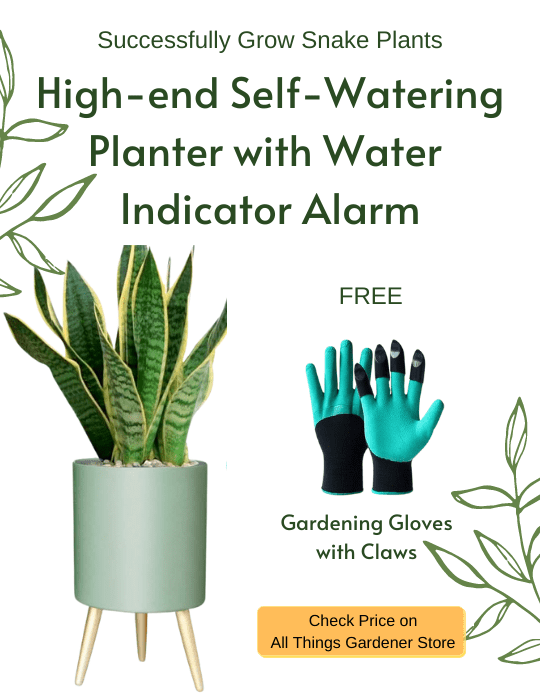 Basically, all potting mixes aim to nourish your plants well.
Epsoma's AP8 Potting Mix contains 45-55% sphagnum peat moss…
… so it's great for plants whose root systems need to dry out over time.
Black Gold's Organic Potting Mix is one of Black Gold's most versatile products for being completely organic.
For herbs, preparing blend circles Miracle-Gro's Expand n Gro' Potting Soil extends…
… and this could likewise work for open air producers as this is additionally utilized as an in-ground blend…
… to assist plants with becoming more grounded than simply utilizing ordinary manures.
Nature's Living Organic and Concentrated Potting Soil is unquestionably alive!
We are saying this on the grounds that their blend has microorganisms and parasites…
… that advances a sound root sytem.
In conclusion, Burpee Organic 99939 Premium Soil Mix is improved with Burpee plant food and coconut coir
This present we should you decrease the recurrence of watering your plants.
Presently…
On the off chance that you actually might want to become more acquainted with really preparing blend…
… that made it on our rundown..
..we set aside the effort to mastermind them by classification.
Here you'll see which one would turn out best for developing vegetables…
… like spinach, spices, desert flora and succulents, and other indoor plants.
How To Use Potting Soil
The utilization truly relies upon the gardening soil you have.
Some are now prepared to utilize…
… which means you can just place it in a pot or compartment and they are as of now good to go.
There still are preparing blends that ought to be blended in with mixes or composts.
An overall principle, notwithstanding..
..isn't to fill the entire pot or compartment with the blend that you have.
Most plants just need around 10 to 12 creeps of soil to thrive.
It's now wasteful to utilize more than what your plant needs.
There are still producers who imagine that they can utilize preparing blends on numerous occasions.
This isn't actually the situation.
The most you can reuse this is twice.
The supplements in the blend will ultimately drain as the primary plants that pre-owned it…
… will just leave a couple for the following clump.
Improving Your Potting Soil
Presently, we said that it's not ideal to reuse gardening mixes.
However, there are still ways for you to reuse them…
… without influencing the development of the following plants that will utilize it.
This is ideal in the event that you have the opportunity to renew your preparing blend…
… and in the event that you need less waste.
There are a couple of interesting points before you can reuse a preparing blend with no issues.
You need to check the state of the past plants that pre-owned it.
In the event that it has been plagued, allow it to go…
… to keep away from that from happening once more.
The length of utilization is additionally a significant matter.
If you utilized fertilized soil for over a year..
..at that point it's ideal to not reuse the entire thing…
… but instead only 50% of it and blend it in with another blend.
In any case…
In the event that your gardening soil was just utilized for around a half year…
… you can in any case reuse it without an issue.
You need to check the fixings that your fertilized soil has..
..and simply add a greater amount of those in the blend.
What's benefit is that you can make your blend redid..
..contingent upon what your plant needs.
FAQs
Can I Use Plant-Specific Potting Mixes on Other Plants?
Indeed, you can! You simply need to know whether the plant-explicit blend you got…
… is viewed as light or weighty with regards to retaining water.
On the off chance that you have an orchid blend…
… this could turn out great with succulents as a result of the blend's capacity to ingest and dry out water.
What is The Difference between Garden Soil and Potting Soil?
Fundamentally, planting soil is as normal as possible get.
You can utilize cultivating soil with different fixings or manures to advance better wellbeing for your open air plants.
Gardening soil comes in blends since this is generally utilized inside.
Developing plants in a pot or compartment likewise make the interaction less regular…
… thus gardening soil blends are curated to assist plants with flourishing holders.
Can I Use Gardening Soil When Planting in Pots or Containers?
It is workable for plants to endure when planted with cultivating soil in pots; nonetheless…
… the outcome may simply get you frustrated.
Cultivating soil is normally substantial..
..and it will cause your plants to struggle to move and develop.
It additionally will not work for plants that need dry soil…
… as cultivating soil can hold water for an extensive stretch of time in a holder without seepage.
Can I Grow Plants in Pots and Containers Without Drainage?
Yes you can, but there are several things to consider…
Regardless of whether you have the best fertilized soil on the lookout…
… it's in every case best to utilize a pot or compartment with a seepage opening.
This will make it simple for you to keep up the water need of your plants.
To sum it up…
There are different soil type for different plant needs…
You should firstly determine which plants need which soil…
… before you spend your money in your local store or through online stores…
… like Amazon, Etsy, or Alibaba.
Refer to the guide above if you have trouble considering your choice!
Conclusion
There are still many recent and interesting articles about Snake Plants..
..as well as other unique information from All Things Gardener..
Check out more of our posts like this one here!
I hope you can now take care your snake carefully and grow it big!
Thanks for reading this article! Bye!
Related Articles!