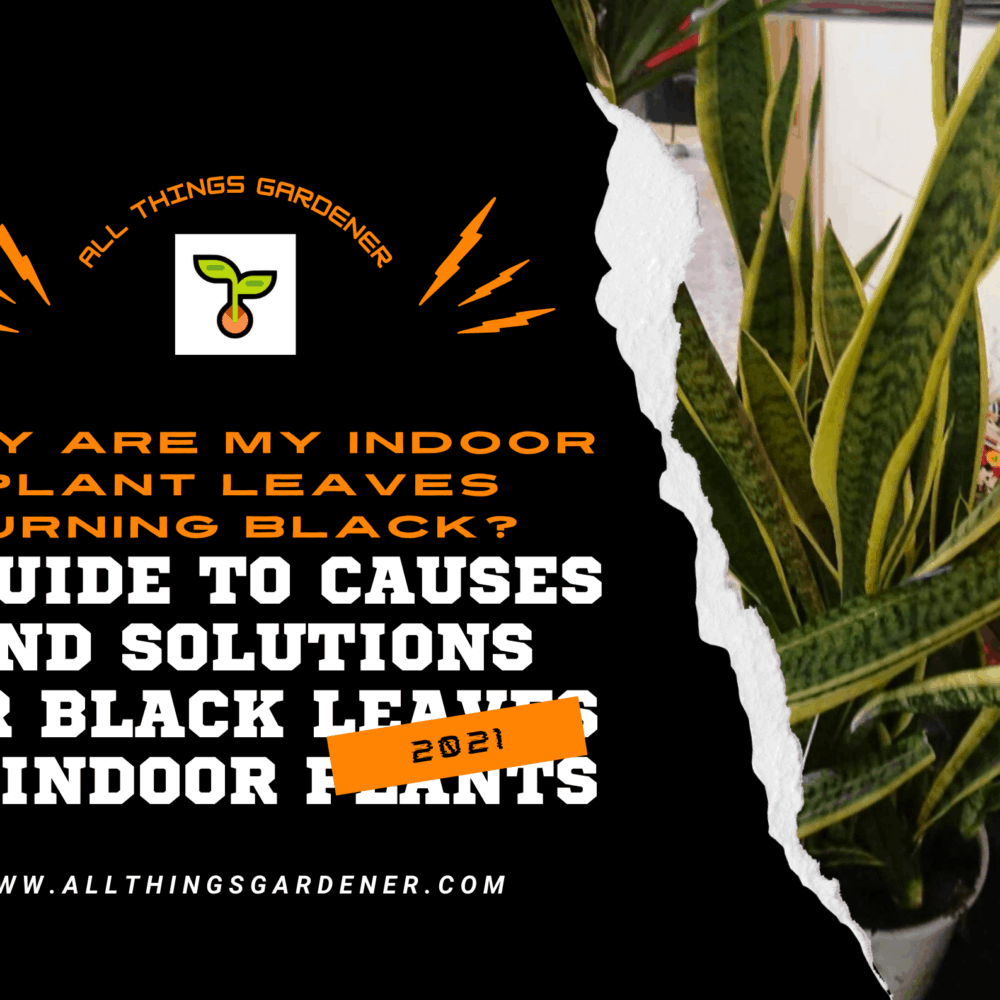 Why Are My Indoor Plant Leaves Turning Black?
When indoor plants are green and healthy, they are a delight for the eyes as well as for the space.
But when there is something wrong with your plant, its leaves may begin to turn brown or black.
The black leaves on your plants indicate that your plant's been suffering for some time.
When black leaves appear, we should look for the cause and how to solve the problem.
Let us hear Aji's story
I was just about to pour myself a cup of tea..
..when I noticed that the leaves on my indoor plants were turning black.
This has happened before, but it hasn't been nearly as bad so far.
Weirdly enough, this time I had changed nothing in the room or near the plants for at least 3 months..
..and yet here they were dying again!
The only thing different? My new puppy.
She likes to chew on things…
.including many of my plants and flowers around the house (which now have holes in them!).
After doing some research online..
..I found out that chewing can cause brown spots all over your plant's leaves..
..because saliva contains an enzyme called alpha-amylase which breaks down starch into sugar molecules.
Let's find out!
Indoor plants with black leaves are usually affected by bacterial infection and temperature stress.
In addition to poor lighting and low humidity, insufficient watering and inadequate nutrient levels can also cause black leaves.
You must identify the problems early so you can prevent the plant from wilting.
When it comes to applying treatments..
..the most important thing to remember is to identify the problem before you apply any treatment you know.
Below are a few points to help you understand how your care routines affect your plants or what cultural conditions are not favorable for them.
Please read on to get all your questions answered and understand why indoor plants develop black leaves.
What causes black leaves on indoor plants?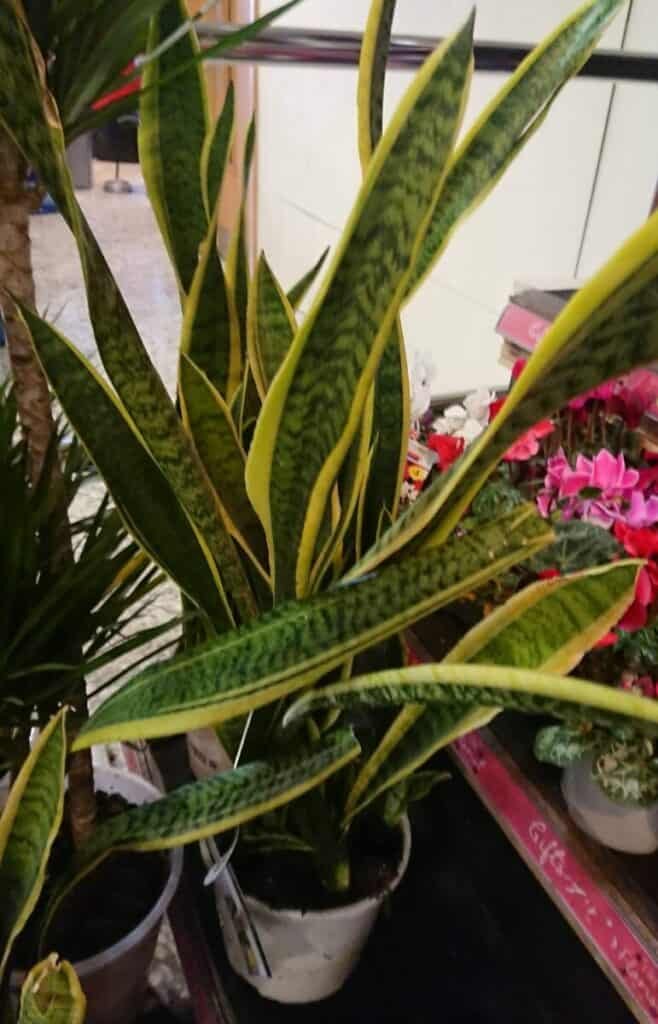 Black leaves on houseplants do not appear overnight.
They usually appear after ignoring a basic need for an extended period of time.
Among the many causes of poor plant performance, improper fertilizing, diseases, temperatures stress, and so on are the first few to be examined.
Improper Watering
Houseplants that are not properly watered can have their leaves turn black.
Improper watering can occur when house plants are watered too much or too little.
When the leaves are overwatered, they can turn black and develop root decay.
When the leaves are underwatered, they become dull and dry.
It is equally harmful to the plant's health to underwater.
This causes the plant to become dehydrated and its leaves to turn yellow and brown.
Eventually, the plant will die.
Different indoor plants require different levels of watering.
You need to make sure you follow the right steps to properly water them.
You should make sure the soil surrounding the plant is evenly moist and water the plant when the top two inches of soil become dry.
Overwatering causes the plants to suffer from nutrient and water deficiency..
..in addition to submerging the roots and causing root decay, which is detrimental to the entire system.
As a result, the roots and stems cannot supply enough water and nutrients, and the plants suffer, with yellow and black leaves.
Lighting Problems
There are many factors that can result in black leaves or tips of leaves turning black.
In addition to too much light or direct sunlight, other cultural conditions can also cause plant leaves to turn black.
If the plant doesn't get enough moisture from strong sunlight and improper watering, the leaf tips begin turning black.
It is also possible for plants to become stressed by low lighting.
They lose their ability to make food correctly, the photosynthesis process slows down..
..and they lose the energy to maintain the color of the leaves, which results in black leaves.
Keep reading…
Temperature Fluctuations
It is ideal for indoor plants to have constant, moderate temperatures.
Any sudden changes in temperature can shock the plants, causing them to lose moisture, turning their leaves black.
Initial moisture loss and browning of the leaves causes them to shrivel, but further moisture loss and ignorance can leave the leaves black.
Even moving plants from one place to another can cause them stress due to sudden changes in the environment.
If the new environment is very adverse for the plants..
..the leaves will wilt and perhaps turn brown or even black.
Leaves from indoor plants can also be damaged when kept near frosty windows or heating systems.
Indoor plants, when improperly moved outdoors, display signs of distress.
A houseplant's leaves turn black or have black edge margins when they've been neglected for a long time.
Stressed plants send many signals, such as turning yellow, brown, and ultimately dropping off.
Improper Fertilization
Each plant owner wants to grow their plant as fast and as bushy as possible, so they fertilize more than necessary.
It is possible to burn the roots if fertilizer is applied too frequent or an insufficient dosage..
..resulting in browned leaves or black leaf tips.
Excess fertilizer will be processed fast by the plant, and the nutrients are absorbed much faster than normal.
Overfeeding causes fertilizer burn when the plant is unable to handle excess nutrients.
Insufficient fertilization can cause damage to the entire plant, but the leaves are the first to show the signs of overfertilization.
This does not mean that under-fertilization is right; missing nutrients can give the plants a weaker growth.
Fungal and Bacterial Diseases
Several factors can lead to fungi and bacteria, including overhead irrigation, poor ventilation, low lighting, and keeping the leaves wet.
As a result of bacterial diseases, your houseplants first develop yellow freckles on the undersides of their leaves.
If left untreated, this causes the leaves to become black.
Your houseplants may also suffer from shriveling stems due to bacterial diseases.
Black spots on the leaves, which get bigger as time goes on..
..form blotches and parches when your houseplant is suffering from a fungus.
Soaking the leaves every time we water the plant will cause bacterial leaf spots due to water sitting on the leaves for longer periods of time.
The leaves are likely to develop black spots as a result.
Keep going…
Infected Cuttings/Plants
A newly bought plant may already contain a disease.
For example, some plants may have bacterial leaf spots and stem rot, which can't be fixed and need to be disposed of.
No matter how much you take care of your infected plants, their leaves will become yellow, brown, and black.
Even the right light and watering will not help if not treated in time.
It is even possible for them to infect the plants around them, so you need to take extra precautions around them.
As a result, you will lose much of your plant's growth, and it will slowly perish.
Pests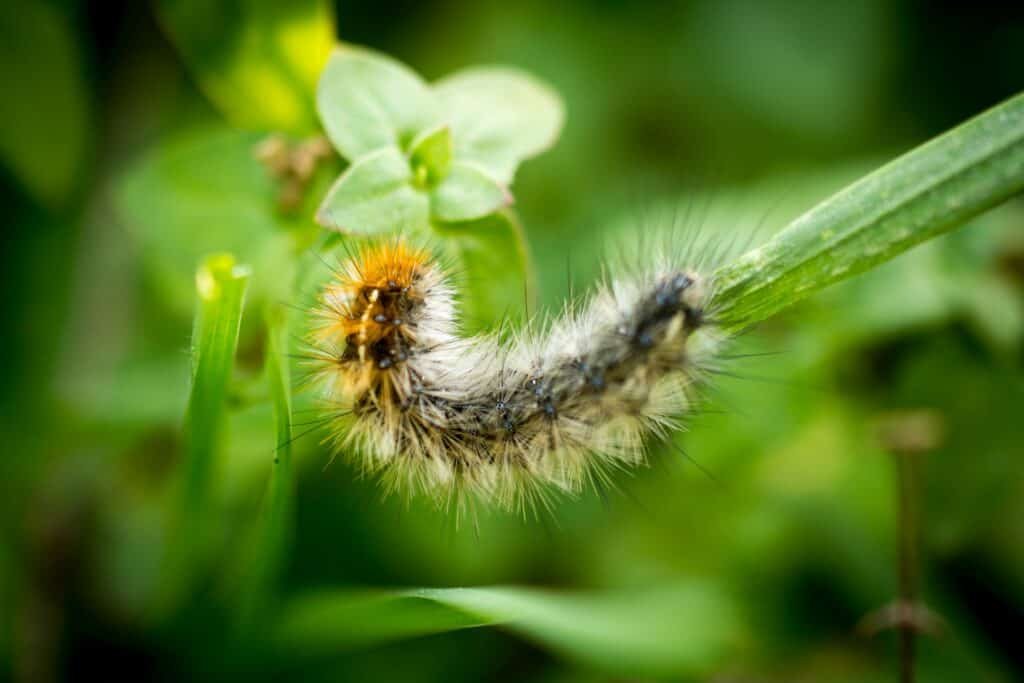 Aphids, thrips, whiteflies, and spider mites also attack your indoor plants and are responsible for blackened leaves.
Most of these pests are so small that they cannot be seen with the naked eye.
They consume the sap of plants, damage their roots, which results in the loss of vitality and color.
How do you fix black leaves on plants?
You cannot simply sit and watch your indoor plants die if their leaves are black.
They need the correct amount of light, humidity, and temperature.
You cannot save those leaves which have already turned black, so you must prune them.
However, we can prevent the rest of the leaves from turning black.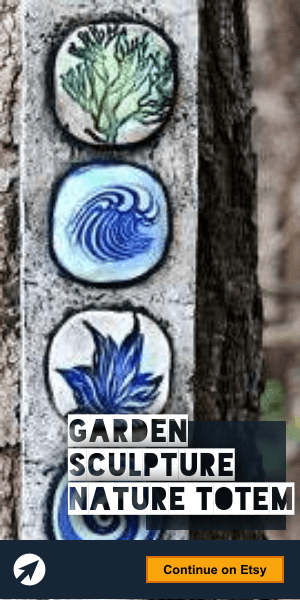 The pertinent points regarding the treatment and prevention of black foliage are discussed below.
Go on…
Watering Adequately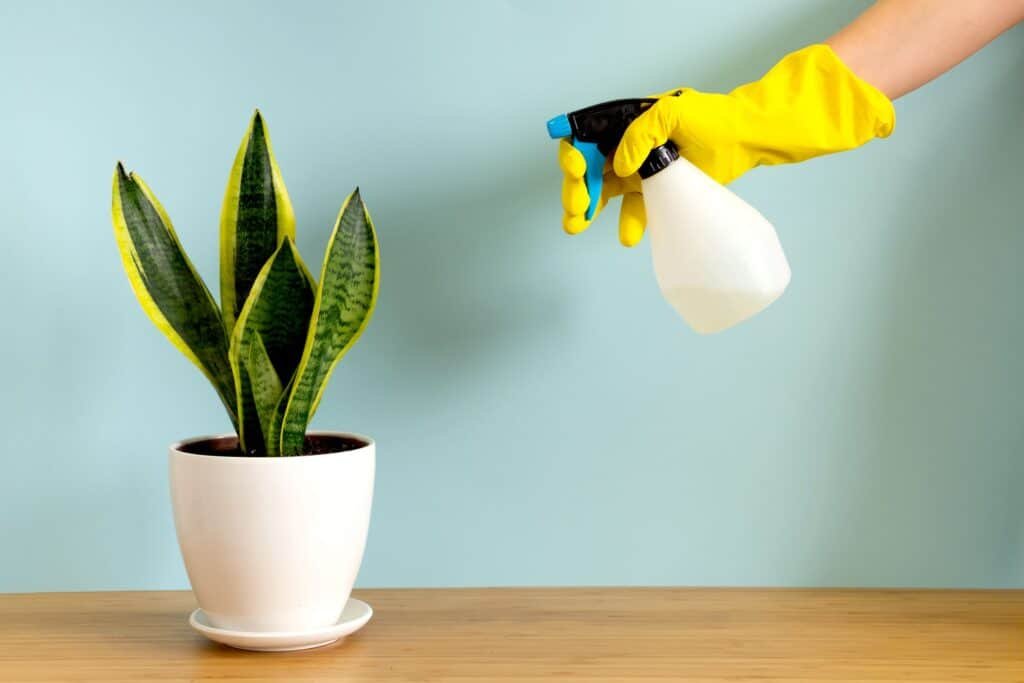 Make sure the soil around your indoor plants is evenly moist, not soggy.
Moisten the soil rather than soaking the leaves before watering.
The best way to check the moisture content of soil is to dig a finger or skewer into it up to 2 inches deep.
Once you remove the finger/skewer, if the soil still feels damp or if the soil is sticky to the finger/skewer, you must allow the soil to dry.
People are apt to overwater house plants during the winter..
..which can result in root rot.
Despite appearing dry on the outside, some house plants prefer to have dry soil from within.
Check the moisture of the soil before watering them to prevent this from occurring.
Fixing Lighting
Plants usually require a good deal of indirect sunlight..
..but can tolerate some direct sunlight in the morning and early afternoon, but the leaves can burn in the afternoon sun.
Additionally, houseplants can lose water, which causes leaves to turn yellow, and finally black.
There is a wide range of light requirement for house plants and you need to examine and watch them carefully to know how much light is good for them.
Bright indirect light is the safest option to avoid any stress or leaf burn.
Even low light can harm the plants; the leaves do not develop properly due to lack of energy, causing them to turn brown.
The same applies if you move your plant from a shady spot to a bright spot at once.
Even if that doesn't happen, your plant will be thrown off and possibly die.
You can move your indoor plant from one spot to another by increasing the light 1 hour a day.
Gradually, the plant will acclimate to the light and won't be stressed.
Fixing Temperature
Heatwaves and temperature changes are very dangerous to houseplants..
..so you should keep the temperature level between 60-75°F in order to protect them as much as you may.
Most houseplants desire a warm and humid environment.
Keeping your plants at temperatures below 75°F can be harmful to their health.
Make sure they have proper ventilation and are not indoors near frosty windows.
Cold drafts, vents, and other heating systems can damage the leaves and the plant's health.
Now..
Fertilizing Adequately
The proper fertilization of indoor plants is essential for their health, but overfeeding can cause more harm than good.
To get rid of salt buildups caused by overfeeding, water thoroughly..
..and let the accumulated salt drain through the drainage holes.
The dosage of fertilizer should be cut in half and fertilizer should be applied at longer intervals than before so the leaves can regain their color and new leaves will be healthy.
During autumn and winter, you should avoid fertilizing your plants because they are in dormancy.
You should always water your plants before fertilizing them to avoid heat in the soil and root systems.
Treating Fungal/Bacterial Disease
It is possible to control fungal and bacterial diseases by spraying fungicide on the plant.
But, you must first dock the infected stems and leaves.
Then, you can apply copper fungicides to the plant by diluting them to get faster results.
It is important not to wet the leaves of the plants at all, and water them in the morning sun to allow them to dry quickly..
..and do not prune the plants when they are wet which may spread the disease.
Use sterilized scissors when pruning to prevent spreading the disease.
Fixing Infected Cuttings/Plants
Infected cuttings are typically the cause of a plant's poor health and can spread the disease to other plants without you even knowing.
Your attention may be occupied with other conditions regarding your infected plant and may not realize that disease is already present in your space.
In the case that you have just purchased a new plant, quarantine it immediately and treat it with fungicide spray until the problem persists.
Purchase plants from a reliable garden center to minimize the risk of infection.
You should only use sterilized scissors to cut cuttings from healthy plants..
..they should not be used on other plants before sterilization.
Be sure to keep the cuttings in disinfected containers.
Treating Pests
You'll need to spend some time treating a pest infestation on your houseplants..
..but we've assembled all of the most effective ways to do it.
Neem oil
Using Neem oil is a natural way to treat pests without harming the plant.
If your houseplant is infected, isolate it and make sure no other plants get infected.
A cotton ball dipped in the neem solution is applied to one of the leaves of the infested plant.
This ensures that the plant is not harmed by the neem oil.
When the plant is not showing any signs of pests, apply it to the entire plant and let it sit overnight.
Do this once a week for complete control of pests.
Also, you can make a neem oil solution and spray it all over your plant with a mister once per week.
In addition to fighting powdery mildew, neem oil kills insect eggs and larva..
..as well as reducing their population without harming your plants.
They work effectively to keep bugs away from your plants.
Pyrethrum Spray
In the pyrethrum spray, there is pyrethrin as the active ingredient.
It is natural and safe for plants, so it will not harm them in any way.
It can be used both as a preventative measure and to kill and repel pests.
Add 2-3 spoons of the mixture to 1 gallon of water, pour it into a spray bottle, and spray the plants with it, especially the undersides.
Continue doing this every week until the plants are completely free of pests.
Soapy Water
The addition of soapy water to your houseplants can treat moderate pest infestations.
There are also insecticidal soaps that are safe for houseplants to use.
The infested plant should be washed with mild insecticidal soap or mild soap to kill any pests that may be present.
Rinse the pot and tray with soapy water to remove any pests hiding there.
Rubbing Alcohol
The rubbing alcohol can be used to treat pest infestations.
Wet a cotton swab in the alcohol, then apply it to pests to wipe them out.
Yellow Sticky Traps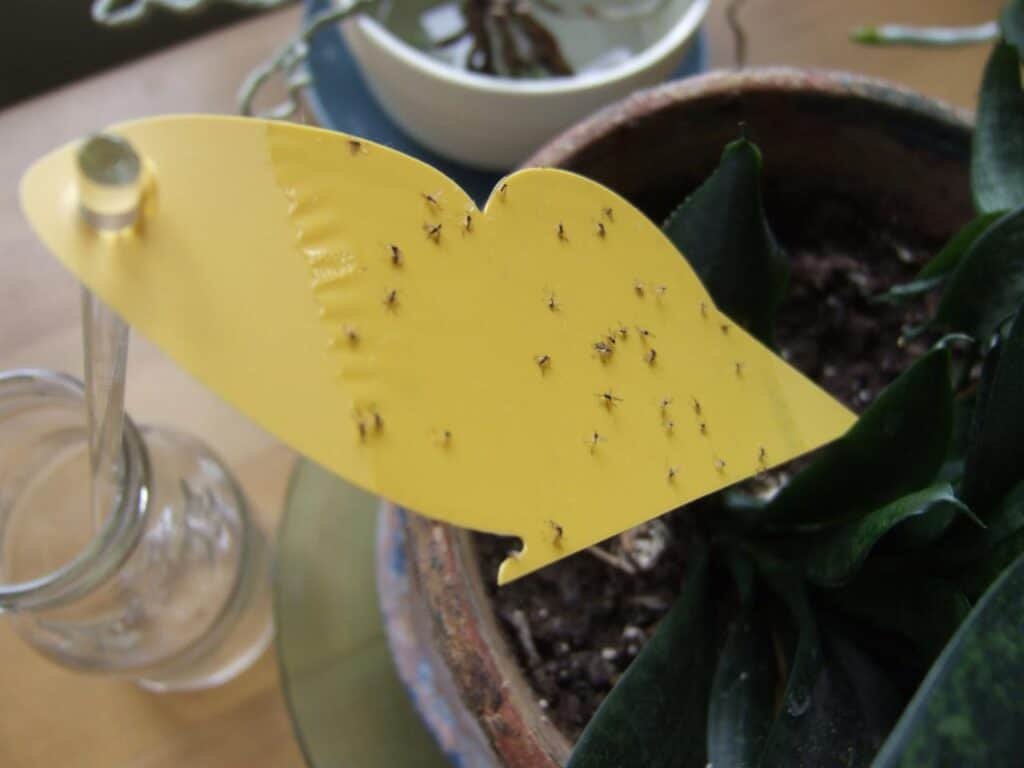 Yellow sticky traps can be used to trap and destroy little flying pests on houseplants.
These traps will also help keep other plants safe from these flies, and they are not toxic.
If you want to save your plants from pests on the leaves and stems..
..it's important to follow these suggestions in conjunction with the trap.
However, these traps are unable to eliminate pest eggs on plants, so you'll also need to use other methods.
Sums Up
There are a number of reasons why plant leaves turn black..
..including environmental factors and  bacterial infections.
It may be possible to salvage the plant in some cases.
Black leaves are caused by a variety of problems, but in most cases, they cannot be reversed.
It is always best to prevent diseases and dehydration that cause blackened leaves.
Conclusion
You may enjoy spending your spare time tending to plants..
..but if your green thumb isn't so green..
..you may not have the garden of your dreams.
There are many reasons why plant leaves can turn black.
..from something as simple as overwatering or underwatering.
Because of that, we gardener need more information to properly care our lovely plant!
You can read more information in our related article suggestion below!