Why did my pressure washer hose burst?
Hoses are a necessary part of almost any pressure washer, and they are not immune to bursting.
Bursting is often caused by a defect in the hose, so be sure to check for any defects before using your pressure washer.
Read this post to the end to learn more about what causes it.
We also have an article about the best pressure washer that you might want to read about it.
Go here: 2 Best Pressure Washers For Concrete That You Must Have In Your House!
Let's hear some words from Anita…
My pressure washer has been in constant use for the past five years, and I adore it.
I can't even begin to contemplate living without it…
…because of how much time, money, and energy, it has saved me.
It functions perfectly, however, occasionally the hose will explode.
I experienced this twice in one day. When it first occurred,…
…I figured it might have been related to the weather or something similar.
However, the second time it occurred, it was in the midst of winter,…
…when we were experiencing some quite severe ice storms.
I never understand exactly why my pressure washer hose burst.
So…
Why Did My Pressure Washer Hose Burst?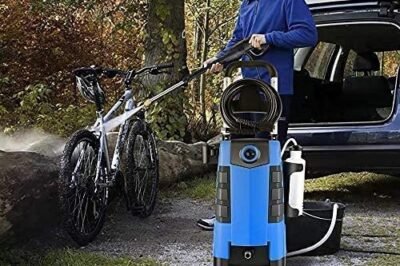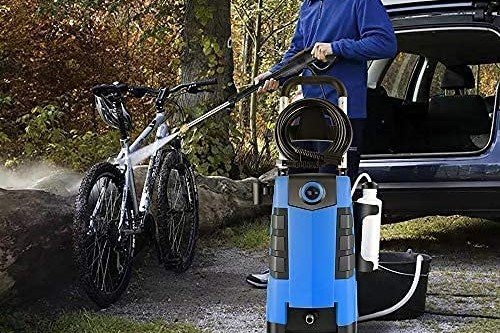 First thing first…
Did you know that pressure washers are getting more and more popular?
According to the market research report published by P&S Intelligence,…
…the global pressure washer market is anticipated to increase…
…from $2,629.1 million in 2021 to $3,868.9 million in 2030, at a compound yearly growth rate of 4.4%.
A pressure washer, also known as a power washer,…
…is a high-pressure mechanical sprayer used to remove loose paint, mold, grime, dust, muck, and filth…
…from various surfaces and objects, including concrete, vehicles, buildings, and other things.
A variety of questions are frequently asked about pressure washers,…
…such as whether pressure washers can get rained on and why they burst.
In this article, we will discuss the second question.
This is the important part…
Hose bursts are common because many individuals believe…
…that the hoses can withstand a wide variety of misuses, which leads to frequent hose failures.
Hoses that have wire braid in them need to be repaired or replaced if they can be seen.
Here are the reasons why a pressure washer hose bursts while doing pressure washing:
The pressure washer hose may have been overused. Overuse will lead to stress on the hose. When the stress is very high, it can cause the hose to burst.
Another reason why the pressure washer hose broke could be due to improper installation. Pressure washers must be installed properly to prevent leaks from occurring. Improper installations can allow water to leak into surrounding areas.
Low fluid levels in the system can also create problems with the hose. If there's not enough pressure inside the hose, then the hose won't retain its shape well. This means that when the water comes out of the pressure washer nozzle, the force pushing out the water will be weaker than if the hose had adequate pressure.
A problem like an open valve or blocked filter can also contribute to a hose failure. These parts should always be checked to ensure that they are working normally.
A defective hose can be one of the reasons why the pressure waster hose bursts. Some manufacturers produce faulty hoses, and these are known as "leakers." You shouldn't use a leaker even though some people still do. Leakers don't last long. They tend to burst at their weakest points.
Keep reading!
How to Take Care of Your Pressure Washer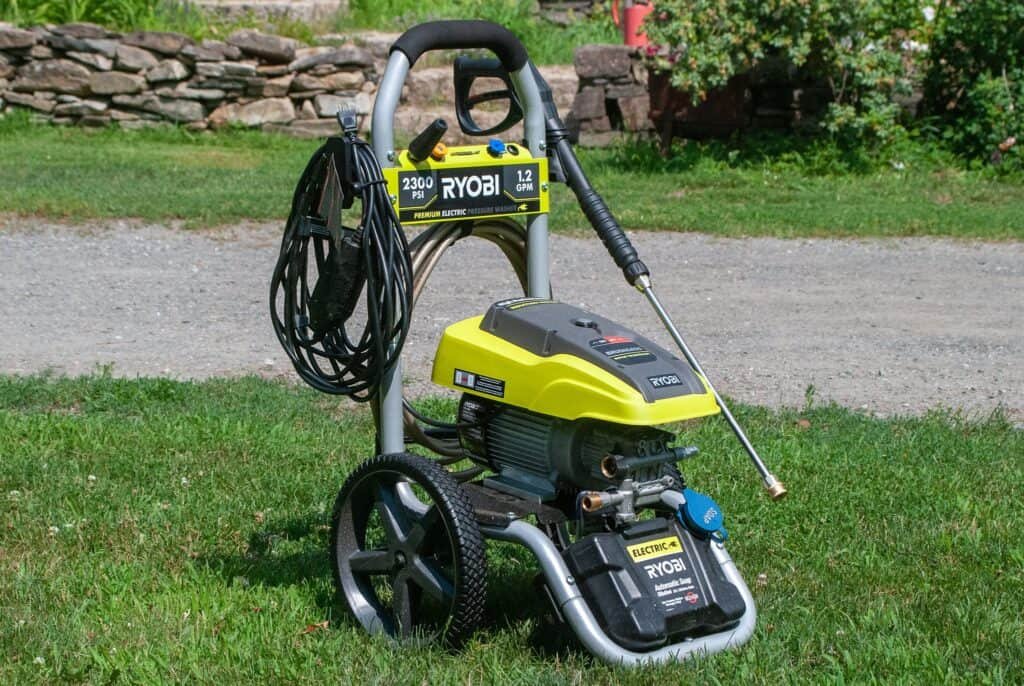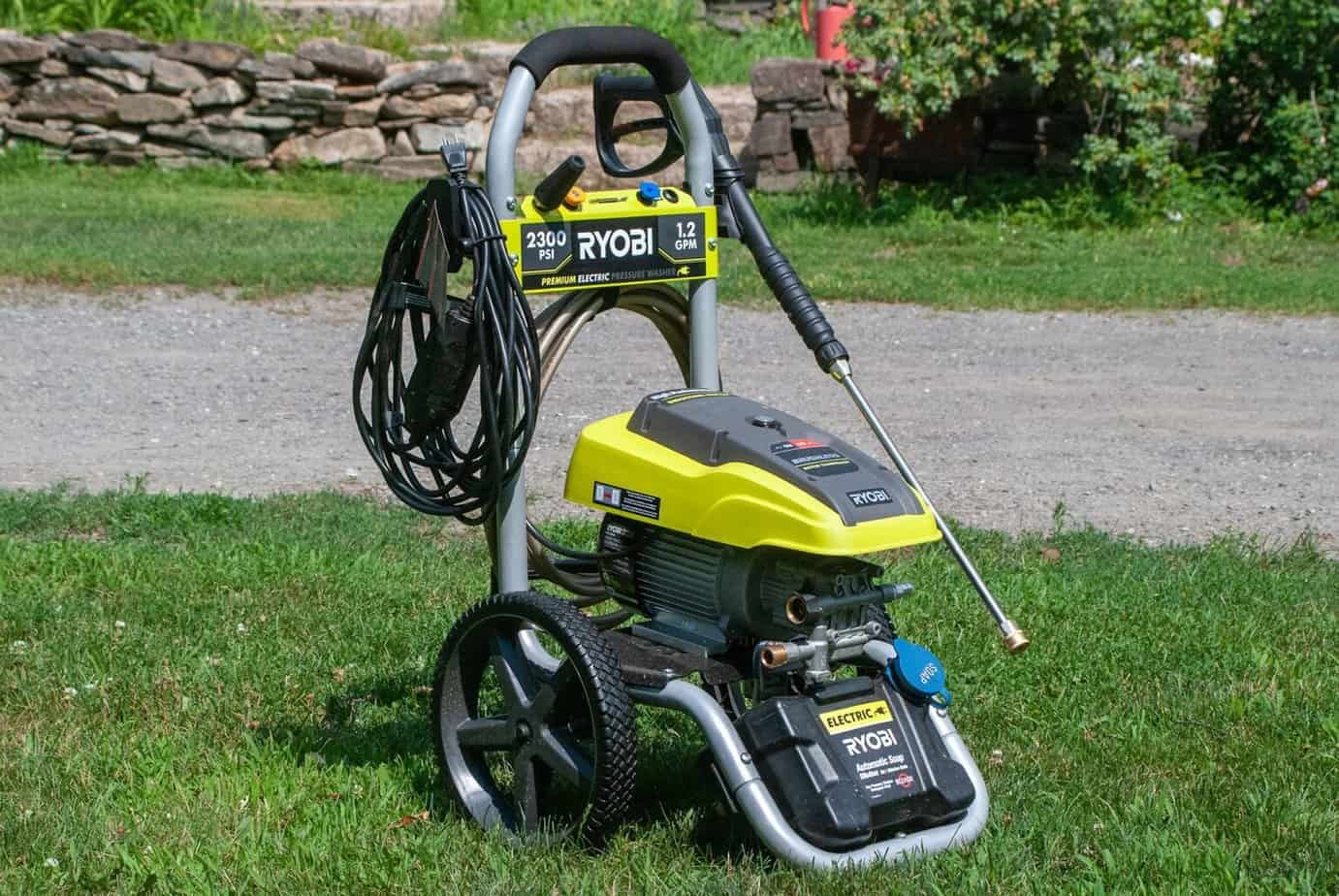 There are many different ways to take care of your pressure washer,…
…but here are a few tips that will help you get the most out of your machine to keep it in shape:
Check for the proper amount of pressure in your hose line. Too much pressure can weaken the hose material, causing it to rupture. Too little pressure can make the pressure washer ineffective.
Keep your filter clean. Filters remove impurities from the water flow and are important to protect against clogs.
Clean and lubricate all moving parts regularly. Hoses and other parts should be cleaned every time you use your pressure washer. Lubricating all parts help reduce friction and wear, preventing leakage.
Use caution when handling and installing hoses. Always handle hoses with gloves or safety goggles whenever possible. Never cut hoses, and never attempt to repair a hose yourself. It's best to leave repairs to experts.
Follow the manufacturer's instructions on how to use the pressure washer. There might be specific requirements for operating the pressure washer. Also, read the manual carefully to avoid damaging the pressure washer or doing unnecessary damage to your garden.
Be careful with sharp objects around the area where your pressure washer operates. Sharp objects can puncture the pressure washer hose, causing leaks.
Store extra hoses in a safe place. Extra hoses need to be kept in a cool, dry place away from direct sunlight.
Don't overload the pump. An overloaded pump results in higher maintenance costs, as well as reduced performance.
You must know this…
---
What is a Good PSI Pressure Washer for Home Use?
The most useful pressure washers are those with 2,000 to 3,200 PSI,…
…which efficiently cleans dirty garage floors, siding on homes, fences, boats,…
…and even the most heavily used off-road vehicles.
Even those with a PSI closer to 3,200 are effective on stubborn stains.
These are used by professionals for challenging shop cleanup tasks.
How about this one…
---
What is the Difference Between a Power Washer and a Pressure Washer?
Heat is the primary distinction between power washing and pressure washing.
In contrast to a pressure washer, a power washing machine uses hot water for its jet wash.
The benefit of warm water from a power washer is most noticeable in difficult-to-clean areas with heavy filth, including mildew, salt, and grease.
Similar to when doing dishes or washing your hands, warm water makes it easier to clean surfaces.
It is the preferable alternative for jobs where surfaces are severely dirty…
…and can tolerate the warmer spray because it can more easily wash places clean.
On surfaces that won't be harmed by power washing, such as concrete or cement, it is especially advised.
This is also important…
---
Are Electric Pressure Washers Worth it?
The advantages of electric pressure washers include lower initial expenses and fewer ongoing maintenance requirements.
In general, electric pressure washers are less expensive, lighter, and easier to start than gas machines.
Due to the lower psi, they are also quieter than gas models.
Electric pressure washers may, however, be more appropriate than gas-powered ones for a number of reasons, some of which are as follows:
They're more efficient
The high energy requirements of a conventional gas-powered device…
…might lead to significant fuel and power expenses over time.
Long-term costs are lower for electric units since they consume significantly less energy.
They are quieter
Gas-powered pressure washers are frequently criticized for being noisy.
Since electric units often operate at substantially lower noise levels,…
…they are a preferable option for home or commercial settings.
They're easier to use
Electric pressure washers are generally easier to use than gas-powered ones, according to several users.
This is due to the fact that they don't need gasoline or priming (although some models do come with a fuel injector).
But is the truth…
Electric pressure washers do have certain disadvantages, though.
For instance, they normally don't have as much power as gas-powered ones,…
…and they could need parts (like the pump) replaced more frequently as a result of wear and tear.
Additionally, some individuals believe that heavier chores,…
…including washing concrete or stucco surfaces, are beyond the capabilities of electric pressure washers.
If you curious more about this part, you can get more explanation in our article here: Gas Pressure Washer Versus Electric: 4 Superb Facts Of Differences Between These Two Types Of Pressure Washer.
So, what do you think?
---
Conclusion
A fantastic technique to clean your house or property is pressure washing.
However, pressure washer hoses can occasionally explode.
There are a few things you may do in this situation to take care of the pressure washer and stop additional hose bursts.
---
Frequently Asked Questions
How strong is a pressure washer hose?
Since pressure washer hose strengths vary according to the type of pump used,…
…the brand and model of the pressure washer, and other considerations.
However, high-pressure sprayers often utilize stronger hoses…
…while a common garden hose can typically manage moderate pressures.
Speak to your merchant or manufacturer about getting a stronger one…
…if your pressure washer hose suddenly bursts, which is frequently caused by employing too much power when using it.
What happens if you hit yourself with a pressure washer?
Your hose will break if you strike yourself with a high-pressure washer due to the power of the water.
If the water pressure is strong enough, it may injure you physically.
Before using your pressure washer on your body, test it out on an uninflated hose…
…if you have any doubts about whether the water is strong enough to injure you.
More Related Articles
Our Latest Post:
---