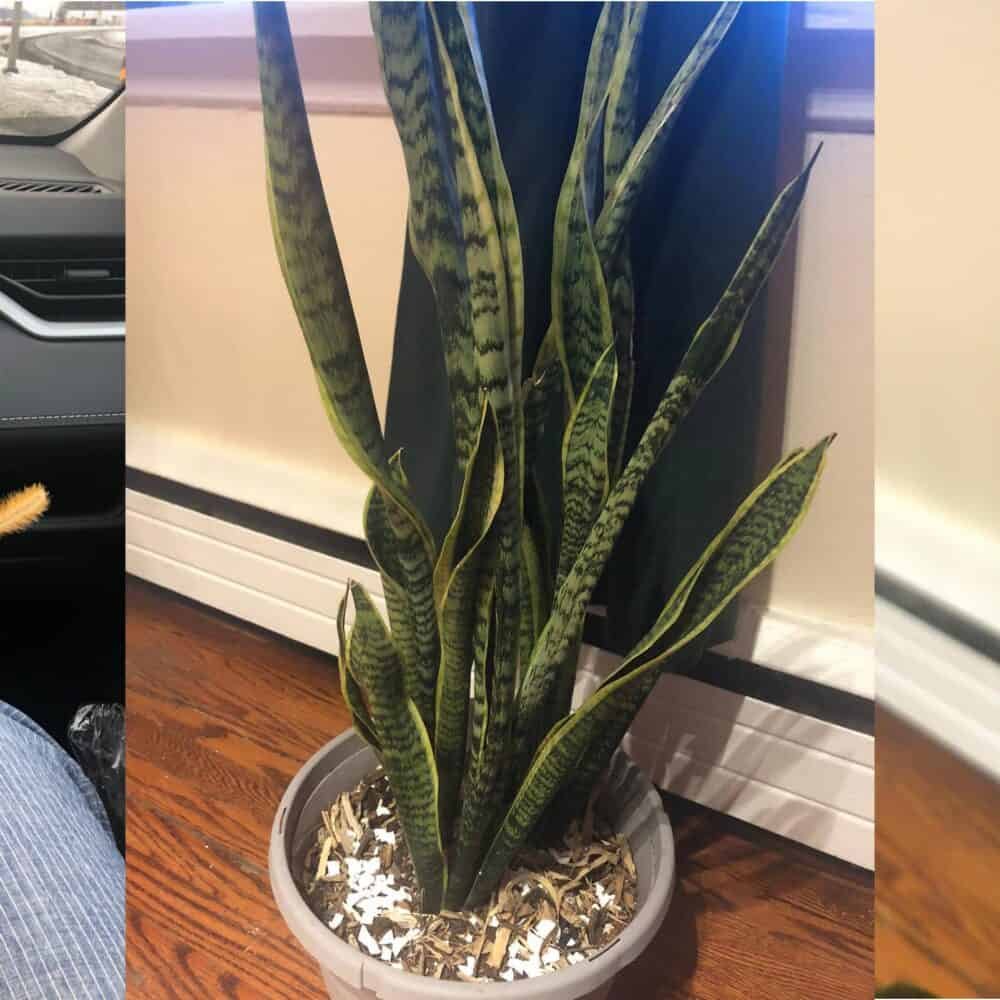 What may be the cause of Wrinkling snake plant leaves?
Snake plants do not need a lot of water during the growing season, but they do need to stay hydrated…
The snake plant can develop problems if it is not properly watered…
A major problem is that the leaves of your snake plant start getting wrinkled…
Hear it from Samantha!
One thing I know after my tragic snake plant death is that snake plants don't like to be overwatered…
Hear me out on this, it's a very sad memory I had to bear now for the rest of my life…
Well, not really that dramatic but you know what I mean (a rookie mistake)…
I just turned 18 when my friend group decided to gift me my first ever snake plant…
I wasn't sure of it at first, but my friends told me that it might help me…
… since I had just experienced my first heartbreak.
They told me that caring for a houseplant will feel like having a new puppy…
In other words, I can get my mind off of 'him' and focus on moving on and opening up to love…
I was very excited of that thought and began my quest for gardening houseplants…
However, my excitement was just too overboard that I didn't do my initial plant parent research…
Not wanting my snake plant to die, I water it everyday during the evening…
Then suddenly, a few weeks had past and I saw it shrivel…
I looked it up in the internet, and boom…
I overwatered my snake plant…
Check this out!
Snake Plant Wrinkling
What Can Cause Of It?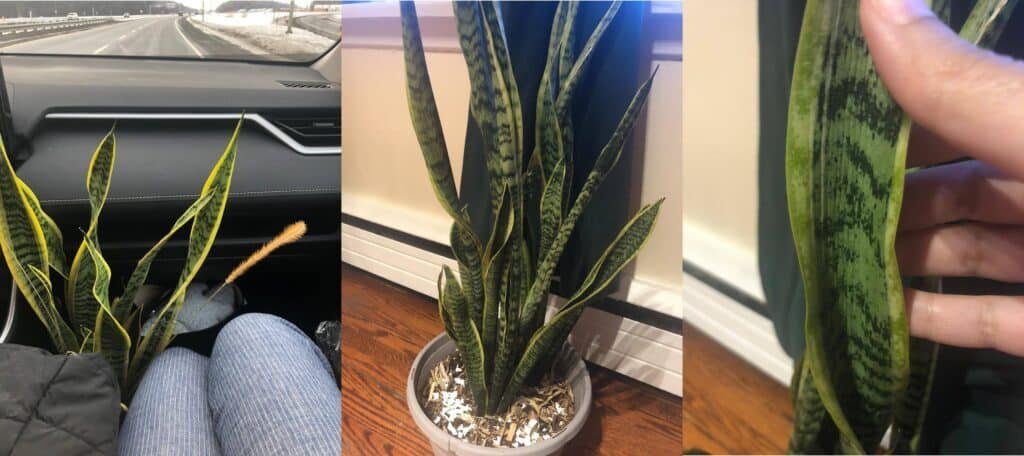 Snake plant is an excellent choice if you're looking for a low-maintenance houseplant.
Because of its adaptability to a wide range of growing conditions..
..this hardy indoor is still popular today generations of gardeners have named it a favorite.
The leaves of most snake plants are stiff, upright, sword-like, and may be banded or edged in gray, silver, or gold.
The architectural nature of the snake plant makes it a natural fit for modern and contemporary interior designs.
It's one of the most beautiful houseplants you'll ever see!
Sansevieria has been reclassified as Dracaena by botanists.
Despite the fact that its scientific name is Dracaena trifasciata, most plant parents still refer to it as a Sansevieria.
When planted outdoors in some frost-free areas, snake plant can become invasive.
Check local restrictions before incorporating it into your landscape.
Snake Plant Growing Instructions
Snake plants can be grown in almost any room of the house.
Snake plant grows best in bright light, though it can tolerate low light.
It's difficult to drown this hardy houseplant if you water it every now and then.
When the top inch or so of the soil dries, water the snake plant.
Allow the top inch of the potting mix to dry between waterings to avoid overwatering.
Snake plants don't require much fertilizer..
..but if fertilized a couple of times during the spring and summer, they will grow a little faster.
For houseplants, you can use any fertilizer; the directions on the fertilizer packaging will tell you how much to use.
Snake plants don't need to be pruned because they grow slowly.
Our Houseplant Basics will give you more in-depth advice on how to care for your plants.
This hardy indoor plant should not be eaten by humans or animals.
Snake Plant Leaves Wrinkling/Curling?:
Causes And Treatment
Snake plants are a popular houseplant because of their hardiness and tolerance for poor growing conditions.
These plants can withstand both irregular watering and low light.
Mother-in-tongue law's plants are tough, but they do require some basic care.
They may become weak and attract pests and diseases if left unattended for too long.
Curling of the leaves is one of the signs that your snake is having difficulties growing.
Continue reading to learn about the common causes..
..how to treat a snake plant with curling leaves, and how to avoid it happening again.
Appearance Of Snake Plant Wrinkling Leaves
If your snake plant wrinkling/curling and you want to fix it..
..the first step is to figure out what's causing it.
It's not difficult to figure out which problem is the root of the problem.
To correctly identify the root cause, look for the key signs.
This will assist you in determining how to approach the issue.
You'll know something's wrong with a snake plant if the leaves are curled.
But how does it appear? Curl or fold the leaves in on themselves.
It's not uncommon for leaves to turn yellow at the same time.
They may show signs of weakness before succumbing to death.
If the leaves are infested with pests..
..they may become wrinkled and have rough patchy surfaces.
Although, in some Sansevieria species, a small amount of waviness along the leaf borders is common.
Snake plant cultivars with naturally yellow and curling leaves are called snake plants.
Sansevieria Kirkii and Sansevieria Trifasciata Laurentii, for example, have slightly wavy edges.
The yellow-bordered leaves of the twisted sister snake plant (Sansevieria trifasciata twist) twist and turn as they grow.
What Causes Snake Plant Leaves To Curl?
Knowing what to look for in a plant can help you manage the curling leaves.
Following that, you can take the steps necessary to cure and heal the plant.
An infestation of thrips is the most likely cause of curling leaves on many snake plant varieties.
Thrips infestation is marked by curled and distorted leaves.
Thrips are extremely small insects that you may not even notice.
Curling leaves can also be caused by fungus infestation or watering issues.
Keep reading…
Thrips Infestation
A thrip infestation is the most common cause of curling leaves in snake plants, as previously stated.
Thrips are tiny black insects that require a magnifying glass to identify.
Their length is nearly one twentieth of an inch.
However, what you see is the result of the infestation.
Thrips can be identified by the way they feed on a snake plant leaf.
The leaves and buds of a snake plant infested with thrips will appear to have tiny black specks.
Take a blank white sheet of paper, place it under the plant, and shake the leaves to identify them.
On the white surface, you'll notice small black bugs.
You can use a magnifying glass to inspect and confirm that the pest is thrips if necessary.
A sticky fly paper placed near your snake plant will quickly attract thrips.
You'll notice and feel rough uneven patches in addition to the curling leaves.
This is caused by thrips feeding on the leaves and creating tiny wounds.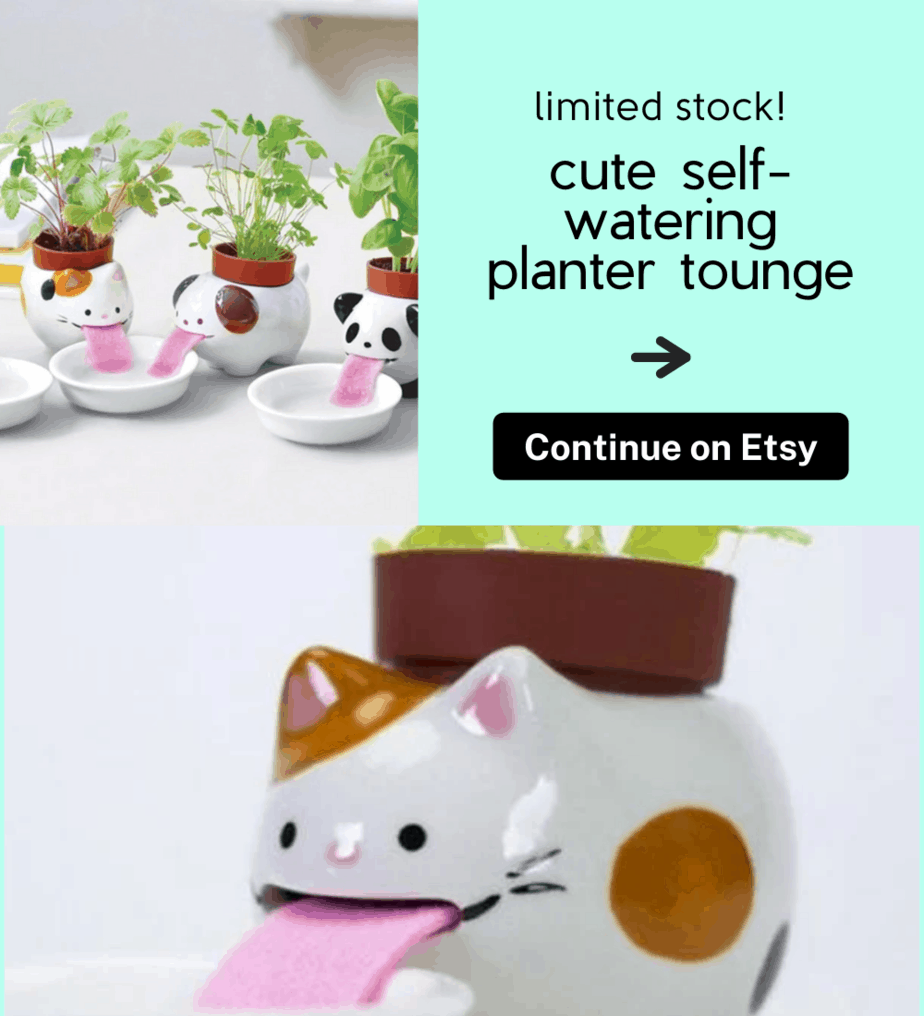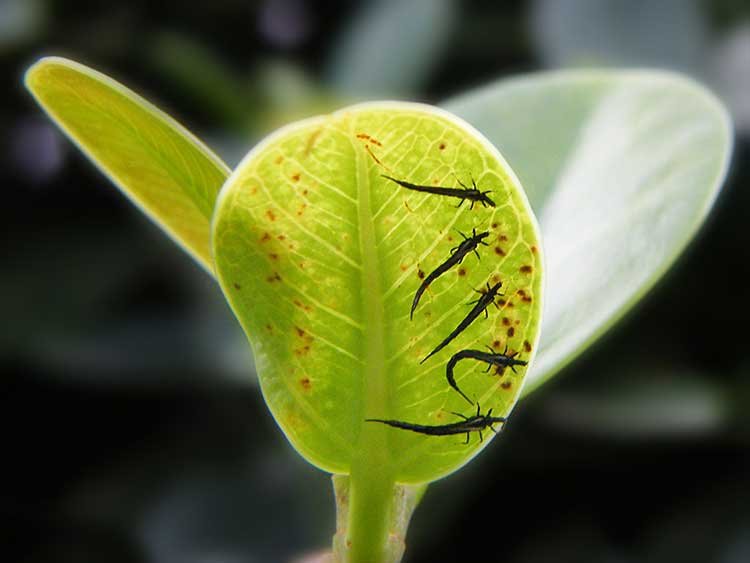 They break down cell walls and cause damage to plant tissues.
The entire plant above ground, including leaves, buds, and flowers, is attacked by these tiny black bugs.
Thrips can cause more than just damage to your leaves; they can also kill your plant.
Aside from that, these pests can spread viral infections, so getting rid of them as soon as possible is critical.
After you've identified the thrips infestation, you can begin to address the issue.
Follow these simple steps to treat your snake plant if you suspect it is thrips-infested.
To begin, isolate the snake plant that has been infected. Cross-contamination between plants can quickly spread an infestation among otherwise healthy plants. Cut off all infected leaves near the base to remove them. To do so, use a sharp, sterilized kitchen knife or shears. Ensure that they are properly disposed of so that they do not infect your other plants. Then, using rubbing alcohol, wipe down the remaining leaves. Clean the leaves one by one with a cotton ball or cloth dipped in alcohol. If you don't have any alcohol, you can substitute plain water.
Make sure to clean both sides of each leaf as well as the crevices. This will ensure that the plant is free of the majority of the bugs. You may need to repeat the treatment a few times over the course of a month. It will take a few weeks before you notice the leaves are no longer curling. Because the snake plant is hardy, it can be saved if caught early.
Go on…
Despite the fact that snake plant problems are uncommon, thrips is a pest that can decimate your plants.
Recognize the warning signs and treat your plants as soon as possible.
If a plant has been severely thrips-affected and does not appear to be salvageable, properly dispose of it.
Dispose of the entire plant far away from your other plants so that it does not infect them.
Fungal Problems
Snake plants can develop fungal infections, causing the leaves to curl.
If you notice reddish brown lesions, white cottony mustard sized spheres..
..or a web-like growth in addition to curling leaves, it's a sign of fungal infestation.
As the disease worsens, the leaves may turn a dark brown color.
The snake plant is susceptible to fungal diseases such as southern blight and red leaf spot.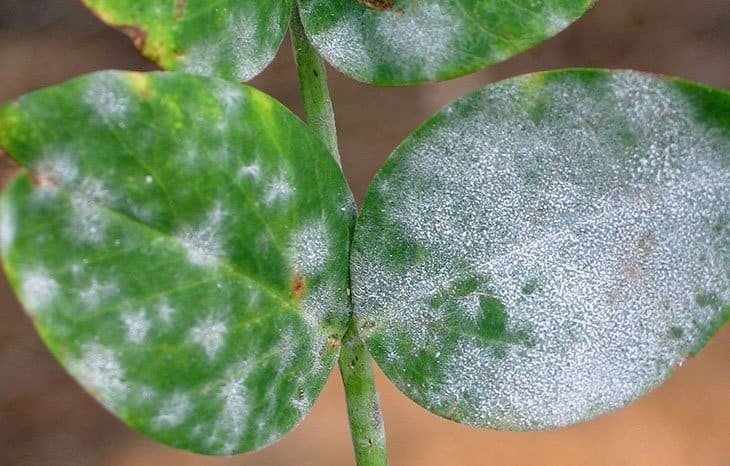 The main cause of fungal infestations is usually too much moisture.
As a result, the most important part of the treatment is controlling the amount of water.
To prevent the disease from spreading, keep the foliage and soil dry.
You can use these tips in addition to cutting down on watering.
You can wipe off the affected areas with water or alcohol if the fungus is still in its early stages.
If the soil surface has also developed whitish fungal growth..
..remember to replace the soil.
If the fungal issue is too severe and the plant cannot be saved, you should dispose of the plant.
Ensure to do it safely so that it doesn't affect other plants.
In case the fungus has destroyed almost all the foliage but there are still a couple of leaves unaffected..
..you can try propagation.
Remove those healthy leaves, wash them thoroughly and cut them into 3-4 inches sections.
Then plant the parts bottom side down in the soil and water them regularly.
Check out this post for detailed steps for propagation.
Chemical fungicides aren't always successful in eradicating the fungus completely.
They can, however, keep the spread under control.
As a preventative measure, fungus chemical control is more effective than as a treatment.
Watering Issues
Watering issues and their consequences are always perplexing in the case of snake plants..
..as they can exhibit symptoms of both underwatering and overwatering.
When the Sansevieria plant becomes too dry, the leaves curl.
Snake plants have fleshy, succulent leaves that store water.
The leaves begin to lose their shape and may curl if not given enough water.
Brown tips and dry brown edges on the leaves are another sign of underwatering.
When there is too much water in the soil, snake plants experience drought symptoms.
This occurs because the plant can no longer absorb water when its roots are destroyed by rot.
Indoor plants are more likely to be overwatered than underwatered.
However, it is not always the result of overwatering plants.
Overwatering symptoms can also be caused by poor container drainage or watering plants too frequently.
Overwatering is a common problem for snake plants, causing their leaves to curl downward.
Leaves may become mushy and droopy in addition to curling.
They may also begin to turn yellow.
The best way to identify this problem is to examine the soil and its moisture content.
If your soil is dense and clay-based, you could be to blame for the overwatering.
It could be the opposite if it's too loose and doesn't hold any water.
Using a moisture meter, determine the exact moisture content.
A simple method is to stick your finger 1 to 2 inches deep in the soil and feel how wet or dry it is.
After you've watered the plant, do this 3-4 days later.
Treatment
Addressing the underlying issue is the most important step in repairing snake plant leaves..
..caused by improper watering.
To begin, remove your plant from its pot to check for root rot.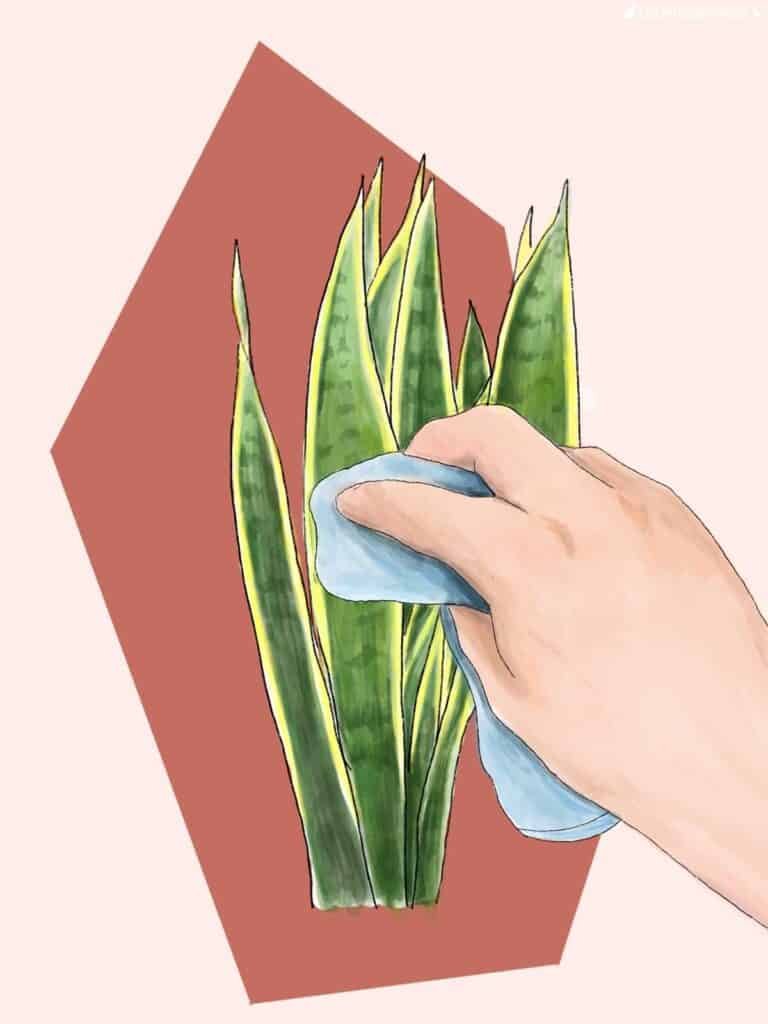 Overwatering can cause the roots to rot in some cases.
If this is the case, remove any dark, mushy rotten parts as well as any damaged leaves.
Examine the quality of the potting soil. If it's too loose, add the right additives to tighten it up.
See this post for more information on different soil ingredients.
The soil, on the other hand, should be discarded if it is dense and has caused the rot.
Replace the potting soil.
Then, using the new potting mix, repot your plant.
The last but not least…
After Care And Prevention Measures
Plant stress is caused by chemically treating your snake plants..
..or repotting them to prevent the spread of the disease.
Ironically, the treatments can weaken the plant, potentially causing more problems.
Because prevention is better than cure..
..taking good care of your snake plant is one of the best ways to avoid curling leaves.
Plants that are strong and healthy are less likely to be infested by pests or become sick.
Maintaining a good care regimen that considers your plant's various habitat requirements.
..will keep it healthy and long-lasting.
Sums Up
Yes, a shriveling snake plant means something is wrong with it…
You may have to be cautious of the three main possible reasons for it…
… underwatering, overwatering, or root rot?
But if you don't find that these are the causes, look up on other possible causes…
… that we had mentioned for a brief up front.
Conclusion
If you still have any questions on the matter, let us know!
You can comment down below or contact us…
Check out more posts on our website like this one here!

Have an awesome gardening journey!