You may have heard rumors that keeping a snake plant in your home invites misfortune.
But is there any truth to the claim that these popular houseplants actually bring bad luck? As an experienced gardener and feng shui enthusiast, I've done some digging to find out.
While snake plants have a storied history and symbolic meaning in many cultures, the notion that they attract negative energy appears overblown.
Read on as I separate fact from fiction when it comes to the myth of the unlucky snake plant.
If you recently added one of these vertical-leaved beauties to your indoor jungle, you can breathe easy – having a snake plant around is more likely to bring good vibes than bad!
KEY TAKEAWAY
Does snake plant bring bad luck?
Snake plants are not associated with bad luck. (1)
They are easy-to-care-for houseplants that bring beauty and air purification to your home.
The Influence of Feng Shui on Snake Plant Placement
Feng shui (2), the ancient Chinese practice of placement and arrangement of space to promote harmony, can provide guidance on where to best locate a snake plant in your home.
As a feng shui enthusiast, I've learned some key insights on how to use snake plants to optimize energy flow.
In feng shui, snake plants are considered excellent for removing stagnant chi, or energy.
Their upright, spiky leaves are thought to mimic swords that symbolically cut through any negative energy.
For this reason, many feng shui practitioners recommend placing snake plants near the front door to cut down on bad vibes entering the home.
However, some sources warn that the sharp, linear leaves of the snake plant can also give off an overly yang masculine energy.
Therefore, it's best not to position them in your bedroom or other more yin feminine spaces.
The ideal spot is in entryways, offices, or living rooms to clear the air while not disrupting restful energies.
Always avoid placing a spiky snake plant where its leaves would point toward someone, like behind a desk.
This is thought to direct its cutting energy right at a person! Angle it so the leaves point away from where you sit or sleep.
Snake Plant Vs Bad Luck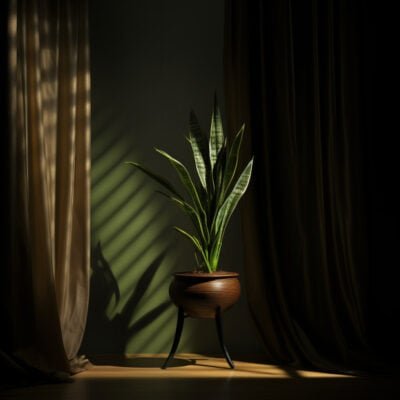 Despite its dramatic, sword-shaped leaves, the snake plant has an undeserved reputation for bringing bad luck.
This may stem from its alternative name, mother-in-law's tongue! But in my experience as a long-time gardener, these plants don't deserve their association with misfortune.
Here's the truth about snake plants and luck.
In reality, keeping a snake plant can bring good energy and luck to a home.
As mentioned, in feng shui snake plants are prized for their air-purifying properties and ability to prevent stagnant chi.
Their tall shape and strong roots symbolize healthy growth and strength too.
Some say their sword-like shape fights off evil influences.
Tabletop plants like jade are thought to attract money – well, the snake plant's vertical structure can promote rising fortunes!
Prices pulled from the Amazon Product Advertising API on:
Product prices and availability are accurate as of the date/time indicated and are subject to change. Any price and availability information displayed on [relevant Amazon Site(s), as applicable] at the time of purchase will apply to the purchase of this product.
They require little care, so are lucky for neglectful owners.
While often grown as houseplants, in their native African tropics snake plants grow to tree size and live for decades.
My oldest has been with me over 15 years! So they represent longevity, persistence, and well-rootedness too.
Yes, they have some sharpness, but sometimes a little protective energy can be beneficial.
With the right placement guided by feng shui, the humble snake plant's positives far outweigh any supposed bad vibes.
I hope I've convinced you to welcome one into your home! They might just bring some good luck your way.
Snake Plants And Good Energy
Despite their formidable appearance, snake plants are actually associated with beneficial energy.
In feng shui and other traditions, they are valued for several qualities believed to generate positivity.
First, snake plants are strongly connected to the wood element in feng shui.
The wood element promotes health, vitality, and steady growth – all things the snake plant's sturdy constitution represents.
Wood also nurtures creativity and mental expansion.
Additionally, their tall shape and tendency to grow skyward reflects aspirations, success, and abundance.
Like a tree reaching for sunlight, the snake plant draws positive energy and fortunes up from the ground.
Its vibrancy demonstrates life force.
Snake plants also produce oxygen, even at night, helping purify the air.
Their swords can metaphorically cut through stale or harmful energies.
This cleansing quality enhances chi, the circulating life energy in spaces and people.
Finally, snake plants require relatively little care and can withstand neglect.
They symbolize resilience and perseverance through adversity.
Yet their presence nurtures the environment.
The snake plant epitomizes quiet strength.
So although they may look imposing, snake plants actually reflect many uplifting qualities: vitality, prosperity, renewal, durability, and more.
They attract good energy with their steadfast strength.
The Pros and Cons of Snake Plant in Feng Shui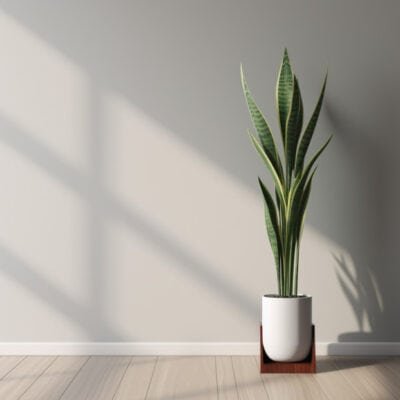 In feng shui, the ancient Chinese art of placement, the snake plant has both positive and negative aspects.
Wise use can maximize benefits, while avoiding potential discordant energies.
On the positive side, snake plants are strongly associated with promoting health and flow of positive chi when placed appropriately.
They help cleanse spaces and prevent stagnation of energies.
The upward wood energy also enhances growth and prosperity.
However, the sharp linear leaves give an aggressive yang energy.
Placing snake plants pointing at bed, desks, or seats can seem confrontational.
They are better suited to open spaces like hallways and entryways where their vibrant force can be freely expressed.
Also, overuse of spiky plants can make a space feel too harsh or hostile.
Balancing snake plants with round-leaf plants like jade or money trees offsets the angular energy.
Combining snake plants with more yin elements creates balance.
Moderation and thoughtful placement are keys to optimizing the luck and harmony snake plants can bring.
Their vibrant wood energy is best utilized in entryways, open living spaces, and areas needing cleansing.
With balance, their strengths shine.
Snake Plants Essentials To Have
As a long-time gardener, I wanted to share some of my top tips for keeping snake plants thriving indoors.
With a few key supplies and proper care, these resilient yet dramatic plants can purify your home's energy for years to come.
Here are the essentials you must know:
Succulent Soil Mix. Snake plants prefer fast-draining soil that won't stay too wet. A cactus/succulent soil blend with added perlite prevents moisture buildup that can lead to root rot.
Pruning Shears. The stiff, spear-like leaves of a snake plant hold their shape well, so you need good quality pruners to trim them neatly. Straight blades make clean cuts.
Neem Oil. Like other succulents, snake plants are prone to pests like spider mites that thrive in dry indoor conditions. Neem oil smothers bugs and gives your plant a protective boost.
Caring for a snake plant properly keeps its cleansing energy flowing in your home. Though they have a formidable appearance, snake plants are surprisingly low maintenance.
Their upright leaves naturally draw positive chi upward, but letting them overcrowd blocks healthy energy flow. 
Occasional pruning to shape the plant prevents this. Let cut ends callous over before replanting to avoid rot.
Snake plants also prefer dry conditions typical of indoor spaces. Water deeply only when the soil is dry to the touch. 
Too much moisture can lead to root rot, evident by yellowing, drooping leaves. Let the soil dry out to heal symptoms.
Moderate light is fine, but avoid direct sun which can scorch leaves. Position your snake plant where it gets ambient brightness, but not hours of hot sun. Filtered light from a sheer curtain is ideal.
Beyond their air-purifying properties, snake plants have many other medicinal benefits like treating skin conditions, easing anxiety, and more! With the right care, this lucky plant can thrive.
Choosing the Right Location for Your Snake Plant in Feng Shui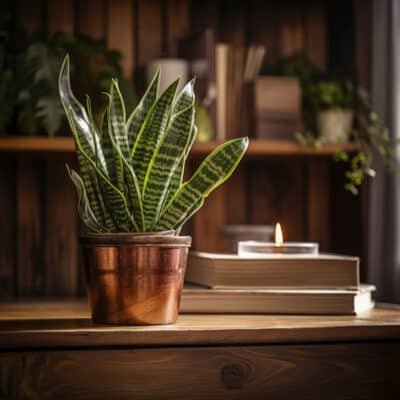 In feng shui, placement of your snake plant is key to optimizing the positive energy it can bring into a space. 
While an excellent cleansing plant, its sharp shape has some important dos and don'ts. 
Here are my top tips for location selection based on feng shui principles.
The best spots for a snake plant are entryways, hallways, or corners of a living room. Here, its vibrant upright growth acts almost as a guard, filtering incoming energy. 
Keeping snake plants near doors or pathways makes use of its protective abilities.
Avoid placing snake plants in the bedroom, as its vigorous yang energy can be disruptive to rest and intimacy. 
The sharp leaves pointing at the bed can feel confrontational. Also, refrain from putting snake plants on either side of a doorway.
Indirect light is essential, as too much direct sun scorches snake plant leaves. Near strongly lit northern or eastern facing windows is ideal. 
This balances sufficient brightness with protection from hot midday/afternoon sun from the south or west.
Angle the leaves away from sitting areas or desks, so the "cutting" energy doesn't point directly at you. FACE the sharper tips away from human activities. 
Pointing the leaves outward into the room projects positive energy.
Used wisely, the snake plant's commanding presence makes it an excellent feng shui choice for many spaces, bringing prosperity and protection. 
Just mind the orientation and location to maximize its powerful benefits.
Prices pulled from the Amazon Product Advertising API on:
Product prices and availability are accurate as of the date/time indicated and are subject to change. Any price and availability information displayed on [relevant Amazon Site(s), as applicable] at the time of purchase will apply to the purchase of this product.
What About A Fake Snake Plant?
While artificial snake plants are widely available, they lack the vibrant energy and air-purifying properties of their living counterparts. 
As a feng shui consultant and gardener, I don't recommend fake snake plants.
Without active growth, fake plants don't foster positive chi circulation like living snake plants.
Their sword-like foliage can't metabolically filter the air of toxins either. 
And real snake plants release oxygen at night – fakes don't!
In feng shui, living plants represent the wood element's vitalizing energy. The wood element nourishes creativity, mental clarity, and renewal – absent in plastic plants. Their artificial materials even emit subtle toxic gases.
Now, fake plants won't directly cause bad luck. But they provide none of the lucky boost of real snake plants, like attracting wealth, energy or symbolic protection. 
They're simply decorative objects.
Genuine plants connect us to nature's healing power. The faceted snake plant specifically has many generations of cultural meaning and use. 
If you wish to introduce this lucky living energy into your home, opt for thriving and vibrant houseplants over lifeless fakes!
Feng Shui and Houseplants
As an avid gardener and feng shui enthusiast, I've learned quite a bit about using plants to enhance the energy of living and working spaces.
Feng shui offers guidance on choosing varieties that promote harmony rather than discord. Here's an overview of feng shui wisdom on houseplant selection and placement.
First, plants with upright, vertical shapes like snake plants, bamboo, and Dracaena reflect wood energy.
The wood element nurtures focused intent, creativity, mental clarity and personal growth. Columnar, vertically-oriented plants cultivate these benefits.
Alternatively, plants with rounded, cascading shapes like philodendrons, pothos, or maranta reflect yin, or feminine energy.
Their flowing forms soothe and calm spaces. Tropical trees with glossy leaves or citrus trees bearing fruit evoke lushness and prosperity.
Always avoid plants with prickly or "weapon-like" shapes pointing into a room or at seating areas.
Their aggressive yang energy gives off confrontational, hostile vibes. Similarly, refrain from cacti in most living areas.
Clubbed, swollen or twisted roots or "creeping" vines represent obstacles or entanglements.
Keep these varieties out of entryways, paths and office spaces where you want energy to flow freely.
Lastly, plants should be healthy, vibrant specimens.
Drooping, dying plants symbolize decline and stagnation. Remove sick plants promptly to prevent negative energy.
With proper selection and placement, houseplants can transform the feel of a space from stressed to tranquil or prosperity-enhancing.
Align your indoor jungle with feng shui for maximum luck!
How to Know Which Plants Bring Good Luck and Bad Luck
Certain plants are believed to bring good or bad luck according to feng shui and spiritual traditions. As a long-time gardener, I've compiled tips on identifying lucky vs unlucky varieties.
Plants with positive symbolic meanings tied to prosperity, health, or persistence usually boost luck. For example, bamboos and palms connote strength and resilience. 
Flowers like orchids represent refinement. Fruiting plants point toward abundance.
Upright, pillar-shaped plants evoke growth and rising energy which is fortunate. 
Alternately, creeping, sprawling or choking plants that spread greedily manifest entrapment and obstacles. Keep these out of entryways and paths.
Plants with thorns or prickly foliage give off an overly sharp yang energy if placed pointed toward seating areas or desks. 
Their aggressiveness disturbs harmony. 
Smooth, rounded leaves have softer, more welcoming energy.
If a plant drops leaves easily, appears diseased, or requires constant revival, it may drain energy. Vibrant, thriving plants with few needs amplify positive chi instead.
Avoid plants with bad associations in folklore.
Trust your intuition too. Notice your mood and focus in the presence of certain plants. Promote those that make you feel tranquil and productive. By aligning intention with placement, plants become lucky allies!
The Best Plants According to Feng Shui
As a feng shui enthusiast, I'm often asked what the most auspicious plants are for promoting positive energy at home. Here are 5 of my top recommendations according to feng shui principles.
Areca Plant– This graceful tropical palm thrives in indoor conditions. Its feathery fronds softly filter light and air. Areca palms represent growth, resilience and renewal. Place in living rooms and offices.
Boston Ferns– With long, delicate fronds, the Boston fern has a lush, welcoming shape. It boosts humidity too. In feng shui, ferns represent gentleness and tranquility. Perfect for bedrooms and bathrooms.
Jade Plant– Jade has rounded, succulent leaves for good luck and prosperity according to feng shui. The jade plant is also associated with longevity and health in many cultures. An excellent feng shui choice.
Bamboo– Bamboo's strength and rapid growth make it a classic feng shui enhancer of vitality, focus, and success. Use bamboo in entryways, living rooms and offices. Select varieties suited to your indoor conditions.
Golden Pothos– With its trailing vine and heart-shaped satiny leaves, pothos embodies yin energy. It thrives in shady spots and filters toxins from the air. Ideal for bedrooms and on shelves.
When choosing plants, also consider factors like sunlight needs, temperature preferences and care requirements.
Selecting varieties that naturally thrive in each space enhances their energizing effects.
With the right plants, you can infuse your home with positive chi!
Frequently Asked Questions
What are some examples of air purifying plants in feng shui?
Snake plants, bamboo, areca palm, peace lily, and spider plant are some great air purifying plants to incorporate in feng shui.
Their ability to filter toxins improves energy flow.
What makes a plant good or bad for feng shui?
Plants with upward, vertical shapes and leaves promote good feng shui as they represent wood energy's focus and growth.
Plants with prickly, weapon-like foliage or entangling vines give off aggressive, obstructing energy and are bad feng shui choices.
Are snake plants considered lucky plants?
Yes, snake plants are generally considered lucky in feng shui.
Their tall shape promotes wood energy, while their sword-like leaves cut through stale chi.
They are best placed by entryways as a protective guard.
However, take care not to point their sharp leaves at seating areas.
What are some examples of lucky plants for feng shui?
Lucky bamboo, jade plants, areca palms, Boston ferns and fruiting plants like citrus trees are considered lucky in feng shui due to their symbolic meanings tied to prosperity, longevity and abundance.
Place them appropriately to activate their good fortune associations.
Should you have indoor plants inside the house for good feng shui?
Yes, having thriving indoor plants is an excellent way to boost energy flow and incorporate wood element qualities like renewal and vitality through feng shui.
Choose varieties suitable for each space's conditions and place purposefully.
Just avoid prickly or sprawling plants pointed at seating or desks.
Does a snake plant's meaning and symbolism suggest good or bad feng shui?
The Sansevieria trifasciata or snake plant's symbolism of strength, resilience, and protective energy make it largely positive for feng shui purposes.
Its vertical structure activates wood energy.
However, its sharp shape requires angling leaves away from human activities.
Used properly, snake plants promote good feng shui.
Conclusion
Before you repot that snake plant…
Hopefully I've put your mind at ease about keeping snake plants in your home or workspace.
While they may look imposing with their upright sword-shaped leaves, these hardy plants are much more likely to bring benefits like better air quality than curses.
But how should you best care for your snake plant to keep it thriving? Proper planting techniques, watering habits, and occasional division are key to a long-lived, lucky sansevieria.
Read my next guide for 5 secrets to keeping your snake plants healthy and happy for years to come.
Caring For Your Snake Plant: 5 Essential Tips
Related Articles:
Which Houseplants Purify Air the Best?
 Feng Shui Tips for Indoor Plant Placement 
Beginner's Guide to Repotting Houseplants
References
https://www.thespruce.com/snake-plant-feng-shui-5216096
https://www.everydayhealth.com/photogallery/feng-shui-your-home.aspx
Related Articles