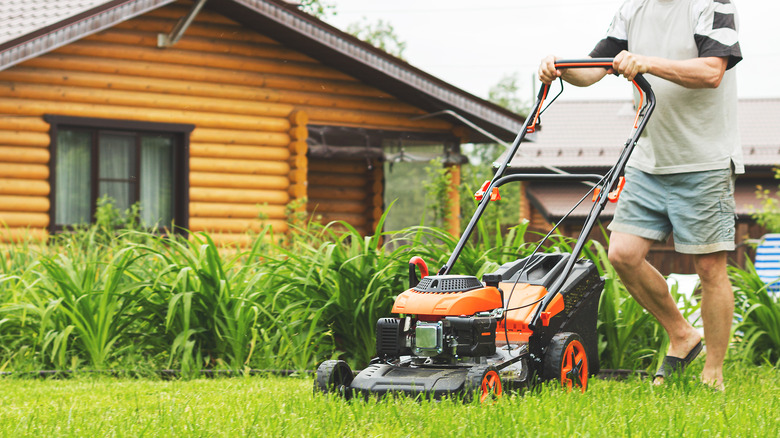 Keeping the grass cut and neat is one of the most important thing you can do if you own a garden.
If you are unsure on which lawn mower types you should choose, don't worry.
We will walk you through all of the lawn mower types available.
You will undoubtedly find an answer, just like Robert did:
I had a dilemma regarding what type of mower to buy last year.

I had a small lawn, so I definitely didn't need a riding lawn mower.

Yet I don't want to be bothered to manually cut the grass myself.

I was wondering if there is another type of mower that would solve my problem.

So I went to find an article that could explain to me just what lawn mower types exist out there.

Turned out there's a lot!

It helped me decide which to buy for my yard.

Robert, San Fransisco
Without further ado, let's learn all about the lawn mower types available for you.
All The Lawn Mower Types There Is
There are numerous different lawn mowers on the market to satisfy a variety of grass mowing needs.
Here are various lawn mower types and models that you can pick from.
Push Mowers
Push mowers are best for flat lawns and come in a variety of deck sizes to suit your needs.
Keep in mind that the larger the deck of a push mower, the heavier it is to push.
Cylinder Mowers
Cylinder lawn mowers have vertically rotating cylinder blades at the front of the mower.
Lawn mowers with cylinders cut against a fixed blade at the bottom and should have many blades – three or more is ideal.
Cylinder lawn mowers are ideal for flat lawns that need to be kept short and tidy.
Rotary Mowers
Like a plane's propellers, rotary lawn mowers have a single blade that revolves horizontally beneath the mower.
Rotary lawn mowers are the most versatile, as they can handle most varieties of grass.
A rotary mower can be electric, battery-powered, or powered by gasoline.
Hover Mowers
Hover lawn mowers float above the ground, making them easier to use and capable of mowing uneven areas.
Hover mowers are a wonderful alternative for lawns with odd shapes and are less expensive than other varieties.
Hover lawn mowers, which are usually electric-powered and have rotary blades, are not always suited for vast lawns.
Self-Propelled Mowers
Self-propelled mowers are best for larger yards, because the mower pulls itself which then reduces the wear and tear on the person mowing the lawn.
However, they can be more difficult to maneuver around sharp corners.
Mowers with rear wheel drive are excellent for open yards with steep hills.
Ride-On Mowers
Consider a ride-on or riding mower if your lawn is more than 34 acres.
The size and type of ride-on mower you choose is mostly determined by your budget.
Ryobi, for one, is a brand which creates one of the best riding lawn mowers.
The majority of ride-on mowers look like a tiny tractor with a cutting deck suspended underneath.
Riding lawnmowers are convenient and best suited for lawns larger than one acre in size, according to a conventional rule of thumb.
Prices for ride-on mowers start around $3000, so if your property is between 12 and 1 acre, you might want to consider a push mower instead.
However, for lawns greater than one acre, a ride-on mower should be considered.
There are many different types of ride-on mowers available, and the top models offer class-leading cutting widths, power figures, and added amenities.
Rear Engine Model Mower
Ride-on mowers with a rear engine are typically more basic and less expensive.
Rear-engine mowers have power levels that are comparable to high-end push mowers and offer the same adaptability, with the exception that you sit on them.
Smaller chassis and cutting widths are common with rear engine mowers, making them suited for smaller lawns and driving through tight locations like gates and fences.
Although rear-engine ride-on mowers may lack the power of other ride-on mowers, the convenience factor and tiny frame may make them desirable for short lawns.
Zero Turn Riding Mower
Consider a zero-turn ride-on mower if your lawn is fairly vast and has a lot of obstacles.
A rear-mounted engine and rear-wheel-brake steering provide zero-turn mowers a very compact turning circle.
It will take some experience for first-time zero-turn mower users to get the hang of using the lever steering controls.
One of the most notable aspects of zero-turn mowers is its capacity to accomplish extremely tight turning circles, as well as a 360° turn.
Most zero-turn mowers have enormous cutting widths of 100cm or more, allowing you to mow your lawn quickly and easily.
With a lightweight frame and comparatively high-power engine figures, zero-turn mowers have higher top speeds.
Sum Up
We've detailed different lawn mower types that are perfect for different types of yards.
So, whether you're in the market for a push mower, an electric lawnmower, or a gas-powered lawnmower, we've got you covered!
Don't forget to leave a comment and let us know what you think!