Today we'll look at the Snapper XD 82V MAX Cordless Lawnmower…
…a strong cordless lawnmower that is efficient, easy to use, and can tackle a variety of lawns.
In this review, we'll go over the basics, some of the standout features, and several alternatives if this…
…isn't your cup of tea. This review is focused on the self-propelled 21′′ model. SXD21SPWM82K, model 1687914.
The Snapper XD MAX 82v Cordless Lawnmower is an excellent choice for switching from…
…a gas to an electric lawnmower. It's quite strong, has a lot of tuning choices, and some…
…fantastic features like the push-button ignition and self-propel mechanism make it super easy to use.
It also charges quickly and allows you to connect an additional battery that replaces the original when it runs out.
The only item that we would dock points for is the battery life…
…which may be enhanced by purchasing the alternative 4 Ah or 5 Ah batteries.
In 1951, Snapper introduced the industry's first self-propelled rotary lawn mower.
They're now working on a fantastic self-propelled electric lawn mower.
Learn why I liked the Snapper XD 82V MAX Cordless Overview mower so much!
Features: Has many of the features found on the top electric lawn mowers. The self-propelled option is key for many buyers.
Quality: There have been a few complaints that users could not reach 45 min. of battery use time, but most users seem to get close to that.
Value: The price is on the lower end of top electric mowers. Considering you get two batteries, a rapid charger, and it is self propelled, this is a great value!
Pros
Affordable Price 
Self-Propelled
Sturdy Due to Steel Deck
2 Batteries and Rapid Charger Included
Cons
Heavy Due to Steel Deck
Occasionally Battery Lasts a Little Less Than the Listed 45 Minutes
Snapper has been making mowers for decades, and their dedication to quality is evident in this model.
All of the features you want in a mower, plus the fact that it's self-propelled, is a great advantage.
The Snapper XD 82V MAX Cordless is a large and powerful mower.
Another mower might fit you better if you're seeking…
…for an electric mower because it's quite light. The weight, on the other hand, comes with a lot of durability.
Here's Gerrad's story about his problem with Snapper XD 82V MAX Cordless needs.
Words from Gerrard
Hello my name is Gerrard.
I'm currently staying at home during the quarantine…
…i really love gardening…
…when I wake up in the morning…
…i always spend my time to garden in backyard of my house.
I've realized something, i need lawn mower to make it easier.
But so far, I haven't found the lawn mower review…
…that complete for my data. However I do not know…
…about the details of each lawn mower product and its…
…advantages and disadvantages.
Finally I decided to read an article on the internet…
…about it, after I understood the advantages…
…and disadvantages of each product, I finally chose one…
and know i have great Snapper XD 82V MAX Cordless for my garden work!
A garden is a planned space, usually outdoors, set aside for the cultivation, display, and enjoyment of plants and other forms of nature."

WIKIPEDIA.
Features of the Snapper XD 82V MAX Cordless Lawn Mower
Snapper XD 82V MAX Cordless Lawn Mower Features: Product Stats
Weight: 80 lbs. w/ battery
Deck Size: 21 inches Steel
Rear Wheel Size: 10 inches
Blade Heights: 7-position
Warranty Length: 5 years
Self-Propelled: Yes
Push-Button Start: Yes  
Vertical Storage: Yes
Snapper XD 82V MAX Cordless Lawn Mower Features: Key Features
Smart Cut Technology: The smart cut technology allows the mower to alter power based on the grass thickness and length. When cutting light grass, this feature extends the time your mower can operate and helps ensure a great cut when cutting heavier grass.
3-in-1 Discharge: Allowing for three different types of grass discharge gives you more options when it comes to mowing your lawn. You can select from the following options: Side discharge to throw the cut grass out to the side of the mower, Bagging, Mulching.
21″ Steel Deck: The 21-inch deck lets you to cut more grass per pass, reducing your mowing time. The mower's steel construction adds to its longevity, but it also adds to its weight.
Load Sensing Technology: While mowing the lawn, Load Sensing Technology allows the power to adjust. This helps your battery last longer by only using the power that is required. When passing through short grass, the blade slows down, then speeds up again when passing through long grass.
Powered by Briggs & Stratton: A strong Briggs & Stratton 82V Max* 2Ah Lithium-Ion Battery offers all the power your mower requires to complete the job. With the push of a button, the battery may be readily removed.
Snapper XD 82V MAX Cordless Lawn Mower Features: Power Supply
Battery Stats: 82 volts/2Ah
Time to Fully Charge: 30 minutes 
Mowing Time Per Charge: 45 minutes
One element that makes this mower stand out is the battery quality.
This Briggs & Stratton battery has a short charge time and a long run duration, which is a significant plus.
Not to mention the fact that it includes a fast charger!
Quality of the Snapper XD 82V MAX Cordless Lawn Mower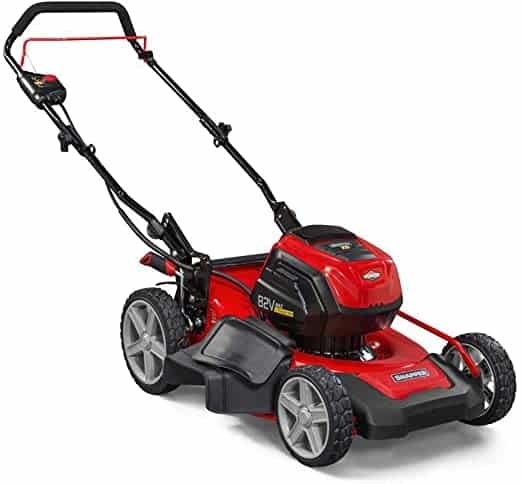 Snapper XD 82V MAX Cordless Lawn Mower Quality: Mower Quality
The 21-inch steel deck adds a lot of value to the product.
However, as previously said, this does add some weight to the mower.
Some users may be put off by the weight.
However, being self-propelled helps with this problem.
Some owners have complained that the battery does not keep a full charge or that they run…
…out of battery power before their grass is entirely mowed, which is a negative criticism of this mower.
While these comments pale in comparison to other customers' reports of excellent battery quality…
…they are worth noting. This mower does come with two batteries, so that should…
…be plenty in the event of a power outage. To work with, you need always have a fully charged battery.
Snapper XD 82V MAX Cordless Lawn Mower Quality: About Snapper
For more than half a century, Snapper has been a leading manufacturer of high-quality lawn equipment.
They created the first self-propelled rotary lawn mower and today manufacture some of the top electric lawn mower.
As a result, we know they are always at the forefront of progress.
If you've ever owned a Snapper mower that runs on gas, you know how long they last.
With the new electric variants, only time will tell.
Snapper XD 82V MAX Cordless Lawn Mower Quality: Warranty
The lawn mower is covered by a 5-year warranty, and the batteries are covered by a 2-year limited warranty.
Value of the Snapper XD 82V MAX Cordless Lawn Mower
What Comes with the Snapper XD 82V Max Cordless Lawn Mower
This is determined on the settings you select. Using our connection, however…
…you will receive the mower, grass catcher, two batteries, and a rapid charger.
You may simply get only the mower body, but two batteries are hard to resist.
The option in our link is self-propelled, however there are several non-self-propelled choices available.
Replacement Parts
Most lawn mower dealers have Snapper parts on hand. Snapper mower components are also available on Amazon.
A Briggs & Stratton 82V MAX 2.0 Lithium-ion Battery and charger are also available on Amazon.
It's always written down there, and I see it.
Value Summary
Is it the most affordable electric mower on the market? No, however it is one…
…of the most affordable mowers in its class! Given that you receive two cells…
…a rapid charger, a grass catcher, and it is self-propelled, the pricing is really reasonable.
Sometimes you have to pay more for well-known brands, but that is not the case with this Snapper mower.
Sum Up
This self-propelled electric mower is one of our top three mowers on our…
…recommended list due to its trusted brand, numerous features, and additional goodies.
You can't go wrong with this mower if you're searching for your first electric mower.
Conclusion
Take the plunge and become a member of the electric mower community today!
If the Snapper 82V MAX Cordless mower isn't right for you, have a look at our top options…
…on our Recommended Mowers page! We give our opinions on all of the best lawn tools available!
And you can complete your garden tools with garden hoe, garden trowel and garden bags.