West Virginia, or the Mountain State, is the most-wooded state in the U.S. and is the only state that sits within the Appalachian Region of the country.
If you have not done so already, you might consider investing in a plot of land in this picturesque part of the U.S. To get started, review the properties listed under land for sale in West Virginia.
You'll also want to read the following information and learn why West Virginia is considered a great place for planting and cultivating flowers, vegetables, shrubs, and trees.
A Gardener's Paradise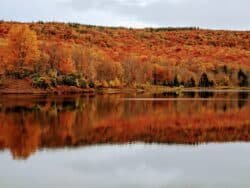 Not only does the state boast rolling terrains and forests, it's also a great place for a gardener to escape.
In fact, West Virginia is a gardener's paradise. For example, you can grow and cultivate vegetables in abundance in the spring, summer, and fall, and even the winter months.
Summers in the Mountain State are warm enough for warm-season plants while spring and fall allow for growing cool-season crops.
In fact, both vegetables and flowers thrive in West Virginia. Some of the flowering plants that are well-suited to a garden include the tobacco flower, aquilegia, and New England aster.
Vegetables that are regularly planted include peas, carrots, cabbage, beans, spinach, tomatoes, and beets.
Get Rid of Garden Pests – Naturally
In addition, the state is a  home to salamanders, which like to eat some of those nagging garden pests. Salamanders feast on springtails, maggots, slugs, fruit flies, and beetles, all which can damage or kill plants.
While it resembles a lizard, a salamander is an amphibian, and belongs to the same group as toads and frogs.
In fact, 34 species of salamander are found in West Virginia.
Just add some leaf litter to the garden to make it salamander-friendly.
Indeed, with its diverse climate, fertile soil, and abundant rainfall, the Mountain State provides the perfect environment for cultivating a wide variety of plants and flowers.
Therefore, West Virginia is fast becoming a popular destination for gardening enthusiasts.
Let's explore some of these reasons in-depth.
Biodiversity at Its Best
One of the main features that makes West Virginia an ideal gardening location is its extraordinary biodiversity.
The state boasts more than 2,000 native plant species, including flowering plants like rhododendrons, azaleas, and wildflowers.
It is also home to a plethora of trees like maples and oaks and hickories.
This incredible variety allows gardeners to enjoy year-round color and interest in their landscapes.
Fertile Soil for Flourishing Plants
Another advantage to gardening in West Virginia is its fertile soil, which is found throughout the state.
Rich in nutrients and organic matter, West Virginia's soil provides an excellent foundation for plants to grow and thrive.
In fact, the state has a state soil. While other states may have a state bird or flower, West Virginia also has a state soil.
The official state soil is Monongahela silt loam, which was named for the Monongahela River.
Combined with a regular rainfall, the ground stays moist and hydrated year-round. Because of this factor, gardeners have healthier plants and experience higher yields over time.
Gardening for Both Beginning and Experienced Gardeners
Whether you're a novice or have a green thumb, you'll find gardening in West Virginia is fun and educational. You can hone your skills through local gardening clubs or take advantage of master gardener programs or advanced workshops. They are available throughout the state.
Seasonal Splendor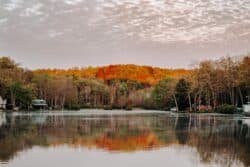 Each season brings unique opportunities for gardening in West Virginia.
During the springtime, the state comes alive with colorful wildflowers such as trilliums and mayapples. You'll also enjoy the sight of beautiful blossoming trees like dogwoods and redbuds.
Summer ushers in a bounty of fresh fruits and vegetables, making it an ideal time for home gardeners and farmers' markets alike.
In autumn, West Virginia boasts stunning fall foliage that attracts tourists from around the country.
And even the colder months offer gardening enthusiasts unique opportunities.
When there is a chill in the air, you can create a lovely and thriving winter landscape with
evergreens and cold-hardy plants.
In fact, you can grow kale throughout the year, as it's the hardiest of cold-weather plants this side of the Mississippi.
You can also grow lettuce with snow or frost on the ground, and peas taste best when grown in the late fall or early winter months.
Gardening Events and Attractions
West Virginia also hosts various gardening events and attractions throughout the year, including garden tours, flower shows, and plant festivals.
These horticultural gatherings provide gardeners with an opportunity to learn from experts, gather inspiration, and share their passion for gardening with others who appreciate the beauty of nature's bounty.
West Virginia Land for Sale
West Virginia's diverse climate, fertile soil, vibrant plant life, and gardening resources and events make it the perfect location to nurture your love for gardening.
Now is the time to begin a new journey down the garden path. Find that idyllic plot of land and enjoy the serenity of cultivating a garden in the Mountain State.