Looking for Toro small riding lawn mower?
Or are you open to try other choices of small riding lawn mower?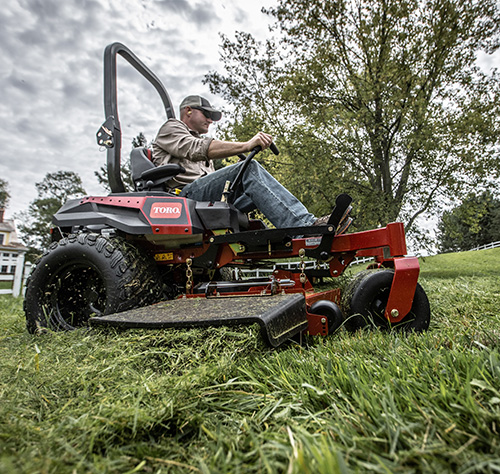 Unlike a push mower that will take a lot of your time and strain your muscles…
…a riding lawn mower saves you from being physically exhausted and time constraints…
…but only if you know what to look for!
If you don't know the qualities of a good product, you will be stuck with a sub-par product that you may as well return.
Here in this blog we have compiled some information about a small riding lawn mower from Toro which hopefully can be useful.
Keep reading!
About The Brand
Toro is a leading manufacturer of lawn and snow blowers in the Twin Cities, including Bloomington, MN.
Toro is celebrating its 100th year of manufacturing and distributing innovative solutions for the outdoor environment.
Toro provides landscape, snow and ice management, rental and specialty equipment, irrigation and lighting solutions.

Toro works hard to create advanced technologies in areas such as electric and biofuel production and the creation of water-saving irrigation products.
Toro Small Riding Lawn Mower: TimeCutter
Small riding lawn mower from Toro would be the TimeCutter, which blades has sizes starting from 34 inch.
This is the ultimate lawn mower for big jobs that need to be done quickly while fitting into small spaces.
This small but powerful lawn mower with a 22 HP Kohler engine and a 34-inch fabricated deck lets you create a beautiful lawn while having more time than ever to enjoy it.
Mowers are small, allowing for easy storage.
Toro backs up the quality of its commercial mowers with a 3-year, 300-hour limited warranty.
Plus, Toro has over 3,000 service dealers across the U.S. and Canada.
Here is a review from Esther:
I have only had this mower for a month and have only used it 3 times.

It is very easy to use and the controls are well thought out. It cuts very well and allows me to mow very closely to the edges of the lawn.

It is the smallest that Toro makes for a zero turn mower and the deck seems very sturdy, being forged and not stamped from a sheet of steel.

I have an hour clock that I bought on the internet for $10 and that I attached to the unit.

It seems important to me that I maintain my equipment according to the recommended maintenance schedules provided by Toro.

It will take time to see how well this machine will perform, but I expect it to last a long time.

Esther, L.A.
Things You Should Know Before You Buy
When shopping for the best small riding lawn mower, here are some things that you should look out for in order that you can make the best decision.
Even though most riding lawn mowers are built the same, they have different sizes due to the size of the cutting deck.
It is important to learn about the sizes of your riding lawn mower.
Riding lawn mowers come with cutting decks that are 20′′, 30′′, 40′′, and 50′′.
They all vary in weight, as some riders are heavier than others.
It all depends on the cutting deck size, the engine size, and the type of deck you have.
There are three main types of riding lawn mowers.
Each riding mower is designed for a particular size lawn.
Knowing the size of your lawn is paramount when choosing the right riding mower for you.
Learn more about which things you might need to know first before buying your riding lawn mowers here.
Conclusion
Above we have given useful information about the small riding lawn mower from Toro.
You can find out more products from Toro here.
Read more about a riding lawn mower top rated in our article if you need more information about it. Go to: Riding Lawn Mowers – Complete Guide.
Owning a riding lawn mower or a lawn tractor means you might have to own some backup tires for them, so make sure you find high-quality lawn mower tires for your yard, too.
Let us know your thoughts below!