Have you ever heard of Sansevieria pinguicula?
Or commonly known as the Walking Snake Plant?
It's one of the many different species of Sansevieria besides Sansevieria bacularis.
They go by the name 'Walking Snake Plant' because of their offset producing ability…
… which you will find out more below.
But first, check this out!
Hear it first from Tommy!
I've collected snake plants as a hobby…
One of my favorite is the Walking Snake Plant…
… due to its unique appearance…
… and relatively small size…
… making them the perfect plant for decorative purposes.
Also, they're commonly known as Walking Sansevieria…
How about that as a catchy name to be given?
Interested enough?
If your answer is yes, then here's a look on the things you must know…
But if your answer is no, then I recommend you to also take a look further…
… and maybe be convinced by the end of this article.
Without further ado, let's dive in to know more on this snake plant…
Sansevieria Pinguicula, The "Walking Snake Plant"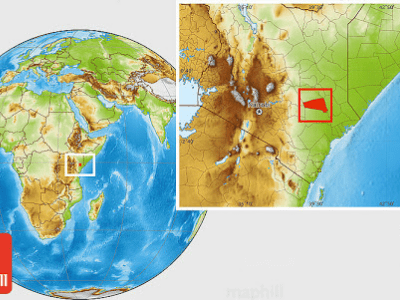 Known as the Walking Snake Plant, Sansevieria pinguicula…
… is a beautiful succulent native to Bura region of Kenya.
This plant is known by the common name…
… Sansevieria pinguicula because of how it produces offsets.
These succulent plants produce their offsets…
… not from underground rhizomes, but instead from aerial stolons.
The roots then extend to the soil, leading to the impression…
… that the baby plant is about to leave the parent.
A second characteristic of the plant's scientific name…
… refers to its appearance. The term pinguis derives from Latin…
… and describes the leaves as being "fat."
It's important to note that Sansevieria plants…
… contain a poison, so take extra caution when growing them…
… in homes with pets and small children.
The poison can cause nausea, vomiting, diarrhea, and even death…
Appearance
The Walking Snake Plant is a relatively short succulent plant mistaken for Agave…
The leaves are arranged in rosette-shaped leaves…
… and can reach a diameter of up to 12 inches at maturity.
The leaves measure an inch or so thick…
The Walking Snake Plant leaves are typically bluish green in color with a thick cuticle…
They have reddish-brown margins with a sharp spine at the tip…
When fully hydrated, the leaves are smooth…
… but develop deep grooves when the plant is thirsty.
In addition to its stilt-like roots, Walking Snake Plant are also known…
… for their outstanding fine roots…
… which provide nutrition and moisture below the soil surface.
While the thin roots of the plant often die during a drought…
… and regrow when the rainy season arrives…
… the thick, supportive ones will survive even whilst the plant itself is dormant.
The plant rarely blooms, but it can produce clusters of white flower heads…
… atop a long stalk produced at the center of the rosette.
If it blooms, the plant will stop growing, unlike Agave, which dies after blooming…
Cultivars
It's not common to find Walking Snake Plant in succulent collections…
However, it is possible to find a few different cultivars…
Each cultivar listed here has a variegated form…
… although the variegated varieties are more expensive and harder to find.
The main difference between the cultivars is the color and shape of the leaves…
Sansevieria Pinguicula 'Unicorn'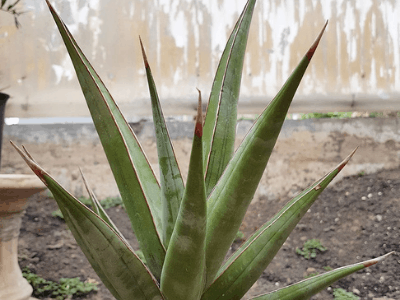 There are two common ways to recognize the Unicorn variety by its leaves…
Rather than growing in a typical rosette-shaped arrangement…
… the foliage grows more of a fan shape initially, before twisting more as the plant ages.
Sansevieria Pinguicula 'Dagger'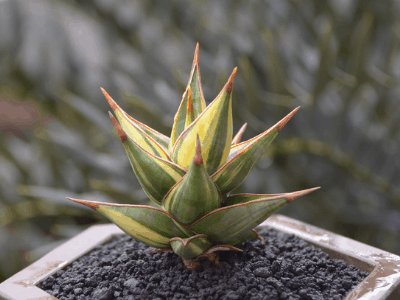 Its leaves are narrow and shorter than those of the original variety…
… closely resembling the shape of a dagger.
Dagger plants grow in tradition rosette patterns…
Sansevieria Pinguicula 'Long Leaf'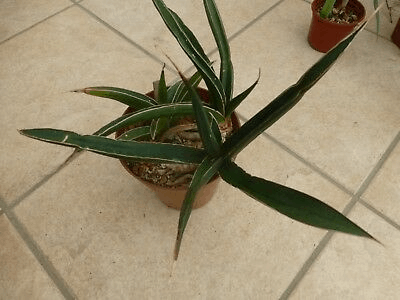 In this variety, the descriptive name 'Long Leaf' indicates its distinctive characteristic…
Its leaves tend to be long and thin, which makes them quite different…
… from those of other varieties of S. pinguicula.
Basic Care
The Walking Snake Plant is considered a hardy plant, like other Sansevieria species…
They do not tolerate intensive care and, as with most succulents…
… overwatering is the main cause of problems.
These succulents can thrive in a variety of indoor and outdoor locations…
… as long as their basic care requirements are met.
These plants are low-maintenance plants that thrive even in cool climates…
This Sansevieria is known for its slow growth…
… so do not expect to see noticeable growth in a short period of time. 
Light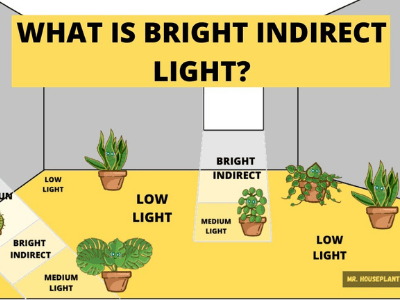 In general, the Walking Snake Plant can survive in a large range of lighting conditions…
Despite its adaptability, it will grow less well in low light conditions…
… and will eventually become etiolated.
Darker, dead colors are also a sign of inadequate lighting…
In order to achieve enough light, Walking Snake Plant require…
… between 12 and 16 hours of indirect, bright light.
A powerful grow light may be required to supplement natural light…
They are available in a variety of shapes, sizes, and prices to fit any space…
Sansevieria that is cultivated in low light conditions…
… can thrive with the help of a grow light.
In areas that stay warm year-round, you can also grow Sansevieria outside…
Although they tolerate direct sunlight, partial shade is ideal…
The heat in the afternoon may be too much for the plants…
… so keep them shaded during this time.
Winter watering can simulate seasonal changes in plants…
… so that they go into dormancy…
… but continuing to water a plant year-round is not necessary.
Water
In terms of watering, Walking Snake Plant are no different…
… than any other species of succulent.
They require deep, but infrequent, soakings…
Ideally, they should be provided with enough water to thoroughly soak the soil…
… but then completely dried out before watering again.
Sansevieria is susceptible to overwatering…
… so check the soil before planting, either with your finger…
… or with a soil moisture meter, before you water the plant.
You should wait a few days…
… then check the soil again to see if it's still moist.
If it's dry, you can go ahead and water…
This practice is preferred over watering on a strict schedule…
… because it prevents accidental overwatering.
Scheduled irrigation is less ideal…
… since it fails to take into account changes in season or weather.
Humid, wet weather means the soil won't dry out as quickly…
… and plants require less watering than hot, dry weather.
Despite the drought tolerance of this plant…
… it's best to allow it to become too dry rather than overwater it.
A dry plant can be recognized by deep grooves…
… that appear on the underside of the leaves.
Overwatered Sansevierias develop soft, limp, yellow leaves…
The leaves at the bottom of the plant fall first…
If this is ignored, root rot will likely develop…
Unfortunately, once root rot has developed, the plant will likely die…
Temperature
The Walking Sansevieria is not frost tolerant…
… so you'll need to be careful not to expose your plant…
… to extreme cold temperatures.
These succulents are sensitive to low temperatures…
… and if the soil is too wet, they'll suffer.
In dry soil, Walking Snake Plant can survive temperatures approaching freezing…
… but if the temperature drops below that, you should bring your plant indoors.
Plants usually aren't affected by extreme heat…
… provided they're kept shaded during the hottest part of the day.
During heat waves, they may need to be watered frequently…
… but when well hydrated and protected, they'll survive. 
While extreme temperatures do not pose a risk for Sansevieria grown indoors…
… you should keep your plants away from doorways and windows…
… that may experience sudden temperature fluctuations or drafts.
Soil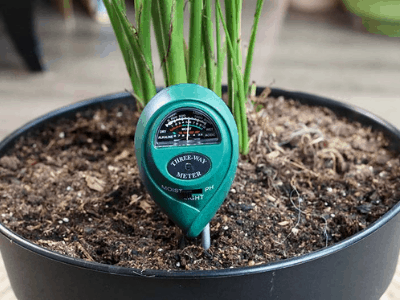 This plant requires soil that drains well…
… and is typically a coarse mixture of ingredients…
… like coarse sand, decomposed granite, gravel, perlite, or vermiculite.
You want to make sure the soil has plenty of aeration and drainage and only water the plants when the top two to three inches of soil feels dry.

Kujawa, Plant Expert and Founder of Garden Betty
Soils that contain clay, peat moss, or coconut coir retain too much moisture…
While some of the roots of Walking Snake Plant are visible above the surface of the soil…
… the finer ones below still require some air flow.
Choosing the right type of soil allows for proper drainage as well as air flow to the roots…
For DIY gardeners, it is possible to make your own soil mix…
… with these ingredients and some organic matter to create your ideal substrate.
It is more common for gardeners to buy a commercial soil mix…
Cacti and succulent soils are perfect for Sansevieria plants…
… but you can always add other materials to customize the soil to suit your tastes.
Despite the fact that it is a common recommendation…
… to line the bottom of your container with rocks…
… to ensure proper drainage, this has the opposite effect.
Instead of resulting in better drainage…
… perching rocks on the bottom of the container will actually cause root rot.
Container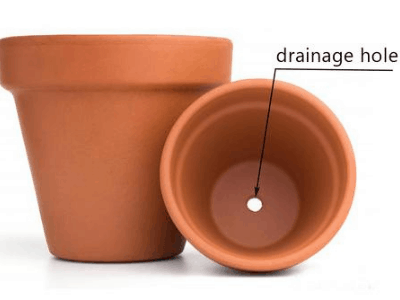 The best Sansevieria container should have drainage…
… which is crucial for its care.
Terra cotta pots with drainage hole are great for plants that are at extreme risk of being overwatered. They help wick away moisture and help prevent a variety of issues that come with too much water, like root rot.

Kujawa, Plant Expert and Founder of Garden Betty
This feature will have a stronger impact on your plant's health than you might realize…
It is not recommended to use these planters for succulents…
… since drainage holes are crucial when it comes to preventing overwatering.
In fact, having no holes in your pot means…
… you will need to water at incredibly precise times.
It is best for the gardener to choose a pot with holes…
… for excess water to drain away instead of sitting at the bottom of the pot.
Many gardeners have yet to discover the perfect watering schedule…
… which is why you should choose a pot with holes.
It's also recommended that you use a terracotta pot…
… if you tend to overwater your plants.
Terracotta can absorb moisture from the soil…
… which allows your plants to dry out quicker…
… if they receive water when they are not ready.
This, however, can potentially dry out your plant more quickly…
… than you want in hot, dry weather.
Instead, consider a plastic or ceramic pot that won't absorb moisture…
Propagation
Despite their ease of propagation, Walking Snake Plant grow extremely slowly…
… which makes traditional propagation methods…
… like growing from seeds difficult in some cases.
There are three ways of propagating Sansevieria…
… but most gardeners will likely prefer two of them for success.
For variegated Sansevieria, offsets are the preferred propagation method…
Leaf cuttings tend not to preserve the variegation…
… so if more variegated specimens are desired, cuttings should be separated.
Offsets
The easiest method of propagation is to separate offsets…
… from their parent Walking Snake Plant.
This is because the plant does most of the work…
… by producing tiny plantlets with established roots…
… so all you have to do is carefully separate it from the parent plant.
You can boost your chances of success by removing only plantlets…
… with roots longer than an inch.
Plantlets with roots longer than an inch will be able…
… to establish themselves more easily than those with barely any root growth.
When removing offsets, always use clean and sharp scissors…
… or shears in order to ensure clean cuts.
Sharp tools are more likely to cause minimal damage to your plants…
In order to prevent infection, allow the offsets to fully callus over…
… and air dry for a few days after trimming them away from the parent plant.
It is safe to plant the Walking Snake Plant plantlets in an individual container…
… of well-draining soil once they have calloused…
… as they can be cared for as mature plants.
For the species to begin producing fine roots deep in the soil…
… it can take up to twelve months.
If nothing appears to be growing for the first few months, this is not cause for concern…
Cuttings
The Walking Snake Plant can be propagated with leaf cuttings…
… just like other Sansevieria species.
To do so, you must take the leaf cuttings…
… after the plant has bloomed and stopped growing. 
When taking cuttings, be sure to use a clean, sharp pair of scissors…
… or shears to ensure clean cuts, and, if possible…
… remove whole leaves instead of sections.
In addition to drying and callus-forming, leaf cuttings must also be stored…
… in a cool place, away from direct sunlight, for a few days before planting.
When the cuts are calloused, the cuttings can be planted…
The optional step of dipping the cutting into a specific rooting hormone powder…
… will encourage faster rooting, although it is not necessary for healthy propagation.
Cuttings can root just fine without this additional step…
… but they may be more difficult to propagate.
As soon as the cut is ready, place it into moist, well-draining soil…
The leaf will begin to root and form a stolon from which the new plant will grow.
Remember, this process will take some time…
… so be patient as you wait for your Sansevieria to root.
Seeds 
This species of Sansevieria grows at such an incredibly slow rate…
… and rarely blooms so seeds are not an especially reliable method of propagation.
For those who intend to grow Walking Snake Plant using seeds…
… you can either collect them from your plant…
… or find a seed vendor who sells them.
Because this plant is difficult enough to find as it is…
… finding seeds will be very difficult.
Seeds can be sown in small containers of a well-draining soil…
… if you are able to obtain them.
The seeds will be sprinkled all over the soil but should not be buried…
Seed trays should be covered with a seed tray lid, plastic wrap, or glass sheet…
… during the germination process so that the soil stays moist.
After a few weeks, you may notice tiny seedlings at the surface of the soil…
Once the seedlings sprout, the soil cover can be removed…
… to prevent the seeds from rotting.
Usually by this time, the soil has dried out a bit…
… and the plants are being treated more like mature specimens. 
The seedlings won't be big enough to be transplanted…
… into their own containers for some time.
S. pinguicula grows extremely slowly, so the time it takes…
… for them to be sturdy enough to fit into containers could take several months. 
To sum it up…
Indeed, the Sansevieria pinguicula is a total keeper…
Not only being one of the cutest houseplants that they are…
… but they also require low maintenance and care.
This makes them a totally easy plant…
They are also easy to propagate with a lot of different methods to choose from…
… cuttings, division, or maybe from seeds?
You can easily share them with your friends…
Conclusion
Hopefully, now you are convinced to add the Sansevieria pinguicula to your collection…
This guide is perfect as your care guide if you consider purchasing them…
Nonetheless, any queries you may still have will be openly heard by us…
… through the comment section below or through the contact us section.
Check out more of our posts on this website, like this one here!
Have an awesome gardening journey!
Frequently Asked Questions Around the Walking Snake Plant
How Do You Care for Sansevieria Pinguicula?
Sansevieria pinguicula, commonly known as the spider plant or…
…mother-in-law's tongue, is a succulent that requires minimal care.
In fact, you can typically just water it and let it sit in direct sunlight.
If you do experience any problems with your Sansevieria pinguicula…
…such as brown spots on its leaves – then you should soak them in…
…water mixed with some fresh lemon juice for a few minutes each day.
Additionally, if your Sansevieria pinguicula starts to droop…
…or suffer from losing its shape, then adding more organic soil may help rejuvenate it.
Bear in mind that this plant does best when grown in full sun…
…but can also tolerate partial shade conditions.
Where Should I Place a Snake Plant?
A snake plant should be placed near a sunny window so that…
…it can get plenty of sunlight.
Additionally, place the plant in a location where it will not receive…
…harsh temperatures or humidity.
And lastly, make sure to water the snake plant regularly.
Once every week is usually enough.
Is Sansevieria Pinguicula a Good Indoor Plant?
Yes, snake plant is a good indoor plant.
It can withstand low light levels and won't need much water.
Additionally, it is an easy grower that will quickly fill any space…
…with its lush green leaves and spiky flowers.
Related Articles!