Robotic lawn mowers can drastically reduce the amount of time..
…you spend mowing your lawn and keep it looking good at all times. 
However, if you have a hill or a few steep grades in your yard, there could be a problem.
There is certainly no shortage of outstanding robot mowers on the market, but not all can handle steep slopes.
You don't want to waste money on a gadget you won't use.
So we combed through the available options…
…and put together this review of best robot lawn mowers for hills.
Each of these models can handle incline slopes of at least 35% (20 degrees).
Here are a few words from Marie…
I am in love with the mower I just bought.
Since the end of August, I haven't had to mow my almost 3/4-acre lawn.
It looks great. The lawn isn't completely fire and forget.
It will get stuck every two to three days and need help.
That usually just involves moving the front wheel out of the gopher hole it got stuck in…
…and sending it on its way. In some cases, it will have run out of power trying to escape…
…so you will need to carry it back to the charging station.
I would like to receive a notification when the app gets stuck…
…but the "connected" features rarely work.
I received my first unit with a non-functional GSM transmitter that would not connect.
They have horrible email support and I never received a reply, but their phone support is great.
Despite getting a replacement unit, I am lucky if it connects more than once a week.
A reliable wifi connection would be much more useful. A
Bluetooth connection won't function beyond a few feet.
Now let's get started…
Choosing the Best Robot Lawn Mower for Hills
There are several great options out there vying for the title of best robot mower for hills, as you can see. 
Slope Tolerance
As far as this one is concerned, it's almost a given.
If you want to choose the best robot mower for your needs…
…you have to know the actual incline angle you will be working with. 
The following document from the University of Tennessee Extension Office…
…gives a great overview of measuring slope. 
Knowing your lawn's actual incline before you shop…
…can prevent you from buying a mower that is either overkill or too weak for the job.
Keep reading…
Capacity of the Cutting Area
It's not a joke when manufacturers state how much acreage…
…or square footage their products can cover.
Random mowing patterns and preset algorithms are used…
…by robot mowers to mow your lawn every few days.
The algorithmic calculations are thrown off if you choose a mower…
…rated for a smaller area than your yard.
There are patches of long, uncut grass left over after your mower missed them. 
Therefore, you should take those figures seriously and buy enough mower for your acreage. 
Warranty Term and Ease of Repairs
Even the most basic model we've discussed here costs several hundred dollars…
…so it makes sense to make sure the investment will last. 
Become familiar with the warranty conditions and timeframe.
In most cases, manufacturer defects are covered by a 2 year warranty.
Term lengths, however, can range from one year to six years. 
If you need replacement parts or to have your mower serviced, it's worth looking into how to get them.
As an example, all Husqvarna technical support and repairs must be handled by a local certified dealer.
If you're interested in a Husqvarna model, you should research where your nearest service center is. 
Technology Features
What level of technology would you like your robot mower to have? 
It makes sense to select a smart home system that fits…
…into your existing setup if you already have one.
The Robomow RS series, the Husqvarna 400 series…
…and the Husqvarna 315X are all compatible with Amazon Alexa and Google Home. 
On the other hand, if you'd prefer a more low-tech option, the MowRo RM24 may be perfect for you. 
Here's the real deal…
 Review of Best Robot Lawn Mowers for Hills
Let's go through them one by one…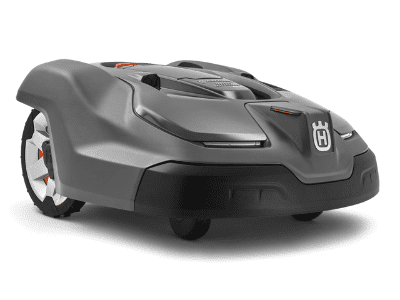 Maximum Incline Capability: 45% slope (24 degrees)
Lawn size: 1.25 acre
Cutting height: 2 – 3.6 inches
Run time per charge: 270 minutes
Recharge time: 60 minutes
Cutting capacity: 2239 square feet per hour
Warranty Information: 2-year limited warranty for residential use
Automowers in the 400 series are ideal for steep hillsides…
…and you can't beat Husqvarna's brand recognition and reputation. 
Here we're looking at the 450XH model, but there are three other models…
…in the 400 series: the 430X, 430XH, and 450X.
Despite differences in acreage capacity, run-time per charge, recharge time…
…and cutting capacity, all of them have the same 45% slope rating (24 degrees). 
As part of the initial setup, you'll need to install guide wires…
…around your lawn perimeter to keep the Automower contained.
Your settings will also need to be programmed on the large LCD screen using a PIN. 
Once that's done, you can communicate with your mower via the Automower Connect app.
Additionally, you can use the app to connect your Automower to Amazon Alexa or Google Home.
With the Automower, you can also set off-limits areas and receive alerts…
…in case the mower gets stuck or leaves the area.
When someone decides to take your Automower, a loud alarm will hopefully deter them.
If it doesn't, the GPS also allows you to locate it.
Another noteworthy feature of the Automower is that it can even operate in rainy weather…
…a feature you don't see very often in robot mowers! 
You should not use the Automower in heavy rain…
…because it won't detect standing water, puddles, or mud. 
At just 9 inches wide, the cutting width is one of the things we don't like about this machine.
The 400 series has a good run-time per charge, but the narrow cutting path reduces efficiency.
Pros:
GPS capability
Works in rainy weather
Long run-time per charge
Effective theft deterrent system
Voice command capability
Cons:
The Robomow RS series offers two choices based on the size of your lawn:
RS630: Handles areas up to 3/4 of an acre
RS612: Ideal for areas up to 1/4 of an acre
Powered by a 26V lithium battery, the RS630 cruises…
…through your yard mowing randomly for up to 1.5 hours at a time. 
One of the best aspects of this mower is its 22-inch cutting deck.
There are several models on the market that have less cutting width than that!
Also, the blades reach just past the wheels on either side of the mower…
…which yields a clean cut that doesn't leave grass straggling at the edge of your lawn.
The central joint feature allows your mower to adapt to changes in ground elevation…
…from bumps and ruts to even cuts. 
Robotmow also includes a feature called Turbomow, which senses changes in grass density.
Your mower speeds up its blade rotation when it detects tall or thick grass…
…so it slices through the grass rather than just knocking it over.
A guidewire keeps your robot mower contained in your yard…
…and you can change its settings and monitor its progress via an app.
In addition, if you have an Amazon smart home system…
…you can use Alexa voice commands to send your mower out. 
As with the Ambrogio 4.0 Elite, Robomow appears to have a weak point in its software.
While your mower is working, you may need to keep an eye on it so you can rescue it if it gets stuck. 
Pros:
Perfectly cut edges
Alexa voice command capability
Generous cutting width
Turbomow feature adapts to grass density
Cons:
App controls can be glitchy
Go on…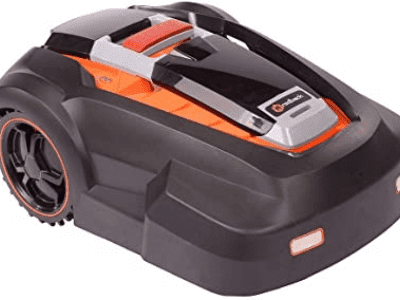 Maximum Incline Capability: 35% slope (20 degrees)
Lawn size: 0.25 acre
Cutting height: 1 – 2.5 inches
Run time per charge: 120 minutes
Recharge time: 90 minutes
Cutting capacity: 6,500 square feet per charge
Warranty Information: 1-year warranty on the battery, 2-year limited warranty on the mower
The MowRo RM24 is a great option if you're looking for a low-tech option…
…for your small yard. Furthermore, it is the cheapest option we are considering today.
There are no apps or other wireless settings to worry about…
…which can be a pro or a con, depending on your preference.
To program the MowRo, follow these steps:
Obtaining and inputting a PIN code
Laying your guide wires
Setting your preferred time for your mower to go about its work
Although it has a straightforward setup, there is a concern…
…that there is no real anti-theft protection.
RowMo's PIN prevents others from using the mower…
…but there is nothing to prevent someone from actually stealing it…
…(such as an audible alarm) or use GPS tracking to recover a stolen mower. 
It is important to be aware of the mowing schedule.
Although you can select the time of day or night that you want your RowMo to run…
…it is factory-set to run every 48 hours.
This is in contrast to other models that you can run daily or on command at any time. 
For most people, running your robo mower every two days…
…should be enough to keep your lawn looking sharp.
However, if you live in a region where grass grows like lightning…
…you may want to take this into account. 
Three cutting blades create a 9.5-inch cutting width.
This is a little on the small side, but it's comparable with several other models…
…and should be enough for small areas. 
Pros:
Great option for low-tech setup/operation
Attractive price point
Ideal for small yards
No software bugs to worry about

Cons:
Only runs every 48 hours
No anti-theft protection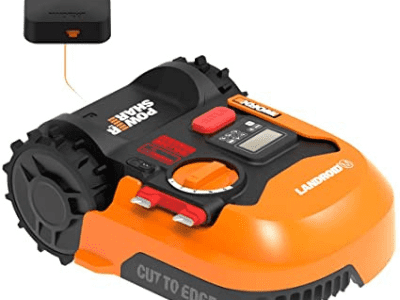 Error: Unknown Link Type
Maximum Incline Capability: 35% slope (20 degrees)
Lawn size: 0.25 acre
Cutting height: 1.5 – 3 inches
Run time per charge: 90 minutes
Recharge time: 90 minutes
Cutting capacity: 10,890 square feet per charge
Warranty Information: 3-year limited warranty
WORX offers the Landroid in 1/4 acre or 1/2 acre configurations.
In order to set up your mower, you will need to lay your guidewire…
…around your lawn's perimeter and input some data in the Landroid app.
The Landroid suggests a mowing schedule based on this information, or you can create your own. 
Additionally, the app uses GPS to alert you if your Landroid gets stuck…
…or crosses the wire boundary. When WORX software upgrades become available…
…you can manage them through the app as well. 
In the event your mower is stolen, you can use GPS to track its location…
…to recover it with the "Find my Landroid" feature.
In addition, you can set off-limits areas digitally around trees and other obstacles. 
Worx offers this mower without a GPS tracker as well.
At the time of publication, the no-GPS model cost about $200 less than the GPS model. 
It is up to you, but in my opinion, GPS capability is well worth the extra cost.
The Landroid cuts with a 3-blade system, which is the narrowest of the bunch we're looking at today.
The Landroid can, however, maneuver in tight spaces, which is an advantage.
Additionally, the blade design cuts all the way to the edge of the mower housing.
Therefore, your Landroid should be able to keep those odd nooks…
…and crannies looking sharp with no need for manual trimming.
Also, if you own other WORX tools, you're in luck:
The Landroid battery is interchangeable with other 20V and 40V WORX power tools. Great!
"With its Worx Landroid WR series*, Worx has brought a mowing robot onto the market that is available in various models. The individual models cover different sizes of gardens, so you can choose the perfect robot lawn mower for your garden. " 

Martin – Tech Journalist
Pros:
Great price point with lots of features
Battery is compatible with other WORX power tools
Works in tight spaces
Customizable mowing schedule
App alerts for software upgrades and stuck/lost mower issues
Cons:
Narrow cutting path means more passes to cover your lawn
Sum Up!
We hope you've enjoyed our review of robotic lawn mowers for steep hills…
…and that you know what to look for when shopping. 
Let's get those weekends back from behind the lawn mower! 
Conclusion
What do you think about my review of the three best robotic lawn mowers for hills and slopes?
Are you ready to save time with a robotic lawn mower and step into the future?
My four choices here are truly among the best mowers for hills and slopes you can buy.
What is the size of your yard and how steep are the hills?
Do you have rough terrain in your yard? 
We'd like to hear your opinions! Are there any other questions…
…you would like answered about robot lawn mowers…
…or any helpful tips you would like to share?
Please let us know in the comments!