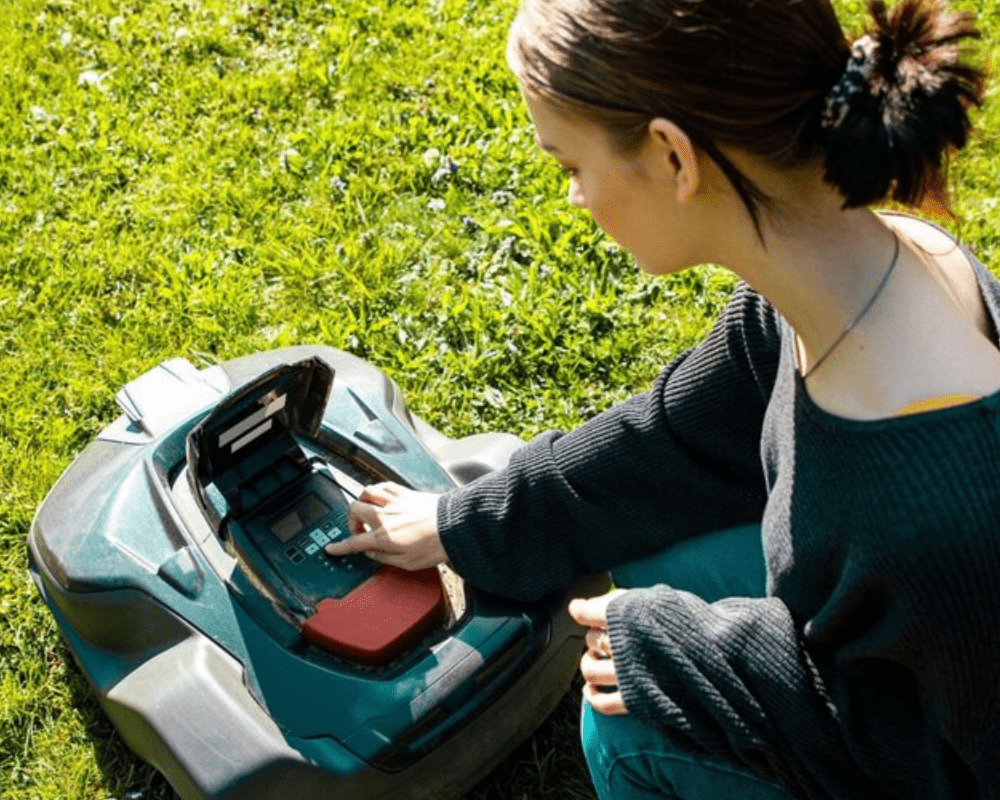 Robot lawn mowers seem like a great idea, don't you think?
They cut the grass for you, at regular intervals, require little maintenance, and are fuelless.
These are true marvels of modern technology.
They come at a high price, however.
Robotic lawn mowers often cost $2,000 or more, with some costing as much as $8,000.
There's no need to take out a second mortgage to take advantage of all this technology has to offer.
There are some of the best robotic lawn mowers out there that are the cheapest.
However, there are also some duds out there. To find them, you just need to look in the right places.
We have simplified this process for you by identifying four…
…of the best inexpensive robotic lawn mowers that will actually save you money.
Here are a few words from Jodie…
The best one on the market in my opinion?
I've had (and had) a few different automowers.
In case you're deciding between this one and one from another company, choose this one.
I've tried others and always come back to Landroid.

Landroid's major improvements over the first generation are awesome.
I have a first generation landroid myself. It is worth it if you're looking…
…for a robot lawnmower that runs well, and can actually handle up to 0.25 acres.
Let's get started…
Considerations for Buying a Robot Lawn Mower
We can't blame you for not knowing exactly what you are looking for…
…when it comes to robotic lawn mowers since they haven't been around very long.
We can't tell you definitively what option would be best for your lawn…
…but we can explain some of the specifications…
…you'll find on a robot mower's product page and what they actually mean. 
Our top picks were determined by these factors…
…and they are the ones you should keep in mind when comparing various models:
Voltage 
The first thing you want to know about a robot mower is its battery power.
The higher the voltage of the battery, the higher the power output of your mower.
A mower with more power can handle thicker and longer grass.
For example, a mower with a 28-volt battery (like our top pick)…
…would be better at mowing overgrown lawns than one with an 18-volt battery. 
Mowing Area 
The most important number to pay attention to…
…when we're talking about robotic mowers is this one.
The size of the yard that a robot mower can mow is the mowing area.
When you use a robot mower with a mowing area of a quarter of an acre…
…only part of your lawn will be mowed.
A mower suited for an acre or more will cost you much more if you have a quarter acre lawn.
Smaller mowing areas tend to be less expensive. 
Keep reading…
Cutting Width 
Similarly to any other lawn mower, the cutting width…
…(the size of the cutting deck) determines…
…how much ground a robot mower can cover in one pass.
The wider the cutting width, the faster the job is completed.
A robot lawn mower doesn't care as much about speed as other lawn mowers…
…since you won't be doing any of the work yourself. 
Cutting Incline
The maximum cutting incline of a robotic lawn mower is how steep a slope it can climb.
We measured slope in degrees for our purposes…
…but some product pages give percentages instead…
…(which can be easily converted to degrees with an online calculator).
Make sure you consider the slope in your yard when choosing a robot mower so it can climb it. 
Cutting Heights 
The majority of lawn mowers, robotic or otherwise…
…have multiple cutting height settings…
…so you can choose how tall you want your grass to be.
Cutting height is changed by raising or lowering the cutting deck…
…usually with a simple lever or dial on the mower.
Mowers with a wider range of cutting heights are more suitable…
…for diverse terrains and types of grass. 
Noise Level 
If you live in a neighborhood with close neighbors…
…you should consider how much noise your lawn mower makes.
Due to the fact that all robot lawn mowers run on batteries…
…any of them would be much quieter than a gas mower.
Gas lawn mowers tend to produce around 90 decibels of sound…
…while robot mowers range from 60 to 75 decibels.
There are even louder models that are quieter than the level…
…at which OSHA recommends hearing protection (85 dB).
In spite of the fact that all robot lawn mowers are fairly quiet…
…you'll want to choose one of the quietest models if you plan…
…to use it at night (unless you want to disturb your own sleep). 
Price 
Robot lawn mowers are much more expensive than push lawn mowers…
…and self-propelled lawn mowers, as you probably already know.
For the convenience of never having to mow the lawn again…
…you have to pay a hefty price – it's only fair. 
Here's the main part…
Best Inexpensive Robotic Lawn Mowers
All of the cheap robotic lawn mowers we're going…
…to review meet or exceed our quality standards.
Therefore, don't think of this list as a ranking.
Part of the reason is that each mower is designed for a different type of lawn.
Even though one option may appear at the top of the list, it might not be the right one for you.
In any case, these cheap robot lawn mowers are all great options…
…that you should consider buying so that you never have to worry about mowing your lawn ever again.
Let's go through them one by one…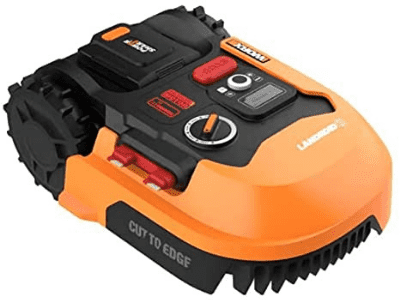 Error: Unknown Link Type
WORX Landroid WR165 is one of the best cheap robot lawn mowers…
…on the market with a retail price under $1,000.
WORX has been a household name in the world of power tools…
…and landscape equipment for some time, and they have a line of robot lawn mowers. 
In this particular model, you get:
⅛ acre cutting areaBecause this mower is fairly small, it's best for smaller lawns, just like the rest on this list. If your yard is larger, it can still cut it: you just have to wait for it to make several passes.
Artificial Intelligence AlgorithmIt provides a unique way for the mower to determine its path forward, making it easier to maneuver in tight spaces and less likely to get stuck.
Floating BladeWORX robotic lawn mowers have a blade that is raised off the ground, which makes them better at cutting grass on uneven terrain. In the absence of this, the blade could dig into the grass as it goes up and down hills.
Cut-to-edgeThe floating blade of the WORX landroid makes it possible to cut right next to buildings and other structures, eliminating the need to go back with your weedwacker. This requires less manual labor. Yes!
As a whole, it's hard to go wrong with the WORX Landroid WR165.
It is strong and durable, and it can be controlled easily via the WORX app you download on your phone.
It can only climb slopes of 20 degrees, which isn't much, and it can only cut ⅛ acres at a time.
In either case, this makes the WORK WR165 not only one…
…of the cheapest robotic lawn mowers, but also one of the best.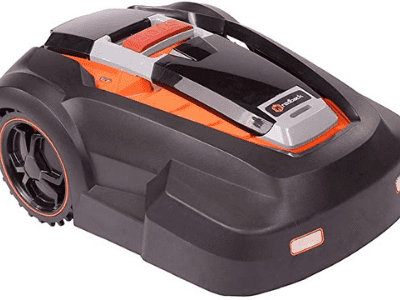 The MowRo Robotic Lawn Mower is our next pick on our list…
…of the four cheapest robotic lawn mowers that actually work. 
With a price of just under $900, it's one of the cheapest on the market.
As a MowRo user, you'll receive the following:
¼ Acre Mowing AreaWith its battery size and blade length, the MowRo can cover up to 14 acres on a single charge, which is much more than you get with other mowers in this price range.
Total Blade Length of 9.5 inchesThis is several inches longer than what most other robotic lawn mowers offer, which helps this mower to cover a larger area. As a result, it creates a more uniform cut and allows it to get closer to buildings and other obstacles.
Climbs Slopes of Up to 30 DegreesUsually, top-of-the-line models only reach 40 degrees, so this one is pretty close, and at a fraction of the price.
Height AdjustmentsWould you like to leave one section of your lawn longer than the other because it receives less sunlight? No problem. You just need to program the MowRo, and it will adjust the blade deck height as it passes through this area so that your lawn looks exactly the way you want it to.
The only thing we didn't like about the MowRo was that it was not as durable…
…as other models in this price range. Its body felt durable, but it was also fragile.
Nevertheless, if you have a smaller yard with few obstacles, you can't go wrong with the MowRo
"Most importantly for families with young children or pets, the MowRo is safe. It runs only at your scheduled time, so you can rest assured that it won't start mowing unexpectedly while kids or animals are playing in the yard." 

Jordan Ardoin – Author at Lawn Starter
Go on…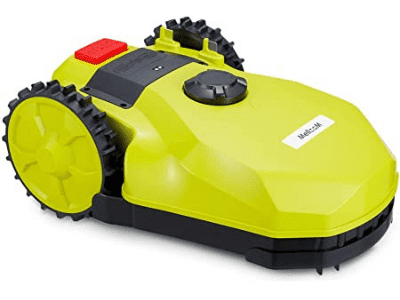 If you have a very small lawn that is free of obstacles, then the Yoleny Robot Lawn Mower is a good choice. At just $599.99, it's probably the cheapest robotic lawn mower on the market, at least among the models that are worth your money. You'll get the following if you purchase the Yoleny:
~4300 Square Foot Cutting AreaThat's just .1 acres, which is a small area. Therefore, this model won't work if you have a property with several acres. For those living in densely populated urban areas, however, this is an excellent option.
Tiny BodyIts small size and light weight are some of the things you'll notice first about Yoleny. This reduces its mowing area, but it also makes it so that it won't be too unsightly in small yards.
Handles Slopes of 30 DegreesIt is quite surprising how well it handles grades for such a small mower. In spite of this, this little guy climbs slopes that much more expensive models couldn't.
Easier SetupIt can be a bit of a challenge to install robotic lawn mowers, but this one is easier to install thanks to its small size. We don't have to do much to set up the boundary wire, so you can do it on your own and save even more money.
Even though it is one of the cheapest robot mowers you can purchase…
…the Yoleny is well worth your money.
It isn't suitable for people with large yards, and the app isn't as robust as that of the competition.
If you're dealing with simple jobs in a small yard, however, it's plenty powerful. 
Gardena 15001-41 SILENO City 2700 sq ft Robotic Lawn Mower, Grey
GARDENA SILENO City mows yards up to 2700 sq ft automatically and streak-free. For Bluetooth connectivity, download the GARDENA Bluetooth app on your mobile device, turn off the mower and turn it on again, pair the GARDENA Bluetooth app with the product and enter the PIN code. The app is used for settings and operation of the mower but can be operated using the control panel on the mower itself. NOTE: The Bluetooth pairing mode is active for 3 minutes. Scan the QR code on the box for more.
Gardena Sileno City 2700 Square Feet is a great option…
…for those who live in the city and have small yards, as the name suggests. Features of this robot lawn mower include:
2700 Square Foot Mowing AreaAlthough the Gardena Sileno has the smallest mowing area of all the options reviewed on this list, if you have a small yard, you won't be disappointed.
57-decibelsThis mower is quiet. It's really quiet. Typically, robotic lawn mowers emit 65-75 decibels of sound, but this one emits only 57 decibels. There is a fair chance that it will be running in the background without you even being aware of it.
AI technology for tight spaces
Similarly to some of its competitors, the Gardena uses a proprietary AI system to better analyze the spaces it's about to enter, resulting in better paths, better cuts, and fewer chances of getting stuck.
The only negative thing we can say about the Gardena Sileno City 2700 Square Feet…
…is that it covers such a small area. But if you purchase it with this intention, you will not be disappointed.
Sum Up! 
If you're tired of having to spend your summer Saturdays on yard work…
…a robot lawn mower could be an easy (if expensive) fix.
It is also possible to hire a professional lawn care service instead of using a robot. 
In the event that you decide a robotic lawn mower is the right choice for you…
…our top picks are some of the best on the market.
You ought to be able to select a robot lawn mower…
…that will let you set it and forget it when it comes to mowing your yard…
…based on what you know about your lawn and the information from our buyers guide.  
Conclusion
The fact that you don't spend thousands of dollars doesn't mean you can't find a quality robot lawn mower.
Many of the best robotic lawn mowers you can buy are also the cheapest. 
There are four products on this list that highlight the best of the best…
…so you can find something that meets your needs without breaking the bank.
Gardening is how I relax!
It's another form of creating and playing with colors?
My mission is to make people realize that even by growing a plant...
....it will make them believe in tomorrow?
And that's life most valuable moment!?