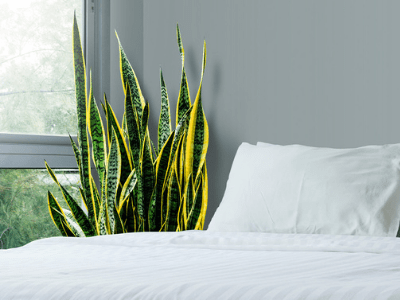 Do you know that watering snake plant is easy?
Or are you just a person that follows a watering schedule…
… and thought to yourself that it is the best way to water them?
Hear it from Sonia!
I was always told that watering on schedule is the best thing to do…
But I also figure out that different plants have different needs…
Specifically for my snake plants, I didn't know how to water them…
… the perfect way, until later.
Turns out that snake plants don't need lots of watering…
Snake plants only need watering when the soil is dry…
… and the next watering after the soil is dry again.
Now you know…
In this article, we will be digging into the deepest information…
… about how to water the snake plants the correct way.
Firstly…
Watering Snake Plant, Is That Really Needed?
Watering snake plant is the most crucial thing of how to keep and caring this plant alive…
This is a snake you'll want to keep in your home…
The snake plant is an excellent choice for bedrooms because it is practically indestructible…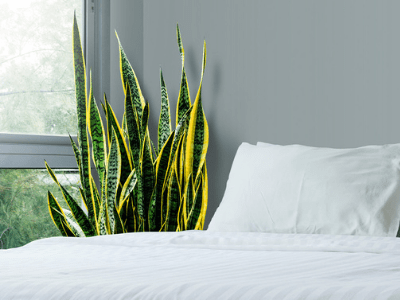 … tolerant of low light and long periods without water, and it adds oxygen at night.
When you ignore snake plants, they thrive…
They thrive in any light condition, including those dark corners that beg for some greenery…
The only tricky part about growing these classic houseplants is figuring out how often to water them…
The short answer is that you should only water when the soil is almost completely dry…
Even then, it's not a bad idea to wait a few days, especially if you have a habit of overwatering your plants…
Snake plants have a beauty that extends beyond their leaves…
These tropical plants are excellent indoor air purifiers…
… removing formaldehyde and nitrogen oxide from the air throughout the night.
The rationale for this design, which evolved from wastewater treatment studies, is based on moving large volumes of contaminated air through an activated carbon bed where smoke, organic chemicals, pathogenic microorganisms (if present), and possibly radon are absorbed by the carbon filter. Plant roots and their associated microorganisms then destroy the pathogenic viruses, bacteria, and the organic chemicals, eventually converting all of these air pollutants into new plant tissue.

B. C. Wolverton, Anne Johnson, and Keith Bounds in Interior Landscape Plants for Indoor Air Pollution Abatement
They're similar to the housecleaning elves you fantasize about…
… except they clean the air while you sleep, making them ideal for bedroom plantings.
Snake Plant Varieties
Snake plants are well-known houseplants…
The gold-edged green snake plant (Sansevieria trifasciata 'Laurentii') is one of the most common types…
… with leaves that stand straight and tall like soldiers.
Snake plants with triangular leaves (Sansevieria trifasciata 'Gold Hahnii')…
… and ones with leaves that almost form a cup as they grow (Sansevieria trifasciata 'Hahnii') are also available.
The leaves may be solid green or a mix of variegated tones such as silver, gold, white, and green…
The snake plant 'Bantel's Sensation,' with 36-inch-tall green leaves variegated with white and cream stripes…
… and the playful Glowee, with leaves that glow in the dark, are two newer varieties.
The round leaves of the Sansevieria cylindrica snake plant (Sansevieria cylindrica) rise from the soil like pencils…
How Often To Water Your Snake Plant
The most important aspect of growing a snake plant is this…
Keep in mind that these tenacious plants thrive on neglect…
Only water when the soil is almost dry. Overwatering is the quickest way to kill a snake plant…
Determining Watering Frequency
You might be surprised to learn that improper watering is one of the leading causes of snake plant disease…
As a result, determining the frequency of watering for your snake plant is critical…
Here are some examples of improper watering scenarios:
Overwatering: Snake plants are harmed by improperly chosen irrigation frequencies and the amount of water used for single irrigation. Snake plant root rot can be caused by overwatering.
The snake plant container soil dries out due to a lack of moisture. Plants struggle to maintain normal growth without water.
You should be able to figure out the watering issue at this point…
You must now determine the watering schedule. Let's have a conversation about it…
When To Water Snake Plant?
There would be one simple rule for when and how to water your Snake Plant…
… in an ideal world, and life would be sweet and simple.
Oh, if only it were that simple…
There are a number of factors that will determine whether or not…
… your plant needs to be watered, and we'll go over them now.
Don't be put off by this. Later on, I'll show you some quick tests…
… that will tell you whether or not you should water.
Checking the potting soil is the simplest way to figure out when to water your snake plant…
You can do it by digging your finger up to two knuckles into the soil…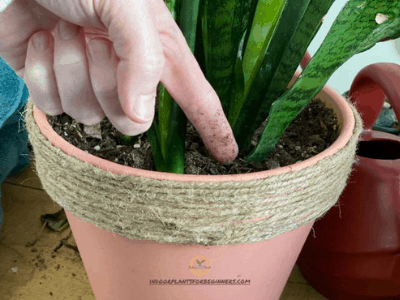 If you don't want your finger to get dirty, use a pencil or any other stick instead…
It's time to water your snake plant if the soil is dry below two inches from the top layer…
Snake plants can survive without water for up to a month…
… but they cannot be overwatered at any given time.
The roots will rot as a result, and your snake plant may die as a result…
Let's start with the main factors…
How Often To Water Your Snake Plant
We may be compensated if you make a purchase after clicking on one of the links in this article…
Snake plants, also known as Sansevieria, are one of the most popular houseplants in the United States…
One of the main reasons for this is that they are extremely easy to maintain…
… especially in comparison to other indoor plants.
Snake plants are called "succulent" because their fleshy leaves hold a lot of water…
This plant may be ideal for you if you frequently forget to water your plant or take frequent trips out of town…
But when it comes to snake plants, how often should they be watered?
Snake plant varieties usually only need to be watered every 10 to 14 days, or when the soil is completely dry…
Weekly watering should suffice during the summer months…
During the winter, watering should be done once a month or twice a week…
Other factors that may influence how much water your snake plant needs include its location in your home…
Don't worry if you still have questions about how often to water your snake plant…
We'll go over how often to water your plant, the best methods for doing so, and more in this guide…
Snake plants are widely regarded as one of the easiest indoor plants to maintain…
They don't require much upkeep and can go for long periods of time without being watered at all…
Over-watering is the most common cause of an unhealthy snake plant…
It's also worth noting that you should never water your snake plant's leaves…
Using a spouted watering can is the simplest way to water it…
If your plant is in a brightly lit area, it will need more water to stay hydrated…
When the plant is placed in a shady or cooler environment…
… it will typically require less water to stay hydrated.
In the winter, it's common to overwater the plant…
… which can result in significant leaf damage (which we'll discuss later).
It's easy to overwater snake plants…
So make sure the soil is completely dry after each watering session…
If your plant gets more sunlight than shade…
… you'll have to water it a little more frequently–which won't be very often.
Also, based on the soil volume, if your plant is in a larger pot (as opposed to a smaller one), it will require more water…
Direct sunlight may be too intense for the plant's leaves…
… causing them to burn. Indirect sunlight is the best lighting situation for a snake plant.
Steps To Determine When Your Snake Plant Is Sufficiently Hydrated
If you're buying a snake plant for the first time…
… it can be difficult to tell when it's properly hydrated…
… so here are a few pointers to help you figure out the best watering schedule.
Step 1
You'll notice that the topsoil has darkened after you've watered your plant…
… (either dark brown or a blackish brown-depending and the type of topsoil that you use).
You'll also notice that the soil appears to glow a little after watering (for a few seconds at least)…
This indicates that you have given the soil more than enough water to absorb for the time being…
You should be able to see water squeezing out of the soil above your finger if you press your finger on it…
Step 2
After you've watered your snake plant, stay a while to watch the color of the topsoil change…
This can take anywhere from one to two hours…
You'll notice that the soil no longer shines…
… but it's still darker and has a different appearance than before you added the water.
If you press down on the soil with your finger, no water should rise to the surface above your finger…
Step 3
After 24 to 36 hours, you should notice that some areas of the soil…
… are still dark black or brown, while others have lightened up.
This is a very encouraging sign. When you press your finger into the soil…
… there should be no water on top of it, and it should feel moist to the touch.
You have not adequately watered the plant if the top of the soil remains dry…
… and it may require additional hydration.
Seasons
It may seem counterintuitive, but a plant that lives indoors responds to the weather and season…
In the spring, your plant will emerge from its dormant state and begin to put on significant growth…
It will require more water at this stage than it would during the rest of the year…
… and the gardener must adjust accordingly.
The plant will begin to slow down that sudden burst of energy by summer…
… but it will still require a steady supply of water.
As autumn approaches, this will slow even more, and by winter…
… there will be no growth and watering will be virtually unnecessary.
These plants are cultivated for their sword-like foliage, but they do flower on occasion…
They will occasionally send up a long stem in the spring…
… that will bear sweet-smelling, cream-colored flowers at the top.
With a pair of secateurs, cut the stem away from the base once the flowering is finished…
The plant must expend energy to produce a flower…
… so you may need to water more frequently at this time.
Temperature
This is a big one. The ideal temperature range for your Snake Plant is 55°F to 85°F (13°C to 30°C)…
This is a pretty wide range of tolerance, which just goes to show how tough these plants are…
If you allow the temperature to fall below 50° F (10°C), they will become unhappy…
You'll notice that your plant will need to be watered more frequently as the temperature rises…
This is due to a number of factors. First, the leaves will release more moisture into the air…
Second, increased evaporation will cause the soil to dry out faster…
Sum Up
See having Snake plant is good choice for you to have!
It's cool, its famous, it's easy to have and care! What else do you need?
In this pandemic time like this, is a good choice for you to have an new activity…
… and having snake plant is a good choice for you to have!
Conclusion
Last thing for sure. This plant need to be care carefully, remember plant need the "love" too…
Alright that's all for today! Do you have any questions about all of this?
Or do you want to add some method to watering snake plant, so it can grow very well and healthy?
Let me know your recommendation from the comment below or contact us.
I hope you can now take care your snake carefully and grow it big!
Thanks for reading this article! If your plant has this lovely blossom, enjoy the show!
Related Articles!