The most likely cause of a leaking snowblower is a damaged fuel line, but pinpointing the exact location of the leak is key to an easy fix.
Keep reading and I'll walk you through how to systematically track down and repair the leak source so you're ready to clear snow again in no time.
KEY TAKEAWAY
Why is my snowblower leaking gas?
If your snowblower is leaking gas, it's crucial to address the issue promptly.
Common causes include damaged fuel lines (1) or carburetor problems, and early detection can prevent more extensive damage.
Common Causes of Snowblower Gas Leaks
That first big snowfall means it's time to break out your trusty snowblower.
But as you pull it out of the garage, you notice the unmistakable smell of gas emanating from it.
Uh oh. A gas leak can prevent your snowblower from starting and cause bigger issues down the road.
Based on my years of experience repairing small engines, I'll walk through the most common causes of snowblower gas leaks so you can diagnose and fix the problem.
The main culprits for gas leaks fall into just a few categories: damaged fuel lines, a faulty primer bulb, cracked gas tank, stuck float/needle valve, and loose fittings.
I've seen each of these countless times on the many snowblowers, lawnmowers, generators, and other small engines I've worked on.
The good news is that most external leaks can be fixed yourself in an hour or less using basic tools and inexpensive replacement parts.
Let's explore the prime suspects behind your snowblower's gas leak.
Tipped Snowblower: A Likely Culprit
One of the most obvious ways to spring a leak on your snowblower is by tipping it up on its nose or side.
This happens a lot when squeezing the machine into tight spaces for storage or transport.
The sudden change in position causes gas to spill out of the tank and leak onto the ground.
How can you prevent a tipover leak? Always keep your snowblower level when storing or moving it.
Clear space in your garage or shed so it can sit flat on all four corners.
When transporting in a truck bed or trailer, secure it upright and brace it so it won't slide or tilt.
If you discover a leak after a tipover, check the fuel lines and primer bulb for splits.
Also inspect the gas cap – it may just be loose.
Wipe off any spilled gas and run the engine to confirm it's working normally before the next big storm.
Taking a little extra care will help your snowblower stay leak-free and ready for action.
Carburetor Issues
The carburetor is the heart of your snowblower's fuel system, mixing air and gas to power the engine.
If it starts to malfunction, gas leaks can follow.
Old fuel left in the carburetor bowl can gum up the needle valve, preventing it from closing properly.
This allows gas to drip out of the overflow tube and puddle under the machine.
Try cleaning the carburetor with carburetor cleaner spray and inspect the float, needle valve, and gaskets for damage.
Replace any worn parts.
Sometimes vibrations from the engine loosen the carburetor bowl and cause leaks.
Make sure the bowl is tightened securely using a screwdriver.
Don't overtighten.
Also check that the throttle linkage connecting to the carburetor isn't detached.
Tightening loose fittings will often solve leakage problems.
Replacing the entire carburetor may be required if clearing the jets or replacing gaskets doesn't work.
Aftermarket carburetors are fairly inexpensive for most snowblower models.
Follow the installation instructions closely for proper fuel line connections.
Fuel System Examination
To pinpoint the exact location of your snowblower's gas leak, examine each component in the fuel system one-by-one.
This includes the gas tank, fuel lines, fuel valve, primer bulb, carburetor, fuel filter, and fittings.
Look closely for drips, wet spots, or the smell of gas around each part.
Carefully inspect the fuel lines running from the tank to the carburetor.
Cracked, brittle, or detached fuel lines are common culprits.
Replace damaged sections of fuel line with a new hose matched to your model.
Secure with hose clamps and check for leaks.
Examine the exterior of the gas tank for cracks and holes.
A split gas tank will require replacement.
Make sure the fuel cap seals tightly to prevent evaporative loss.
Check for leaks around the small fittings and fuel valve where the fuel lines connect.
Tighten any loose fittings with pliers or tubing wrenches.
Don't overtighten.
Sealing washers may need replacement if the fittings won't tighten properly.
Taking a methodical approach to inspecting the fuel system will help zero in on the leak location.
Then you can undertake the appropriate repair and get back to snowblowing.
Over-priming and Its Consequences
When starting a cold snowblower engine, the primer bulb is key to supplying that first gush of fuel.
But over-eager priming can lead to gas leaks and other issues.
Here are some tips to avoid over-priming problems.
The primer bulb should only need 4-6 pumps maximum to prime the engine.
Overdoing it overwhelms the carburetor with gas, causing leaks from the overflow tube.
Excess gas also fouls the spark plug, making the engine hard to start.
After priming, make sure to close the fuel valve before pulling the starter cord.
This prevents gas from continuing to flow during starting attempts.
Open the valve again once the engine catches.
Also, don't pump the primer bulb when restarting a warm engine after a short stoppage.
The carburetor still has fuel so no priming is needed in this case.
Follow the owner's manual for proper restart procedures.
Moderate priming along with closing the fuel valve during starts will keep gas leaks and fouled plugs at bay.
Just a few pumps is all it takes for winter-ready snowblowing.
Primer Bulb Problems
The rubber primer bulb is a frequent source of gas leaks on snowblowers and other small engines.
Luckily, replacing a faulty primer bulb is quick and inexpensive.
Look for cracks, splits, or deterioration that causes gas to leak out around the edges of the primer bulb.
Even small cracks allow air intake that leads to leaks.
Replacement bulbs are just a few dollars at any hardware or engine parts store.
When installing a new primer bulb, make sure the orientation is correct with the arrow pointing towards the carburetor.
Double check that the clamps are tightened securely over the fuel line segments.
It's smart to keep a spare primer bulb on hand for your snowblower.
That way you can pop on a replacement right away if the current bulb starts leaking and restore full functionality fast.
Take advantage of quick fixes that prevent having to take your snowblower in for service during winter's busiest times.
Fuel Storage and Maintenance
Proper off-season storage and maintenance of your snowblower's fuel system is key to preventing leaks when winter rolls around again. (2)
Here are some tips:
Drain the gas tank, fuel lines, and carburetor bowl completely to avoid stale gas buildup over the summer. Stabilizer additive can be used if leaving some fuel in the system.
Replace the fuel filter annually. A clogged filter can obstruct fuel flow and stress system parts.
Disconnect and inspect fuel lines for cracks or loose connections. Replace deteriorated fuel lines.
Seal the gas tank and carburetor inlet with plastic bags to prevent moisture buildup. Condensation inside can loosen sediment and clog passages.
Clean the carburetor throat and jets with carb cleaner spray to remove gummed deposits left from old gas.
Prior to winter, add fresh gas and make sure the carburetor, fuel lines, filter, and tank are leak-free. Run the engine to check for issues.
Taking time for proper off-season preparation makes it far less likely you'll have gas leaks and other fuel system headaches when it's time to clear the driveway.
Snowblower Oil Contamination
Oil leaks are a common snowblower issue that can ultimately lead to gas leakage problems as well.
When engine oil makes its way into the fuel system, it degrades rubber gaskets, fuel lines, and primer bulbs.
Oil contamination happens as engine seals and gaskets deteriorate over time.
The main preventative measure is regularly changing the engine oil.
Follow the timeline in your snowblower's owner's manual, generally every 50 hours of use or annually.
Inspect the machine for oil leaks around the engine, seal areas, and muffler.
Replace aged gaskets and seals proactively to prevent oil from reaching the fuel system.
If oil contamination is already present, degraded rubber components like the carburetor bowl gasket and fuel lines will need replacement.
Thoroughly clean out the fuel tank and carburetor passages to remove all traces of oil.
Addressing oil leaks quickly reduces harm to the fuel system.
Toro Snow Blower Recall
In March 2021, Toro issued a recall for certain models of their popular single-stage snow blowers due to a potential fuel leak hazard.
The recall includes around 357,000 machines sold between 1997 and 2007 under brands like Toro, Power Clear, and Lawn-Boy.
The problem stems from corrosion in a rivet located inside the snowblower frame below the fuel tank.
If the rivet corrodes and breaks, gas can leak out from the bottom of the fuel tank onto the ground.
Toro is offering free repair kits to owners of recalled snowblowers that include a fuel tank shield and hardware to secure it.
This prevents leaks even if the fuel tank rivet fails.
Check the model and serial numbers on your Toro snowblower to see if it's included in the recall.
Contact an authorized Toro service dealer for the free remedy kit and instructions.
Prompt action by Toro and snowblower owners will help prevent any safety issues or property damage from potential gas leaks.
It's much easier to address this proactively rather than cleaning up fuel spills or replacing damaged equipment.
NFT: Snowblower Gas Fumes – A Leak?
If you detect a strong smell of gas fumes around your snowblower, it likely signals a fuel system leak.
But there are a couple other possible causes besides a full-on leak.
Venting gas vapors from the gas cap area is normal as the fuel heats up and expands during snowblower operation.
A properly sealing gas cap should limit vapors, however.
Make sure the cap vents are clear and the cap seals firmly.
The other potential culprit is a stuck float needle allowing gas to overflow into the carburetor air intake.
This can happen if debris obstructs the needle or the carburetor gets out of adjustment.
Try cleaning the carburetor bowl and jets and make sure the float moves freely.
Adjusting the fuel mixture screws may help.
If neither of those resolve the issue, it's time to hunt for leaks.
Carefully check fuel lines, the primer bulb, gas tank, carburetor gaskets, and fittings.
Look for drips or wet spots and listen closely for hissing.
Even small leaks create strong fumes.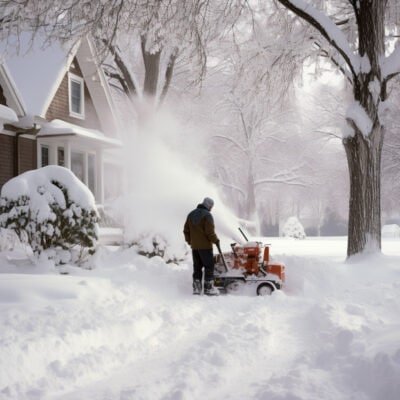 Repair any identified leaks before operating the snowblower again.
Fumes are your nose's way of signaling potential fuel system trouble.
Investigate promptly to pinpoint the exact cause and solution.
Your sniff test can prevent small problems from becoming big winter headaches.
Frequently Asked Questions
What is a float bowl and how does it work?
The float bowl is part of the carburetor inside the snow blower and is responsible for maintaining the proper fuel level.
It contains a float that moves up and down to open and close the float valve based on the amount of fuel.
If the float, float valve, or needle and seat are defective, it can cause the snow blower to leak gas.
How do I check if the float bowl is leaking?
To check the float bowl, remove the carburetor from the snow thrower.
With the carburetor upside down, see if fuel leaks from the bottom of the bowl after a couple of times.
If leaking occurs, the float, needle, or seat likely need replacement.
Proper fuel level is important for the small engine to run correctly.
What could cause a snowblower to leak gas from other areas?
A leaking fuel pump, cracked fuel line, or damaged carburetor gaskets are some other potential causes of a snowblower leaking gas.
The fuel pump moves gas from the tank and a crack or leak there could cause fuel to spill out.
Over time, fuel lines can crack from the sun's UV rays and cause leaking too.
When should I consider taking my snowblower into the repair shop?
If you're unable to determine the source or remedy a gas leak yourself after inspecting for common issues, it's a good idea to bring your snowblower to a small engine repair shop.
A qualified technician can evaluate it thoroughly and ensure any leaks are addressed before safety issues or further damage occurs.
Don't wait until next winter to have it repaired.
Are there any temporary fixes I can try before full repair?
You may be able to use carburetor cleaner or fuel stabilizer as temporary fixes to stop or reduce a gas leak for the time being.
Just be sure to properly dispose of any spills and still plan on a proper repair.
As long as the leak isn't too severe, these products can help get through the next oil change or two until you find time for servicing.
But don't assume old issues won't return or progress without complete repair.
Conclusion
With the right diagnostics and repairs, you can stop even the most frustrating snowblower gas leaks in their tracks.
Don't let a small issue keep you from fully enjoying the winter weather.
Now that you know how to pinpoint and fix the problem areas, you can look forward to clear pavements and driveways all season long.
Stay tuned for my next article, where I'll cover advanced troubleshooting tips for wonky snowblower engines that won't start.
With the helpful guidance I'll provide, you can become a snowblower repair pro and keep your machine running smoothly for years to come.
References
https://www.repairclinic.com/RepairHelp/How-To-Fix-A-Snowblower/136—/Snowblower-Leaking-Gas#:~:text=If%20the%20snowblower%20engine%20leaks,in%20the%20fuel%20pump%20body.
https://sroa.com/blog/storage-tips/preparing-your-snowblower-for-long-term-storage
Related Articles