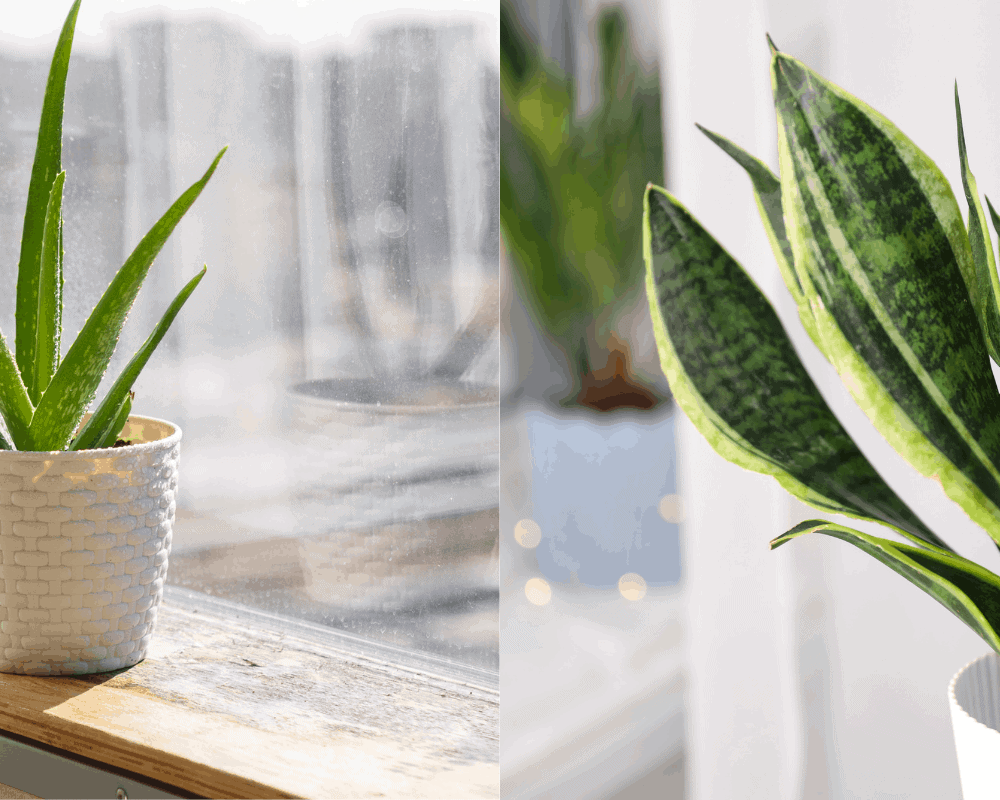 Check out these indoor plants!
There are people that don't know aloe vera and snake plants are 2 different plants.
So this time we will discuss aloe vera and snake plant differences…
…so you can spot the differences!
In this article, we will talk about their differences in terms of…
…of health benefits and how to care.
---
Key Takeaway
What are the main differences between snake plant and aloe vera?
First, we take a look at the benefits.
Aloe vera has the benefits of anti-inflammatory for your skin,
Snake plant able to clean the air hence the bedroom plant,
Which is better?
These are some of the best indoor plants to have, so there's no harm cultivating them.
---
Let's hear this fascinating story from Anna about the plants!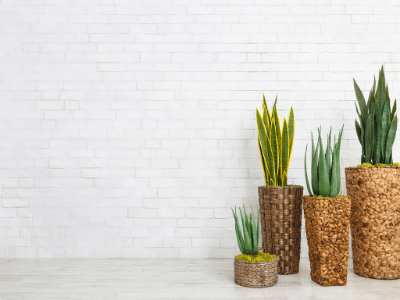 I love to have plants inside my home,
I begin to buy more plants given that the pandemic.
So I search for houseplants that is easy to look after,
… and has benefits not just for visual functions.
Throughout the pandemic, remarkably, I became even busier!
My workplace needs a great deal of adjustment when it pertains to working from home.
Simply have a little time for everything,
I call my regional gardening shop and ask for aloe vera.
When it comes, it's little and a bit thinner than the normal aloe vera I have.
I thought it's a new range of aloe vera I didn't understand in the past.
Until …
One day I cut dark green leaves to indulge my tired eyes.
It's strange because it's so durable and not as watery as I imagined.
After a while of putting it on my eyes, it ends up being scratchy!
So I recalled my gardener and he apologizes,
just remembered that he incorrectly switched out the plants …
… with other clients.
It ends up being snake plant sansevieria!
Can you relate? Because we can!
So, what's the differences?
Check this out!
---
Aloe Vera Plant and Snake Plant (Sansevieria Trifasciata) Plant Differences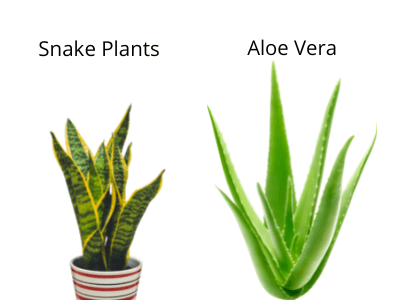 As you can see both plants grow into similar look, so what is the difference?
Here's the hint!
From their type, aloe vera tends to have spikes on the…
… edges of their leaves.
On the other hand, snake plants does not have any spikes,
… and tend to be wavy than the aloe vera.
Likewise, the one thing that stands out from aloe vera,
… is their leaves are super thick since they contain more water inside their leaves!
Now let's talk about them one by one
---
Snake Plants
Snake Plant Benefits for Health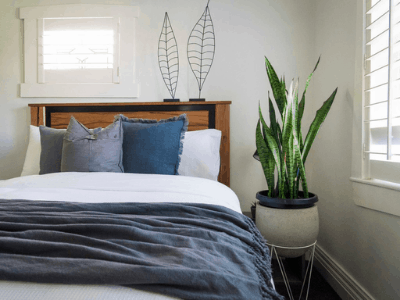 Snake Plant or Mother in Law tongue are 2 names for Sansevieria.
… however don't let the names discourage you – it improves indoor air quality in the house.
NASA scientists have discovered that this yellow-tipped plant is extremely reliable …
… at getting rid of hazardous contaminants that develop in the home. It…
… releases oxygen at night, making it easier to breathe.
Put one in your bedroom for better night's sleep.
There is no doubt that they are sturdy and will flourish…
… In spite of its choice for bright light, the plant can tolerate low light levels …
… for extended durations. Take care not to overwater your sansevieria plant
… as the roots will rot if the soil is too damp for long time.
The plant benefits people who don't have much experience.
… with house plants, but want a better night's sleep.
This plant will be better for you….
If you live in a climate where air pollution is frequent…
As the air pollutants affect the air quality surrounding your climate…
It is better to invest in snake plants, maybe it can be good luck charm to you.
---
Snake Plant Care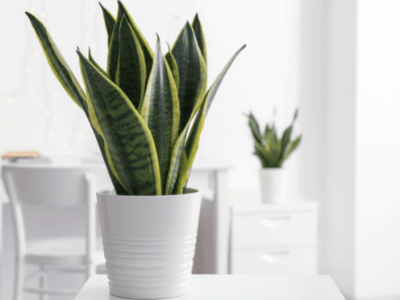 The snake plant is one of the most convenient plants to keep
… also referred to as the Mother-in-Law's Tongue or Sansevieria.
Succulent plants are great for novices considering that they're so flexible.
Keep it in your house by following these guidelines!
The only 2 things that impact this plant are water condition,
… and extremely freezing temperatures. Root rot is caused by soggy soil.
Snake plants are native to southern Africa, but they adapt quickly
… to the conditions in the southern United States. USDA zones 8
… and warmer are for that reason appropriate for growing them outdoors during part of the year.
However, they might become invasive due to the fact that they send underground runners,
… so make certain you plant them in containers or in locations where they are contained.
What about their needs for water?
---
Watering The Plant
It's easy to water them- this is one of the important part of Snake Plant care tips.
To prevent your plant from decomposing out, do not overdo it. When watering again,
.. always make sure the soil has nearly dried completely.
You should water them every 2-8 weeks.
Watering schedules vary based on the type of soil mix, size of the pot, and house environment.
Plants in big pots require less water in the winter months
( every 8 weeks) when the temperature level is cooler and the sun is less extreme.
During the winter season, your plants like to rest.
If water builds up at the center of a leaf (where it forms a cup),
… the plant will end up being mushy and eventually die off.
For people who are prone to neglect plants and travel, it is a perfect plant.
The easiest method to look after it is to have a self-watering pot.
---
Aloe Vera
Health Benefits of Aloe Vera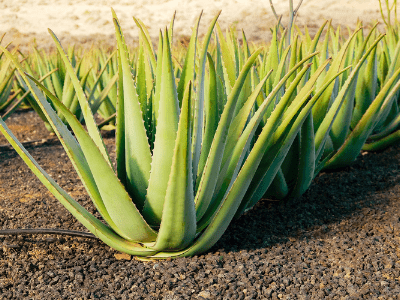 An elegant and practical addition to the house is an aloe vera.
In addition to cleansing the air of formaldehyde and benzene –
.. chemicals commonly discovered in home cleaning products –
this plant likewise has fantastic healing properties. Its leaves contain a…
… vitamin-rich gel that is naturally antibacterial and is perfect…
… for treating minor cuts and burns, consisting of sunburns.
There's some evidence that the gel can assist with …
… completely dry skin conditions like eczema and psoriasis.
Take a leaf and gently rub the inside of the leaves across.
… the affected location to use the plant's healing powers.
A warm cooking area window sill makes the best area for..
… your plant to absorb the light, as well as relieve..
… any burns you may have in the cooking area. A family with a hectic schedule will enjoy it.
---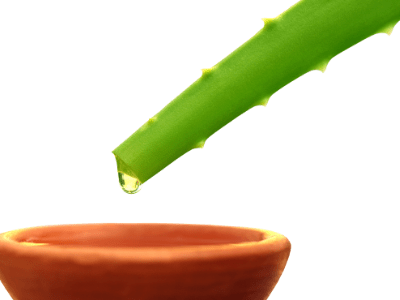 Place it in direct sunlight or synthetic light that is bright, and indirect.
If possible, pick a window that heads west or south.
Aloes that are kept in low lighting tend to grow leggy.
In a temperature series of 65 to 80 degrees Fahrenheit (20 to 27 degrees Celsius),.
It produces its best results.
Homes and homes are usually at an ideal temperature level.
During the warm seasons of May and September,
… plants can be placed outside if the nights are cool.
When fertilizing, use a well balanced house plant formula
… of 128 strength (no more than once a month).
After you plant, repot the plant when the roots are bound to the pot.
---
Watering Aloe Vera
Keeping it healthy is the most challenging when it comes to watering,
… however it's not brain wrecking! While the aloe plant can endure dry conditions,
… due to its thick leaves, it demands a significant quantity of water.
The plants require deep watering, but not too often. Essentially,
… you ought to water the soil after it feels damp, but let it dry for a while prior to watering again.
Keeping the soil too wet can result in the roots of a plant decaying.
Ensure you do not overwater your plants by permitting the top third of the potting soil.
… to dry in between waterings. When keeping your plant in a pot,
… for instance, allow the top 2 inches of soil to dry prior to watering once again.
You can attempt to examine the dryness of the soil with your finger.
Strategy to water your aloe plant every 2-3 weeks throughout the spring and summer season,
… and even less frequent throughout the fall and winter season. Watering in the fall…
… and winter ought to be done roughly two times as often as it remains in the summer season…
… vs. your summer season watering schedule. To put it simply,
… make sure to water every 4 weeks in winter season if you water every 2 weeks in the summer season.
When watering, some excess water may go out the bottom of the pot.
Let the pot be in this water so that the soil soaks up as much as possible.
Wait 10-15 minutes, then dispose of any remaining water.
Fun Facts About Snake Plant Varieties
Below are some types of snake plant or sansevieria varieties you ought to know:
Bowstring Hemp
Bowstring Hemp is a type of snake plant that has long,
slender leaves with a unique texture resembling hemp rope.
It is native to tropical West Africa and can be found growing…
…in the wild in countries such as Nigeria, Ghana, and Cameroon.
The Bowstring Hemp leaves are known for their air-purifying qualities…
…and can help reduce indoor air pollution levels.
This variety of snake plants is easy to care for and requires minimal maintenance,
making it an ideal choice for busy households or those…
…who don't have much experience with houseplants.
Sansevieria cylindrica
The snake plant Sansevieria cylindrica has cylinder-shaped leaves…
…with a distinctive pattern of stripes and dots.
It grows wild in nations like Kenya, Tanzania, and Uganda…
…and is indigenous to tropical Africa.
Sansevieria cylindrica leaves are a great option…
…for enhancing indoor air quality because they are known for…
…their capacity to absorb pollutants from the air.
This type of snake plant is the best option for busy households…
…or people with little experience caring for houseplants because it takes less maintenance and little care.
---
Sum Up
Snake Plants
Aloe Vera
– Looks like spades.
– Sturdy but wavy.
– Usually has a yellow-colored border.
– Doesn't need a lot of water.
– Prefer a sunny-dry weather.
– Toxic to both human beings and pets.
– Have the capability to be an air purifier.
– Have spikes on the border.
– Usually, only have one color.
– Has more water on the leaves.
– Require more water than snake plants.
– Prefer a humid environment.
– May get burned easily in the sun, hence indirect sunlight
– Are consumable and beneficial if cosmetically.
There are very few differences in health advantages,
between the plants
Nevertheless, when it concerns watering,
… you can see aloe vera requires more water than a snake plant.
Conclusion
Whichever you pick to keep in your house,
… both have their own advantages and grooming ways.
Which one do you like the most?
Tell us what you like by dropping a comment below!
Frequently Asked Questions Around Aloe Vera vs Snake Plant: Which One is Better for Your Health?
Are you curious to understand the distinction between the plants?
If so, keep reading to learn all the remarkable facts about these ideal plants.
What are the benefits of Aloe Vera?
The advantages of it are that it is a natural skin balm …
… that can relieve and hydrate the skin.
It can also help in reducing the appearance of wrinkles and age areas.
What are the advantages of Snake Plant?
The advantages of them include supplying green indoor environment …
… lowering tension, and have the capability of air purifying.
Which one is better for my health – Aloe Vera or Snake Plant?
Snake plants are better for your health due to the fact that …
… they include toxic substances that can kill hazardous bacteria and fungus.
Aloe Vera, on the other hand, is a natural anti-inflammatory …
… that can assist improve skin health.
Is Aloe Vera a Snake Plant?
It is not actually a snake plant, however it does have some similarities.
They grow like a succulent and chooses indirect light.
It can be grown in most climates, provided you offer it with wetness and great drainage.
Furthermore, like many other plants that are described as 'snake plants,' …
… aloe vera has strong fibrous roots that can extend as much as 6 feet underground.
Most significantly, these qualities make aloe vera particularly advantageous …
… for recovery skin conditions such as sunburns or psoriasis.
Which One is Better for Oxygen: Aloe Vera or Snake Plant?
Aloe Vera is a plant that naturally detoxifies the carbon dioxide in the environment.
… while Snake Plant assists to remove toxins from the body.
Furthermore, Aloe Vera has anti-inflammatory homes and can assist in enhancing skin health.
It likewise consists of alkaloids and terpenes that are beneficial for breathing health.
Snake Plants, on the other hand, are plants belonging to warm environments …
… that clean air and purify water products.
It has actually been utilized as a natural remedy for centuries due to its numerous medical homes.
These include assisting to prevent infections, boosting body immune system function.,.
… clearing out bacteria and parasites from your digestion tract,
… decreasing inflammation throughout the body consisting of joint pain receptors …
…(meaning it could be helpful for people with weak joints) …
… fighting cancer cells or preventing tumor growth by blocking radiation treatments and so on,
All at reasonably low maintenance!
Which is better, peace lily or snake plant?
It is hard to say which plant is much better,
as it depends on the individual needs and choices of the person growing them.
Both snake plants and peace lilies are popular houseplants that have lots of benefits.
Snake plants are understood for their air-purifying qualities,
while peace lilies can help in reducing stress and enhance air quality.
Eventually, it comes down to individual choice when deciding which one is better for you.
Is English Ivy considered a snake plant?
No, English Ivy is not considered a snake plant.
Snake plants are a type of succulent in the genus Sansevieria,
while English Ivy is a species of flowering plant in the family Araliaceae.
Is spider plant considered a snake plant?
No, spider plant is not considered a snake plant.
Spider plants belong to the genus Chlorophytum and are not related to the Sansevieria genus
Will snake plant detoxify carbon monoxide?
Yes, snake plants are known for their air-purifying qualities…
…and can help reduce indoor air pollution levels, including carbon monoxide.
---
More Articles