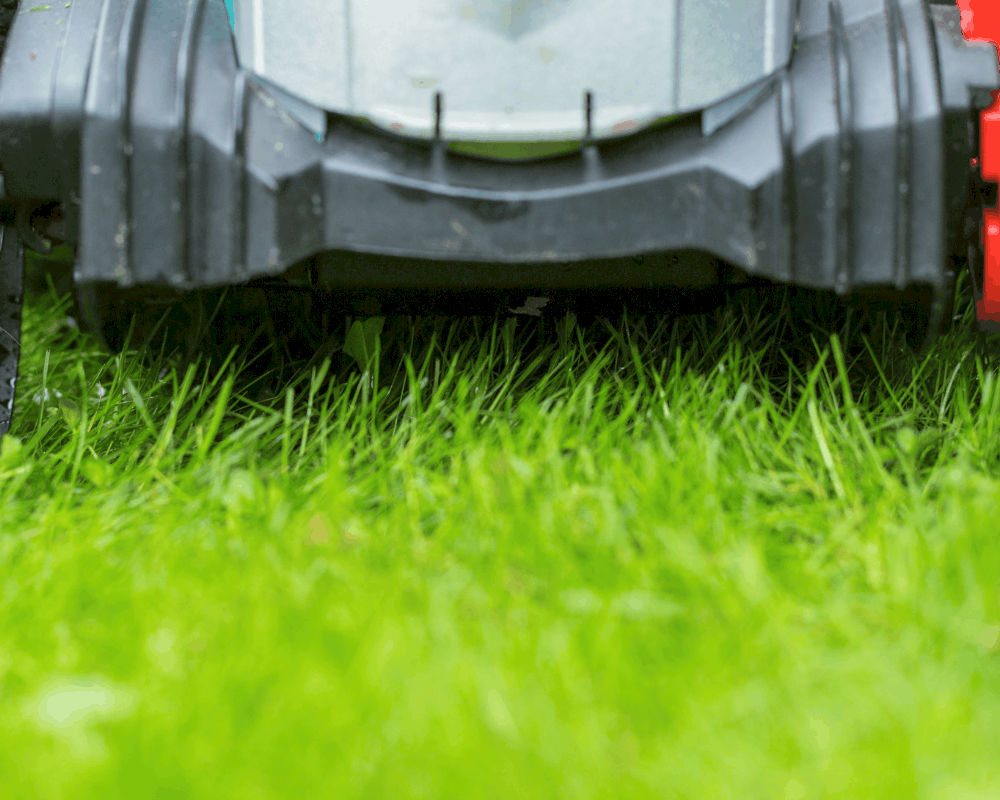 The best mowers are those that run on battery power…
…because they are quiet, efficient, and emit zero emissions.
A cordless lawn mower can efficiently mow an average-sized lawn…
…without stalling on patches of taller or thicker grass.
A very important factor is power, but it isn't the only one.
Electric lawn mowers are not only low-maintenance…
…but they are also so quiet that you can mow at the first sign of daylight without disturbing your neighbors. 
Learn more about the best cordless lawn mowers and how to choose one for your lawn care needs by reading on.
Here are a few words from Steve…
I'm going to admit it. At first, I was hesitant. I thought an electric lawnmower was a kid's toy.
Sort of like the Fisher Price of lawnmowers. A friend had an electric chainsaw, which I used once. Just once.
The human-powered saw was almost faster.
I placed the order for this mower, knowing that I had thirty days to try it,
and to return it on Amazon's expense if it did not meet my expectations.
My boxes and packing materials were kept. My lawn looks great after trimming with this mower.
I only had to do one pass. Nothing was left standing.
Not a single blade of grass, not a single weed. I'm finding myself falling in love with this cordless lawn mower.
Now, let's get started…
What to Consider When Choosing the Best Cordless Lawn Mower
The aroma of freshly cut grass is a fan favorite…
…but the smell and noise of gas-powered lawn mowers aren't always so appealing.
A cordless lawn mower solves all of those issues and more.
It's important to consider a few things before you purchase an electric lawn mower…
…and the following sections explain them.
Types
Using a lawnmower isn't as straightforward as it used to be.
Modern mowers, particularly cordless ones, come in a variety of designs.
It depends on the type of lawn and how involved the user wants to be in the mowing process.
Power
It is usually the voltage that determines the power level of a cordless lawn mower.
If the voltage is higher, the mower will be more powerful.
It is also important to consider whether or not a mower will bog down in thicker grass…
…cut tall grass effectively, and make it through a yard that isn't completely dry.
Usually, these models use one battery at the lower end of the power range, which is around 20 volts.
These are good for small yards with thin grass.
Typically, models with 40 volts or 80 volts have multiple small batteries or one large one…
…and they are ideal for matching the capabilities of a basic push mower.
Though they're still a bit rare, there are even models with 120 volts of power…
…that can outperform most gas push mowers.
Keep reading…
Battery Runtime
Cordless lawn mowers each have their own battery system, with different voltages and amperages.
There is no exact guideline to follow when choosing a model with the best runtime because this is relative.
Generally, the most popular models have runtimes between 45 and 60 minutes.
It can be achieved with higher voltage models with low amp-hour (Ah) ratings…
…or it can be accomplished with lower voltage models with high amp-hour ratings.
There are models that can run for 90 minutes, but they're not all that common.
To extend runtime, it's best to purchase additional batteries…
…and make sure they're charged when you need to replace them.
Interchangeable Batteries
In contrast to corded lawn mowers, most cordless lawn mowers use interchangeable batteries…
…that can be removed and recharged. This has several advantages:
You can replace batteries if they stop charging without having to replace or service the entire mower.
You can purchase extra batteries and swap them out when the first one dies, keeping one set on a charger at all times.
There are some power tool lineups that use the same set of batteries and they will all work together. Batteries that power a lawn mower might also operate a weed wacker, a power drill, or a reciprocating saw. Batteries offer the most versatility across brands.
Adjustable Cutting Height
The sun can burn a grass that has been cut too short.
However, if it's cut too long, it will need another trim within a few days.
It's all about finding the perfect balance between long-lasting cuts and lawn health.
Therefore, the best cordless lawn mowers feature adjustable cutting heights…
…usually at least four or five along the way in increments of about ¼- to ½-inch.
Users can adjust the height of the blade by using a lever on the front and a lever on the back wheels.
Using this method, the cut can easily be adjusted to the desired height, so it is the perfect solution.
Nevertheless, some models have a lever that can lift or lower the entire deck at once…
…ensuring the mower cuts evenly and consistently.
Blade Cutting Width
Between cordless and gas-powered mowers, there isn't much difference except for the power source. 
Both types are available in varying widths, and the best width depends on your lawn size and preference.
Cordless lawn mowers may have cutting widths ranging from 14 to 16 inches.
With the wheels adding a couple of inches to their width…
…these are the models to choose if you have small garden gates to pass through…
…or a small garage in which to store the mower.
Large cordless mowers can be as wide as 25 inches…
…putting them on par with some of the largest gas-powered models.
You need fewer passes to mow an entire lawn…
…but they can be difficult to store or maneuver through tight yards and garden beds.
Grass Clippings
Whether you believe in mulching grass clippings and allowing them to replenish soil nutrients…
…leaving them on top to rake, or collecting them so the yard looks neat and tidy…
…there is a cordless lawn mower that can meet your needs.
Cordless lawn mowers usually come with clipping chutes, mulching covers, and grass baggers.
The chutes deposit full-length clips on the grass surface for raking.
Mulch covers contain grass clippings, so the blades have a few more passes at them…
…cutting them to shorter lengths and allowing them to decompose.
By using baggers, users can add clippings to compost piles or dispose of them.
"Bagging is ideal if you don't want grass clippings back on your lawn, while mulching can help to improve your lawn's quality by returning nutrients to the soil."

ERICA PUISIS – Writer
Handle Comfort
Push mowers put a great deal of pressure on the hands and arms…
…with the palms taking the brunt of uneven terrain and vibrations.
As a result, the comfort of the handle may play an important role.
Typically, manufacturers offer ergonomic handles with padded grips…
…so that operators can use a less pronated hand position…
…while also absorbing some vibrations and bumps along the way.
For people with wrist or hand problems, these designs can make all the difference.
Ease of Use
In addition to running quietly and requiring minimal maintenance, cordless lawn mowers are easy to operate.
These mowers don't require complicated fuel priming, oil checks, or choke adjustments.
It literally takes the click of a battery and the pull of a handle, and you're off.
In some models, onboard battery indicators show how much runtime is left before the battery needs to be replaced.
In addition to simple start-up and use procedures, some mowers have advanced safety features.
Lockout switches can be removed to prevent children from accidentally starting the mower.
In the event of a fall, release triggers or throttle bars that can quickly shut the mower down are also important.
Weight and Storage
A cordless lawn mower is not a light tool, regardless of its size.
Depending on the batteries, the motor, and whether it's self-propelled…
…the best cordless lawn mowers can weigh between 50 and 90 pounds.
Robotic models tend to weigh around 30 pounds.
Some folks may benefit from finding a balance between capability (or power) and weight.
A mower's size and any additional features, such as folding handles…
…are the most important considerations when storing it.
If you're storing your cordless lawn mower in a shed or a tight garage…
…a 22-inch model will be more difficult to store.
If the handle folds, users may be able to store it in a more compact space.
Here's the main part…
Our Top Picks
Image
Title
Prime
Buy

Top

Greenworks Pro 80V 21 inch Cordless Push Lawn Mower, Includes Two 2Ah Batteries and Charger, GLM801601

Prime

Eligible

Check Price on Amazon

Top

Snapper XD 82V MAX Cordless Electric 21" Push Lawn Mower, Includes Kit of 2 2.0 Batteries and Rapid Charger

Prime

Eligible

Check Price on Amazon

Top

EGO Power+ LM2133 21-Inch Select Cut Mower with 5.0Ah Battery and Rapid Charger Included

Prime

Eligible

Check Price on Amazon

Top

Greenworks Pro 21-Inch 80V Self-Propelled Cordless Lawn Mower, Tool-Only, MO80L00

Prime

Eligible

Check Price on Amazon

Top

WORX WG779 40V Power Share 4.0 Ah 14" Lawn Mower w/ Mulching & Intellicut (2x20V Batteries)

Prime

Eligible

Check Price on Amazon
Let's go through them one by one…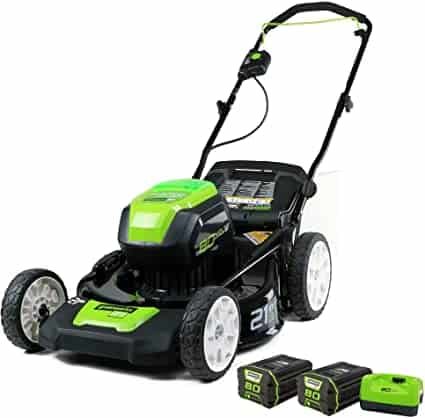 The Greenworks GLM801601 Cordless Push Lawn Mower is a great cordless push lawn mower…
…for landscapers looking for a balance of power, runtime, and charging time.
With its 80-volt system, this model matches gas-powered models up to 5 horsepower.
A pair of 2.0Ah batteries offers 60 minutes of runtime…
…while a rapid charger takes 30 minutes to recharge one…
…meaning you can use it for hours if you manage it correctly.
Additionally, this 21-inch cordless lawn mower includes a clipping chute…
…a mulching cover, and a bagger to manage clippings.
With one lever, all four wheels can be adjusted in seven different height positions.
The GLM801601 comes with a push-button start, an ergonomic padded handle…
…and a throttle lever that shuts the mower off when released.
Despite the fact that it weighs 80 pounds, the handle folds and provides support for a stable vertical storage.
Pros
Runs for up to 60 minutes on a single battery
Includes two batteries and a charger
Brushless motor means more torque and longer lasting
One lever adjusts total mower height
Cons
Runtime lessens with thick or tall grass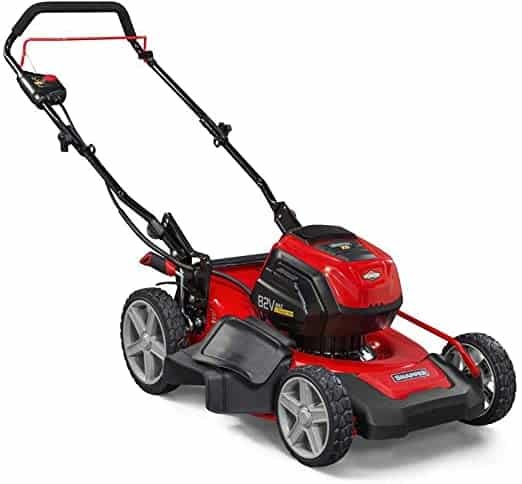 Those who are concerned about extending their runtime…
…without sacrificing performance should check out the Snapper XD 82V Max Cordless Electric Push Lawn Mower.
With Snapper's 82-volt batteries, this model includes two 2.0Ah batteries.
Although each battery has a 45-minute runtime, the rapid charger allows users to use a third battery when needed.
Users can choose between a 21-inch cutting width, a clipping chute…
…a mulching cover, and a bagger on this model.
Additionally, the chair has a single lever for adjusting the height in seven different positions.
The ergonomically designed handle is wrapped in foam…
…while the push-button start and throttle bar facilitate comfortable mowing.
The mower weighs 90 pounds, but it has a vertical storage option.
Pros
Runs for up to 90 minutes with two batteries
Can mulch, bag, or discharge from the side
Mowing deck is 21 inches wide
Handle can fold up for storage
Cons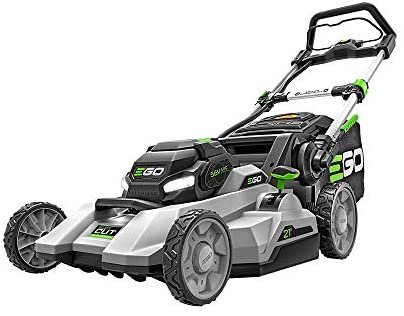 EGO Power+ LM2133 might be the right option for those looking to upgrade their lawn-care kit.
This battery-powered 56-volt lawn mower features a multi-blade cutting system…
…that offers the performance of a gas mower, but with the efficiency and eco-friendliness of a battery model.
The 21-inch model has a number of great features.
A seven-position height adjustment lever allows users to adjust all four wheels at once…
…while the three-in-one clipping management system lets users decide between using the chute…
…mulching, or bagging clippings. A second battery port can double the runtime of the 5.0Ah batteries…
…which offer up to 45 minutes of runtime.
Onboard LEDs help light the way when mowing early in the morning or late in the evening.
Although the ergonomic, padded handle collapses for easy storage…
…this model does weigh nearly 80 pounds.
Pros
Runs for up to 45 minutes on one battery
LED lights to mow anytime
Multiblade cutters
Includes two batteries and fast charger
Cons
No self-propelling option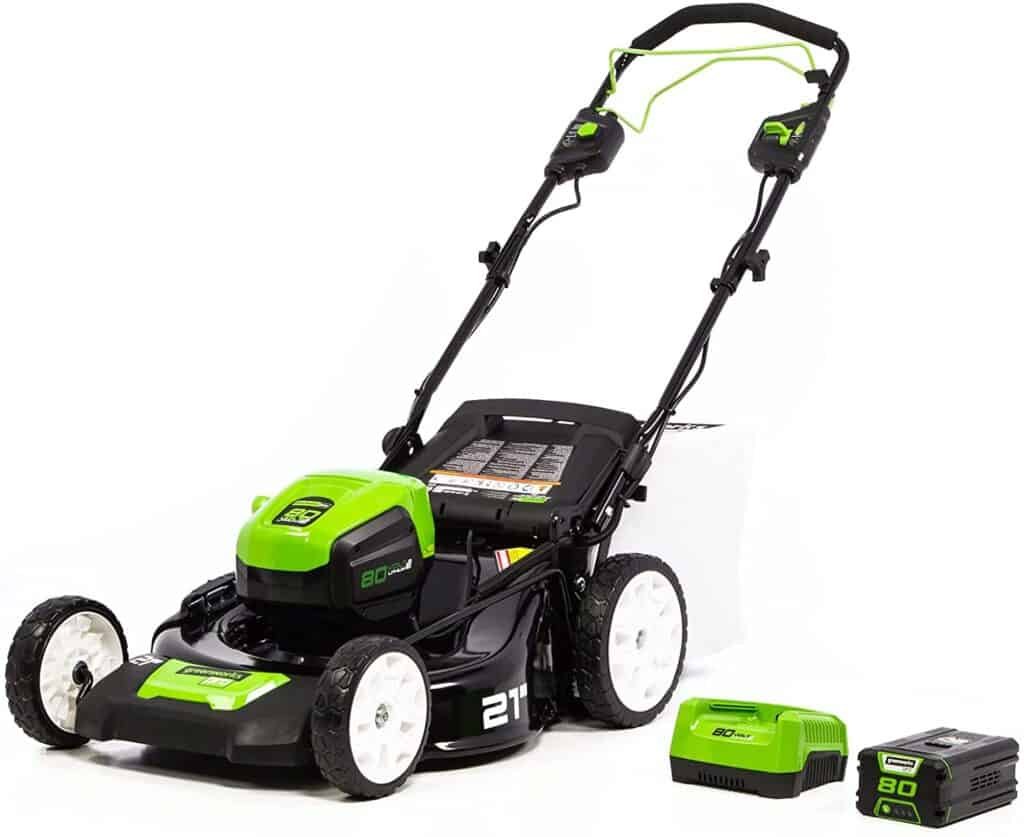 While mowing the grass, you can take a leisurely stroll around the yard…
….on the Greenworks PRO 80V Self-Propelled cordless lawn mower.
The mower is equipped with a rear-wheel drive system that propels it across the lawn…
…as long as the user holds down the lever. Speed control allows the user to maintain a comfortable pace.
Featuring a 21-inch steel deck, 45 minutes of runtime, and the option to bag, mulch…
…or leave clippings behind, this easy-to-maneuver mower weighs 64 pounds…
…and is perfect for moderate-size yards.
The kit comes with an 80-volt battery and a rapid charger…
…though additional batteries are available for larger properties that require longer runtime.
Pros
Runs up to 45 minutes on one battery
Durable, height-adjusting lever
Brushless motor provides more torque
Handle can be folded for storage
Cons
Lowest speed setting may feel fast to some
Hard to push without self-propellor
Error: Unknown Link Type
With the WORX WG779 40V Lawn Mower, one can cut their lawn without breaking the bank.
This model has many features of more expensive models…
…such as bagging and mulching options, and a long runtime for smaller lawns.
Its powerful 40 volt motor comes from two 20-volt 4Ah batteries.
This lightweight mower's ergonomic design allows it to fit into smaller storage spaces.
The mower's lightweight design allows it to fold for easy storage when not in use.
Pros
Mowing thick grass is easy with adjustable torque.
Smaller 14-inch cutting deck for smaller gardens.
Uses two 20-volt batteries and includes dual charger
Cons
Long charging time for batteries
Loses power on turbo setting quickly
Sum Up!
The runtime and motor power of the cordless lawn mower are two key factors to consider. 
Most of the recommendations have great runtimes overall for lawns of average size…
…and most are equipped with two batteries for extra power or longer runtime. 
While most lawn mowers have a 21-inch cutting deck…
…we also chose a model with a smaller 14-inch deck that is ideal for smaller yards…
…or yards with a lot of trees and landscaping. 
Each of the mowers in our list also has a height adjustment lever.
Conclusion
The cordless lawn mower is quickly becoming common.
While most brands are still working out the kinks to make these tools competitive…
…with their gas counterparts in terms of power, the future of lawn care is green.
Using our 5 Best Cordless Lawn Mowers as a guide…
…you can now get on board with one of the best battery-powered lawn mowers on the market today.
If you're looking for an eco-friendly lawn care solution…
…without having to deal with your aching back and shoulders, hire a professional to do it for you instead.
Depending on where you live, you can generally find eco-conscious professionals…
…who use environmentally friendly tools and practices. 
Gardening is how I relax!
It's another form of creating and playing with colors?
My mission is to make people realize that even by growing a plant...
....it will make them believe in tomorrow?
And that's life most valuable moment!?