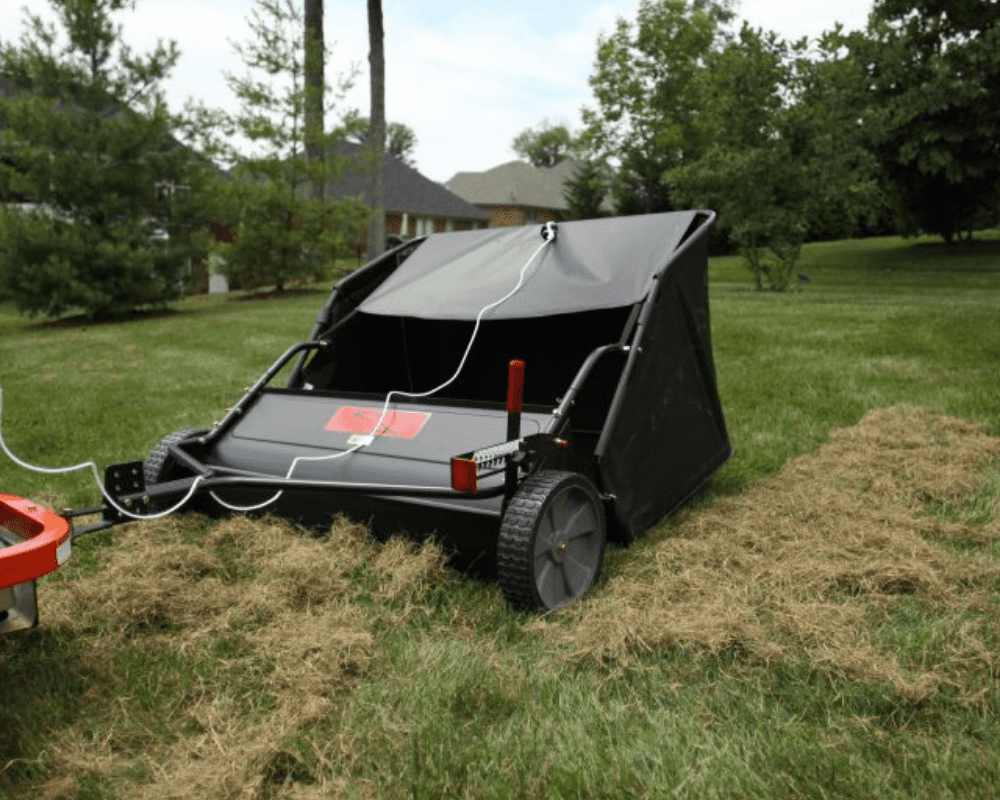 With a lawn sweeper, you can clean leaves, grass clippings, pine needles…
…and even pine cones quickly and efficiently.
They work by using cylinder brushes that reach into the lawn and pull out debris…
…which they then collect in hoppers, making it easy to dump the waste…
…on a burn pile or to fill eco-friendly lawn bags.
Consider the sweeping path and the hopper capacity of lawn sweepers you're considering…
…as well as the style, features, and durability.
Read this primer to learn what is usually important to consider for more in-depth assistance.
Then, we will look at the best lawn sweeping models after trialing them in our backyard.
We've chosen our picks for some of the most trusted lawn sweepers available on the market.
Jeremy here with a few words before moving on to the next section…
A very large woodland garden with evergreen shrubs is under my care.
The leaves are the bane of my existence…
A leaf blower I have is noisy, heavy, vibrates too much,
consumes too much petrol and lifts all the stones from the paths and dumps them on the grass
where I must rake them off again. It wasn't long before I found my solution: a lawn sweeper!
It is lightweight and requires no fuel, you simply push it along, and all the leaves fall into the bag.
The leaves accumulate in your bag within minutes, which you can discard as you see fit.
It's time to get started…
Before You Buy a Lawn Sweeper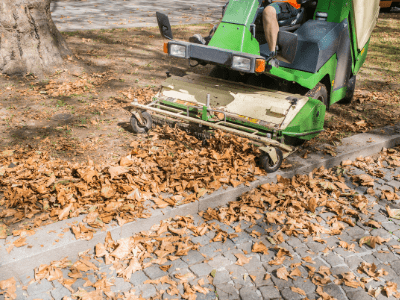 A lawn sweeper, also known as a leaf sweeper, is best suited for lawns…
…that are well-kept and aesthetically pleasing.
However, these devices quickly fill up with grass clippings and leaves…
…especially in yards with dense foliage.
To clear a large area, the hopper will need to be emptied on a frequent basis.
It is a bag attached to a frame that collects debris.
Whether you dump the debris beyond a tree line or near a burn pile…
…you'll need a place to dump the debris.
Another option is to empty the hopper bag onto the ground…
…and then scoop debris into a lawn waste bag…
…however it is far less convenient.
A riding mower that mulches the leaves and grass to fertilize the land may be a better option…
…for larger properties or properties that have both a garden and a lawn.
"Equipping your yard care kit with a lawn sweeper (leaf sweeper) will save quite a bit of time when it comes to cleanup. It can also offer a great level of detail beyond simply raking or blowing debris across the lawn."

 Tom Scalisi – Writer Specializing in the Home Design, Construction, Tools, and Automotive Industries
Keep reading…
Types of Lawn Sweepers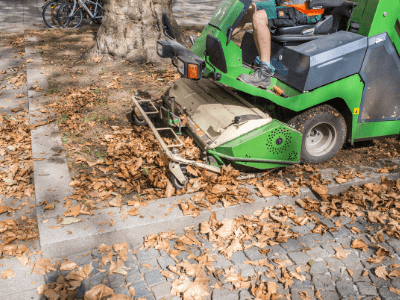 The lawn sweeper comes in a few different styles.
There are different lawn cleaners available and knowing which one is best for a particular yard is important.
Whether you have a small yard that needs occasional sweeping…
…or a larger property covered in fallen leaves, there is a sweeper style to fit the job.
Tow-Behind
Tow-behind lawn sweepers are the most convenient of all styles.
With these sweepers, you can pull them across a property using a riding lawnmower, ATV, or side-by-side.
They're designed with capacity in mind, as they're able to hold large amounts of debris before emptying.
Tow-behind models come with convenient dump features when it's time to empty the hopper.
When the handle of the hopper is lifted or the rope is pulled, the entire contents of the hopper will be dumped.
As soon as the handle latches again, users can immediately get back to tidying up the yard.
Tow-behind sweepers are great for large properties…
…but they may not be the most suitable choice for sections of a property that hold water.
It is possible for the tow vehicle to get stuck or cause ruts, and for the sweeper to become clogged with mud.
Push-Style
You can use push-style lawn sweepers to clean small properties without too many trees.
You can use them to pick up grass clippings and leaves…
…but they take more effort to operate than tow-behind models.
Push sweepers require you to push the unit in order to complete a yard cleanup, so some legwork is required.
Also, push-style lawn sweepers don't hold as much dirt as tow-behind models…
…so frequent stops to empty the hopper may be necessary.
Power
In order to get the job done as quickly as possible on a large property…
…a power lawn sweeper can be of assistance.
In addition to push-style models, power sweepers can be trailered behind a mower…
…or tractor (just like tow-behind models); the main difference is that power sweepers run on gasoline.
Most power sweepers are about the size of a push mower…
…though they can also be tow-behind.
In the same way as push sweepers and pull behinds, they also use brushes…
…but they spin at a much faster speed.
In this way, they are able to complete grooming more thoroughly than in other styles.
Many of these machines have enormous hoppers that can handle large properties quickly.
Perhaps you are wondering…
What to Consider When Choosing the Best Lawn Sweeper
Sweepers can save time and money by cleaning up a lawn quickly…
…and they can be found at a variety of price ranges.
Making an informed decision requires familiarizing yourself with their key features. H
ere are a few things to keep in mind when shopping.
Sweeping Path
Lawn sweepers are classified by the width of their sweeping paths…
…this refers to how much ground they can sweep in one pass.
The paths of powered and push sweepers typically measure between 21 and 26 inches.
Models with a narrower sweeping width will be easier to push, but will require more passes to finish the job.
Sweepers that are towed behind have wider sweeping paths – some are as wide as 50 inches…
…so they will make fewer passes than push sweepers.
Wide sweeping widths are often combined with larger hoppers, allowing them to hold more debris.
This means fewer stops to dump the collected waste.
Lawn Size
Choosing the right sweeper style depends on the size of the turf.
For a small patch of lawn that must be kept tidy for curb appeal, a push-style sweeper will suffice. 
When the hopper bag is full, you're likely to have completed the yard.
If you have a lot of land, you may be better off investing in a tow-behind sweeper.
They're much easier to operate and can be used to quickly clean an entire field.
As soon as the hopper is full, the user can dump it quickly and get back to work.
Hopper Capacity
When buying a sweeper, it's worth considering the hopper capacity…
…which is somewhat dependent on the size of the machine.
It is also possible to choose a larger model, even for a small property…
…if you don't like making frequent stops to dump the hopper.
The large-capacity hoppers measure 25 cubic feet, and that much moist grass clippings can be rather substantial.
Make sure a model with a large hopper has an easy-dump feature to prevent back and arm strain.
Brush-to-Wheel Ratio
Cylindrical brushes are used to sweep debris from the lawn into the hopper of a lawn sweeper.
Wheels drive the brushes, which spin even faster than the wheels.
Their method is to multiply the number of times the brushes spin in relation to the wheels through a transmission.
The higher this brush-to-wheel ratio, the more brushes will rotate per wheel rotation.
Quality
With any tool, make sure you choose the best possible option, within reason.
While most users won't need a high-end industrial model, investing in a sturdy…
…nicely built model that won't jam or break after minimal use might be worth the extra money.
Usually, the higher-end models do not cause as much frustration during setup or use.
The components of good lawn sweepers are made of durable materials, meaning they will last much longer.
The best lawn sweepers are built to last where it matters most, like the drive gear that spins the brush.
Moreover, high-quality lawn sweepers have adjustable brush heights…
…so users can choose how aggressively they want their sweepers to operate.
Here's the main part…
Our Top Picks for Lawn Sweepers
Let's go through them one by one…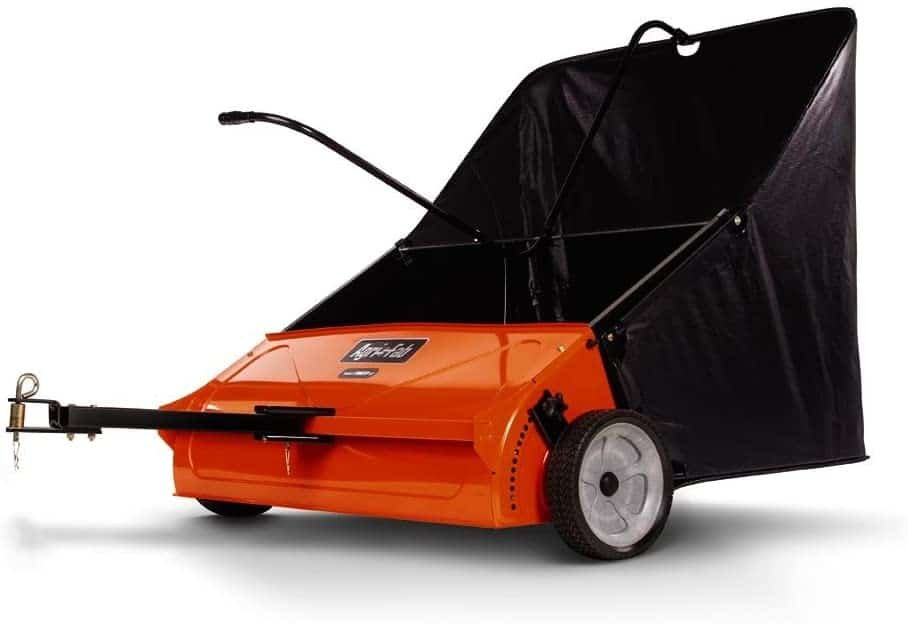 The top-of-the-line model from Agri-Fab cleans lawns quickly and efficiently.
With a brush-to-wheel ratio of 5.6:1, this sweeper rotates the brushes faster than many other models…
…putting more bristles to work grooming the grass.
A massive 25-cubic-foot hopper is also included…
…which can be emptied easily from the back with a lever accessible from the tractor seat.
With wet grass clippings, the hopper became too heavy for our 22-horsepower riding lawn mower…
…to tow uphill at about half-capacity. The large capacity, however, was perfect for bulky, lightweight dried leaves.
In addition, the trailer tongue can be adjusted so that the sweeper trails differently.
Mowing and sweeping can be done at the same time by moving the sweeper off-center.
In evaluating this model, however, keep in mind that it has plastic wheels…
…instead of semi-pneumatic or fully pneumatic rubber tires, which are more durable.
Product Specs
Sweeper type: Tow-behind
Brush size: 44 inches
Hopper size: 25 cubic feet
Pros
Straight or offset attachment
Steel dump rod and brush height pin
Large hopper capacity
High-speed brush
Cons
Lack of clear instructions for assembly
Tight hopper bag, difficult to attach
Full weight may be too heavy
Go on…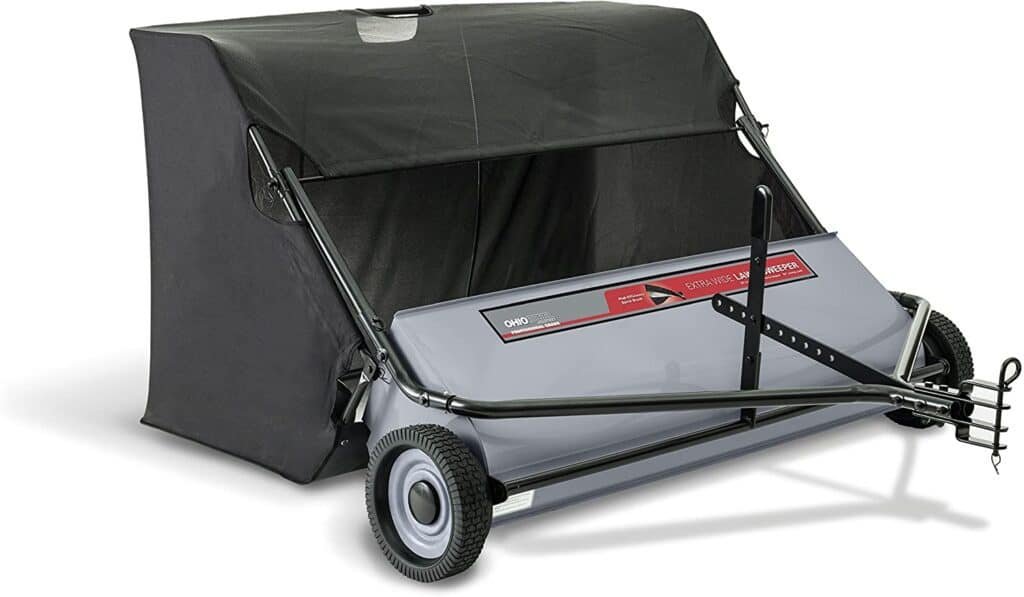 A high-quality sweeper with features and adjustments galore…
…Ohio Steel's 50-inch sweeper is an excellent choice for DIYers.
It features a spiral brush and a patented design that makes it a very effective pick-up tool.
Using a 4.5:1 brush-to-wheel ratio and 11-inch brushes, the sweeper keeps clogging…
…to a minimum on the way to the large 26-cubic-foot hopper.
Our tests showed that this sweeper successfully picked up acorns…
…pine cones, and other heavy, dense debris, as well as grass and leaves.
It was also the most difficult unit to assemble, mostly because of the complicated hitch assembly.
It was a top performer in action, with plenty of cleaning power and load capacity.
Rubber tires maintain brush speed and grip, and brush height can be easily adjusted.
You can lower the deck for a deep clean to catch pine needles and light grass clippings.
Keeping the machine from clogging and jamming is easier when the deck is raised…
…for heavy leaf piles and long grass clippings.
The tension rods used to hold open the hopper can be difficult to install, so be careful and patient.
Product Specs
Sweeper type: Tow-behind
Brush size: 50 inches
Hopper size: 26 cubic feet
Pros
An efficient spiral brush design
Easy to maneuver thanks to the bagger shape
Widest path and largest volume
Cons
Complicated hitch assembly
Large hopper may become too heavy to tow
Cannot adjust the wheel height independently of the hitch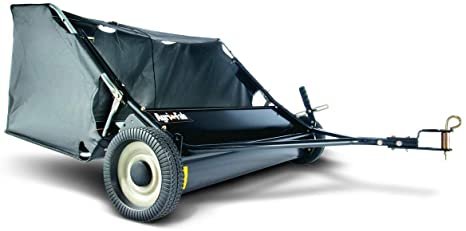 Agri-Fab's 42-inch lawn sweeper is an affordable option for anyone looking to expand their lawn maintenance fleet.
Its sweep path makes quick work of cleaning smaller properties…
…and it easily weaves between trees and down footpaths.
The Agri-Fab quickly snags debris from lawn surfaces due to its brush-to-wheel ratio of 4.5:1.
This sweeper left behind more acorns and heavier debris than others we tested…
…but the quantity was still considerably lower than before sweeping.
Using a dumping rope makes it easier to empty the hopper without getting off the tractor seat…
…but the hopper is still small enough to be moved by hand by those who have difficulty backing up a trailer.
Typically, the 12-cubic-foot hopper will have to be emptied a few times before the job is complete.
Our 22-horsepower riding mower did not struggle with a load of wet grass clippings…
…due to its smaller size and lightweight capabilities.
This unit was also easier to maneuver through close plantings than the larger one.
Product Specs
Sweeper type: Tow-behind
Brush size: 42 inches
Hopper size: 12 cubic feet
Pros
Not likely to become overweight
Nice size for maneuverability
Lightweight materials, easy to tow
Narrow body for easier access
Cons
More trips to the dump pile
Thin rope for dumping the hopper
Didn't pick up acorns as well
Sum Up!
With a lawn sweeper, you can tidy up your lawn quickly and easily…
…giving it a neat look that you can be proud of.
Keeping grass clean and collecting yard debris may be advantageous depending on the situation.
Even though grass clippings are excellent fertilizer…
…infrequent mowing may result in large clippings that smother the turf.
With a lawn sweeper, clippings can be removed quickly to allow air…
…and sunlight to reach the growing grass below.
Likewise, allowing a dense layer of fallen leaves to accumulate on top of the lawn can kill the grass. 
It may be expensive to hire a professional to remove the debris.
Having a lawn sweeper at your disposal allows you to clean up your yard on your schedule…
…and even to keep up with the leaves a little at a time throughout the fall.
Conclusion
Unlike rakes, blowers, and mower baggers, lawn sweepers can do many of the same tasks as them.
Best lawn sweepers have excellent sweeping power, durability without excess weight, and easy operation.
As our Best Overall pick, the Agri-Fab 44-inch Tow-Behind Lawn Sweeper is built to last…
…with a high-powered sweeper, heavy-duty steel parts, and a large hopper that is easy to empty. 
Due to its increased maneuverability and durable, lightweight construction…
…the Agri-Fab 42-inch Lawn Sweeper is a great choice for those with difficult terrain or smaller riding mowers.
Gardening is how I relax!
It's another form of creating and playing with colors?
My mission is to make people realize that even by growing a plant...
....it will make them believe in tomorrow?
And that's life most valuable moment!?