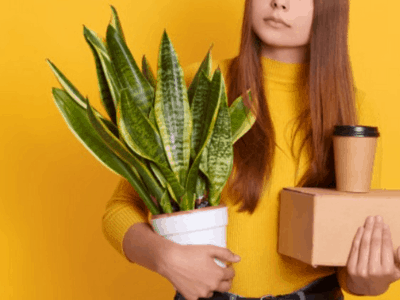 Is Snake Plant Toxic to Pets?
While plants cannot move or run away, they have the power to protect themselves. There's some rumor spreading…
…that snake plant toxic. Is that really true?
Some plants may be considered a good luck plant, but they might prove to be toxic to your children, pets, and even you.
This toxins are used to fight pests and disease, but sometimes, these toxins can also be toxic to dogs and cats.
So, what are the side effects of snake plants on pets? Let's find out!
Snake plants can be poisonous for most pets, including dogs and cats.
They produce a mildly toxic substance called Saponins, which irritates the stomach and mouth of pets..
…who ingest them. The most common symptoms of snake plant poisoning in pets are excessive drooling…
…vomiting, and breathing difficulties.
This beautiful plant has an interesting history. The Chinese grew it as a houseplant, and considered it a necessity.
As a pre-Feng-Shui plant, the growers kept the plants outside, near the door…
..as they were believed to bring good luck to whoever had this plant. It was also believed to be a gift from the eight virtues.
Snake plants are poisonous to humans and pets alike. Ingestion of the snake plant will cause swelling…
…of the tongue and throat, and we may see symptoms such as vomiting, nausea, and diarrhea.
We'll get right into it because I know you're eager to find out more about it.
But before that, here we have story from Axel about his story having experience about snake plant toxic issue.
Let us hear Axel's story
I am in the middle of watering my plants when I notice that my snake plant looks a little droopy.
The pot was dry, so I watered it and went upstairs to start on dinner.
When I came back downstairs, the snake plant looked worse than before and smelled terrible!
Just as I was about to toss it away, an article popped up on Facebook about how these are toxic for pets.
Turns out this is true even if your pet just eats a little bit or has some contact with it!
Luckily my cats have zero intention to this plant so I'm feeling secured.
Well, now I need to revive this plant because after I search this plant, it still can be saved no matter what.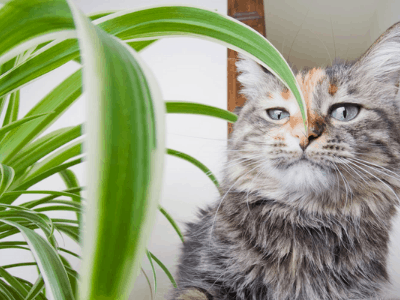 You may want to reconsider air-purifying plants if you have pets such as cats and dogs. Many of these plants can be toxic to them. Ask the staff at your local greenhouse about pet-safe and allergy-safe options. You can also look up which plants are toxic to animals on the ASPCA Toxic and Non-Toxic Plants page.

Cynthia Taylor Chavoustie, MPAS, PA-C, experienced physician assistant specializing in family medicine and gastroenterology
Here's the main things that you should know!
Is Snake Plant Pet Friendly?
Pets are not allowed near the Snake plant because it is poisonous to them.
Insects and fungi are protected by it by Saponins, a toxin produced by the snake plant.
A snake plant, Dracaena Trifasciata, is toxic to both cats and dogs, according to the ASPCA.
When the plant is consumed, your pets may experience symptoms such as nausea, diarrhea, stomach upset…
…and even depression in some cases. Despite their importance in the indigenous cultures of some parts…
…of the world and use in herbal medicine, snake plants are not considered pet friendly.
The moment you notice any symptoms of your pet eating the plant, please rush your pet to the veterinarian…
…as soon as possible for treatment. You may want to consider carrying the plant part nibbled…
…by your pet so that you can obtain the remedies easily.
Go on..
How Poisonous is the Snake Plant?
However, never expect the Snake plant to be completely harmless to your pets.
It produces toxin called saponins, which causes digestive issues, diarrhea, vomiting, and nausea.
When the snake plant ruptures red blood cells, it is also known to cause death in severe cases.
Considering that snake plants are nondigestible and bitter, it is unlikely that your pets would nibble on a piece of this plant.
Ensure that your snake plant is kept out of reach of children and pets, and that the water kept in the tray is not accessible to them.
Never attempt to cure the situation yourself because you might encounter difficulties.
Consult your veterinarian immediately or rush to the vet immediately.
If the plant was consumed in a small amount, the symptoms will be easily treated.
On the other hand, larger amounts will likely have adverse effects.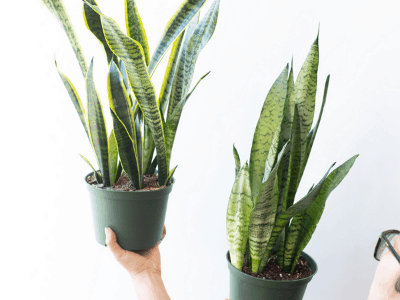 Signs of Plant Poisoning in Pets
Toxins from the snake plant are known as Saponins. When diluted with water, they form a foam-like substance.
In addition to irritating the mouth, this toxin causes swelling of the tongue and mouth.
Signs to look for include:
Vomiting
Oral pain
Excessive drooling
Nausea
Diarrhea
Ruptured red blood cells  
However, according to the ASPCA, snake plants are considered and labeled as toxic. They absorb toxins and release oxygen at night.
The snake plant is a highly effective air purifier, and just one snake plant can maintain the air quality of an air-sealed room. It's crazy already.
Children and pets should not come into contact with this air-purifying plant.
Which Pets are Most Vulnerable to Snake Plants?
However, some studies show that snake plants are deadly to dogs and cats.
According to the ASPCA, snake plants are toxic to most pets and children.
Since snake plants are bitter tasting and non-digestible, the toxin Saponins are mildly poisonous to these pets.
They won't consume more than a bite or two of the plant when they try to eat it.
However, this plant is more toxic to farm pets such as cows, horses, and ponies because they consume a greater portion of the plants.
A snake plant's mouth irritation may result in swelling of the tongue or mouth. It can also cause gastrointestinal problems.
Considering the worst-case scenario, the snake plant can cause the rupture of cells when consumed in large quantities.
This beautiful plant is highly susceptible to toxic substances such as formaldehyde…
…benzene, xylene, and takes in much more carbon monoxide from the air than it emits.
Despite the plant's extraordinary benefits, we might need to make space for the snake plant when planting.
Here's the things…
Snake Plant Toxic to Dogs?
Yes, they are. Snake plants are toxic to dogs.
Snake Plant Toxic to Cats?
Yes, they are. Snake plants are toxic to cats.
Snake Plant Toxic to Birds?
The snake plant is not toxic for birds, according to Niles Animal Hospital & Bird Medical Center.
They recommend that only birds should be kept at your place.
According to several veterinarians, these plants are considered safe for birds.
However, we need to be mindful of their surroundings when caring for them.
The Snake plant also produces saponins, which are toxic, but Pokeweed is considered poisonous…
…while the Snake plant is regarded as a safe plant. In case our birds experience any problems with Pokeweed…
…we will list out the symptoms they may experience. In the case of birds, we should be on the lookout for these symptoms:
Vomiting
Tremors
Depression
Birds falling from the perch
Collapse
Rest assured, you need to worry about the Snake plant and its relation to your birds.
What If They Eat The Snake Plant?
We cannot blame pets even for the smallest mistake, because they are innocent.
Well, the APSCA has classified the Snake plant as mildly toxic to cats and dogs.
It is possible that your pets won't like the bitter sap produced by the Snake plant, so they will leave the plant.
Regardless of the situation, we need to contact the veterinarian as soon as possible.
If a situation like this arises, we know you will be concerned and want to act, but please do not do so.
It is best to consult with a veterinarian for the necessary ailments, since he or she is medically qualified.
He will take blood samples as well as remove the plant from the mouth by washing first. Other care that the vet will offer is to remove the plant from the mouth.
Give your veterinarian a thorough account of the situation to ensure that they understand the plant poison, the condition, and the results.
The case of the drool that our pets spit out may require us to take it to our veterinarian so that he or she can cross-check them.
Taking the plant sample to a veterinarian would also help to diagnose the condition quickly.
Snake plants are an easy way to treat the symptoms and can effectively treat them.
If a larger amount of the plant were consumed, it may lead to a rupture in the cells.
Contact the APSCA as soon as possible, and be sure to arrive on time.
You should contact them immediately to find out what is going on.
Additionally, identify the immediate actions that need to be taken.
When your veterinarian endorses your pet's admission, please make the necessary arrangements.
While being active is challenging and sad, it is the only choice we have.
Last but not least…
Keep Snake Plants Away From Pets
If you have pets and if there are small children around, we always recommend using the Spatial Planting method with your houseplants.
Innocent and curious, children and pets both want to see everywhere, to explore, and to discover the good and the bad.
It is best to keep pets away from the plants as we cannot teach them that the plants are dangerous.
Children can learn that the plants are dangerous if left to their own devices.
Keeping it somewhere where your kids cannot get their hands on it is the best way to keep it safe.
See having Snake plant is good choice for you to have! It's cool, its famous, it's easy to have and care!
What else do you need? In this pandemic time like this, is a good choice for you to have an new activity…
…and having snake plant is a good choice for you to have!
Conclusion
The following article should help you better understand why repotting is necessary…
…as well as the step-by-step procedure of how to do it. It's a fun and easy project for your plants.
Last thing for sure. This plant need to be care carefully, remember plant need the "love" too.
Alright that's all for today! Do you have any questions about all of this?
Or do you want to add some more tips and guide to keep away snake plant from pets?
Let me know your recommendation from the comment below.
There are still many recent and interesting articles about Snake Plants as well as other unique information….
…from All Things Gardener. For further information and other inquiries you can contact us here
I hope you can now take care your snake carefully and grow it big!
Thanks for reading this article! Bye!
More Related Articles For You!
Gardening is how I relax!
It's another form of creating and playing with colors?
My mission is to make people realize that even by growing a plant...
....it will make them believe in tomorrow?
And that's life most valuable moment!?