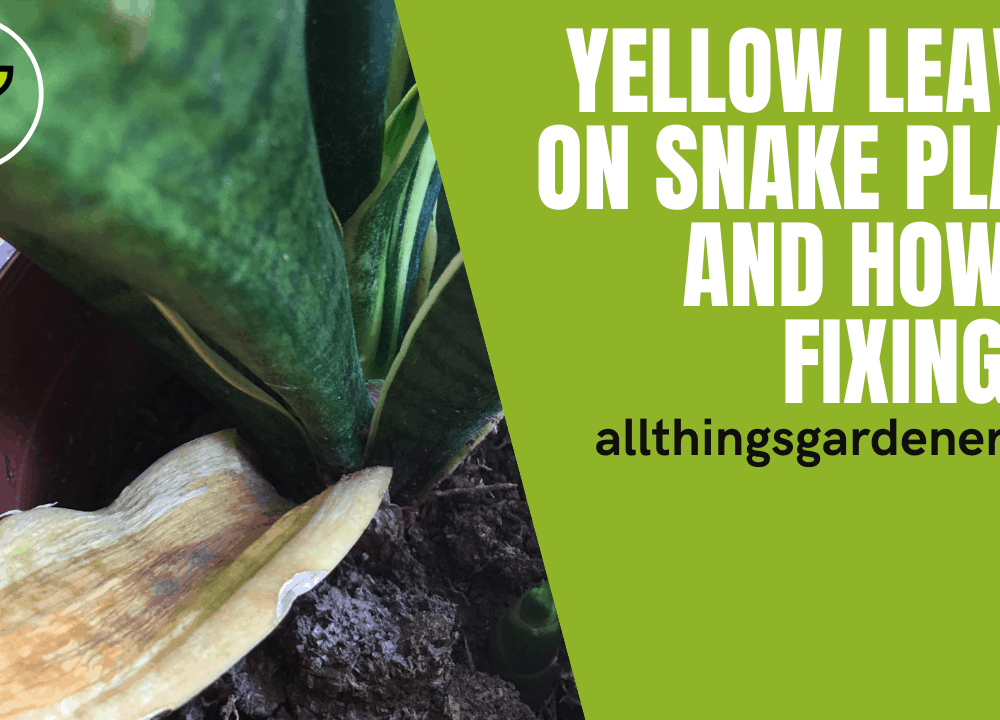 Snake Plant
Why Yellow Leaves Occured?
Sansevieria or (san-se-vi-ah) in the Lily family, also known as one of the world's most popular plants.
On the basis of molecular phylogenetic studies Sansevieria has been included in the genus Dracaena…
…which is native to tropical Africa in particular Madagascar, and southern Asia.
The 70 or so species formerly placed in the genus have been known by many common names….
…..including mother-in-law's tongue, devil's tongue, jinn's tongue, bow string hemp snake plant, and snake tongue.
According to the APG III classification system, Dracaena is a member of the family Asparagaceae…
…subfamily Nolinoideae (formerly the family Ruscaceae).
It has also been placed in the family Dracaenaceae. With its durability, the Sansevieria makes an excellent choice…
…for apartment dwellers who typically have difficulty with houseplants due to limited lighting.
They should take a good look at snake plants. As the most tolerant of all decorative plants…
…Sansevieria can survive the harshest growing conditions, abuse and neglect. 
Simply put, sansevieria is a tough houseplant to kill. Snake plants are versatile, classic houseplants with sword-like foliage.
The great thing about this plant is that it's a great plant for forgetful gardeners…
…and it's an excellent air purifier plant for indoor environments.
Despite being a resilient succulent that can grow from 6 inches to several feet, snake plants have a number of health benefits.
Household plants are often strategically placed for decoration and to maintain good feng shui.
But did you know that some of these same plants also have some health benefits?
You might be surprised to learn that snake plants bring both health benefits and beauty to your home.
Keep reading to discover the snake plant's benefits, how to care for one, and how to keep it alive.
But before that here we have the story from Jake about his experience having yellow leaves on snake plant!
Let us hear Jake's story
I had a snake plant. It was my first one and I was excited about it!
But we all know that with plants, sometimes they die early on. Well, mine did too- just weeks after I got it.
The leaves turned yellow and drooped down to the floor of its pot and I am feeling sad about this. I said to myself…
.…this yellow leaves on my snake plant need to be fixed as soon as possible.
After that incident, I'm trying to do research about it how to fix yellow leaves on snake plant…
….and applied all of my study about it to recover my little snake plant.
In 4 months, now this plant going back to normal and there's no yellow leaves occurred!
It is usually the tips of the leaves that first turn yellow. This may be followed by slight curling of the tips, which occurs when that part of the leaf dries up and dies. The plant may also seem to be suffering a slight overall decline, such as wilting or fading of the variegation in the leaves.

April Sanders, author from hunker.com
Here's the main thing!
The Challenge Having This Plant
If you're looking for a new challenge for your green fingers, there are several hardy and easy to care for plants…
…that could be chosen. The snake plant, or Sansevieria, may fit your criteria and be one…
…that you haven't come across before. A snake plant is very common on many gardeners' "scary plant list"…
….and we'll answer one of the most common questions about the plant, which is how fast does it grow?
Go on…
Snake Plant Yellow Leaves, Why?
Plants with lush green leaves brighten your day and beautify your surroundings, from living rooms to landscapes.
Plant leaves, however, can sometimes turn yellow despite your best efforts.
Yellowing, also known as chlorosis, occurs when something interferes with your plant's chlorophyll…
…the plant pigment that gives it its beautiful green color.
The good news is that yellow leaves indicate that plants require assistance.
Yellow leaves can be remedied and prevented by reading the signs and taking the appropriate steps.
The most common cause of yellow leaves is one of these conditions:
Poor drainage or inadequate watering
Damaged roots or compacted roots
The pH of the soil is too high
A lack of proper nutrients can lead to
Next up…
Poor Drainage or

Improper Watering Can Cause Yellow Leaves
Yellow leaves are caused by a lack of water, either too much or too little. Roots can't breathe in overly wet soil.
They suffocate, shut down, and stop supplying plants with the water and nutrients they require.
Drought, or underwatering, has a similar effect. Plants cannot absorb essential nutrients if there is insufficient water.
As a result, yellow leaves appear. Start with porous, well-draining soil to solve or prevent water problems.
Choose pots with good drainage holes and keep saucers free of excess water if you're growing in containers.
Avoid planting where rainwater or irrigation collects in your landscape. Improve the structure and drainage…
…of your soil by adding organic matter, such as compost. Give the soil a "finger test" before watering.
Insert your index finger into the soil a few inches deep. Water only when the soil feels dry, as a general rule.
Then thoroughly and deeply water. Wait a few days if the soil is cool and moist.
Allow the soil to dry slightly before watering it again.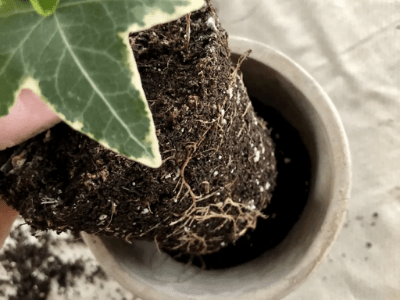 Keep reading…
Root Damage or

Compacted Roots Can Cause Yellow Leaves
Root damage can be caused by a variety of factors, including errant shovels, root rot, and other diseases.
Roots that have been damaged may struggle to provide what your plant requires.
Compacted roots occur when container plants outgrow their pots. Water, oxygen, and nutrient movement are all stifled…
by compacted landscape soil outside. In these cases, the roots are unable to function properly…
…resulting in yellow leaves. Slide your plant out of its pot gently to check for damaged or compacted roots.
You'll also get a good look at soil moisture. The roots of healthy plants are whitish yellow.
Roots that are dark and rotting have a foul odor. It's time to consider a new plant if the roots are rotten and diseased.
If compaction is an issue, prune unhealthy roots, loosen roots gently, and repot in a larger container…
….with well-draining soil. Improve soil compaction by aerating your lawn with landscape plantings.
Include organic mulch and organic matter in your planting areas. Garden gypsum can also help keep leaves green…
…by improving soil compaction, especially in heavy clay soils.
Improper Soil pH Can Cause Yellow Leaves
If you're growing container plants and using premium plant fertilizers on a regular basis…
…soil pH isn't likely to be the cause of your plant's yellow leaves.
If your leaf problem is limited to landscape plants, however, soil pH may be the answer.
Plants' ability to access nutrients is influenced by the pH of the soil. As the pH of the soil rises or falls…
…so does the availability of nutrients. Soil pH in the neutral to slightly acidic range, near 6.0 to 7.0, is ideal…
…for most plants, including lawn grasses. Rhododendrons and blueberries, for example, prefer soil…
…with a pH of 4.5 to 6.0. When the pH of the soil falls outside of a plant's ideal range, some nutrients…
….become unavailable to it. Even if nutrients are present, plants are unable to absorb them, even if fertilizers are added.
Until the pH issues are resolved, the leaves turn yellow. A simple soil test can determine the pH of your soil…
…as well as provide other useful information. Most testing labs also make recommendations…
…for pH-balancing soil amendments. As a result, nutrients become available again, and green leaves…
…resume their normal course.
Last but not least…
Lack Of Proper Nutrients Can Cause Yellow Leaves
When yellow leaves appear in the presence of an ideal soil pH, a true nutrient deficiency may be present.
Some nutrients move around a lot. Nitrogen, for example, easily passes through soil and is washed away.
Nitrogen deficiencies turn lawns and plant leaves yellow or pale green unless soil nitrogen…
…is regularly replaced through fertilizer applications. If you suspect nutrient deficiencies, premium plant foods…
….and proper fertilization can help. Your county extension agent can also provide information…
…on the specific nutrients in question. Identifying which leaves turn yellow first and how the yellowing…
…begins can help you spot problems like these:
Nitrogen deficiency this manifests itself as a general yellowing. The older, inner leaves are the first to turn yellow. Yellowing spreads outward as time goes on, eventually reaching young leaves as well.
Leaf edges turn bright yellow, but the inner leaf remains green, indicating Potassium Deficiency. The symptoms appear first on older leaves, and the leaf edges quickly turn brown.
Magnesium deficiency manifests itself in older leaves as yellow patches between veins. As yellow moves outward from the leaf center, the veins remain green. The leaf edges are the last to turn yellow..
Yellowing between leaf veins is another sign of iron deficiency, but it affects young leaves on plant tops and branch tips first.
Sulfur deficiency begins with the youngest leaves, which turn yellow all over..
Relationships between nutrients in soil and in plants are complex. For example, low potassium can make iron less available.
Yet excess potassium ties up calcium, magnesium and nitrogen, causing deficiencies of those nutrients.
That makes proper fertilization with trusted, premium plant foods crucial to keeping your plant free from yellow leaves.
See having Snake plant is good choice for you to have! It's cool, its famous, it's easy to have and care!
What else do you need? In this pandemic time like this, is a good choice for you to have an new activity…
…and having snake plant is a good choice for you to have!
Last thing for sure. This plant need to be care carefully, remember plant need the "love" too.
Alright that's all for today! Do you have any questions about all of this?
Or do you want to add some method that can help you for preventing root rotting on your snake plant?
Let me know your recommendation from the comment below.
I hope you can now take care your snake carefully and grow it big!
Thanks for reading this article! Bye!
You might also love these!
Hello, I am Yoseph, in my spare time I become a gardener and music composer♬.
I love gardening because it is a wonderful way to feel grounded, calm and connected to the earth. There are many things about gardening that I enjoy; picking flowers in the summer, planting vegetables in the fall, and harvesting produce in the winter. I also love how beautiful my garden is, watching plants grow into tall trees or being able to see all of my hard work unfold every year??.
Its really help me to killing time and its also relaxing.