You can take cordless leaf blowers anywhere you need to clean up leaves, grass clippings…
…or other yard debris and we've compiled a list of 5 of the best cordless leaf blowers for you to choose from. 
Typically, cordless leaf blowers are powered by rechargeable lithium-ion batteries. 
It is easier to maintain battery-powered leaf blowers, and they do not emit harmful fumes like gas blowers do. 
Let's look at the advantages and disadvantages, horsepower, weight, and cost of these 5 cordless leaf blowers.
In addition, let's help you choose the right leaf blower for your lawn. 
Let's hear Ralph's story before moving on to the next section…
Due to the weight of the gas leaf blower,
my wife insisted we buy one cordless leaf blower.
Even though they are almost the same weight, this leaf blower blower performs exceptionally well!
However, it does not hold its charge that long…about 25-30 minutes
…but it does blow leaves effectively. Would I recommend it to my friends? Absolutely!

Now, let's jump right in!
Top 5 Cordless Leaf Blowers – Reviews
Image
Title
Prime
Buy

Top

KB Kobalt 80-Volt Max Lithium Ion 630-CFM Brushless Cordless Electric Leaf Blower (Battery Included)

Prime

Check Price on Amazon

Top

EGO Power+ LB5804 580CFM Variable-Speed 56-Volt Lithium-ion Cordless Leaf Blower 5.0Ah Battery & Charger Included

Prime

Eligible

Check Price on Amazon

Top

EGO Power+ LB6504 650 CFM Variable-Speed 56-Volt Lithium-ion Cordless Leaf Blower 5.0Ah Battery and Charger Included

Prime

Eligible

Check Price on Amazon

Top

Greenworks Pro 80V (145 MPH / 580 CFM) Brushless Cordless Axial Leaf Blower, 2.5Ah Battery and Charger Included BL80L2510

Prime

Eligible

Check Price on Amazon

Top

DeWalt DCBL772X1 Flexvolt 125 MPH 600 CFM 60 Volt Max 3 Ah Lithium-Ion Cordless Handheld Axial Air Blower (Non-Retail Packaging)

Prime

Check Price on Amazon
Let's go through them one by one…
Do you need a high-performing battery-powered leaf blower that doesn't break the bank?
KB Kobalt's 80-volt leaf blower has an airspeed of 140 mph and an air volume of 630 CFM.
Despite its power, it's not too heavy, weighing just under 9 pounds. 
Powered by an 80-volt, 2.5-Ah battery, this cordless leaf blower can run for up to 75 minutes on low. 
The KB Kobalt 80-Volt also has a variable speed trigger that lets you increase or decrease the airflow…
…according to the task at hand. Unless you have a lot of dirt to clean up…
…you do not have to worry about wasting battery life. 
Specifications:
MPH: 140 mph
CFM: 630 cfm
Weight: 8.9 lbs. 
Battery: 80-volt, 2.5-Ah battery 
Performance index: 8.82
Pros: 
Brushless motor
Easy to adjust airflow with variable speed trigger
Cruise control
An affordable leaf blower that performs well
Not too heavy 
75 minutes of run time
Cons:
Has the third-lowest performance index
Only the low setting allows for a 75-minute run time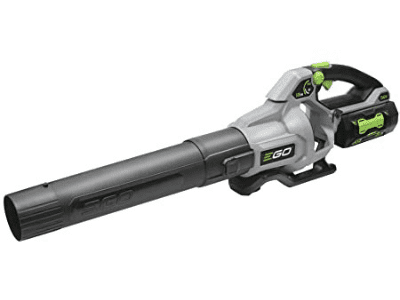 LB5804 EGO Power+ would be a great addition to any garage that already features EGO equipment.
All EGO Power+ ARC lithium batteries are compatible with this cordless leaf blower…
..so if you already have a few EGO batteries on hand, you're already ahead of the game. 
Despite placing second in our performance ranking…
…this cordless leaf blower earned bonus points with a high-performance brushless motor…
…that delivers longer run times, extended motor life, and low vibration. 
Controlling airflow is easy with the EGO Power+ LB5804.
The variable speed control allows you to deliver airflow between 225 and 580 CFM…
…so you never have to worry about a light project that needs a bit of airflow. 
But what if you need 580 CFM? By pressing a button, you can accelerate to full speed. 
And check out the run times: 
200 minutes on low speed
30 minutes on high speed
18 minutes on boost mode
Specifications:
MPH: 168 mph
CFM: 580 cfm
Weight: 9.6 lbs.
Battery: 56-volt, 5.0-Ah battery
Performance index: 9.74
Pros: 
Second-highest performance index
Brushless motor
Variable speed control 
Turbo boost button 
Only 100-minute charging time
Includes flat and tapered nozzle attachments
Ergonomic design for enhanced comfort and balance
Cons:
A bit heavy at 9.6 pounds
On the expensive side
Keep reading…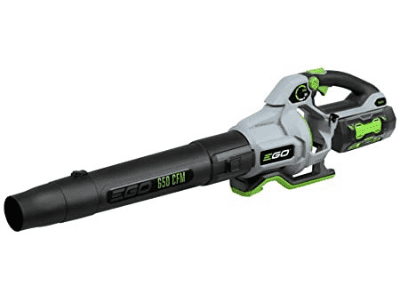 Many of the features of the EGO Power+ LB6504 are similar to those of the EGO Power+ LB5804…
…but it has a higher horsepower. By adding horsepower, you'll be able to handle more demanding projects…
…including snow, wet leaves, rocks, and mud. 
But what's the drawback to more power? The weight and cost.
In spite of your enjoyment of the EGO Power+ LB6504's added strength…
…the nearly 13-pound piece of equipment could lead to muscle fatigue quickly.
And you'll be almost $300 short in your wallet.
Besides a turbo button and cruise control, EGO Power+ LB6504 also has a speed dial.
The air volume can be set between 250 and 500 CFM, or it can be cranked up to 650 CFM with the turbo blast. 
In boost mode, the EGO Power+ LB6504 has a similar run time to the EGO Power+ LB5804. See this: 
200 minutes on low speed
30 minutes on high speed
15 minutes on boost mode
Specifications: 
MPH: 180 mph
CFM: 650 cfm
Weight: 12.9 lbs
Battery: 5.0-Ah, 56-volt ARC battery
Performance Index: 11.7
Pros: 
On our list, this is the best cordless leaf blower
Includes flat and tapered nozzle attachments.
Brushless motor
Cruise control 
Variable speed control
Ergonomic design for user comfort and balance
Turbo boost
Cons:
Heaviest cordless leaf blower in our top 5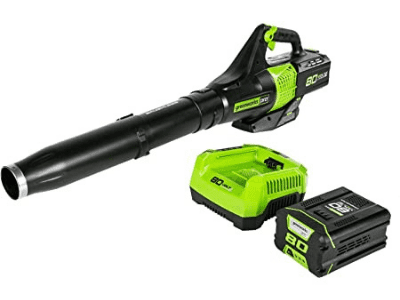 It is the mission of Greenworks to be the leader…
…in battery-powered outdoor power tools for DIYers and landscaping professionals.
A good example is the Greenworks BL80L2510 cordless leaf blower.
By blowing at 145 mph with a volume of 580 CFM, this leaf blower doesn't just tackle dry and wet leaves…
…it also ensures that time is on your side. 
Unlike most battery leaf blowers, which run out of power in as little as 10 to 15 minutes at high speed,…
…the Greenworks BL80L2510 gives you an astonishing 22 minutes of operating time…
…at high speed to complete your task.
A quick charger makes this Greenworks leaf blower ready to use in just 40 minutes if the battery runs out. 
Specifications: 
MPH: 145 mph
CFM: 580 cfm
Weight: 10 lbs
Battery: 80-volt, 2.5-Ah battery 
Performance Index: 8.4
Pros: 
Trigger with three different speeds
Cruise control is a feature that allows you to drive
Over-mold grip that is comfortable
Over 20 80V Lithium-Ion MAX system tools are compatible with the battery
Motor with no brushes
Time spent running at a high speed for a long period of time
Recharge time is only 40 minutes.
Cons:
For some users, 10 pounds may be too much.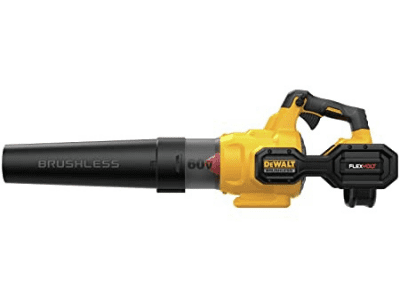 Battery leaf blowers are quieter, require less maintenance, and emit no harmful emissions.
They are a true alternative to noisy, smelly gas leaf blowers. 
The downside of battery-powered equipment is having to replace the batteries for each tool.
If the company you purchase from sells compatible batteries…
…the battery is sometimes only compatible with a limited number of tools. 
The DEWALT Flexvolt DCBL772X1 leaf blower changes all that.
Featuring an airspeed of 125 mph and air volume of 600 CFM…
…this powerful leaf blower also comes with a MAX Flexvolt battery…
…that works with both 20-volt MAX tools and 60-volt MAX tools. 
In addition to supplying power to different voltage devices, the battery also serves as a charger. 
Did we mention that the 20V/60V battery works with over 200 different products? That's a lot of equipment.
Specifications: 
MPH: 125 mph
CFM: 600 cfm
Weight: 12 lbs
Battery: 60-volt MAX Flexvolt 3.0-Ah battery 
Performance Index: 7.5
Pros: 
Motor with no brushes
Speed lock and variable speed trigger
The battery works with 200+ Flexvolt 20-volt and 60-volt tools.
Cons:
With a weight of 12 pounds, this leaf blower is the second heaviest on the list.
This section is also important…
Buyers Guide
When purchasing a cordless leaf blower, there are several variables to consider:
…CFM, MPH, run time, weight, battery, and gas.
We've shown you our top five picks, but it's up to you to decide which piece of equipment is best for you. 
Yard and Project Size
There is no one leaf blower that is best for every job type.
Some leaf blowers can't move an acorn, while others can blow a brick across the parking lot. 
The MPH and CFM of your leaf blower play a significant role in its performance.
If you have a little lawn with only a few dry leaves every autumn,…
…we recommend a leaf blower that won't send you flying into your neighbor's yard.
Nevertheless, if you have a large yard filled with a lot of leaves…
…a high performance leaf blower can save you time and make the job easier. 
When purchasing a leaf blower, keep the following in mind:
Commercial and heavy-duty projects require a CFM of over 700.
You should leave leaf blowers to your lawn care company…
…or take the necessary steps to learn how to safely operate commercial equipment. 
A leaf blower with a CFM of 400 to 700 is excellent for homeowners with medium to large yards or projects.
It is easier to control a piece of equipment between 400 and 700 CFM than one over that volume. 
"The taller the grass, the more airspeed you will need to get the leaves out of it." 

MICHAEL WILSON – Author at Best Reviews
We recommend a leaf blower between 200 and 400 CFM if you have a small yard, a light cleanup…
…or prefer not to handle powerful equipment.
The air volume shouldn't be so forceful that it sends you flying,…
…but it should be enough to blow grass clippings and errant leaves off your sidewalk or driveway.
Go on…
Comfort
Lawn work can easily consume a whole day.
While working hard in the hot sun, small details you never thought about before become vital…
…like how comfortable your tools are to use. 
You can find leaf blowers designed specifically for your needs if you're interested in a blower designed for comfort.
You might need a padded strap, an ergonomic handle, or a handheld blower with an evenly balanced weight.
Many manufacturers design leaf blowers with added comfort in mind.
You may want to consider special features or comfortable accessories when making your decision. 
Weight
A leaf blower's weight is another factor that contributes to fatigue, in addition to uncomfortable design.
Operating a leaf blower that is too heavy for you will be tiresome. 
Weight and power usually go hand in hand, but there are plenty of handheld…
…and backpack leaf blowers that are lightweight without sacrificing performance. 
Don't let the tool's weight delay your leaf-blowing project.
If weight and strain are important to you, the ideal leaf blower for you would be a lightweight model.
Sound
Control Local noise pollution laws are in place in many counties and cities.
You should ensure that your leaf blower's decibel rating is appropriate for your area's laws before purchasing it.
Run time
Leaf blowers' run times can be tricky to figure out.
It's important to remember that some manufacturers inflate their numbers. 
High numbers can sometimes lead to being mislead when purchasing a 600 CFM leaf blower with an incredible run time.
(When they should be buying a leaf blower that will only last 10 minutes at 600 CFM). 
Let's break it down: 
If a 600 CFM cordless battery leaf blower with a 60-minute run time is touted,…
…you may need to do some investigation.
Occasionally, the advertisement may not specify which air volume…
…or speed settings will allow that 60-minute run time. 
If the CFM or MPH is set at the lowest setting, the user may only be able to use the leaf blower for 60 minutes.
It's a good idea to go up the owner's manual online…
…to double-check the run time for the power setting you require.
Sum Up!
As a whole, cordless leaf blowers have fewer variations in price than leaf blowers in their larger category.
Leaf blowers that are cordless fall in the middle of the leaf blower market…
…costing less than gas-powered units but more than corded models.
Conclusion
Based on a comprehensive review of hundreds of models…
…we have chosen the DEWALT Flexvolt DCBL772X1 as the best cordless leaf blower…
…on the market for most homeowners.
There is a speed lock and variable trigger control on the DEWALT…
…and it can deliver a maximum airspeed of 125 MPH and 600 CFM.
This unit boasts an innovative axial-fan design that maximizes both runtime and air output.