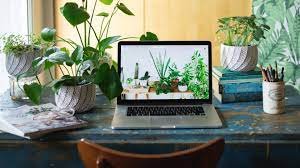 Sansevieria is a beautiful houseplant with greenish-white leaves..
..unlike many houseplants that can live a long healthy life without daily care.
The evergreen pointing leaves can give your office a modern and classy look.
They are bold and have a real architectural look.
They look good in a pot on the ground or the shelves, if shorter.
They can make a great contrast due to their height and shape variations.
Before we start..
Hear it from Byorn!
I've collected a fair amount of succulents in my apartment…
This is just to add some greeneries in my own space…
But now, I don't have enough room to place more of my succulents…
At first, I put all my succulents near the window in the living room…
But sooner than I thought, I've started to put succulents in my room and kitchen…
… where it is low light for them to grow ideally.
So this is now my biggest concern to solve…
Here's the interesting part…
Best Indoor Desk Plant
It's critical to position yourself – and your coworkers – for success.
That means picking a desk plant that doesn't require a lot of natural light..
..isn't overly water-sensitive, and can withstand the dry office air.
For the office, the snake plant (Sanseveria trifasciata) is ideal.
According to NASA, it's extremely easy to maintain and is excellent at purifying the air.
It has stiff spear-like leaves with yellow streaks that shoot upwards.
It thrives in indirect sunlight and requires only two to three weeks of watering.
Overwatering is its only kryptonite, so it's a plant you'll have to try to kill.
It's ideal for an office environment!
In low light, devil's ivy thrives and doesn't require much care.
When the soil feels dry to the touch, water it.
The spider plant is another plant that can withstand a lot of neglect (Chlorophytum comosum).
This lovely plant has narrow leaves with white or yellow stripes and produces "runners" in the spring..
..that produce more little baby plants that resemble spiders, hence the name.
This is yet another excellent air purifier.
It's easy to look after yourself..
..Allow the top inch or two of soil to dry out between waterings before watering again.
The spider spider plant prefers bright to medium indirect sunlight..
..but it is tough and should thrive even in offices with little natural light.
Sansevieria Can Be Used For Feng Shui Purposes
It can help you with Feng shui because of the upward growing leaves.
They can infuse your workplace with positive energy.
The money plant is also known as Sansevieria (the other one is Pachira Aquatica, commonly known as the money tree).
Sansevieria is said to bring good fortune and money, so you should have these plants in your office.
Sansevieria Is A Remotely Inexpensive Plant
You will never need to buy another Sansevieria once you have one because they are so easy to propagate.
Leaf cutting is a simple way to spread the theme.
They also don't require fertilizers, making them inexpensive to maintain.
Keep reading…
What To Avoid
Blooming plants, such as tropical hibiscus and Arabian Jasmine..
..should be avoided because they require more natural light..
..can trigger pollen allergies in your coworkers..
..and can be too perfume-y for a shared workspace.
Snake Plant Care: How To Grow This Diehard Houseplant
Sansevierias are a popular and low-maintenance houseplant.
Here you'll find Snake Plant Care advice, as well as information on how to keep yours growing.
Sansevierias (Snake Plants) are among the most resilient plants on the planet.
These spiky beauties can handle almost anything, whether they're indoors, in your garden, or on your balcony.
They're simple to grow, but there are some things to keep in mind.
Continue reading to learn how to care for Snake Plants as houseplants..
..and you'll be surprised at how low-maintenance they are.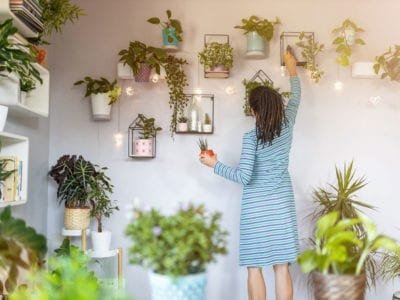 Because of their strong, bold appearance and tough, pointed leaves..
..these plants aren't for everyone.
They're not the soft, "touchy-feely" kind of plants..
..but they certainly have personality and a striking silhouette.
How to Keep a Snake Plant Happy
Snake plants are semi-succulent..
..which means they can grow in a variety of light conditions..
..and are forgiving of a few missed waterings.
Keep going…
How Much Light Does A Snake Plant Need?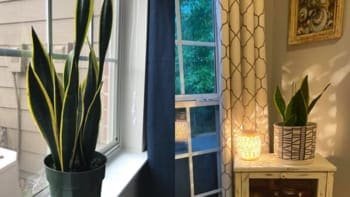 Snake plants can adapt to almost any type of lighting they are exposed to.
Bright sunlight is most similar to the arid, sunny environments in which snake plants grow naturally..
..and placing a snake plant in full sun will result in about two inches of new growth every year.
Artificial light, medium light, and low light settings, on the other hand, will not harm your snake plant..
..these plants are known to withstand a wide range of light exposure.
Placing your snake plant in a lower light setting will simply keep it at its current size.
How Do I Know When To Water My Snake Plant?
Snake plants are adapted to dry environments, which is why their leaves and roots store water.
Allow your snake plant's soil to get a little dry between waterings for best results.
Feel the top two inches of soil with your fingertip to test it..
..or better yet, take all the guesswork out of watering with a Plant Moisture Indicator from our shop..
Saturate the potting soil of your snake plant with water from a small container..
..or watering can once it is dry to the touch.
Slowly pour water out in a clockwise motion to evenly water your plant's roots.
Any excess water will drip into the plant's tray at the bottom.
Snake plant roots can be damaged by sitting in water for too long..
.so empty that tray within half an hour.
How Do I Use Plant Food For My Snake Plant?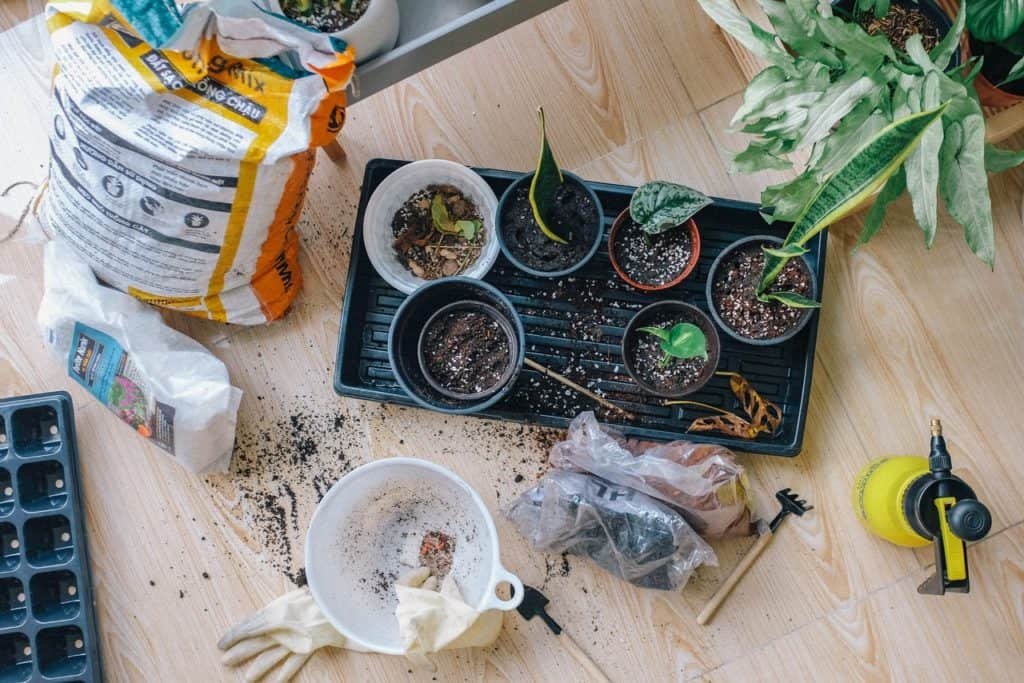 Plant food is essential for keeping your snake plant's colors vibrant..
..and leaves upright once it has settled into its new home.
Insert 3 new plant food spikes (included with your snake plant purchase) into the soil once a month during the spring..
..summer, and fall for a shelf-sized snake plant in a container with a diameter of 5 to 6 inches.
You'll need four plant food spikes if your snake plant is in a table-sized container (7 to 8 inches in diameter).
During the winter, snake plants are normally dormant, so there's no need to feed them plant food.
How Do I Prune And Maintain My Snake Plant?
Because snake plants are slow-growing, pruning isn't always necessary.
If your snake plant starts to grow too tall for your space or the older leaves start to turn yellow..
..you can use pruning shears to carefully prune away the unwanted growth.
Consider removing the entire leaf if a snake plant leaf appears yellow or damaged.
Soil for Snake Plants
Because snake plants are prone to rot, they require a free-draining soil mix.
To ensure proper drainage, use a soilless potting mixture.
Make sure to use a terracotta pot that won't trap water..
..and to remove any standing water from the saucer as soon as possible.
Go on…
Propagating Snake Plants
Snake plants produce rhizomes, which can be divided easily.
Although this can be done at any time, the best time is in the spring.
Because summer is growing season, your newly propagated plants will grow even faster.
Snake plants can also be propagated from leaf cuttings.
Simply cut 2 to 3-inch pieces of a leaf and plant them about 1 inch deep in snake plant soil.
Plant cuttings facing up, in the same direction that they were growing.
Enjoy! Snake plants look great in clusters of varying heights.
Toxicity
This plant is toxic to cats and dogs, according to the ASPCA.
Vomiting and diarrhea can occur as a result of chewing or ingestion.
Sum Up
As previously stated, each type of plant has its own watering requirements.
That said, a word of caution: it's far easier to overwater a plant than you might think.
Overwatering is more likely to kill most of these plants than underwatering..
(overwatering causes root rot, which is irreversible)
You're probably under-watering the plant if it's drooping, has brown tips, or has dry, yellow leaves near the bottom.
In the winter or in offices where the air conditioning is kept on high, less water is used.
Conclusion
A watering schedule isn't necessary for the plants we've recommended..
..but it's a good idea if you have multiple people caring for your greenery or if you're forgetful.
Finally, make sure to use a pot with a drainage hole.
Check out more of our posts like this one here!
I hope you can now take care your snake carefully and grow it big!
Thanks for reading this article! Bye!