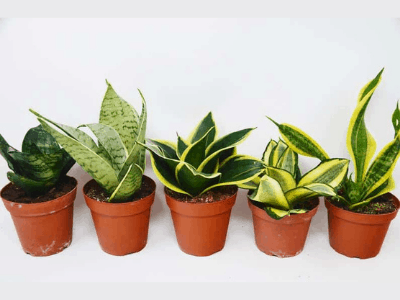 You've probably heard of the snake plant, also known as a sansevieria…
… if you've had a houseplant in your home before.
This windy desert plant is a distant relative of western Africa, Madagascar, and South Asia…
… and thrives in both heat and humidity, so it is incredibly resilient in indoor environments.
Hear it from Sammy!
I first bought my Sansevieria for their air purifying effect…
Before purchase, I heard it from a friend of mine…
… that Sansevieria will help me sleep better, since it's very hard for me to sleep.
Knowing nothing about gardening or taking care of houseplants…
… it was truly a first time for me, but I got quite lucky.
Sansevierias are known for their low maintenance and easy care…
… so I didn't have to be bothered as much.
Also, there are lots of Sansevieria care guide on the internet!
Exactly like this one here!
Sammy's right, it's relatively easy to take care of a snake plant…
And it wouldn't take up much time for you to get used to it…
So, if you're here as a first time plant parent or just curious about it…
You've come to the right place! Let's dive in!
Types Of Snake Plants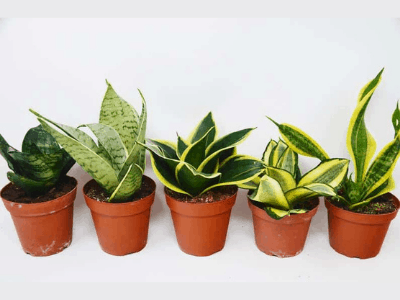 Sansevierias come in about 70 different varieties, all of which differ in their shape and color…
… and that all differ in their degree of care.
Black Coral: Almost black in color, it stands two feet tall and contains dark green leaves.
Black Gold: Despite it's slow growth, this plant can survive inside the home for years. It has dramatic blade-like leaves with yellow edges.
Fernwood: It is a hybrid plant with sticky, sweet, and sappy flowers that grow out like spiders. The leaves are not for consumption!
Birds Nest: This light, funnel-shaped variety is compact and stocky.
Snake Plant Lighting Needs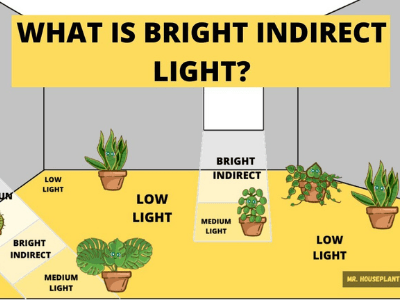 Sansevieria like bright, indirect light…
This is why they're usually sold as low-light varieties..
Those droopy and sad-looking leaves are an indication that your Sansevieria doesn't have enough sunlight…
The best place to grow a snake plant is in a brighter environment…
… but you should be cautious not to move it suddenly from a high-light environment into a darker corner.
Santiago advises you to move the bulb slowly towards your light source while keeping the humidity levels high…
Whenever you plant it close to a window, just keep an eye out for signs of sunburn…
You'll notice thinning leaves that go black or brown. They'll look flimsy, and the tips get crispy…
Here's the complete guide on snake plant light requirements…
Snake Plant Watering Needs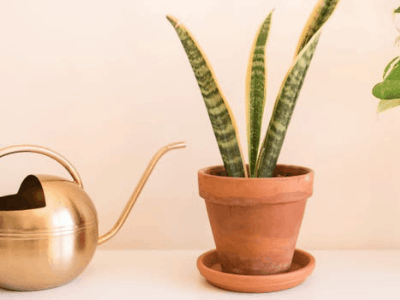 The Sansevieria is a succulent, which means it stores extra water…
… in its leaves, stems, and roots in order to survive even in drier environments.
When you pull snake plants apart, you'll see these really thick root structures. Those giant root structures store a lot of water, and those meaty, fleshy leaves do as well. One of the first signs of an overwatered snake plant is the stem connects to the root structure starts to get wet. That indicates that it's under watered. They are very tolerant.

Puneet Sabharwal, Founder of Plant Subscription Service Horti and a Snake Plant Expert
It is not uncommon for Sansevieria to go a few days without water…
The most important thing to remember with Sansevieria…
… is to wait until they are completely dry prior to watering.
Snake Plant Soil Needs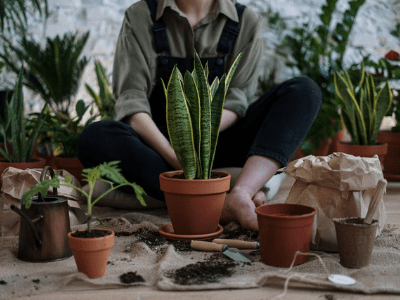 The Sansevieria is generally a slow grower, so it usually gets along just fine without fertilizing…
… though you need to change the soil every 8 to 12 months to protect against root rot.
You can do it through the process of repotting snake plant…
Check to see if the roots of your snake plant are pressed all the way against the pot…
… when you give a fresh infusion of soil to it.
If they are not…
You should move it to a new pot at least one inch wider in diameter…
The plant should not be watered more often than twice or three times a year…
Your snake plant may also need a new home if its new leaves appear wilted before they have developed…
… or if older growth suddenly begins to die off, even though the care routine hasn't changed.
Common Snake Plant Mistakes
Placing It Near a Drafty, Cold Window
You need to avoid cold drafts, or you'll come home to a dead plant…
If you have your plant outside, make sure you monitor the weather…
… and bring it inside if it is below 55 degrees Fahrenheit.
Misting Its Leaves
Fungal conditions (called blights or leaf spots) can also occur with snake plants…
They can look like lesions or blemishes oozing reddish-brown-brown substance…
We always hear we should mist our plants, but snake plants do not like wet leaves…
They live in very dry areas where overhead rain hardly ever occurs…
That's why they are so resilient. To prevent this, it's better to water the soil directly…
Letting Pests Get to It
The snake plant pests, which will appear as tiny white dots, can be eradicated…
… by mixing rosemary and neem oil with each other.
These oils have antifungal and antibacterial properties…
If the leaves are damp, you can use a tiny drop of dish soap and a damp towel to wipe them down…
How To Propagate Snake Plants
There are two main methods for propagating snake plants in soil…
… both of which result in new growth within four to six weeks:
Division Propagation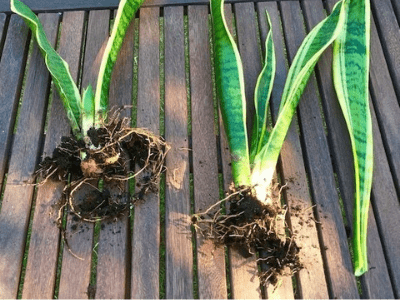 When Santiago divides mature plants, he has had the most success doing so…
… which means separating them by piecemeal methods.
This propagation method does not harm the plant…
They will be connected by a thick rhizome that looks like a root, but it is not..
Leaf-Cutting Propagation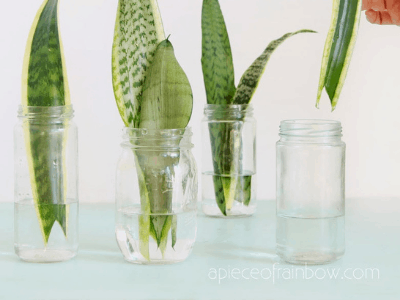 On the other hand, leaf-cutting requires snapping a whole leaf and cutting it into four or five sections…
… and then placing the sections into a mix of well-draining soil.
Keep these cuttings near bright, direct light, and make sure to water when their soil becomes dry…
Moreover, there's a choice for water propagation for snake plants…
However, water propagation is never ideal for a snake plant…
… because it causes its roots to become so brittle that they are unable to reestablish their roots in the soil…
Snake Plant Toxicity
The snake plant's fluid can cause symptoms such as vomiting, nausea, diarrhea, and mouth pain in cats and dogs…
Snake plants can be quite toxic for pets…
Most pets will usually recognize that snake plants are bad for them and avoid them…
… but you can be safe by keeping your snake plants away from them.
To sum it up…
This plant's versatility makes it a great choice for both indoor and outdoor use…
Your snake plant will keep your home fresh for many days and nights to come…
… with just a little sunlight and water every day before its next watering…
… re-hydrating the soil as needed, and avoiding contact with children and pets.
Conclusion
There are still many recent and interesting articles about Snake Plants..
..as well as other unique information from All Things Gardener..
Check out more of our posts like this one here!
I hope you can now take care your snake carefully and grow it big!
Thanks for reading this article! Bye!
Related Articles!
I am a new gardener – from the covid generation. From gardening, I know how to be more patient and tend to other things besides myself.
I'm sure there are many new gardener like me. I hope I can give us helpful information through this All Things Gardener site (which is our lovely website, of course). Let's be better of taking care of our "green child" together!???
*My first friend is jade plant a.k.a money tree. It is true, we can make money from the tree. If you sell the tree, you get your money :3.