Using diatomaceous earth for indoor plants? Is it possible, and how does it even work?
Each and every indoor gardener should have diatomaceous earth in their arsenal of eco-friendly tools, supplies, and products.
In the event that you are unfamiliar with diatomaceous earth, then you are missing out on a natural and safe way to rid your indoor plants of unwanted garden pests like fungus gnats, pill bugs, and anything else with an exoskeleton.
The purpose of this post is to answer a number of commonly asked questions about diatomaceous earth, such as what it is, what it is used for, and how it can be used with your plants.
Organic sedimentary rock powder, diatomaceous earth is used as a natural pesticide to kill mites, ants, aphids, maggots, flies, and snails while simultaneously promoting air circulation in pots and deodorizing indoor plants.
The purpose of this article is to discuss the many beneficial properties of diatomaceous earth in more detail.
Here's a quick overview of what this powder is and where it comes from before I explain how it works.
Let me even tell you how diatomaceous earth works, so keep reading! This is an event not to be missed.
---
All About Using Diatomaceous Earth For Indoor Plants
About Diatomaceous Earth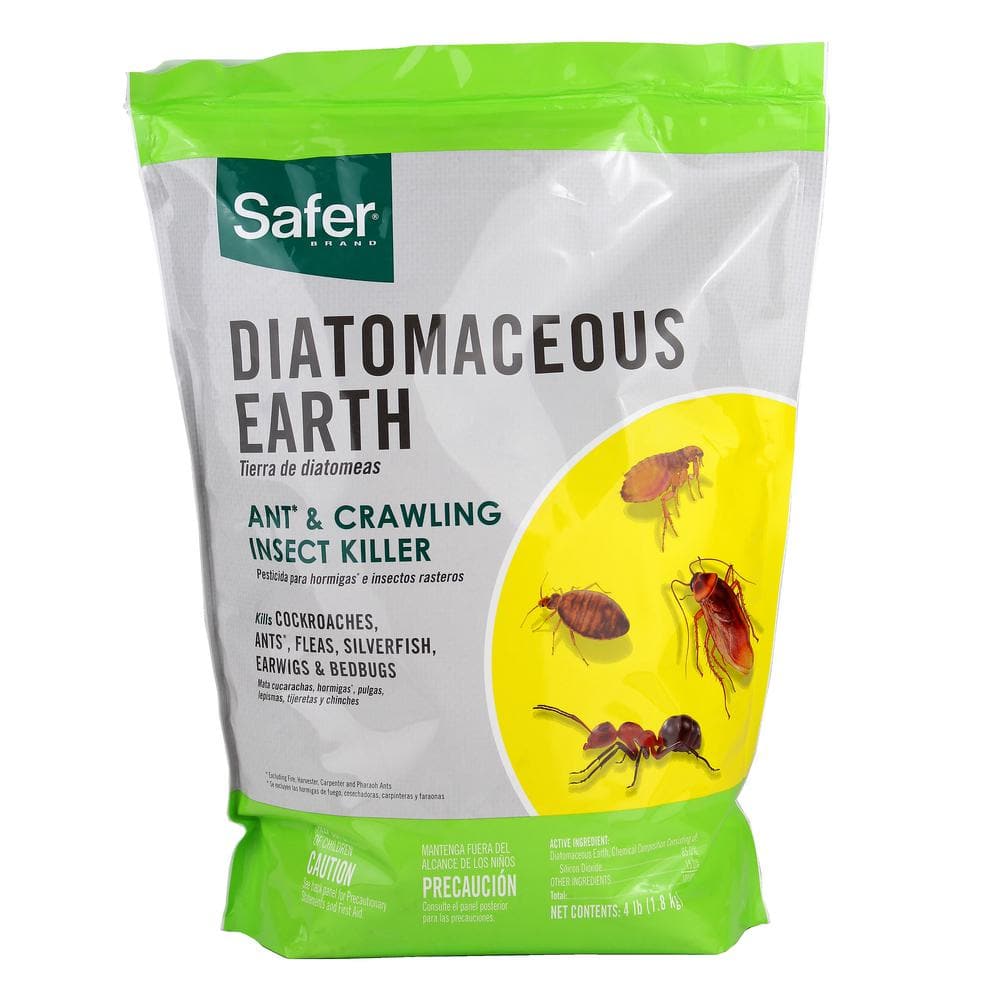 As I mentioned in the introduction, diatomaceous earth is a type of natural powder that comes from sedimentary rock.
It is siliceous, which means it is composed primarily of silica.
There are times when diatomaceous earth is referred to as kieselguhr or diatomite, but they are the same thing.
In diatomaceous earth, the rock gets broken down into a powder with a distinctive white hue.
Unlike many particles, the powder comes in different micron sizes, with the smallest pieces measuring about a millimeter (three microns) and the largest up to 200 microns.
Diatomaceous earth is highly valued by those who garden indoors or outdoors due to its porous characteristics.
There's nothing particularly dense about it – it's like baking powder or baby powder in the way it can easily be sifted.
Pumice powder has a similar feel to diatomaceous earth, which you may be familiar with.
There's a bit of an abrasive quality to it and it's not as soft as it appears.
What is Diatomaceous Earth Made Of?
Diatomaceous earth is mostly composed of silica, with 80 to 90 percent of the diatomaceous earth being salt.
The sedimentary rock from which diatomaceous earth is derived is siliceous, as we explained earlier.
Iron oxide (0.5 to 2 percent), and alumina (two to four percent) are also parts of diatomaceous earth.
There is alumina in this powder because it also contains clay minerals.
There are fossilized diatoms in diatomaceous earth, which is why it is called diatomaceous earth.
The diatoms in diatomaceous earth are a group of algae that includes shells.
Additionally, this earth is found in products such as dynamite (as a stabilizing agent), cat litter, plastic film anti-blocks, rubber and plastic reinforcing fillers, coating matting agents, mechanical insecticides, toothpaste, and metal polish.
How Does Diatomaceous Earth Benefit Your Indoor Garden?
As a Plant Medium for Greater Porosity
We have mentioned in some of our previous articles that some houseplants require potting soil while others are best suited for potting mixes.
After all, choosing the soil on which your indoor plants will be growing from is important.
It is sometimes necessary for the houseplant to be placed in a medium or multiple media of a softer consistency than the soil (if it even requires soil).
It just so happens that diatomaceous earth is an effective medium.
Nevertheless, it will not provide your houseplants with much nutrition by itself, so you should combine diatomaceous earth with other plant food for the best results.
Diaatomaceous earth is an essential part of growing plants in hydroponic containers, including bonsai and other indoor plants.
The best results will come if you combine the potting soil with it.
Diatomaceous earth not only permits more air to reach the roots, but its porosity aids in drainage and loosening compacted soil as well.
Deodorizing Your Houseplants
You might have noticed that sometimes your houseplants get a little stinky? Occasionally, it happens. A plant's fragrance can turn sour if it's overwatered, especially when it is too moist.
Mold, mildew, and fungi could be the cause of the odor you smell.
In some cases, you can add compost to your indoor plants, but man, does it stink.
If the smell persists, apply a bit of diatomaceous earth.
Your houseplants won't need to be moved outside because the natural deodorizer will eliminate unpleasant odors.
Pest Control
Diatomaceous earth is certainly one of the best products when it comes to pest control.
Once you sprinkle a little diatomaceous earth on the topsoil of your houseplants, a lot of insects will stay away.
First of all? Mites and ticks.
It may be common today to keep houseplants indoors, but it wasn't always the case.
While they were left outside, tiny insects like mites and ticks could have hopped on board one or more of your houseplants.
Pet owners, who may be bringing plants inside from outside that may contain mites or ticks, can greatly increase their risk of contracting conditions such as Lyme disease and Colorado tick fever.
The same conditions can affect people as well as pets.
There could also be other pests to worry about.
Utilizing an indoor-friendly pest control technique, such as diatomaceous earth to eliminate these potential hazards, will greatly reduce the chances of being stung by mites and ticks that come home on your houseplants from the gardening store.
Diatomaceous earth is also disliked by ants in addition to mites and ticks.
It's good because aphids can live under your indoor plants, giving them a place to live.
Aphids, on the other hand, love to consume your young plants, consuming all the sap they can get. Thus, your poor houseplant will not be able to reach its full potential.
Additionally, aphids can also infest your other houseplants, potentially spreading viruses as a result.
The use of chemical-laden products like pesticides will kill aphids immediately, but diatomaceous earth will also remove them without damaging your houseplant.
Additionally, you won't have any dangerous fumes to breathe in at your home or office when you use Diatomaceous Earth as your pest control.
If you currently don't have diatomaceous earth in your supply, there are other ways to get rid of insects and pests on your houseplants.
Get Rid of Fungus Gnats
The small black flies, also known as fungus gnats, that swarm around over-watered indoor plants are often controlled with diatomaceous earth.
In the past, I have used Neem Oil to combat fungus gnats on houseplants but I found that allowing the plant to dry out and then spreading diatomaceous earth on top of the soil will eliminate the pests within 5 to 7 days.
I recommend sprinkling diatomaceous earth on top of the soil as well as around the pot of your houseplants.
You should know that if you cover a black fly with diatomaceous earth, they become dehydrated and die.
There aren't many easy ways for slugs to get into your office or home, but it's not impossible.
In the event of spotting one, you won't need salt.
You can keep slugs away from your houseplant by aerating a ring around it with diatomaceous earth.
As a result of the diatomaceous earth cutting the snail's skin, it turns tail and leaves the area.
Keeping Your Manure and Compost Maggot-Free
In the process of making natural fertilizers, manure is an excellent addition (yes, even though it's gross).
Some gardeners, including myself, will also use compost for their houseplants.
You need to be vigilant if you use any of these products on a semi-regular basis, or your houseplants could become infested with maggots.
Especially disgusting are these bugs if they are found in unfinished compost or manure.
If you don't notice the maggot larvae wriggling in your manure or compost, it could be too late.
Now that this isn't going to work on your houseplants, it's back to square one.
In the same way as other insects, diatomaceous earth powder keeps maggots away without using harsh chemicals.
---
Frequently Asked Questions
Will Diatomaceous Earth Kill My Plants?
No. You can use diatomaceous earth on both the soil's surface and on your plants' leaves without worrying about damaging them.
Porosity can even be increased by allowing it to get into the soil.
When you are applying diatomaceous earth, if more powder ends up on your plant than you want, you can scoop it off.
You have nothing to worry about if you use it according to the instructions.
How Often Should I Apply Diatomaceous Earth to My Indoor Plants?
To use, sprinkle the diatomaceous earth on top of the soil and let it sit for seven days.
Once the pest problem has been resolved, you can store your diatomaceous earth until next season or the next bug or pest infestation.
This isn't something you have to do all the time.
---
More Related Articles