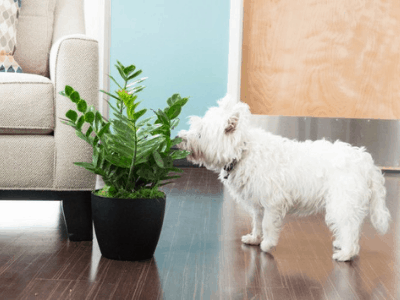 How do you keep dogs away from houseplants?
The dog may be man's best friend…
… but that does not mean they are perfect.
They find their way into almost everything…
…from the food that your toddler throws on the floor…
… to the couch cushions to your precious plants!
Even though we love our dogs at home…
… trying to keep them safe from all of these things…
… can be frustrating from time to time.
It can be easier to just let them have their way sometimes…
Allowing them to eat your child's food on the floor might seem reasonable…
… but letting your dog eat your plants usually isn't.
In addition to damaging the plants…
… they can also cause serious damage to your dogs if you have certain plants.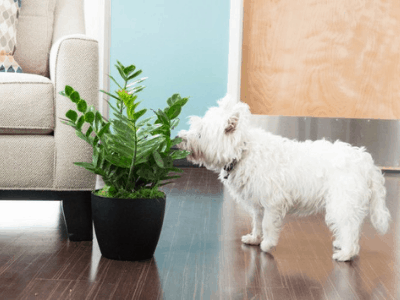 Hear it first from Colleen!
As a plant lover, I collect lots of houseplants around the house…
I made sure that these houseplants are safe for my lovely dogs…
… by checking the toxicity level of the plants prior to purchase.
This is very important since dogs love to just come up to things…
… and possibly have a sniff or bite on them.
Although they're considerably safe for my pets…
The fact that they still come up and have a very close look at these houseplants…
… worries me a lot on the well-being of my plant babies.
Most of my houseplants are mildly damaged due to the 'loving' my dogs gave them…
Thus, I need major help on tactics to keep dogs away from my plants…
I tried planting my plants in taller planters…
… but my dogs still gets the hang on them by pushing the planter…
… and eventually broke my houseplants down.
Having the same trouble?
Pets are just very loving creatures…
… but they can also add up to the mess around the house.
That is exactly why this article is here to help you out…
… and hopefully save more of your houseplants.
3 Simple Ways To Keep Dogs Away From Eating Your Plants
If you want your dog to stay safe or if you want your plants to last…
… knowing how to keep dogs away from your plants is important.
Below, you can find a list of simple ways to keep your plants and dogs safe…
Teach Your Dog Boundaries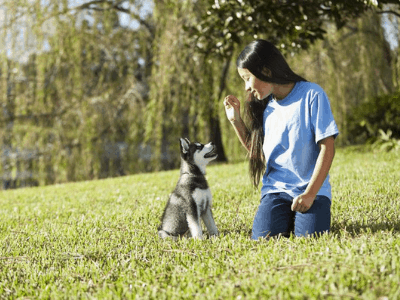 You can keep dogs away from damaging your plants…
… by teaching them their boundaries.
It's much easier to teach them since they're still puppies…
… rather than later in their lives (I learned this the hard way).
Besides teaching your dog which places they are allowed to visit…
… or what they are not allowed to approach…
… you'll also set up an environment that's easier to manage in the long run.
This means…
As you add more plants to your house or garden…
… your dog is already programmed to stay away from them.
It's become very natural for them to do this…
They know they need to stay away from new plants…
… even if I bring them into the house.
Adding boundaries to your dog's training has other benefits as well…
You may be able to get by without a fence in your yard…
… if you enforce that certain areas are off-limits.
Redesign the Environment
There are usually a few simple ways to keep dogs away…
… from accessing your plants, whether you work with indoor plants or an outdoor garden…
It's not impossible to at least make life a little more difficult for them…
If you have indoor plants, bringing them up…
… can help keep them and your pets safe.
I mean to put your plants high up…
… to keep dogs away and out of reach.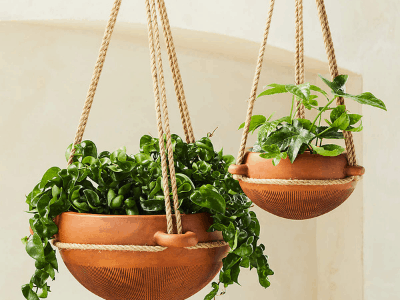 If your dog is small or you have plants on your counter or window sill…
… it can be as simple as that.
It's a little more challenging to find treats for larger dogs…
For smaller plants, I like hanging planters…
I usually use shelves to house larger plants…
You have to get creative when it comes to an outdoor garden…
Use the fence in your yard to your advantage if you have one…
As long as you utilize the existing fencing…
… you will only have to close off a smaller area.
The challenge becomes even greater if your yard is not fenced…
In theory…
You can fence in your entire garden…
… with decorative fencing, but it can be costly.
In the same way as above, if you already have boundaries, use them…
In a case where your plants are against the house…
… one side has already been blocked.
Make a boundary for your dog out of landscaping stones…
… or large plants that are non-toxic.
Whether you can close off the entire area or not…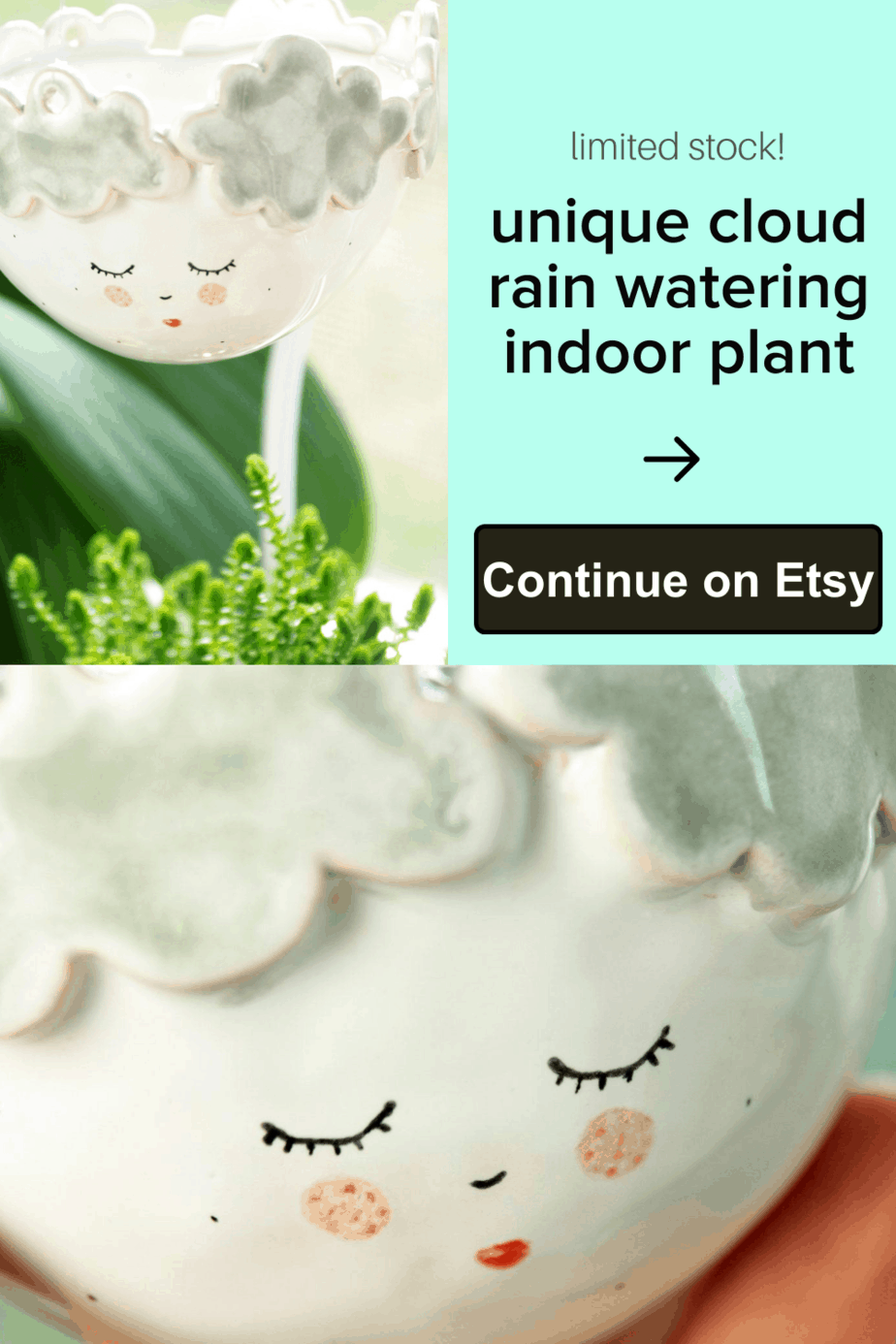 … every bit helps to make sure you can monitor your dog…
… more easily when you're outside.
It might be possible to use raised beds…
… to keep dogs away from your lovely plant babies.
Use a Repellent / Deterrent
You may consider using a repellent or deterrent…
… if training your dog does not work…
… and redesigning your garden is not an option.
It is possible to find a commercially available repellent or deterrent…
… that works well for your situation, so you can try another if the first doesn't.
Those I've talked to swear by them, but I personally haven't taken any of them…
Water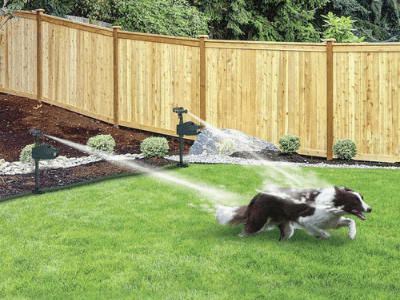 First, there is water as a repellent. In my opinion, water makes the best repellent…
… since it is harmless to your dog or any other animal that might come into contact with it.
As with sprinkler systems, this type of repellent works…
… by releasing small bursts of water for a short period of time…
… whenever it detects heat or movement, rather than a continuous stream of water…
… when instructed (or on a schedule for automatic sprinkler systems).
Scarecrow is a popular water repellent used by many people…
… to keep their plants and gardens safe.
When triggered, the Scarecrow detects heat and motion…
… and sprays a small amount of water.
It also emits a sound at a frequency that is known to keep dogs away…
Water-based repellents work well for pets and other animals…
… if your health and welfare is at risk.
However, no repellent is guaranteed to work 100%…
Chemicals
Chemical repellents are another type of repellent commonly used in gardens…
Using chemical repellents is possible in various forms…
… such as liquids or granular chemicals, but the effect is the same.
In your garden, chemical repellents are typically applied…
… to the surface of the plants or the lawn around the garden.
Indoor houseplants can also be treated with some of these chemicals…
Chemical deterrents pose the major concern…
… of causing adverse effects to children, pets, and anyone…
… or anything else that may come in contact with them.
Even though many chemical repellents are regarded as safe by their manufacturers…
… you should always be cautious when applying something to your lawn or garden…
… that could cause adverse side effects in those who come in contact with it.
I personally would not use a chemical repellent unless it were absolutely necessary…
… however, it is everyone's right to make appropriate decisions for themselves.
Sound
As I mentioned briefly above, sound is another deterrent…
We cannot detect the frequencies that dogs can detect…
… because their ears are so sensitive.
It is possible to locate a sound deterrent strategically near your garden…
… in order to keep dogs away – and other animals for that matter.
It is similar to the water deterrent mentioned above…
You need to be cautious when using a sound deterrent on dogs…
… since they are so sensitive to certain frequencies.
Deterrents can sometimes cause behavioral problems in animals…
Household Ingredients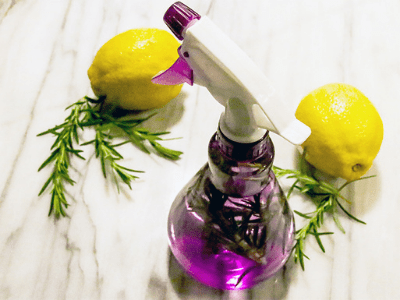 Commercial products aren't always the only option…
In your kitchen cabinets, you probably already have some ingredients at hand…
… that can work just as well as chemicals while costing a fraction.
To keep dogs away from eating your indoor plants…
… you can try a variety of natural ingredients.
Dogs also dislike the smell of citrus, leading some homeowners to use orange, grapefruit, or lemon peels as dog repellents.

David Beaulieu from The Spruce
One of the most commonly used household items is lemon juice…
In order to keep dogs away from your plants…
… spray some lemon juice around them or place a few lemon slices around them.
Vinegar, which is sometimes mixed with lemon juice…
… is another common household ingredient known to repel dogs.
It is important to keep in mind that vinegar can kill your plants…
… not to mention it's a strong smelling substance…
… so you should only apply it near your plants and not directly onto them.
To sum it up…
You can see that there are plenty of options you can use…
… to protect plants from your dog.
It might be more sensible for you to use one method…
… over another according to your situation.
Move on to a different option if your first one doesn't work…
There is no doubt that dogs are extremely intelligent (maybe not all of them…)…
… so it is no surprise that none are the same…
… in their behavior or reaction to different situations.
There are many repellents and deterrents on the market…
… but some may work better for some people than others…
… so don't get discouraged if the first solution doesn't work.
Conclusion
From the three methods above, try one of them…
… and let us know how it went for you and your dog(s)!
Check more of our posts in this website like this one here!
For further questions on the matter, contact us…
… or comment down below and unite with our gardening community!

Have an awesome gardening journey!
Related Articles!