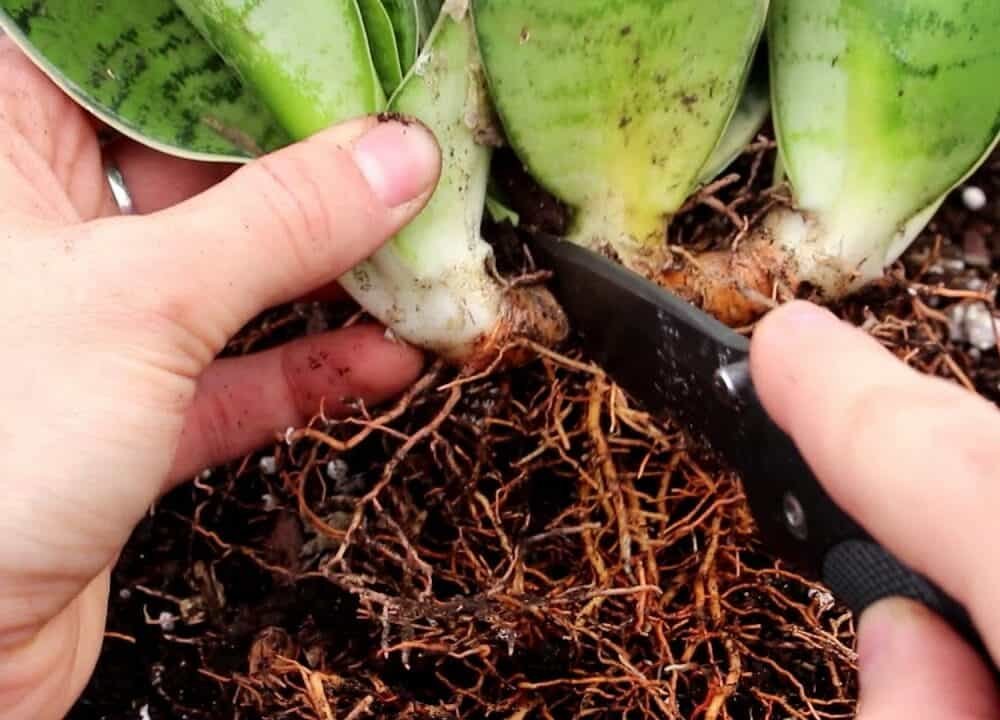 In this article you will learn about splitting snake plant..
..or in other words propagating snake plant, and it is easy to do!
Although too much water can kill your plant..
..rooting a snake plant in water is one of the most reliable methods.
You can also root the plant from cuttings..
..but dividing it is the quickest way to get a new snake plant.
The plant is made up of rhizomes that grow together and multiply as the plant matures.
This method is similar to the one you use in the garden on your old perennials.
Let's get started making babies by choosing a method of snake plant propagation.
Is Dividing A Snake Plant Necessary?
Let's look at the reasons and benefits of dividing a snake plant..
..before we look at when and how to do so.
Although many Sansevieria varieties have upright foliage that does not spread much..
..some can grow horizontally as well.
Snake plants that grow outside in favorable weather conditions, in particular..
..can reproduce more quickly.
The proliferation of their strong rhizomes (underground stems that spread horizontally) and roots is crucial.
Outdoor plants must be divided to keep their growth under control.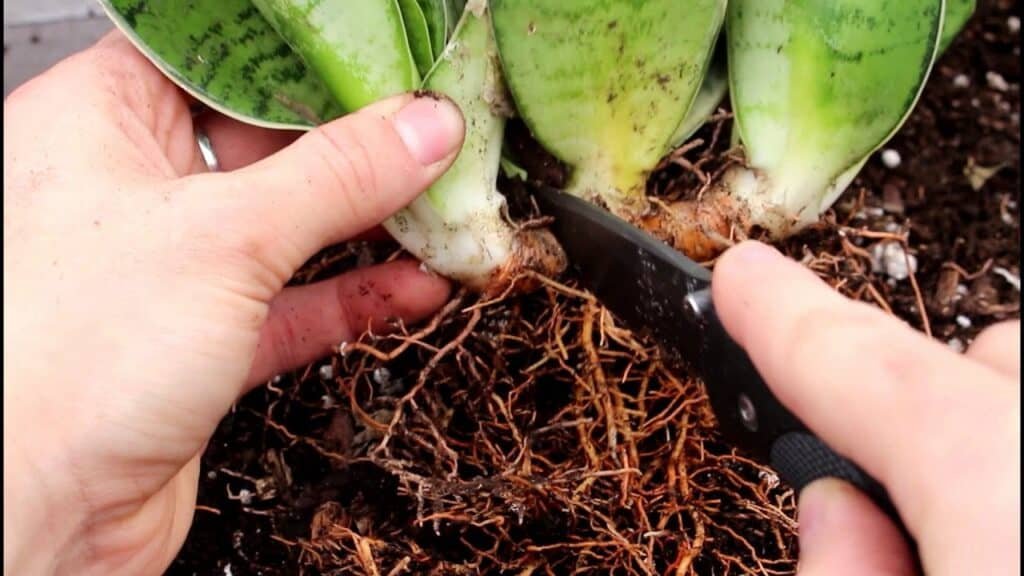 Potted snake plants, on the other hand..
..don't have much room to spread, but they still grow.
They may become pot-bound as a result of this.
Although most snake plants prefer to be root-bound..
..dividing the roots is necessary if there isn't enough room for the roots to spread.
The plant becomes uneasy and distressed as a result of this.
This can cause growth to be stunted.
Because the plant is larger..
..the soil mix may not provide enough nutrients and moisture.
If the outer foliage is constantly in contact with the container's rims..
..it may be damaged.
Keep reading…
Repotting Snake Plant: How To Do It The Right Way
Is the pot of your snake plant bulging uncomfortably?
Does the vegetation appear to be in distress?
If that's the case, it's time to consider how to repot a snake plant.
It isn't a difficult job.
Depending on the age of your plant..
..you may be able to divide it and create a second plant at the same time!
This repotting should be done in the late winter or very early spring.
This places the transplant at a time of year when the plant is not actively growing.
It can, however, be performed at any time of year if necessary.
When roots begin to creep through the drainage holes in your pot, you'll know it's time.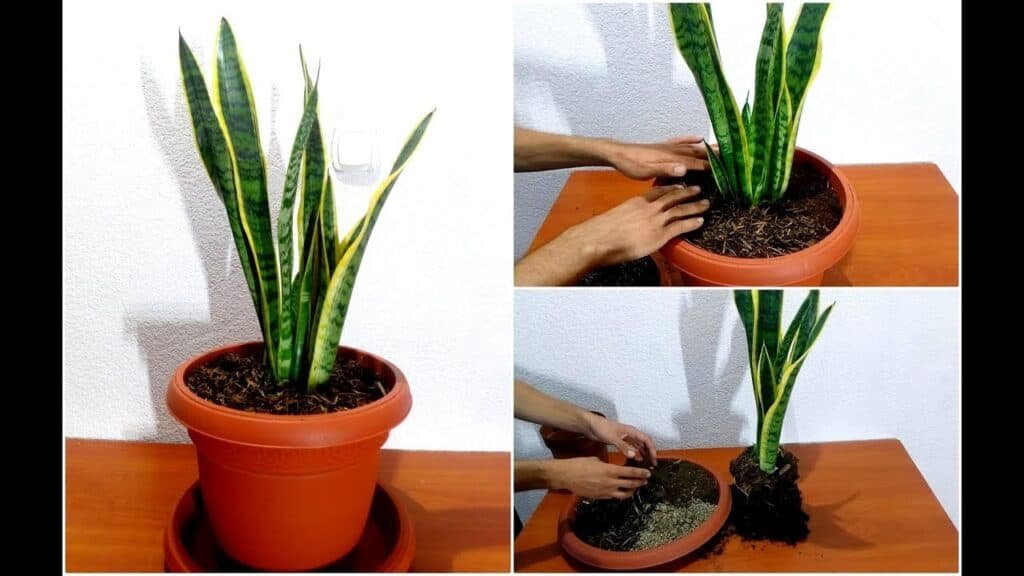 Plastic containers may begin to bulge.
When watering, it will appear as if all of the water is passing through and none is remaining in the soil.
To support the plant, grab the base and gently turn it over.
Take a look at the bottom of the pot – do you see roots spreading out?
Does it appear that the plant is stuck, or does it slide out easily?
If it's stuck, it's time to get it into something a little bigger.
While the mother in law's tongue enjoys being rootbound..
..it struggles when there are only roots left in the pot.
When it gets to that point, or if one of the other signs appears, you'll know it's time to get started!
If you'd like, you can propagate snake plants by division while you're repotting.
We'll get into more detail about that later.
Before we go further,
we have story of Dave about his experience having an experience repotting snake plant.
Let us hear Dave's story
It was a beautiful day when I went to repot my snake plant.
My mom had purchased this little plant for me at the local nursery…
….and I really wanted to keep it alive so that it would stay in our apartment.
So, one day while I was waiting for some rice to cook on the stove, I decided to take care of my snake plant.
I grabbed my potting soil and some cotton balls from a drawer by the sink…
….before walking over to where my little friend was sitting with his leaves drooping down.
He looked sad! So I got him out of his old pot and into a new one, placing him in fresh dirt…
….with enough room around him that he wouldn't feel cramped or suffocated again.
Well, from the next day after I repotting it. It's grow so well!
I'm so proud of my self for repotting my snake plant so it can breath and grow peacefully now.
Snake Plant Propagation: 4 Ways To Grow Snake Plant Cuttings
More snake plants are definitely needed in your life and around your home.
Snake plants, also known as sansevieria or mother-in-tongue..
..law's are a common and easy-to-grow houseplant.
Snake plant propagation is a simple way to grow new plants from cuttings..
..so you don't have to go out and buy new snake plants.
Continue reading to learn how to grow more snake plants for yourself and your friends.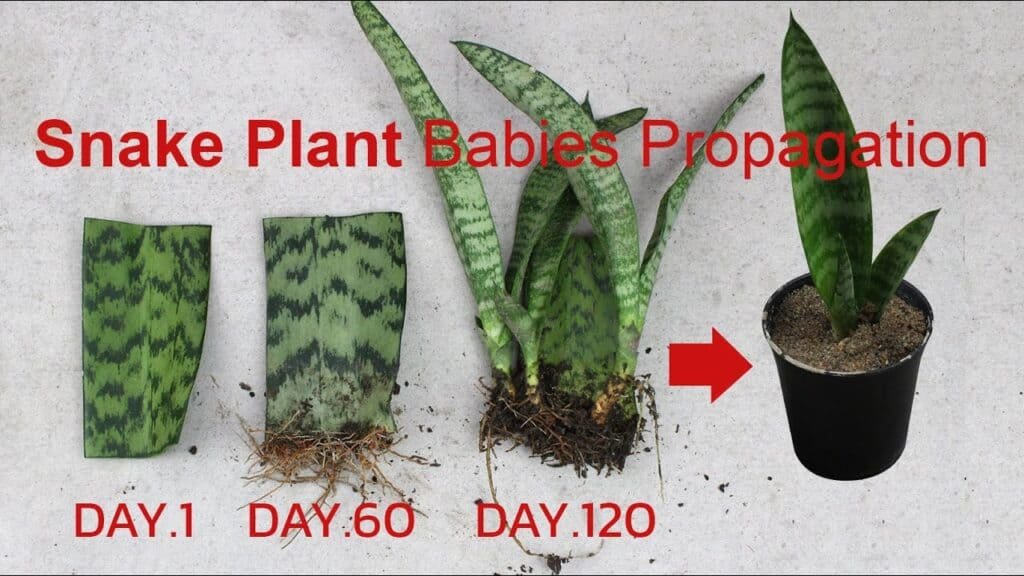 What is the best way to grow snake plant cuttings?
Snake plant propagation can be done in four ways:
Propagation of snake plants in water. Healthy leaves can be cut off and regrown in water.
Propagation of snake plants in soil. By placing a leaf that has been removed directly in soil, you can root cuttings in soil.
Divisional propagation. A snake plant is easily divided in half.
Rhizome propagation is a method of propagation that involves the use of a rhizome. With the right conditions, underground stems can grow into new snake plants.
Are you prepared to try your hand at growing your own snake plants?
I hope you are because growing your own snake plants is simple and enjoyable.
Continue reading to learn more about the various methods available to you..
..and how to determine which one is best for you.
Keep reading…
What Are The Benefits Of Dividing Your Snake Plant?
You can simply propagate by division if you have a well-developed snake plant..
..and require additional snake plants at no cost.
Dividing a single plant root-ball into two or more plants is known as dividing.
Your plant's size will, of course, determine how many plants you can divide it into.
You can only separate the plant in half if it is small..
..but if it is larger, you can easily make 4-5 baby plants.
The most effective and reliable method of propagation is to divide and root a snake plant.
The new plants will begin to grow right away because the roots are still intact.
Plants that are kept in pots often have stunted growth.
The main benefit of dividing and repotting an overgrown snake plant is that it promotes healthy growth.
Your plants grow stronger after you separate the roots and plant them in separate pots.
Another advantage of dividing the snake plant is that the old soil is replaced.
If your potting mix is a little too compact..
..add some pumice or perlite to help it breathe better.
Replacing the soil that has become too old and dense is a good idea.
When Should You Divide And Root A Snake Plant?
You can divide your snake plant at any time..
..if it is mature enough and you want to make baby plants from it.
When your snake plant begins to show signs of overgrowth..
..it may be necessary to divide or repot it.
Keep an eye out for the following signs to see if your plant is suffering from a lack of space:
The roots are pushing their way through the pot's drainage holes.
The surface of your container is covered in roots.
Containers are bursting at the seams. Plastic containers, in particular, are prone to bulging if there isn't enough room inside for the roots.
Cracks are appearing in clay or terracotta pots.
The foliage appears to be stuck in the pot. And the plant isn't easy to get out of the pot.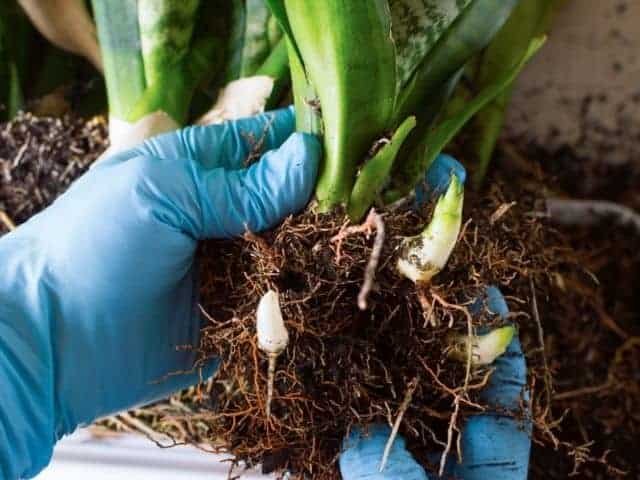 If your plant shows any of these signs..
..you know it's time to divide it.
Spring and summer are the most active growth and flowering seasons for most Sansevierias.
As a result, it appears that early to late spring is the best time to divide a snake plant.
This will allow your plant to adjust to its new surroundings.
Allow it to expand and grow freely in the spring and summer.
This can, however, be done at any time of the year if necessary.
Snake plants typically outgrow their containers every 2 to 3 years.
However, it is highly dependent on the rate of growth of your plant and the size of the pot.
In the meantime, make sure your plants in their pots appear healthy.
Preparation
It's time to divide your snake plant now that you've decided to do so.
The following are some essential items for the procedure.
Keep going…
Pot
To keep the new plants, you'll need some pots, containers, or planters.
It's critical to select the right container with adequate drainage.
Make sure the pot has at least one drainage hole on the bottom.
This will assist in removing excess water and allowing for proper drainage.
A pot with a stand, tray, or drainage saucer is a good investment.
Go on…
The size of each pot will be determined by the plant sections you create.
If the current pot isn't too big, reuse it. However, be cautious when watering..
..as large containers can lead to overwatering issues.
At least half of the space inside the pot should be covered by the root ball.
Because many Sansevieria grow to be quite tall, consider the pot's depth as well.
The plant will become top-heavy and may tip over if the container is too shallow.
Any type of pot will do..
..but terracotta has a slight advantage due to its porosity.
Potting Soil
You may want to replace the potting mix at this time..
..as it tends to become dense and compact over time.
Snake plants prefer a dry environment.
Because compact soil holds more water..
..it's very easy to overwater plants.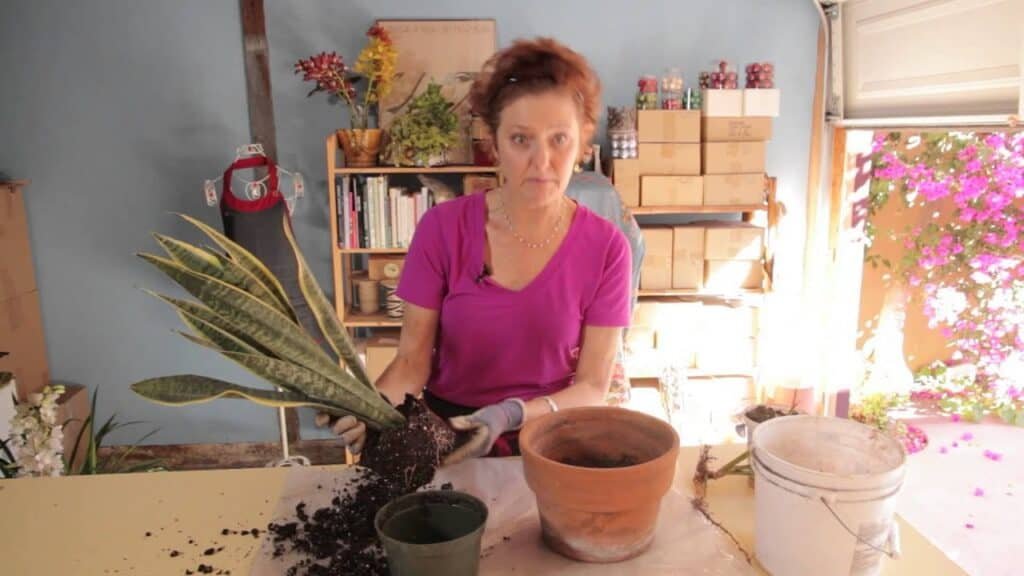 Sansevieria plants are susceptible to rot if they are left in wet soil for an extended period of time.
As a result, snake plants require a loose, free-draining medium.
Snake plants do well in a ready-to-use, soilless potting mix designed for tropical plants.
You can use a cactus and succulents potting mix and perlite in equal amounts.
If you have regular soil, you can make your own potting mix by mixing pumice, coco coir, sand, and perlite together.
To add extra nutrients and microbes to the soil, a handful of compost or manure can be added.
Just be careful not to use too much fertilizer.
What About Division?
Snake plant division necessitates a certain amount of dexterity.
Before you can split it up, you must first figure out where the division points are.
Examine your plant, paying special attention to the areas where the leaves and stems disappear into the soil.
To make it easier to find the individual stems, take your plant out of its pot.
Grasp the base of one of those stems and wiggle it around.
You should be able to separate the roots a little with your fingers.
To loosen up the root mass and partially separate the plants, repeat the process.
Sums Up
To avoid plant stress..
..it's important to look after your snake plant after you've divided it.
It also helps the plant adjust to its new surroundings and avoids transplant shock.
Here are some suggestions for aftercare for your plants.
If you moisten the soil before removing the plant from its container..
..it will retain some moisture for a few days.
As a result, there's no need to water the plant right away.
It's a good idea to wait a few days for the soil to dry out.
Conclusion
Water your plan slowly and thoroughly until the water drips out of the holes.
After that, allow the excess water to drain from the soil.
For at least one month, keep your plants in the shade.
You can place them in filtered light that ranges from moderate to bright.
After they've been divided or repotted, direct sunlight can be too harsh for the snake plants.
Fertilizing should be postponed for the time being.
Allow at least a month for your plant roots to develop.
If you apply fertilizer too soon, the roots may be burned.
Check out more posts on our website like this one here!
Have an awesome gardening journey!
Frequently Asked Questions Around How to Split Snake Plants: Everything You Need to Know
Are you considering splitting your snake plants?…
If so, you're in for a treat!….
….In this article, we'll tell you everything…
….you need to know before getting started….
We'll also give you tips on how to divide them…
…and care for the new plants after they've been split….
So sit down, relax, and let us take care of the splitting for you!
Tools and materials you will need?
Split snake plants can be a daunting task…
…but with the right tools and materials…
…the process can be easy and rewarding….
To start, you will need: a pair of gloves, ome water, and a pot big enough to fit the snake plant….
Next, fill the pot with fresh soil and place the snake plant in it….
Make sure the snake plant is at the same level as the top of the pot…
…and adjust its height as needed.
Next, leave the snake plant alone for at least six weeks…
…so that the roots can grow new roots.
It is important to be patient when splitting snake plants…
…as the process can take some time.
Once the roots are long enough, it is time to split the plant!
To do so, use a sharp knife to cut the stem at the base of the plant.
Be sure to slice the root too, as this will help the plant to grow new roots.
Finally, water the snake plant and place it in its new pot. 
How to divide your snake plant? 
It's time to get your snake plant dividing!
As with any plant, it's important to take care of them…
…and divide them into two parts when they start to look unhealthy.
Here are the steps you need to take:
1. Keep an eye on your new plants; if they start to look unhealthy, you can transfer them back into their original pot before moving on to the next step of care!
2. Use a fork or knife to divide the plant into two parts; make sure both parts have equal foliage and root mass.
3. Water each section after splitting, then give them their own potting soil and water again.
4. When it's time to divide your snake plant, be sure to do it gradually so that the roots don't get damaged. 
Guidelines for splitting snake plants?
If you're looking to add some plants to your home…
…why not consider snake plants?
These low-maintenance plants are easy to care for and grow quickly…
…so they make an ideal choice.
Before you get started, be sure to familiarize yourself with their guidelines…
….so that you don't make any mistakes.
Once you know the size of the plant you have, it's time to get to work.
To divide the plant in half, use a sharp knife or clipper.
Avoid damaging the roots or leaves – this is important…
…for the plant's health and will result in healthy growth.
After dividing the plant, watering it well is essential.
Finally, plant it back in its pot and enjoy your new addition! 
How to care for the newly split snake plants? 
It's time to plant those snake plants!
But before you do, be sure to know how to split snake plants properly.
Here are the four steps you need to follow:
1. If your snake plant does not seem to be growing, move it closer to a window for more light exposure.
2. Be sure to water them well when the soil starts to dry out, and fertilize as needed.
3. Make sure the plants are situated in direct sunlight or they will grow slowly.
4. Follow these simple steps to ensure a healthy and thriving split snake plant: water well, fertilize as needed, place in direct sunlight, and watch them grow! 
How can I determine when snake plants are ready to be planted again? 
You can check the plant's roots for new growth.
When new roots start growing and the plant begins to re-root…
…the plant is ready to be planted again. 
What should I do with the leaves and roots after splitting snake plants? 
Snake plants can be propagated by cutting the leaves and roots off the plant and planting them in water. 
Hello, I am Yoseph, in my spare time I become a gardener and music composer♬.
I love gardening because it is a wonderful way to feel grounded, calm and connected to the earth. There are many things about gardening that I enjoy; picking flowers in the summer, planting vegetables in the fall, and harvesting produce in the winter. I also love how beautiful my garden is, watching plants grow into tall trees or being able to see all of my hard work unfold every year??.
Its really help me to killing time and its also relaxing.