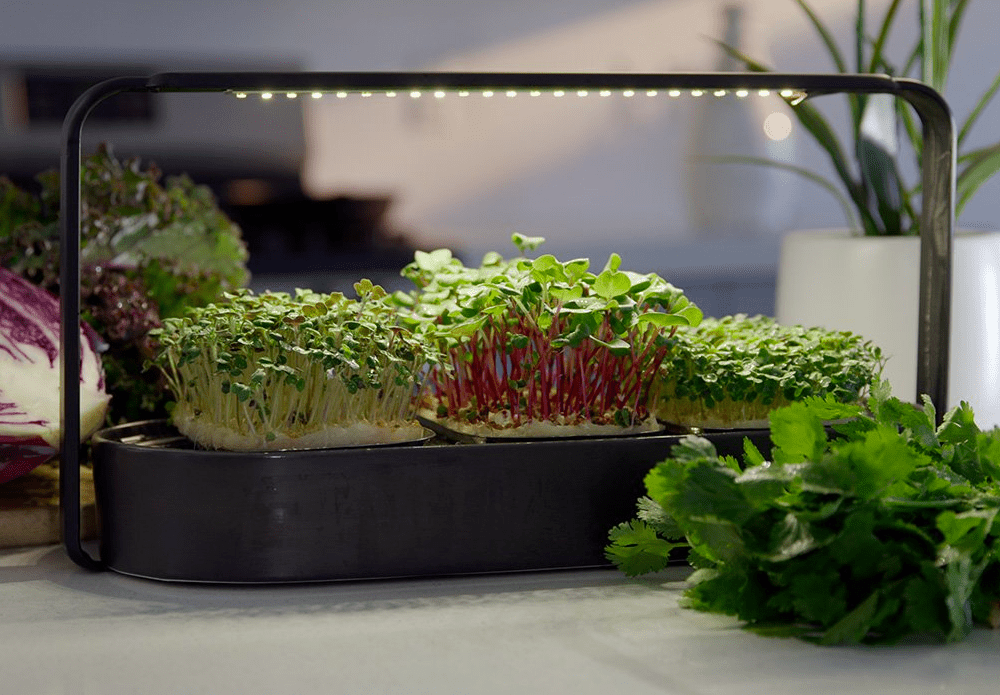 An indoor smart garden can be a simple and effective way to practice…
…your newly acquired green thumb. Many come equipped with all…
…of your indoor gardening necessities, such as…
….grow lights, self-watering containers…
…and timers, to name a few. We visited experts…
….to discover the basics of indoor gardening…
…and what to look for when picking…
…the best gardening system for beginners…
…(or anyone thinking of gifting one of these gadgets).
Some researchers say…
---
The hardships and food insecurity brought on…
…by the coronavirus pandemic have sparked…
…a rise in so-called "victory gardens,"…..
…which relate to the wartime effort to donate food…
…even to individuals with limited outdoor space during the World Wars.
According to a 2021 study by market research firm Packaged Facts…
….more than one-fourth…
…American consumers stated they planted….
….a food garden as a result of the epidemic…
…whether owing to financial issues or…
…stringent lockdown orders across the country.
And for individuals who don't have access to a sunny backyard…
…an indoor smart garden can thrive just as well as one outdoors.
Before we continue talking about the indoor smart gardens…
…let's hear our friend's story.
---
This is Laila's story…
Gardening is a great way to unwind after…
.….a hard day of looking at a screen….
Working in the garden relaxes and energizes me…
….whether I'm watering, picking weeds…
…gathering baby lettuces for a salad…
….or waging war on a slug infestation.
However, I don't always have access to a genuine garden….
….The raised beds I created…
…with my fiancé at my parents' property…
…last summer are a few hours outside of town…
…and while our apartment gets plenty of light….
.…it's not enough to keep edible plants alive.
So, with the shorter days and COVID isolation…
….taking their toll this winter…
…I turned to indoor smart gardening.
They found that the indoor gardening task lowered the stress response in participants. The computer task, on the other hand, caused a spike in heart rate and blood pressure, even though the study participants were young men well-accustomed to computerized work.

Indoor gardening benefit according to Healthline.com
There are a lot of benefits of indoor plants…
So it's time for you to start!
But first, pay attention to this….
---
Things To Consider Before Starting Your Indoor Garden Journey
Do you remember the story of Goldilocks and the Three Bears?….
….She attempted to eat porridge that was…
…not at the proper temperature….
….She sat in a chair that was far too large for her…..
….She experimented with sleeping in beds…
….that were either too hard or too soft.
She couldn't be satisfied until she found…
…something that was "just right."
Similarly, unless you choose plants that are…
…compatible with your living space…
…..you will not have the best growing experience….
…..Plants with compatible root systems are more…
…likely to have healthy root systems….
…..Plants that are not stressed by their surroundings grow faster.
Consider the lighting in your home
How much natural sunlight do you get all year round?..
….Lighting conditions can vary greatly throughout the seasons. 
Every plant needs light for photosynthesis….
….This is the plant's way of converting light..
…water and oxygen into carbohydrates (aka. energy)….
….Before buying a plant, it's important to…
….research how much light it's going to need. 
If your plant likes direct sunlight…
…they'll need roughly 6 hours of sun each day….
….It's best to place such plants on a windowsill. 
If your plant prefers moderate sunlight…
…it will require 4 hours of direct sunlight per day….
….Keep these plants at least a few feet away from your window.
If you don't have enough natural light in your home…
…..you might want to think about installing supplemental lighting…
….(for instance, LED grow lights).
Consider The Room Temperature
House plants thrive best in temperatures ranging…
….from 60 to 75 degrees Fahrenheit (15 to 24 degrees Celsius)….
…..Some people prefer slightly higher temperatures…
….while others prefer it slightly cooler…
…Check the temperature recommendations for your plant!
Think About How Tall Your Plants Will Grow
Consider the potential size of a houseplant before purchasing it….
….This will assist you in deciding where to place it in your home….
….Because most indoor plants come in containers..
…you won't have to plant them in soil….
….Some plants will naturally outgrow their containers, necessitating replanting.
If you're replanting, you'll need to find a larger pot…
….with more room for the plant to grow….
….Fresh soil should also be included in the new pot…
….New soil contains more nutrients by nature….
….In most cases, repotting is only required every two years at most.
When Should You Water Your Plants?
Isn't watering a simple task?…
….Yes, that is correct…
…though different plants require different amounts of water….
….It's critical to be aware of these before bringing them home.
It's a good idea to check on your houseplants…
…once a week to see if they're thirsty…
….Insert your finger one inch into the soil….
….It's time to water the plant if the soil is dry….
….If it's still damp, return in 1-2 days.
Lift it gently if it's a larger pot and you…
…already know what your plant requires….
….If the pot is too light, some water may be required…
….If it's still heavy, it might not need watering right away.
Indoor gardens require less water during the colder months of the year…
…when there is also less light.
Some species require bottom watering…
…depending on the species….
…Other plants prefer to be watered from above.
For larger pots…
….fill a large bucket halfway with water and soak…
….the entire pot in the bucket until air bubbles stop forming….
…Then you'll know your plant has been…
…thoroughly watered, not just the surface.
Many plants can go for longer periods of time…
….without being watered if this method is used….
….This is due to the fact that the soil needs to dry / solidify…
…between waterings in order for the roots…
…to get enough air and stimulation to grow.
Remember To Fertilize Your Plants
Plants require a variety of nutrients in addition to light to thrive….
…Plants in an outdoor garden have access to rain and sun, which nourishes the soil…
….Nutrients from the potting soil are depleted over time in indoor growing…
…This is why fertilizing your plants is essential.
It is critical to research your plants' requirements….
…Some will necessitate more fertilizer….
…(or a different type of complete plant food) than others….
…Liquid fertilizers and slow-release fertilizers are the two best types…
….of plant food for indoor plants.
Liquid fertilizers are diluted in water and applied with a watering can….
…They provide a consistent supply of nutrients to your plants…
…but you must remember to do so on a regular basis.
Slow-release fertilizers are packaged in capsules labeled "time release."…
….Nutrients will seep into the soil over time….
…In some cases, a single application can be used for up to nine months….
…It is less inconvenient than liquid fertilizers, but it is also more expensive.
Check the description of the substrate….
….if you've recently transplanted your houseplant….
…Most ready-made substrates already contain plant nutrients…
…that will last for a certain amount of time.
Avoid overfertilization…
…Less is more at times…..
…The symptoms of nutrient deficiencies are similar….
…to the symptoms of overfeeding your plant…
….There's no shame in consulting an expert…
…if you're unsure how to feed your plant.
After you know few facts about how to prepare your indoor garden to the next level, now take a look for our best indoor smart garden recommendation. Enjoy!
Indoor Smart Garden: Best Solutions To Your Indoor Gardening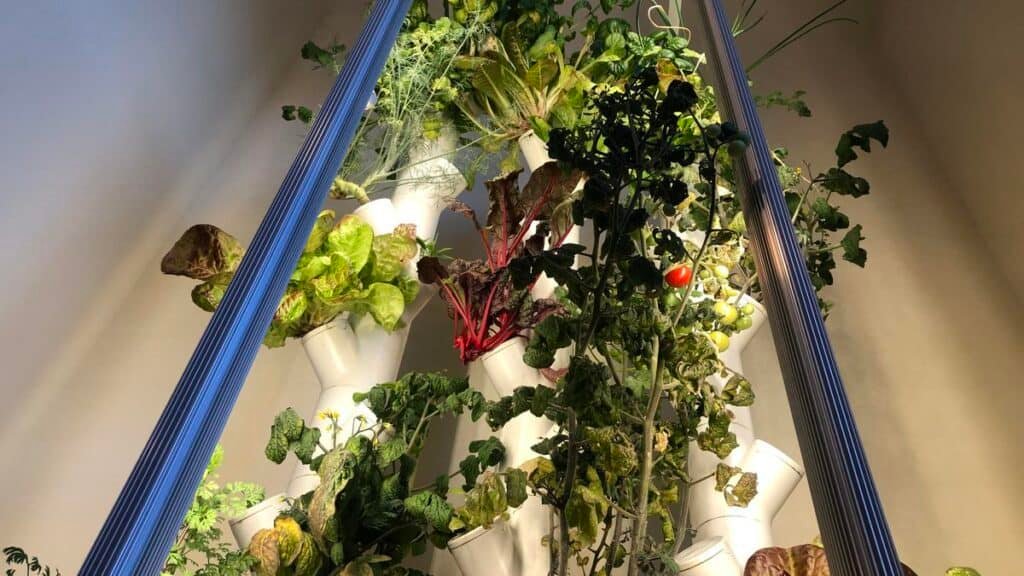 Gardyn is a new device that allows you to grow your own vegetables, herbs…
…and greens right in your home. This indoor smart garden product..
…advertises increased air circulation…
…to help prevent disease and provides…
…an easy method of controlling light exposure.
The system runs on its own power supply using microalgae…
…it's also WiFi-enabled for remote climate control….
…How does this indoor smart garden work?…
The system consists of three main parts: a hydroponic pod…
…that can fit into any corner or pot…
…the starter kit includes 30 cube pods from…
…which you can choose 3 different types…
…(each has only one type), as well as food…
….with microbes that are mixed in the water tank.
The starter kit also comes with nutrients for plants…
…so they don't need their own mixture…
…when installed properly inside…
…the plant holders provided by Gardyn for use within each…
…Cube pod container (3-gallon plastic pots)….
…Additional nutrients can be used if desired…
…but must be ordered separately through…
…their website or Amazon Prime shipping option…
…at an additional cost.
Prices pulled from the Amazon Product Advertising API on:
Product prices and availability are accurate as of the date/time indicated and are subject to change. Any price and availability information displayed on [relevant Amazon Site(s), as applicable] at the time of purchase will apply to the purchase of this product.
Next one…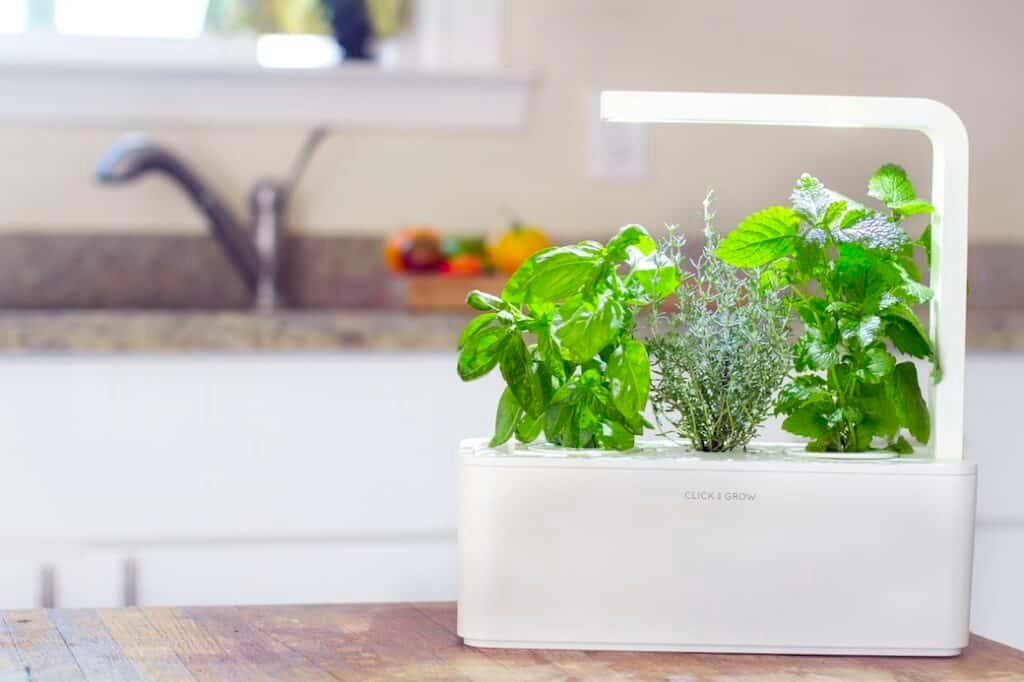 The Click And Grow system is designed…
…to work with the Smart Soil found in plant pods…
…but you can certainly reuse the pods with a variety of growing mediums.
This indoor smart garden is a great product…
….for growing a variety of greens, fruit…
…and vegetables in the privacy of your kitchen.
It's also the ideal size for growing essential herbs…
…like basil, mint, and chives….
…With self-contained seed pods, LED grow lights, and a water tank…
….that only needs to be filled every two or three weeks…
…it couldn't be easier to use….
…A great first herb garden for someone…
…with a less experience with indoor gardening.
Prices pulled from the Amazon Product Advertising API on:
Product prices and availability are accurate as of the date/time indicated and are subject to change. Any price and availability information displayed on [relevant Amazon Site(s), as applicable] at the time of purchase will apply to the purchase of this product.
Our last indoor smart garden recommendation…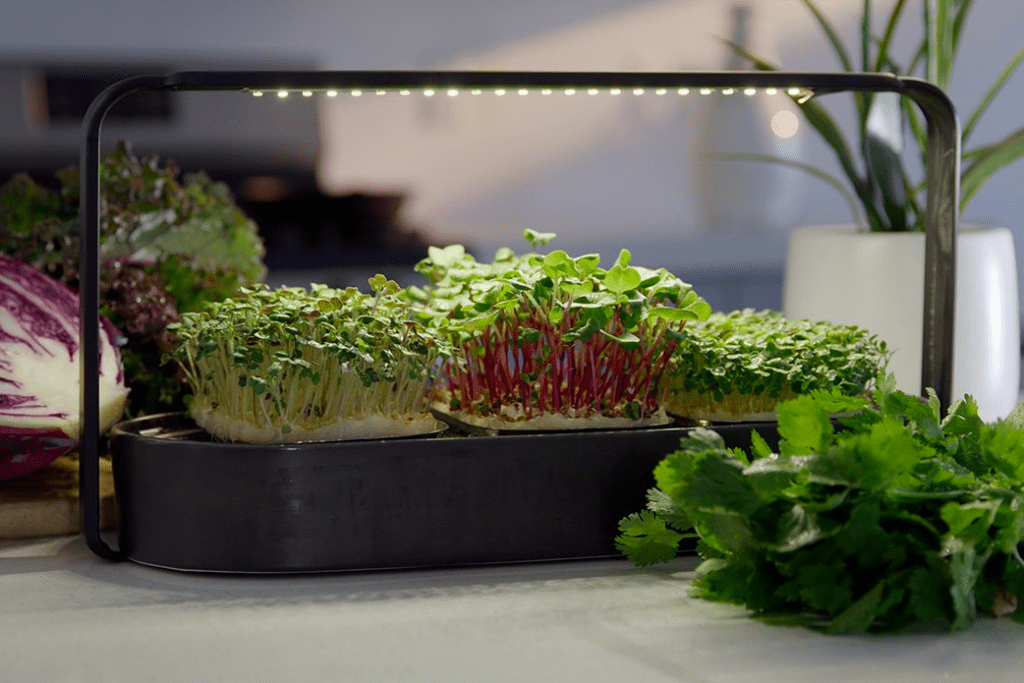 Microgreens, according to a nutritionist…
…are a vastly underutilized source of nutrition…
…They're also relatively simple to grow at home…
…MicroFarm is a new sleek smart garden that does just that…
….and it's small enough to fit on your windowsill or bookshelf.
The MicroFarm does not require soil and instead wicks water…
…up into three seed pads that sit above a reservoir….
…LED grow lights under the handle operate on a timer….
….and keep the microgreens growing – and growing quickly…
…In a few days, you'll have sprouts, and in about a week…
…you'll have full-grown microgreens like mustard, radish…
…and broccoli to sprinkle on salads and sandwiches…
…as well as into sauces and soups.
It's the ideal indoor smart garden for someone…
…just starting out in the indoor garden game…
…because it's compact, clean, and simple to use.
Prices pulled from the Amazon Product Advertising API on:
Product prices and availability are accurate as of the date/time indicated and are subject to change. Any price and availability information displayed on [relevant Amazon Site(s), as applicable] at the time of purchase will apply to the purchase of this product.
Now, this is what you need to know…
Caring Tips For Indoor Smart Garden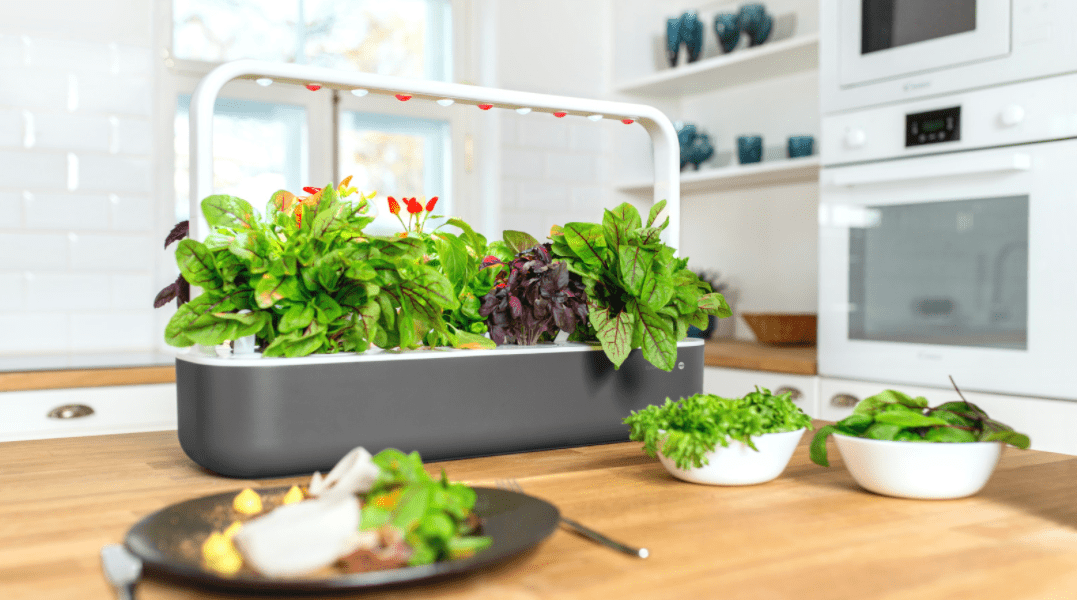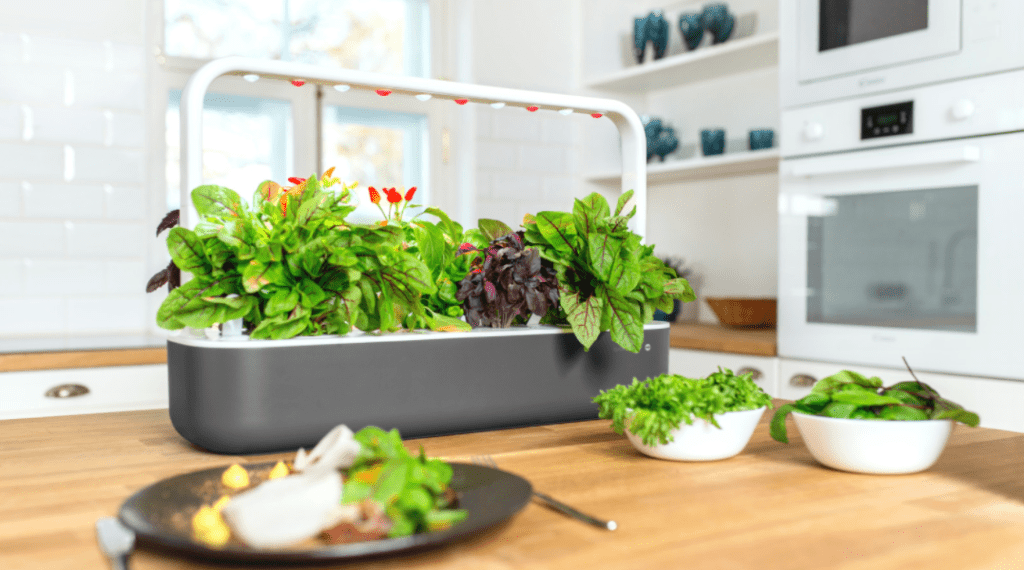 Lighting
Light is the driving force behind all plant growth…
…so it stands to reason that it should be at the top…
…of the garden maintenance checklist. In other words…
….for indoor horticulturists should prioritize maintaining…
…the highest possible lighting levels.
An artificial light source provides lighting for an indoor smart garden….
…That light source, once again, is the driving force…
…behind all plant growth in an indoor smart garden….
….Although indoor gardeners use a variety of lighting technologies…
…the fundamentals of garden maintenance are the same for all lighting systems.
First and foremost, cleaning the bulbs, reflectors, ballasts…
…and other components of the lighting system on a regular basis…
….will help keep the light levels as high as possible…
…while also increasing the equipment's longevity….
….As a result, the horticulturist will see a higher return on investment.
In most cases, simply wiping down the surface of the equipment…
…and removing any built-up dirt, dust, or other gunk…
…will help increase light levels and the longevity of the lighting system.
Keep reading…
Many horticulturists are unaware of how quickly…
….a thin layer of dust can accumulate on the surface…
…of a bulb or the glass of a reflector. This accumulation…
…will result in a significant reduction in usable light energy for the plants.
This is why indoor horticulturists should establish….
….a weekly routine of wiping down lighting equipment…
…It is also critical to replace bulbs in systems where they are applicable….
….To maintain peak performance, high intensity discharge (HID)…
….and fluorescent lighting systems must have their bulbs..
…changed at least once a year. Many gardeners experience…
….decreased yields and are unaware that it is…
…due to the lighting system's bulb (s)…
…When it comes to yield consistency..
…regular bulb changes make all the difference.
Storage of Nutrients and Fertilizers
Although nutrients and fertilizers do not necessitate maintenance…
…the manner in which they are stored can have an impact…
….on the performance of an indoor smart garden….
….The majority of nutrients and fertilizers…
…should be stored in a cool, dark place…
…Sunlight and heat can degrade or spoil nutrients…
….rendering them unfit for use.
Cleanliness In General
General cleaning, in addition to all equipment maintenance…
…is an important part of indoor smart garden….
…A happy garden is a clean garden….
….Aside from the pleasure of entering a pristine plant paradise…
…there are some practical reasons to maintain garden cleanliness…
…Regular cleaning of the garden area will go a long way…
….toward preventing potential pathogens from wreaking havoc on the garden.
Dead leaves or other dead plant material, such as old root balls…
…left in the garden space, for example, can serve as a home…
….for a wide range of pathogens. It's only a matter of time…
…before those pathogens spread from dead plant material…
…to healthy plants in the garden….
…A grower reduces the likelihood of pathogens…
….by removing any unwanted organic material from the garden space.
At last….
To Sum up
These smart indoor gardening system that uses LED lights to simulate sunlight….
….allows you to grow your own fresh herbs and greens right in your kitchen…
…with an easy-to-use product that can be controlled via an app….
…You can choose from three different types…
…of starter kits, depending on what kind of plants you want to grow…
…and how much space you have available for your growing setup….
…It's so convinient yet a best choice for someone…
….who just start their gardening journey but want to…
…experience an indoor smart garden.
Conclusion
If gardening is your hobby and season is your problem…
…then Indoor smart garden could be the alternative for you!
What do you think about this indoor smart garden?
Let us know and share your experience in the comment section below!
---
More Articles For You
Source: wayfair.com Do you need a shed for your garden? If you answer yes, you are at the right place. In this article, we are going to tell you all about Suncast 5×6 shed. This shed is perfect for people who have a large garden and want to store their tools, plants, and other yard…
Continue Reading