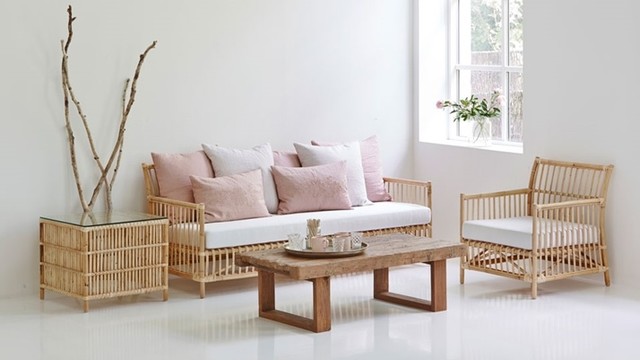 Do you have an outdoor rattan furniture at home?
Or, are you considering buying a set, but still on the fence, unsure?
Here we offer you some of the most commonly asked questions about rattan furniture you might find useful!
But first, let's hear what Dorothy has to say about using one of the rattan furniture from our recommendations:
YITAHOME is a 5-piece patio furniture made from rattan to put outdoor.

I love this set because it's aesthetically pleasing, affordable, easy to move and simple in design.

It has five chairs that are very comfortable and durable with an alluring look.

The cushions on the chair have been designed especially for outdoor use which makes them more sturdy as compared to other cushions available in the market.

DOROTHY, BROOKLYN
Without further ado, let's delve deeper into the world of maintaining our rattan furniture.
Here are some commonly asked questions about rattan furniture out there, answered.
Questions About Rattan Furniture
What Is Rattan?
Rattan is a climbing or trailing vine-like palm endemic to Asia, Malaysia, and China's tropical jungles.
The Philippines has been one of the most important sources.
Palasan rattan is distinguished by its robust, thick stems that range in diameter from 1 to 2 inches and vines that can reach a length of 200 to 500 feet.
When rattan is harvested, the dry sheathing is removed and the rattan is cut into 13-foot lengths.
Its stems are sun-dried before being preserved for seasoning.
The long rattan poles are next straightened, assessed by diameter and quality (determined by the number of internodes; the fewer the internodes, the better), and supplied to furniture manufacturers.
The outside bark of the rattan plant is used to make caning, while the inner reed-like part is utilized to make wicker furniture.
Wicker is a weaving technique rather than a plant or substance.
Rattan, which was first introduced to the West in the early nineteenth century, has since become the standard material for caning.
Its popularity as a material for outdoor and indoor furnishings is also undeniable.
Rattan can be bent and curved to create a variety of beautiful bending forms.
Its light golden color instantly illuminates an indoor or outdoor setting and gives the impression of being in a tropical paradise
Rattan is a lightweight, nearly impermeable material that is easy to move and handle.
It has a natural resilience to insects and can tolerate excessive humidity and temperature.
Are Rattan And Bamboo The Same?
Rattan and bamboo, for the record, are not the same plant or species.
Bamboo is a hollow grass with horizontal growth ridges across the length of the stems.
It was popular in the late 1800s and early 1900s for making little furniture and accessories, especially in tropical areas.
Rattan poles were used by a few bamboo furniture manufacturers for their smoothness and increased strength.
What Is The Best Way To Clean Rattan Furniture?
Check out our tips for cleaning your rattan furniture here.
How Durable Is Rattan Furniture? Does It Break Easily?
Is rattan furniture durable?
The answer is yes, if you take care of it!
Rattan furniture can endure up to ten years if properly cared for.
Resin-weave rattan furniture is resistant to UV radiation in addition to being waterproof, so you shouldn't expect much fading or wear and tear in warmer weather.
Those who aren't resin-weave, however, is best put somewhere away from the exposure of rainwater.
Can Rattan Furniture Be Left Outside In Winter?
It is entirely safe to leave your furniture outside all year using top-quality synthetic rattan.
The frames of top-quality synthetic rattan will be manufactured of high-quality, rustproof aluminum.
Because aluminum does not rust, it is safe to put outside in the cold and rain.
Rattan furniture is so popular mostly because of how it looks.
The classic woven rattan texture is instantly recognizable, highly sophisticated, and guaranteed to look on-trend for years to come.
Wicker and rattan furniture will almost certainly be popular.
According to Ross Thompson, an interior designer at QE Home, woven furniture types will become more fashionable this year.
He said, "Rattan and wicker details are on their way in. These natural materials give home design a sense of warmth and lightness."
It is also easy to clean, no fuss!
Which Are The Best Rattan Furniture?
We've listed down some of the best rattan outdoor furniture sets you can put on your Amazon cart.
Find out more here.
Overview
Those are some of the most commonly asked questions about rattan furniture.
We hope the answers we gave for each one of them have helped you.
If there are questions about rattan furniture that might have not been included here, let us know below!