Using a salt spreader to fix your lawn after a snowfall is the best idea. We suggest you to read this article if you want to know how to spread salt with a salt spreader. Also, maybe you are interested in our article: Best Riding Lawn Mower Tow-Behind Accessories, in case you want to purchase a tow behind broadcast spreader.
---
What Is The Purpose Of A Salt Spreader?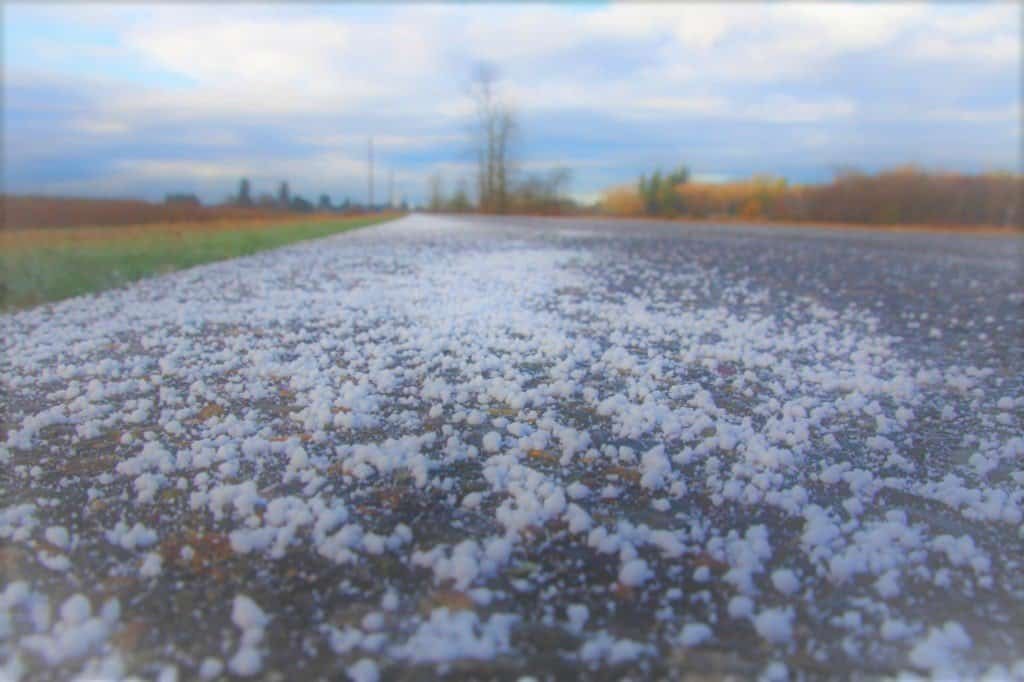 You may not be familiar with rock salt and salt spreaders if you are not acclimated to icy conditions. Before a snowfall, rock salts such as sodium chloride, calcium chloride, and magnesium chloride are applied to prevent ice on roads, sidewalks, and driveways.
Snow and ice are prevented by using rock salt. As a result, you should always sprinkle rock salt prior to the arrival of winter weather. The most common methods of distributing rock salt are by hand, with a shovel, or using a salt spreader.
Salt spreaders are equipment that disperse rock salt or grit uniformly across a surface. Salt spreaders can also be converted to fertilizer spreaders.
Simply load the hopper with your preferred rock salt or grit, and the salt spreader will do the rest, saving you time and effort. Salt spreaders come in a variety of shapes and sizes, including:
Walk-behind spreaders
Tailgate spreaders
Tow-Behind spreaders
In Bed Spreaders
using a salt spreader
---
Pros and Cons of Using a Salt Spreader
---
The Advantages Of Using A Salt Spreader
There are numerous advantages to employing a salt spreader instead of the traditional way of spreading rock salt.
Using a salt spreader saves a lot of time and effort compared to manually spreading rock salt. Spreading rock salt by hand can be difficult if you are older or have a chronic injury. You can spread your grit quickly and simply with a salt spreader, which means you'll spend less time in the cold.
You'll know you have enough rock salt to finish the job by filling the hopper. Nothing is more inconvenient than running out of rock salt in the middle of gritting your driveway and having to go inside to get more.
You'll find it difficult to evenly distribute rock salt by hand. It's possible that you'll dump a lot of grit in one spot. The spinner on snow spreaders is designed to properly distribute rock salt.
Salt spreaders are more efficient and use less salt since they evenly distribute rock salt, saving you money on numerous bags of rock salt.
Salt spreaders, particularly walk-behind spreaders, are extremely adaptable and can be utilized on a variety of surfaces.
---
Disadvantage of Using A Salt Spreader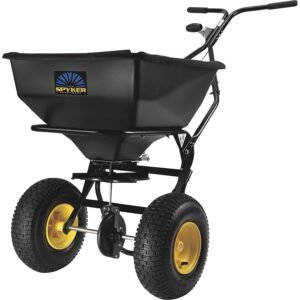 While there are numerous benefits to purchasing a salt spreader, there are also a few disadvantages to doing so.
Some salt spreaders are high-priced pieces of machinery. If you live in an area of the country where snowfall is limited to a few inches each year, you won't need to use your salt spreader very often. In this scenario, a shovel or this hand-held spreader might be better for spreading rock salt.
Salt spreaders are not only costly, but they can also break down frequently if not properly maintained. The drag chain, the hopper, the spinner, and the electrical plugs are all parts of salt spreaders that might break.
While salt spreaders are useful before a blizzard, they are useless once the snow or ice has fallen. If you realize you've missed your chance, you'll be better off clearing the snow using a snow shovel or plow. (Here are some alternative options for removing snow without using a shovel.)
Rock salt may not be the greatest solution if you are anticipating a brutally cold winter. Around 15 degrees, standard sodium chloride rock salt loses its effectiveness. If you want greater results in colder climates, use more expensive rock salts like calcium chloride or magnesium chloride.
---
Spreading Rock Salt: 5 Tips
Spreading rock salt is the typical method for treating ice walkways (there are other eco-friendly options, such as liquid formulations that can be applied with a sprayer, if you don't want to use traditional rock salt).
Knowing how to use these items and when to use them will help you achieve the highest yield from the least quantity of product. After all, we all know how difficult it is to locate rock salt during a storm and how large the sacks are.
Sow before the arrival of the snow
It's preferable to treat the ground before the snow starts to fall. Treatments applied before the onset of snow (and freezing rain/ice) can assist prevent ice from developing and snow from settling. Salt has a lower freezing point than water, which means it minimizes the chances of moisture freezing on treated surfaces.
---
More shoveling is required. Use less salt
Salt works great for melting snow and ice, but there's only so much it can do when there's a lot of it. Keeping up with the snowfall can assist limit or prevent the formation of ice, lowering the amount of salt required.
Users of a shovel with a long, bent handle don't have to stoop as much, reducing back strain. To avoid overexerting yourself, doctors recommend taking frequent rests from shoveling. Spreading salt on top of snow that has piled (and hardened) can assist weaken the mound, allowing it to be lifted more readily.
---
It's all about the temperature
When pavement temperatures drop below 15 degrees Fahrenheit, most salts become ineffective. A tiny amount of sand (or cat litter) can be used instead of salt; it won't melt the ice, but it will help with traction.
---
Allow a spreader to perform the heavy lifting
While rock salt can be dispersed by hand with a shovel or scoop, a garden spreader is far more convenient. Using a salt spreader has the extra benefit of allowing you to precisely control the amount of salt that is dispersed.
It's critical to realize that adding more salt will not result in greater melting. For every 1,000 square feet treated, only four pounds of salt are required. If you see salt crystals after the surface has dried, you applied too much salt and should use less next time.
---
After the storm, clean up
It's vital to understand that salt does not simply evaporate after a snowstorm; it melts into neighboring creeks, wetlands, and lakes. It doesn't take much salt to harm the ecosystem; even little amounts can play havoc with aquatic life. Sweep up any leftover salt and save it for next time, or properly dispose of it.
---
Using a Salt Spreader Briny
Do you need to stretch your yard out across a greater area? Brinly tow-behind broadcast spreader, excellent for 1 acre and larger residential and light commercial applications. You don't have to do the heavy lifting with the universal hitch because it fits most lawn tractors.
Use it all year to administer seed, fertilizer, and other lawn treatments with ease. Use your broadcast spreader to spread salt, sand, and other snow and ice melt agents in the winter. So, no matter what season it is – spring, summer, fall, or winter – you and your property are covered with this Spreader.
Read how to spread grass seed using a salt spreader or a push behind fertilizer spreader.
---
Sum Up
If you want to save money, get a hand shovel and fill it with salt before digging. However, if you want to save time, we recommend using a salt spreader. One of the salt spreaders is from Brinly.
Find more about how a salt spreader work to get to know better the tool and use it like a pro.
---
More Related Articles
using a salt spreader