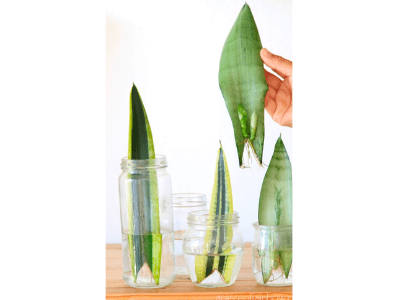 Why Does My Snake Plant Smell?
The snake plant is a simple indoor plant that requires little maintenance,
…but the day I got my snake plant, I noticed a strange smell coming from it.
After I was shocked and smelt raw sewage,
I didn't realize that it was my snake plant that was responsible for the foul odor.
What's the deal with your snake plant smelling?
There's a good chance that you've encountered some root rot,
…which is usually caused by overwatering. Hardy plants,
…need little water to thrive, so giving them too much water…
…can be easily mistaken for too much water.
It's not over for your snake plant yet, since it can still be restored to life..
…and start cleaning your air again.
Below, you'll find all the information you'll need to get yours back into good health.
Check this out!
---
Root Rot
Snake plants emit unpleasant odors when their roots have rotted.
This is almost always a sign of root rotting.
Rotting roots are a terrible disease that should be avoided.
Overwatering is often the primary reason for this disease.
When your plants are exposed to excessive moisture…
…they are susceptible to soil-borne parasites, such as oomycetes.
An environment that is squishy and moist is perfect for this organism.
As a result, your snake plant's root system is taken over by spores that grow and multiply favourably. 
As the roots are infested, the infestation begins at their extremities.
It slowly transforms them from white and firm into brown, smelly, and mushy.
This propagates from the root system up until it destroys it completely.
Technically, the offensive odor of the plant arises from its decomposition.
That smell is horrendous, like that of rotten eggs.
As a result, the plant is no longer able to absorb nutrients.
As a result, all kinds of deficiencies and problems arise. Growth stunting,
…delay or absence of blooming, and leaf wilting are all examples of growth stunting.
Not addressing the problem in a timely manner can even lead to plant death.
---
How to Save Smelly Snake Plant?
Step 1: Gather all your supplies
You will need to save your snake plant from root rot. You will need the following tools:
---
Step 2: Take out your diseased snake plant from its old potting soil
Get rid of soil from the plant by loosening it and removing it with care.
After that, give the roots a thorough rinse to remove the debris.
Remember to handle the sick snake plant as gently as possible so that further damage is prevented.
---
Step 3: Cut off the rotten parts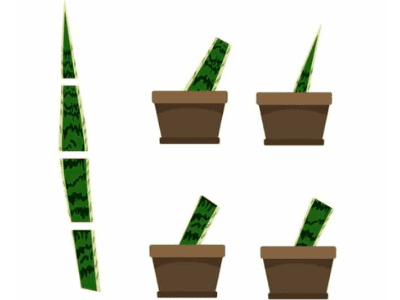 Make sure the garden shears are sharp and sterile and cut away any rotten roots.
Make sure you cut a little above the healthy area.
Leaving traces of bad roots tends to accelerate the disease's progression.
---
Step 4: Apply fungicide on your trimmed snake plant
After you have removed all the brown and mushy parts of the snake plant,
…you can now apply the fungicide.
Make sure you follow the instructions provided by the manufacturer.
Taking care of your plant in this manner will ensure its healthy growth.
In addition, it reduces the possibility of burns.
---
Step 5: Allow your snake plant's roots to develop calluses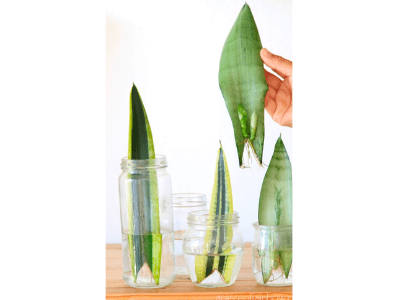 After you have removed all of the bad roots on your snake plant, let it rest and dry.
Your freshly trimmed roots will have some time to develop a callus this way.
As it dries and hardens, the tip becomes a protective layer.
Plants use it as part of their healing process.
There is no guarantee how long it will take a plant to form a callus…
…since it could even take days. In most cases, an overnight rest will do.
---
Step 6: Fill your clean pot with fresh soil
You should place your freshly mixed soil into the container of your choice.
Depending on the size of your pot, you will need a different amount.
In order to penetrate the soil, the height should just be sufficient to let light and air in.
The amount of liquid should be sufficient to prevent spillage.
---
Step 7: Plant your snake plant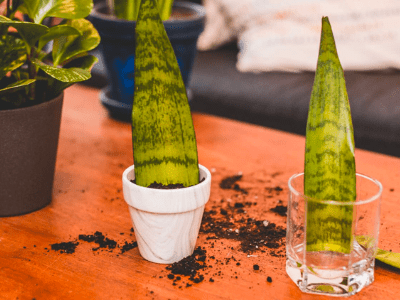 To prepare your fresh soil, dig a hole.
The root system should be the same width as the space between the leaves.
Put your root-trimmed snake plant in a spot that is deep enough for it to remain upright.
Fill in the hole with more soil after it has been placed.
Make sure it's secure by gently tapping it. Remember not to compress too much soil.
You should give it a little space so that it can breathe and drain properly.
---
Step 8: Watering your newly potted snake plant
For the first 6 weeks after replanting your snake plant, you should keep it slightly moist.
It should be just moistened but not soaked.
A similar problem would recur over and over again otherwise.
You might find it more beneficial to use a soil moisture meter instead..
…if you are not confident in your watering skills.
---
Post-Repotting Check
Root Testing
New roots would begin to grow in roughly four to six weeks.
Then, you can gently tug the plant to see if it needs to be watered.
You could be able to tell if your snake plant has successfully formed roots..
…if you feel some resistance from the pull.
Give it more time to grow if there is none yet.
Check again after two or three weeks.
---
Prevention Tips
Snake plants are generally pretty easy to keep from rot since they're tough plants…
…that can withstand even the most neglectful conditions.
Why do snake plants get root rot? How can you prevent it?
The first thing
need to do is to ensure that your pot/soil can drain properly…
…and it does not become waterlogged.
Second
Do not overwater your snake plant,
..which stores a significant amount of water in its leaves,
…so you only need to water it after the soil has become completely dry.
---
Wrapping Up
Plants that grow on snakes are very hardy.
Since they require very little maintenance, they can flourish with very little water.
Unfortunately, this is also one of the reasons they tend to overwater.
It is possible for root rotting to occur when this occurs.
So, it starts to smell bad when you have snake plants.
You will, however, have the best chances of restoring snake plant health…
…by following the steps we've provided above.
The instructions are very easy to follow.
It's just a matter of giving your plant a fresh start.
---
Frequently Asked Questions Around The Snake Plant Smell
Do you have a snake plant that's started to smell bad? If so, it might not be the plant's fault…
…it might actually be rot at the root!
What should I do to fix the problem?
The best way to fix the problem is to consult a professional.
Can you recommend any other plants that might work better for me, or that have a better chance of not smelling like urine/feces?
You could try to grow potting soil mix with vermiculite in it, this will help to absorb any smells.
Is there anything else I can do to help with the smell?
Yes, you can try to air the house out. Make sure to open all windows and doors to allow fresh air in.
Also, use a dehumidifier to remove excess moisture from the air.
Does this happen to all snake plants, or just some of them?
This question can be answered with a little bit of research. Snake plants are actually fairly…
…resilient, and many of them can handle being potbound or having their roots trimmed.
However, some snake plants may not do as well when they are moved from one pot to…
…another, or when the roots are trimmed too much.
---
More Related Articles
Gardening is how I relax!
It's another form of creating and playing with colors?
My mission is to make people realize that even by growing a plant...
....it will make them believe in tomorrow?
And that's life most valuable moment!?