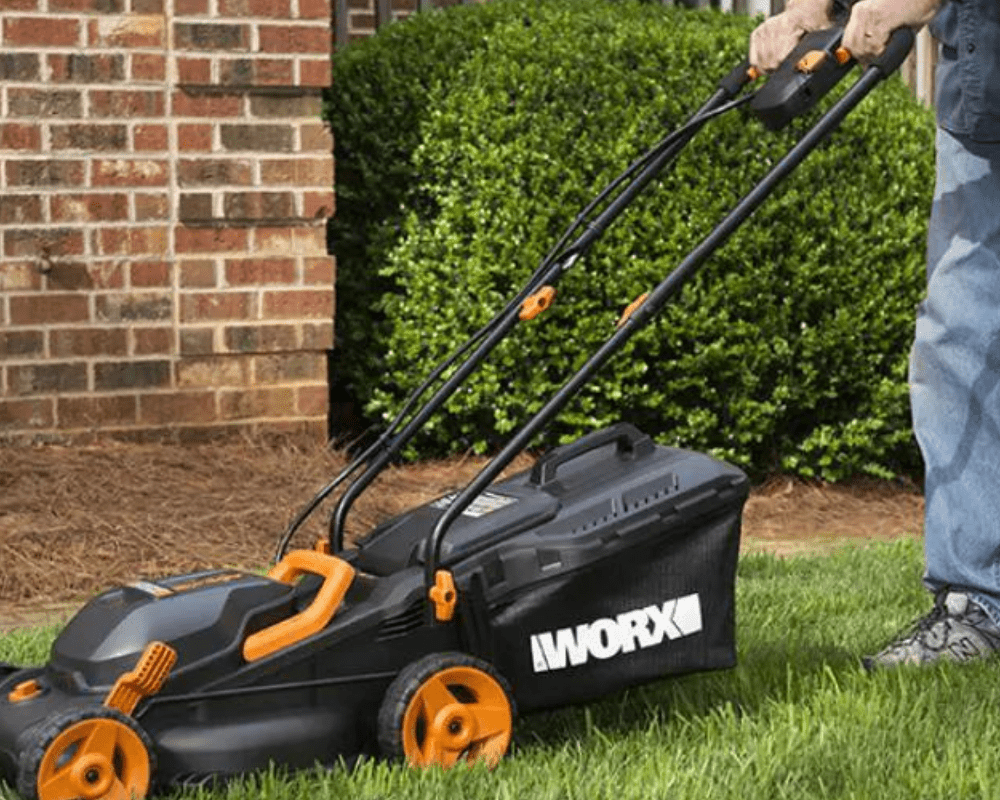 Gardening is your passion, but do you fear arthritis will hinder your efforts?
Arthritis can certainly make some tasks more difficult…
…but it shouldn't stop you from doing what you really enjoy.
Mowing is one of the tasks that need to be done to keep your lawn looking neat and beautiful…
…so you'll need the right machine to get the job done without endangering your health. 
Here is a review of the best lawn mowers for people with arthritis…
…that will make mowing a lot easier and more enjoyable.
Here are a few words from Becky…
I purchased a new lawn mower for two reasons.
First, I wanted a battery-powered tool so I wouldn't have to trail a cord…
…from the front to the back yard, and second, I already owned…
…other Worx tools so I could change batteries as needed.

Now that I've had the mower for 3 months, I am still very happy with it. 
If you have a larger lawn (or even a medium-sized lawn)…
…I wouldn't recommend it since the blade diameter is smaller…
….and the battery will not last as long.
However, it is perfect if you live in an urban area with a small lawn and little storage space.
Now let's jump right in!
 4 Top Rated Lawn Mowers for People with Arthritis
Let's go through them one by one…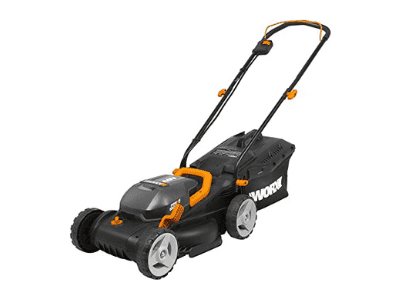 Error: Unknown Link Type
WG779 40V Power Share 4.0 Ah 14′′ Lawn Mower from Worx comes…
….with (2) 20V 4.0Ah Batteries, 2A Dual-Charger, .85 Bushel Collection Bag, and Mulch Plug.
For more mowing time and less charging time, a dual port charger is included.
The mower has a battery meter that tells you how much power remains…
…and when the batteries will need to be recharged. 
In addition, it has an indicator that lets you know when the bag is full and needs emptying.
The 6-position height adjustments give you the control…
…and maneuverability you need to shape your lawn to your specifications.
This mower is extremely lightweight, and its batteries are compatible…
…with other Worx 20V and 40V tools.
This 13-inch mower is perfect for smaller yards thanks to its 13-inch cutting width.
Pros
Dual-port charger makes charging quick and easy
Allows for tracking of power consumption
Easy to start and operate
Easy maneuverability
Cons
It's pricey
It has a smaller cutting width
Keep reading…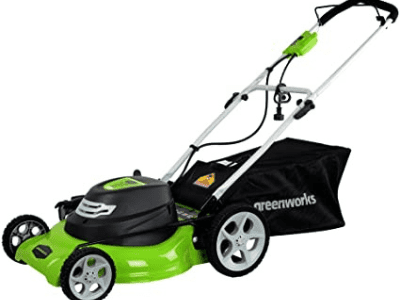 The Greenworks Lawn Mower is an electric mower with a 12 amp motor…
…offering you the performance and efficiency you need to get…
…your mid-sized lawn looking all neat, smooth, and perfect.
Additionally, you can also benefit from its mulching, bagging, and side discharge features.
Additionally, it has a 20-inch steel cutting deck that allows you to cut a wider path at once.
You can adjust the height of the blade from 1.5 inches to 3.75 inches…
…by using the seven-position height adjustment.
Interestingly, you don't need much energy to start the mower;
…with just a push of a button, you're good to go.
The foldable handles also make it easy to store, since it doesn't take up much space.
This model comes with a 4-year tool warranty, something you won't find with other models.
Pros
It's a powerful machine
Has mulching, bagging and side discharge capabilities
Affordable
4-years warranty
Cons
Not suitable for extensive lawns
 Go on…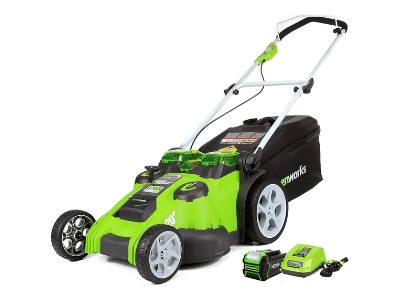 One 4 Ah battery and one 2 Ah battery are included…
…in this battery-powered lawn mower from Greenworks.
An extended battery runtime of 70 minutes is possible with its dual battery port.
Using the dual battery port, the device will automatically switch…
…to the other battery (backup battery) for longer runtime.
By incorporating smart cut technology into this mower…
…runtime and power can be adjusted based on the grass's thickness.
The dual blades also enhance the mower's cutting, bagging…
…and mulching capabilities, making it perfect for lawns of up to 1/3 Acre.
Despite its lightweight design, the mower is easy to start.
It is therefore an excellent choice for elderly people and those with arthritis.
Pros
It has a longer runtime
Lightweight
Better mulching, bagging and cutting capabilities
Ideal for mid-sized lawns
Cons
It's expensive
Lacks side discharge capabilities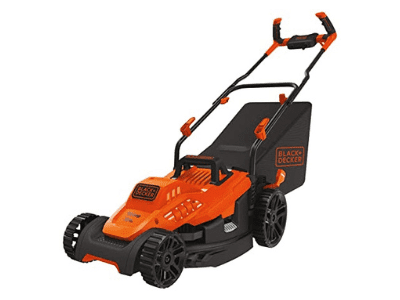 With its electric motor, the BLACK+DECKER Electric Lawn Mower…
…is extremely efficient even on rough grass.
Thanks to its lightweight of only 7 pounds, the mower is easy to operate…
…and its maneuverability is excellent. A homeowner or landscaper…
….with arthritis should consider this mower because of its lightweight and maneuverability.
"This model was designed with the comfort of the operator in mind. Its grip bike handlebar design gives you a firm grip while reducing the friction between your hands and the mower for maximum comfort when doing what you love." 

Alice MacHaria – Author at Garden Squared
The mower also has six adjustable cutting heights…
…so you can mow your lawn at any height between 1 and 3 inches.
The gem of a mower also has a winged blade that collects clippings 30% better than other mowers.
Pros
The mower is easy to use and comfortable.
Lightweight and durable
Better clippings collection
It's affordable
Con
Not suitable for heavy-duty mowing
Things to Consider Before Buying Lawn Mowers for People with Arthritis 
 Weight
Lightweight mowers are the most suitable for people with arthritis.
By doing this, you can get your lawn back in shape without too much effort or strain.
You do not need much energy to start lightweight mowers because of their excellent maneuverability.
Quality
The quality of your mower is something that you shouldn't overlook…
…since it can be costly in the long run for you, both financially and physically.
The end results may not be something to be proud of if you invest in a low-quality machine.
In order to get the job done painlessly and effortlessly, it is crucial to get a good quality machine.
User-friendly
The best mowers for people with arthritis are those that have easy-to-use features.
For example, mowers that start with a push of a button do not require much effort…
…and the body and joints are not easily strained.
In addition, you may want to consider getting mowers…
….with both bagging and mulching capabilities to reduce the effort involved in collecting clippings.
Terrain
You may want to consider the terrain of your lawn, especially if you have arthritis.
As a result, not all mowers will function properly on your landscape…
…and you need to avoid straining your body in any way.
Although some mowers are designed specifically for rough terrain…
…others are more suited to flat terrain.
Know what your lawn and body need and get the mower that is right for you.
Lawn Maintenance Schedule
Aerating your lawn and seeding your lawn may be necessary during the fall.
Make sure you mow the turf one last time before winter arrives and apply fertilizer to the turf.
Remove any lingering weeds and start fresh with a pre-emergent before spring.
During the summer and spring, you must mow your lawn frequently.
Frequently Asked Questions
Is it okay to mow when you have arthritis?
The answer is yes. Those with arthritis can mow their lawn…
….just like those without arthritis, as long as they don't strain their bodies too much…
…and follow their doctor's instructions.
Can arthritis worsen due to gardening?
If you use the right tools when gardening, it's unlikely to happen.
Additionally, gardening helps you maintain an active lifestyle…
…while relieving stress and anxiety, which may worsen arthritis symptoms.
How can I know when to stop gardening if I have arthritis?
Take time to rest and recuperate if you experience severe pain.
Your health should come first.
Sum Up!
We all want to be hands-on when it comes to caring for our gardens, regardless of our age.
However, our needs may change as we age, and fortunately….
….there are so many mowers out there that you can easily find one that meets your needs.
When you are looking to purchase a lawn mower for people with arthritis…
…you should ensure that it is lightweight, easy to move, reliable, and low-maintenance.
Also, you need to consider the size of your garden…
…and the type of mower that would suit the terrain…
….as selecting the wrong type could make the job more challenging.
Please feel free to ask any further questions in the comments box below…
…and I will be happy to assist you…
…and make a personal recommendation based on your specific needs.
Conclusion
If you follow your doctor's instructions and use the right tools…
…for the job without stressing your body…
….you can still go about your gardening work even when you have arthritis.
If you don't take care of your health, even your passion will end.
Gardening is how I relax!
It's another form of creating and playing with colors?
My mission is to make people realize that even by growing a plant...
....it will make them believe in tomorrow?
And that's life most valuable moment!?