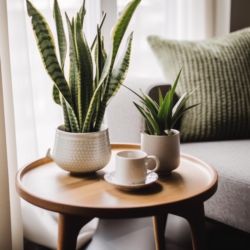 If you're a plant enthusiast, you've probably heard of snake plant sansevieria – the easy-to-care-for plants that are perfect for beginners and experts alike.
Snake plants have become increasingly popular due to their air purifying abilities and aesthetic appeal.
But did you know that tea leaves can be used as fertilizer for these plants? This comprehensive guide will cover everything you need to know about the relationship between snake plants and tea leaves.
In this article, you'll learn how to care for snake plants, including the different types available and common issues that may arise.
We'll also explore the benefits of using snake plants in feng shui practices.
Additionally, we'll delve into the nutrients provided by chemical fertilizers and whether or not tea is a good choice for fertilizing your snake plant.
You'll discover what beneficial compounds can be found in tea and if there are any concerns regarding pesticides when using it as fertilizer.
So sit back, relax with a cup of tea (or two!), and let's dive into this comprehensive guide on the fascinating relationship between snake plants and tea leaves!
KEY TAKEAWAY
What to know about snake plant and tea leaves relation?
Snake plants and tea leaves may seem unrelated, but they both offer distinct benefits.
Snake plants can clear the air pollution, while tea leaves serve as a natural fertilizer.
Incorporating tea leaves as fertilizer can enhance the growth and overall well-being of snake plants.
More on Caring for Snake Plants
How to do some snake plant care?
Looking for a low-maintenance houseplant that's both drought tolerant and mentally beneficial? Look no further than the snake plant – here's how you can care for it like a pro!
Snake plants, also known as Sansevieria Trifasciata or Dracaena Trifasciata, are popular indoor plants due to their ability to purify indoor air and improve mental health.
They have dark green leaves that grow straight up and can reach up to three feet in height.
For the care guide (1), when caring for your snake plants indoors, it's important to note that they prefer bright indirect light.
Direct sunlight may burn their leaves, so placing them near a window with sheer curtains is ideal.
They are also drought resistant, meaning they only need watering once every two weeks during the growing season (spring and summer) and even less frequently during winter.
Snake plants thrive in well-draining soil and should be fertilized once or twice a year with an all-purpose fertilizer.
To prevent overwatering, make sure the pot has good drainage holes at the bottom.
If you are wondering how to populate snake plant, check the article out.
With these simple tips on snake plant care, you'll be able to keep your indoor garden healthy and thriving! What are the different types of snake plants? Let's find out next.
What are the different types of snake plants?
You can easily identify the various species of these air-purifying beauties (2) by noticing their distinct patterns and colors.
Snake plants come in many different types, including golden hahnii, black gold, moonshine, futura robusta, and tall laurentii.
Golden hahnii is a small snake plant with yellow-green leaves that grow in rosette form.
Black gold has dark green leaves with lighter green stripes running down the center.
Moonshine has silvery-green leaves that are slightly upward-pointing.
Futura robusta is a taller type that boasts broad, flat leaves with light green edges and dark green centers.
Laurentii is one of the tallest snake plants, reaching up to four feet tall, with yellow margins on its deep green leaves.
Each type of snake plant has its own unique characteristics that make it stand out from the others.
Some are better suited for low-light conditions, while others need brighter indirect sunlight to thrive.
All varieties require well-draining soil and good drainage to prevent root rot.
Snake plants are not only easy to care for but also add aesthetic appeal to any indoor space by purifying the air.
They have been proven effective at removing harmful toxins such as formaldehyde and benzene from indoor air quality.
Understanding the different types of snake plants is important when choosing which one will best fit your needs and space.
So, let's explore how these beautiful plants can bring positive energy into your home through feng shui principles without delay!
What are the snake plant benefits in feng shui?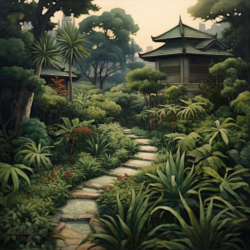 By incorporating the beautiful and air-purifying snake plant into your home décor, you can experience a sense of calmness and balance through feng shui principles.
According to feng shui beliefs, snake plants are known for their ability to purify the air while also adding positive energy to any space.
This makes them an excellent choice for those looking to create a harmonious environment in their homes or offices.
In addition to their air-purifying qualities, snake plants also offer other health benefits when it comes to feng shui.
They're believed to help promote restful sleep, reduce stress levels, and increase overall productivity.
By placing a snake plant in your bedroom, living room or workspace, you can create a more tranquil atmosphere that promotes relaxation and focus.
To enhance the benefits of your snake plant even further, consider pairing it with tea leaves.
Tea leaves are well-known for their calming properties and aroma, which can help reduce anxiety and improve mental clarity.
You can place dried tea leaves around the base of your snake plant or add them to water when watering your plant for an added boost of tranquility and positive energy.
Now that you know about the many benefits of incorporating a snake plant into your feng shui design, let's move on to how you can troubleshoot common issues with these plants without compromising their health and beauty.
How can you troubleshooting snake plant common issues?
If you've ever struggled with keeping your indoor garden thriving, chances are you're familiar with the frustration of pests, plant problems, and propagation woes.
But fear not, because when it comes to troubleshooting common issues with snake plants, there's a simple solution hiding in your pantry: tea bags.
Here are five ways tea can help care for your snake plants:
– Prevent pest infestations: Soak used tea bags in water overnight and use the liquid to spray on your snake plants to repel pests.
– Promote healthy growth: Add brewed tea leaves to the soil mix before planting or sprinkle them on top of the soil as a natural fertilizer.
– Combat brown tips: Dip a damp teabag in lukewarm water and apply it directly onto the affected areas to promote healing.
Other common plant problems that can occur with snake plants include root rot from overwatering and yellowing leaves from too much direct sunlight or exposure to cold drafts.
To propagate snake plants successfully, make sure each cutting has at least one healthy leaf and is planted into well-drain soil.
Incorporating these care tips can help keep your snake plant healthy and vibrant.
Next up, we'll explore what nutrients chemical fertilizers provide for optimal growth.
What nutrients do chemical fertilizers provide to snake plants?
Chemical fertilizers provide essential nutrients like nitrogen, phosphorus, and potassium to help snake plants grow strong and healthy in full sun or direct sunlight.
Snake plants require a balanced supply of nutrients to thrive, and chemical fertilizers can offer these nutrients in the required amounts.
Additionally, plant food that's high in nitrogen can encourage snake plant growth.
However, using chemical fertilizers excessively can harm the health of your snake plant by introducing harmful toxins into the soil.
Therefore, it's crucial to follow the instructions on the packaging carefully.
Alternatively, you may opt for organic fertilizers such as tea bags which contain natural ingredients that benefit plants.
Tea leaves are rich in nutrients such as nitrogen and other micronutrients that aid in plant propagation.
Tea bags are an excellent choice for fertilizer because they're easy to use and decompose quickly when buried in the soil.
They also enhance soil quality by promoting microbial activity which helps break down organic matter into beneficial nutrients for your plant.
In summary, tea bags are a good choice for fertilizing snake plants due to their nutrient-rich content and ability to improve soil quality without introducing harmful toxins.
Is tea a good choice for fertilizing snake plants?
You might be surprised to learn that a simple household item like tea can actually provide your growing plants with the essential nutrients they need to thrive.
This includes snake plants, also known as sansevieria, which are slow-growing and hardy species that require minimal maintenance.
Tea is an excellent choice for fertilizing these plants because it contains many beneficial compounds that support their growth.
Tea leaves are rich in nitrogen, phosphorus, and potassium – the three primary macronutrients that all plants need to grow.
These elements help promote healthy foliage, strong stems, and robust root systems in snake plants.
Additionally, tea leaves contain trace amounts of other micronutrients such as calcium and magnesium that further enhance plant productivity.
When using tea as a fertilizer for plants, it's important to use only brewed tea leaves or tea bags that have been steeped in water.
Do not use sugar or milk because they can attract pests and cause fungal growth.
Simply sprinkle the used tea leaves on top of the soil mix or add them directly into the potting medium during spring and summer when your plant is actively growing.
The tea will slowly release its nutrients over time as it decomposes into the soil.
Incorporating tea into your snake plant care routine can be an effective way to provide your plant with essential nutrients for optimal growth and health.
In the next section, we'll explore what beneficial compounds are found in tea and how they benefit your snake plant even further.
What beneficial compounds are found in tea?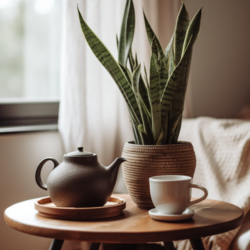 By incorporating brewed tea into your plant care routine, you're providing your plant with a variety of beneficial compounds.
These include antioxidants and caffeine, which can promote overall health and growth.
Tea leaves contain polyphenols, which are potent antioxidants that help protect your snake plant from harmful free radicals.
Additionally, caffeine found in tea is known to improve the metabolic rate of plants.
This can lead to better nutrient uptake and faster growth.
Tea leaves also contain essential nutrients such as nitrogen, phosphorus, and potassium.
These nutrients are important for the growth of your plant.
They can help strengthen the roots, improve leaf development, and increase flower production.
Moreover, tea has been shown to enhance soil fertility by promoting the growth of beneficial microorganisms.
These microorganisms support healthy root systems.
Using brewed tea as fertilizer is an eco-friendly option for your snake plant care routine.
Unlike chemical fertilizers that can harm the environment and human health if misused or overused, tea leaves are a natural source of nutrients that won't cause any harm when used responsibly.
However, it's important to note that not all teas may be suitable for use on your plants.
Some teas may contain pesticides or other harmful chemicals.
In the next section, we'll explore this further: "Are pesticides a concern when using tea as fertilizer?"
Are pesticides a concern when using tea as fertilizer?
Beware of hidden dangers lurking in your cup of tea; some teas may contain harmful pesticides that could harm your beloved snake plant if used as a fertilizer.
Although tea leaves are commonly used as natural fertilizers, it's important to ensure that the tea you use is pesticide-free.
Pesticides can be toxic and harmful not only to plants but also to humans who consume them.
When using tea leaves as a fertilizer for your plant, it's best to opt for organic or naturally grown teas.
You can also try making your own organic compost using kitchen scraps and yard waste.
This will not only provide nutrients for your plant but also reduce the risk of introducing harmful chemicals into the soil.
In addition to careful selection of fertilizers, proper pest control measures should also be taken when caring for the plants.
Regularly inspecting and cleaning the plant's foliage, using neem oil or other natural insecticides, and avoiding overwatering can help prevent infestations and ensure healthy growth of your plant.
Conclusion
In conclusion, caring for snake plants is relatively easy and can bring a host of benefits to your home or office.
You can ensure that your plant thrives by choosing the right type of soil, watering properly, and providing adequate light.
There's sure to be one that fits your aesthetic with so many different varieties available.
However, some people may be hesitant to use tea as a fertilizer due to concerns about pesticide exposure.
While it's true that some teas may contain traces of pesticides or other harmful chemicals, organic options are widely available and can provide an excellent source of nutrients for your snake plant.
Ultimately, the choice is up to you – but if you do decide to use tea as a fertilizer, be sure to choose an organic option and follow safe handling practices.
Frequently Asked Questions
How often should I water my snake plant?
Alright, listen up, my friend.
Snake plants are like those tough cookies that don't need much fussing over.
They're the friends who are always on the move and don't demand constant attention.
So, here's the deal – when it comes to watering your snake plant, don't go overboard!
Think of it this way – they're like that cool friend who only needs a drink when the top inch of soil feels dry.
Stick your finger in there and if it's dry up top, then it's time to give your snake plant a little sip.
But remember, we don't want to drown it! Too much water can lead to root rot, and that's a big no-no.
Now, let's break it down further.
When it comes to potting your snake plant indoors, make sure to use the best indoor potting mix.
This will provide the right balance of nutrients and drainage for your plant to thrive.
And speaking of thriving, did you know that snake plants are known to grow faster when placed indoors? Yep, they're like little green machines that gobble up those nasty air pollutants and keep your space fresh and clean.
But wait, there's more! The common snake plant, scientifically known as Dracaena trifasciata, is a popular choice for indoor greenery.
It's a tough one, able to handle a wide range of conditions and still look fabulous.
With its striking sword-like leaves, it adds a touch of elegance to any space.
So, my friend, remember these tips for your indoor snake plant: water when the top inch of soil feels dry, use the best indoor potting mix, enjoy its air-purifying benefits, and admire the beauty of the common snake plant.
Happy growing!
Can snake plants tolerate low light conditions?
Snake plants are like the superheroes of the plant world.
They can handle low light like a boss.
They're like that friend who's always cool and collected, no matter what.
So, if you've got a room with limited sunlight, don't you worry.
Your snake plant will be just fine.
Now, let's talk about how to take care of your snake plant.
First things first, make sure you're using well-drain soil.
Snake plants don't like soggy soil, so it's important to give them the right kind of dirt.
You can find special cactus potting mix that works great for them.
Next, let's talk about watering.
Snake plants are pretty low maintenance when it comes to watering.
They don't like to be overwatered, so it's better to underwater them than to give them too much water.
Let the soil dry out between waterings, and you'll be good to go.
Another great thing about snake plants is that they're known for their air-purifying abilities.
They can help remove toxins from the air, like carbon dioxide, and improve the overall air quality in your home.
It's like having a natural air purifier!
And here's a bonus tip: there are a lot of snake plant varieties, so you can choose the one that fits your interior design style.
There are tall, slender ones, and shorter, more compact ones.
They can add a touch of green to any space.
So, there you have it.
Snake plants are resilient, low-light champions that can bring some life to your home and help clean the air.
Give them a try and see how they can enhance your space.
Happy gardening!
What are some common pests that affect snake plants?
Snake plants, also known as Sansevieria, are popular indoor plants known for their resilience and low maintenance.
However, just like any other plant, they can fall victim to pests. You should do some pest control if there are pests.
Here are some common pests that may affect snake plants and how to deal with them.
Mealybugs: These pesky critters can be a real nuisance for snake plants. They appear as white, cotton-like clusters on the leaves, sucking out the plant's sap. To get rid of them, you can use a cotton swab dipped in rubbing alcohol to remove them manually. Additionally, spraying the plant with a mixture of water and mild dish soap can help eliminate the infestation. Remember to rinse the plant thoroughly afterward to avoid any damage.

Spider mites: These tiny arachnids may be hard to spot, but their damage is noticeable. They leave behind fine webbing and cause yellowing and wilting of the leaves. To combat spider mites, you can use a gentle insecticidal soap spray. Make sure to apply it to both sides of the leaves and repeat the treatment every few days until the infestation is gone.

Fungus gnats: These annoying pests are more of a nuisance than a threat to snake plants. They are attracted to moist soil and can be identified by their small size and dark bodies. To tackle fungus gnats, let the soil dry out between waterings and avoid overwatering. You can also place yellow sticky traps near the plant to catch the adult gnats.
How can I propagate snake plants?
If you want to expand your collection of snake plants or share them with friends, propagation is a great option.
Here's how you can propagate snake plants:
Division: One of the easiest ways to propagate snake plants is through division. Carefully remove the plant from its pot and gently separate the root system into smaller sections. Each section should have a few leaves and a healthy root system. Replant the divisions in separate pots with well-draining soil and water them lightly.

Leaf cuttings: Another method of propagation is through leaf cuttings. Select a healthy leaf and cut it into several sections, making sure each section is at least a couple of inches tall long. Allow the cuttings to dry for a few days until the ends callus over. Plant the cuttings in a well-draining soil mix, burying them about an inch deep. Water sparingly and provide indirect light until new shoots emerge.

Water propagation: For a fun and visually appealing method, you can propagate snake plants in water.
Cut a healthy leaf into several sections and place them in a jar filled with water. Make sure only the bottom ends of the cuttings are submerged. Change the water regularly to prevent rot and wait for new roots to develop. Once the roots are a few inches long, transfer the cuttings to pots with soil.
Remember to be patient when propagating snake plants, as it can take several weeks or even months for new growth to appear.
The key is to provide the right conditions, including adequate light, warmth, and proper watering.
Enjoy the process of watching your snake plant family grow!
References
https://www.patchplants.com/gb/en/read/plant-care/how-to-look-after-your-snake-plant/

https://rosysoil.com/blogs/news/snake-plant-varieties
Related Articles