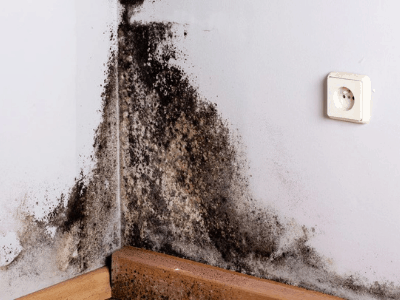 Mold is something everyone wants to avoid in their house…
I have good news and bad news to share with you…
No matter how clean the house is, most of us are exposed to it every day…
… because it grows on moist surfaces and releases spores into the air, which are inhaled.
It is good news, however, that it is normally found in very small quantities…
… in such situations and it is normally harmless.
Hear it from Raya!
I tend to find mold in my house, especially whenever I have left them for vacation…
Sometimes, I thought that it was caused by my houseplants…
… but some rooms where I don't place houseplants in them…
… they are still present.
Nonetheless, I found most of the them on my houseplants…
So I am very dilemmatic on this matter…
I am afraid that these mold will harm me and my family in the long run…
Having the same issue?
Let me give you a brief overview on this…
Mold is caused by moist surfaces and some houseplants require humid environments to grow…
… which begs the question of whether indoor plants can also cause them?
Mold can grow on indoor plants sometimes, but they are not responsible for common household mold…
Whenever plants grow, they cause white mold, also called mildew or powdery mildew…
Powdery mildew is not harmful to healthy humans, but can cause problems for plants…
… if it grows on their leaves and stems. Here's a closer look at the topic.
Can Indoor Plants Cause Mold That Makes You Sick?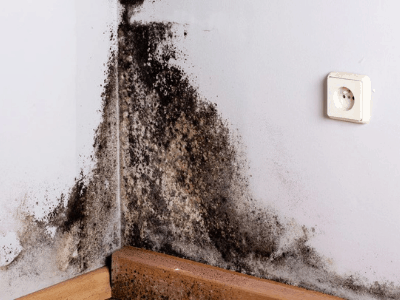 To begin with, what is mold? This article discusses two different types of them…
… mold and plant mold (or mildew). What's the difference between them?
A mold is technically referred to as household mold if it grows on the walls…
… and clothes of our bathrooms and appears white, black, red, green, or brown.
This type is not caused by plants…
A type of fungus called plant mold or mildew grows on plants and is white in color…
Mildew, a conspicuous mass of white threadlike hyphae and fruiting structures produced by various fungi. Mildew is commonly associated with damp cloth, fibres, leather goods, and several plant diseases (downy mildew and powdery mildew). Mildew-causing fungi use these substances as sources of food for growth and reproduction.

Melissa Petruzzello, Assistant Editor of Plant and Environmental Science from Britannica
Yeah, plants do have them, but it's not the same as what we have…
Actually, they share some of the nutrients with other organic material…
… such as wood, leather, and paper, but they have the distinction…
… of being the most common living thing on which mildew grows.
Now that we know what types of mold are, let's move on to the other topic…
The mold that grows in household plants is not the same as that that grows in plants outside…
… so in the following paragraphs we'll be covering the mildew…
… and the effects it has on humans and plants.
It is very likely that you have noticed white spots appearing on the soil area of a plant…
… once or twice if you have a lot of plants in your home.
A moist and damp soil combined with a warm environment can cause this condition…
Those are plant molds…
The white powdery mildew, which grows on leaves and stems of plants…
… is a very common type of plant mold.
You may know that mildew can indicate a health problem with plants…
… but what about the danger to humans?
Plant Mold Cannot Make You Sick
There are several types of mold, but none of them are completely harmless…
… especially to someone with allergies or asthma.
There is, however, no direct link between powdery mildew on plants and human health issues…
You should be aware of the potential harm that plants can cause to your health if you are asthmatic or allergic…
In addition…
It contains a lot of houseplants you might want to avoid if you suffer from those conditions…
Plants exposed to white mould aren't harmful when touched; however, indirectly…
… they could damage their potential food supply. Here's what I mean…
Powdery mildew can spread very quickly on a plant, and if the plant produces fruit or vegetables…
… the fruit or vegetables will be significantly smaller or misshapen.
Food resources derived from infected plants are at risk if people rely on them…
Great! As you now know, white powdery mold on plants is harmless…
Your plants, however, what about them? What is the impact of white mold on your houseplants?
Effects Of Mold On Plants
Mold, regardless of whether it appears to be less evil than black mold or white mold, can still be harmful…
The two foremost ways in which mildew affects our plants are as follows:
A mildew growth on the soil surface of the plant
White powdery mold grows on the leaves and stems of the plant
Plant's Soil
Maybe you have seen mildew growing on top of the soil of your plants…
… or know someone who has. I'm sure I did.
Some plant owners seek answers to the following question…
… what is this fluffy white stuff on my soil? Is it going to kill my plant?
The answer is no. White or fuzzy substance in the soil is the saprophytic fungus…
… a type of fungi that lives naturally in the soil and can sometimes be seen on the surface.
A lack of drainage or overwatering can cause it to come up to the surface of the soil…
Mildew grows on soil that is a bit moister than it should be…
Although it is not pleasant to the eye, you shouldn't worry about this type…
… because it has no effect on the plant's health.
You should be aware, however, that moist soil can attract cockroaches…
Therefore, you do not have to worry, as white mold on top of your plant's soil…
… will not harm it or cause it to die.
Plant's Leaves and Stems
It gets a little complicated here. A fungal infection can be detected by the presence of mold on foliage…
The mildew is a white powdery substance, and if untreated, it can permanently damage the plant…
A plant's foliage, stems, or even flowers can rapidly turn black when they begin to grow there…
Usually, it starts at one end of the leaf and spreads to the other, eventually covering the entire leaf…
It is then when the leaf falls that the plant is emptied of leaves…
… and since the plant will not receive any food, it will eventually die.
Mold can cause stems to wilt if it attacks them…
This is a signal from your plant that requires your attention, so make sure you do not ignore it…
While attacking over 400 hundred species of plants…
… white mold has a particular preference for herbs or other edible foods.
White mold on the plant, if not removed, can damage houseplants, causing them to die…
Does It Affect Plant Growth?
Plants' growth can be affected if it is present on leaves or stems…
On the other hand, if your plant is affected on the soil only, the mold will not affect it at all…
White powdery mold can stunt the growth of plants by attacking their green parts…
Even though it doesn't seem to impact the plant's root system directly…
… it can stunt the growth of the plant. Where did that come from?
You must remove mold from a plant's foliage immediately after it begins to grow…
… if it is attacking the foliage of the plant.
The disease will spread from the leaf edges to the center and eventually take over the entire leaf…
… leaving you no choice but to remove the damaged leaf.
Think of having to remove 70 percent or more of a plant's leaves…
When that happens, the plant's ability to feed itself significantly declines…
… as well as its ability to grow, as well as its health.
Mold can stunt a plant's growth by damaging its leaves, leaving it with no way to produce food…
Help! My Indoor Plant Has Mold!
On Top of the Soil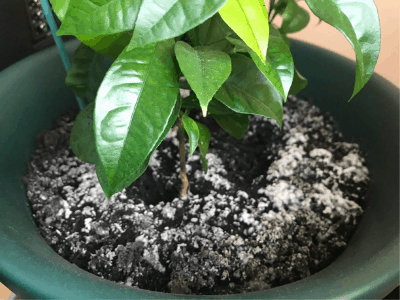 Danger level: 0/5
You may be concerned if you see white spots on your plant's potting soil…
… but there is no reason to be concerned.
That is called saprophytic fungus, which feeds off dead plant cells…
… and is not harmful to plants or people.
The white mold surrounding the soil on top can be easily removed by scraping it off…
When white mold is found growing on the soil…
… it is a sign that the soil is being overwatered or having poor drainage.
If you want to prevent it from returning, cut back on irrigation…
… and make sure your drainage system is working (unless your plant prefers partial shade).
Useful tip! Keeping your plants healthy means using good-quality, sterile potting soil…
This will keep mold from growing on top of the soil…
On a Few Leaves
Danger level: 2/5
It is best if you gently scrape off any patches from your plant's leaves…
… if you see small patches of white mold growing on them.
Milk has also been proven to be an effective remover…
The leaves should be sprayed with a solution made up of…
… 60 parts water and 40 parts milk to kill the fungus.
You must completely remove the leaf if most of its surface…
… or the whole leaf is damaged, as you cannot reverse the damage.
After cleaning the plant, you may not need to place it in a well ventilated area…
… but it would be best if you place it in a place that gets a lot of air flow and sunlight…
… so it is dried out properly and returns to its previous state.
On the Stems
Danger level: 2/5
When the stem or stems of your plant have white powdery mold on them, do not be alarmed…
To kill the fungus, you can spray the milk solution (60 parts water, 40 parts milk) onto the affected stems…
Two times a week is sufficient…
Spraying 5% apple cider vinegar solution on stems is also effective for killing fungus…
… since acetic acid is an effective antifungal substance.
However, be sure the solution is not too strong or the stem will burn…
Add 4 tablespoons to the mix of 5% vinegar with 1 gallon of water and reapply every three days…
On Many Parts of the Plant
Danger level: 4/5
The problem is at this point. In some of these situations…
… the plant may not be salvageable since many parts are damaged…
… but you can at least try to restore it by following a few steps.
5 steps to save your plants:
The plant should be scrubbed clean of powdery mold on every part
You can spray it with a milk solution or a vinegar solution (see case 3 for DIY solution recipes).
To dry it, place it in full sunlight
After cleaning the plant, you can prevent them from coming back by spraying baking soda solution on the parts that were affected in the first place. Mix 1 tablespoon with the solution of baking soda, with 1/2 teaspoon of liquid hand soap and 1 gallon of water. Dispose of the solution after spraying the plant.
After spraying the baking soda solution, move the plant away from the sun to avoid sunburn. Make sure the solution is acceptable to the plant by testing it on one leaf.
To sum it up…
The affected parts of your plant, such as moldy leaves and stems…
… can be disposed of if these steps did not work for you.
Still, you might be able to save the plant if there are any healthy parts left…
Once it is healthy again, create the right growing conditions…
… enough water, but not too much, and adequate sunlight.
When you have tried everything to save the plant and it does not show any signs of recovery…
… you will need to let it go and accept that you lost the plant to mold.
Nevertheless, no matter how much mold grows on your plants next time around…
… you will know what to do before it is too late.
The most important thing to remember from all of this is that…
… mold can damage any plant if you do not remove it quickly enough.
Conclusion
Having read this article, you can now relax and take the necessary precautions…
… if you happen to find mold in your indoor plants.
Comment down below for further queries, or contact us!
Check out more of our posts in this website like this one here!
Have an awesome gardening journey!
Related Articles!