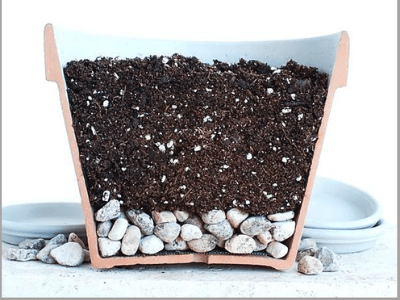 It's a decades-old tip passed down from generation to generation…
… put rocks and gravel at the bottom of a planter pot to ensure the soil drains properly…
However, is this really sound advice?
Hear it from Timmy!
My grandma had once told me that gravel are very useful in gardening…
… especially if you put them at the bottom of your planter.
She said that it can help with better drainage…
… when I'm watering my plants.
So yes, I obviously will follow what my granny said…
… and tried it for myself, just to grow have better gardening skills.
However, things didn't really work the way it is supposed to…
I didn't know which part was mistaken…
… but it seems that my plants didn't really grow well.
Is this because of the gravel I put at the bottom of the plant's pot?
Find it out below!
What are the benefits of putting rocks in the bottom of a planter pot…
… and will it actually facilitate drainage?
The size of your pot the presence of drainage holes…
… and the type of soil you use will determine the answer.
Come on, let's find out…
Should You Put Rocks In The Bottom Of A Planter Pot?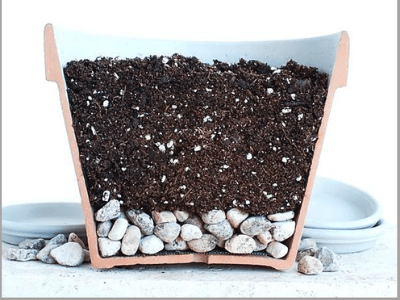 Yes and no – they add aesthetic appeal to your plant…
… stop it from falling over, and allow for proper drainage.
Gravels do not have to be added to a plant pot, however…
Most of the time you wouldn't need a layer of pebbles…
… and gravels at the bottom of a pot with drainage holes, especially if it's a good pot.
The best pots and all good pots have holes that allow drainage…
The following are the top benefits of using rocks in the bottom of plant pots:
To Avoid The Plant From Toppling Over
It will be easier to keep a plant in place if you add rocks…
… to the area where it will be situated.
It may be a good idea to place rocks at the bottom of very narrow pots…
Placing gravels on top of the pot will make it heavier and prevent it from tipping…
In such cases you can happily place rocks and gravel in the bottom of your pot…
For Pots Without Drainage Holes
Using rocks would also be a good idea if the pot has no drainage holes…
The water would need to be able to sit beneath the soil if you had such conditions.
In order for your soil not to become too saturated…
… you should be careful not to overwater as you could be damaging your plant unknowingly…
Using gravel or small rocks as a layer can help the plant…
… re-absorb water and catch any excess water.
The difference is that soil and gravel do not permit water…
… to move well between one medium and another.
Rocks may not really help a lot, since most soils are able to drain fairly well on their own…
Garden Myths About Pot Rocks
Upon hearing these garden myths, many people believe that…
… rocks under potted plants are essential.
The reality is quite different from what is actually true…
It might seem that you have previously found it to be successful…
… so why not keep on doing what everyone once stayed true to?
In order to understand how rocks function at the bottom…
… as well as whether your soil needs them…
… you need to understand how rocks actually work.
Drainage Using Rock Layer At The Bottom Of The Pot
Drainage is not as easy as you might have thought…
… because of those rocks at the bottom of your pot.
It has already been mentioned that rocks can only help…
… when your pot is devoid of any drainage holes.
Those rocks do not speed up the draining of water from pots with drainage holes…
In place of this, you might find a Perched Water Table…
What is Perched Water Table?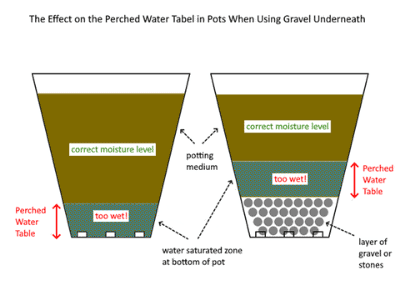 Perched Water Table, or PWT, is a phenomenon that occurs…
… when the saturated zones of the soil do not drain to the rocks.
Actually, a perched water table (where the water "perches" or gathers) forms at the container soil bottom where the drainage level is, even though it is open at the bottom. This saturated water level is called a water table. This happens in outdoor soil too, not just in our containers.

The water table is the dividing line separating the unsaturated zone from the saturated zone. The soil is saturated because the pores are filled with water. The area above the water table is the unsaturated zone and is where the plant's roots have space to grow well.

If gravel is added to the bottom of the pot, the perched water table area of saturated soil without aeration is above that in the container, so even less room for the roots to grow and be healthy in. Root rot diseases can be the result of roots remaining in waterlogged soils.

Minda Daughtry a Horticulture Agent for North Carolina Cooperative Extension in Lee County
The fungus gets closer to the roots and is harmful due to the possibility of root rot…
A sponge is a famous example of this…
The only way you'd notice a sponge…
… dripping water into the rock is if you laid one on gravel…
… that was already saturated with water.
It does not move between mediums so quickly…
… and instead holds on to the sponge (or soil) preventing any drainage.
Putting rocks in your soil instead of draining them away…
… will allow the moisture to "perch" at the bottom.
Do Plant Pot Rocks Improve Air Circulation?
The belief that a rock layer would improve air circulation…
… is another myth associated with the use of a rock layer at the bottom of plant pots.
From a logical standpoint, it doesn't make sense…
There will be no upward movement of air from the bottom…
There will already be moisture and air in the soil…
… and no rocks will assist in the air circulation.
The bottom is not the place to start…
How To Prevent The Soil From Washing Away?
Putting rocks at the bottom of a container might not be the best option…
… so you might wonder what to do to keep soil from washing away.
Sure, you don't have to put a bunch of rocks, but one rock should do…
As an alternative to a coffee filter, newspaper, or light fabric…
… you could also use a coffee filter to prevent soil from washing off.
These materials are porous, so they will easily drain when exposed to water…
If Not Rocks, Then What To Use To Drain The Water?
Having learned that gravel and rocks won't grant your soil any superpowers…
… when it comes to water drainage, you will likely want to know what to use instead.
If you are trying to get water to drain, the most important thing to consider is the potting mix…
A pot's drainage will be greatly affected by the type of soil and mix it is set up with…
You should be careful when choosing potting mixes with fast drainage…
… if your plant is succulent or requires a lot of water to drain.
Materials that are highly water-absorbent should be included…
In order to speed up drainage and drying, perlite, bark…
… coarse sand, and other items are often used.
Plant succulents in a 1:1 ratio of potting mix to sand…
… and other plants in a 1:1:1 ratio of perlite, potting mix, and dry barks.
Making your own potting mix ratio is possible, but…
… it should be in accordance with your plants' drainage needs.
Choose a potting mix that's suitable for your plants rather than garden soil…
Often, it is contaminated with debris that is harmful for the health of the plants…
What To Do If The Pot Already Has Rocks At The Bottom?
When it comes to bog pots, rocks in general aren't harmful to plants…
… when they aren't terribly useful.
A small pot that is snug around your plant…
… or one that is too small, might mean it needs repotting.
Root rot can occur if there is not much space to grow around roots…
… caused by a perched water table.
If the pot is large enough for your plant…
… and there is enough space in it, then you do not need to repot.
You should be cautious if you decide to repot your plants…
… as it may not always be suitable, especially if they are sensitive.
To sum it up…
Thus, I hope that this article has helped you to decide…
… if you should add rocks to the bottom of a plant pot.
In other words, you don't need rocks if your pot doesn't have drainage holes…
Furthermore, they don't allow for excellent drainage…
… and can even damage the roots.
Coffee filters, fabrics and paper are porous materials that are better alternatives.
Conclusion
Now that you've uncovered a garden myth about these rocks…
Let me know what you think of this information, agree or disagree?
Comment down below what you think or contact us…
Check out more of our posts in this website like this one here!
Have and awesome gardening adventure!
Related Articles!