Is it worth it using a grass sweeper? When do you use it? What are the benefits? Will it pick up dog poop, gravel, or pine cone? This article has all the answers.
Keeping your lawn clean of waste and clippings is simple by using a grass sweeper attached to your riding mower. Leaves, twigs, and other tiny debris will be removed by a riding mower attachment before they cause harm to your yard or garden.
If you have pets that shed hair, dander, or fur, grass sweepers are very handy. A riding mower with a grass sweeper attachment is the best alternative for cleaning up your lawn. We suggest you read this article: best riding lawn mower grass sweeper, in case you want the item.
---
Using a Grass Sweeper: Is it worth it?
If you have a large yard and despise yard cleanup, a new grass sweeper may be a wonderful investment because it saves you hours of time (and sore muscles).
Using a grass sweeper can help you handle pine cones, acorns, and twigs in addition to sweeping up garbage like leaves and pine needles. According to Epic Gardening, a website dedicated to assisting home gardeners, a lawn sweeper will not take up larger sticks and branches.
On the other hand, using a grass sweeper can assist you in removing dust and grime from your patio, walkway, or driveway.
Is it true that a grass sweeper is more efficient than a bagger? You may learn more about the differences by reading this article: A Bagger vs Sweeper.
---
What Are the Functions of Lawn Sweepers?
In a lawn sweeper, high-velocity brushes are attached to the axle, which is connected to the rotating wheels. By rotating the wheels, the lawn sweeper brushes dislodge any debris or clippings, which are then dumped into the rear hopper (also called a bag).   
When the hopper is filled, simply empty it into the trash or into a pile to be disposed of.
---
When Should You Using a Grass Sweeper?
Grass sweepers are one of the few lawn care tools that may be used all year. The following are the most popular lawn sweeper applications, organized by season:
Spring: After a long winter, trash such as sticks and twigs might accumulate in your yard, which is when a lawn sweeper comes in handy. Early Spring is also an excellent time to dethatch your grass, allowing your lawn sweeper to gather up a large amount of thatch. Finally, lawn sweepers are frequently utilized to collect grass clippings in the spring.
Summer: During the summer, using a grass sweeper is primarily to collect grass clippings, just as they do in the spring.
Autumn is undoubtedly the ideal season for owning a lawn sweeper. With the falling of leaves and pine needles, a lawn sweeper makes Fall cleanup simple and painless. But don't forget that it's also great for collecting the last of your grass clippings before the winter months arrive.
Winter: After the leaves have been swept up and the lawn mowers have been stored, a lawn sweeper can still be put to good use by clearing up any debris that has fallen on the ground.
---
Are Wet Grass Clippings Picked Up by a Grass Sweeper?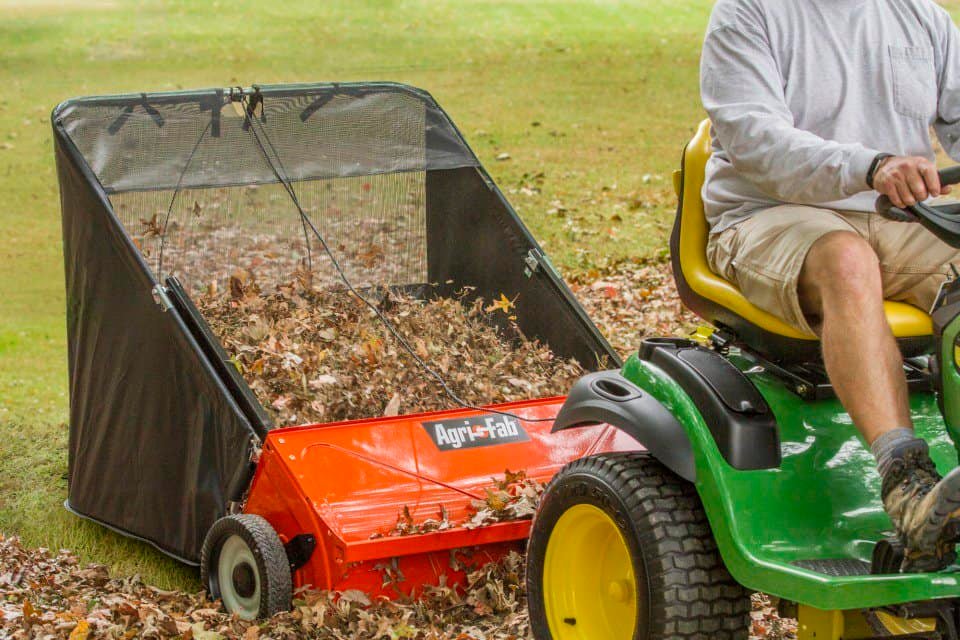 If your mower doesn't have a hopper, using a grass sweeper is an excellent way to collect grass cuttings. It is, however, recommended that you allow your grass cuttings to dry before attempting to sweep them up with your sweeper.
Wet grass clippings clump together to form wet clumps. These get trapped in the brushes and jam the bristles, as well as clogging up the collection chute. Dry grass clippings are easy to sweep away with most lawn sweepers, so wait until you sweep.
You should also consider whether you want to sweep up grass clippings. Many gardeners prefer to let grass clippings fall to the ground as mulch, as they are an excellent source of fertilizer for the lawn.
If you've had to leave a gap between mowings and there's a lot of grass scattered around, the exception is if you've had to leave a gap between mowings and there's a lot of grass strewn around. Long grass clippings can really start to choke the lawn blades, so they're absolutely worth clearing up.
You can find about types of lawn sweeper in our blog.
---
Is it Possible for a Lawn Sweeper to Pick Up Leaves?
In the fall, using a grass sweeper or a lawn sweeper may easily pick up leaves, but only when they're completely dry.
Damp leaves, like wet grass clippings, cluster together and jam up the bristles and brushes of your lawn sweeper, therefore sweep up big volumes of leaves on a dry day during a dry spell.
This is easier said than done, so start by testing your sweeper on a patch of leaf-covered lawn to determine if it can manage the quantity of moisture in the leaves.
---
Is it Possible for a Lawn Sweeper to Pick Up Dog Poop?
Dog feces will be picked up by most lawn mowers, especially if it is dry. The big question is whether you truly want it to happen.
Instead of waiting for a sweep-up, dog poop should be picked up and disposed of on a regular basis. After all, most of us would rather scoop up the excrement with a shovel and bag in a sanitary manner than have it spread all over a machine that you then have to clean out.
However, if you happen to pick some up while cleaning, the sweeper should be unharmed.
---
Is Gravel Picked Up by a Lawn Sweeper?
A grass sweeper might be able to handle little pieces of gravel that have landed on your lawn, but they aren't built to handle solid objects like this, and even a small rock will be too much for them.
Tougher debris can be handled with a powerful pull behind lawn sweeper. They have more powerful and stronger brushes that can even handle the occasional rock. Before sweeping, though, take a tour around your yard and pick up any rocks or stones you see.
---
Will Acorns and Pine Cones Be Picked Up by a Lawn Sweeper?
Acorns and pine cones are easily removed with lawn sweepers. If you have a few trees in your yard, we recommend investing in a sweeper to keep falling acorns and cones under control.
Using a Grass Sweeper in the fall, it will quickly become your new best friend. They can pick up acorns and cones, as well as fallen leaves, pine needles, and tiny twigs. Ensure that no larger twigs or small branches become entangled in the brush.
Grass sweepers (even the larger, more powerful types) function best with dry debris, as previously stated. Wet grass clippings and leaves that are beginning to mulch can become stuck in the brushes and even block the collection chute.
Choose a convenient time to sweep your lawn, and the hardworking equipment will do an excellent job.
---
Sum Up
Using a grass sweeper is worth it for particular tasks and is a suitable choice for picking up dry grass cuttings, pine cones, and acorns.
A grass sweeper, on the other hand, can't really manage gravel or even small stones, and while they can pick up dried-up dog waste, should it really be left out on the grass for that long to begin with?
---
More Related Articles