Mowing a large yard with a zero-turn lawn mower is much easier…
…and, by all accounts, a lot more enjoyable.
However, they are also an expensive investment, with price tags in the thousands.
We've compiled a list of the three best Husqvarna zero-turn lawn mowers on the market…
…to help you find the right mower. 
We ranked our top three using engine power, speed…
…and price to find the zero-turn mowers that give you the best value for your money.
Whether you're shopping for a budget model or a premium one…
…you'll find options on this list that suit your needs. 
Before we move on to the next section, Donald has a few words to say…
Since this is my first experience with a Zero Turn mower,
it turned out to be easy to figure out the controls and get started.
If you have never driven one, be sure not to get too close to anything you can hit if you have never driven one before.
This machine has a lot of power, speed, and cuts grass very well.
This unit was a good deal compared to those we could purchase locally and had a stronger motor.
I did not like the seat as much as some of the local units, but that's not a deal breaker.
I don't think you could go wrong purchasing this zero turn if you're in the market for one!
Let's get started right away!
Best Husqvarna Zero-Turn Lawn Mowers
| Image | Title | Prime | Buy |
| --- | --- | --- | --- |
| Top | Husqvarna Z254 54 in. 26 HP Kohler Hydrostatic Zero Turn Riding Mower | Prime | Check Price on Amazon |
| Top | Husqvarna MZ61 61 in. 27 HP Briggs & Stratton Hydrostatic Zero Turn Riding Mower | Prime | Check Price on Amazon |
| Top | Husqvarna Z248F 48 in. 21.5 HP Kawasaki Hydrostatic Zero Turn Riding Mower | Prime | Check Price on Amazon |
Let's go through them one by one…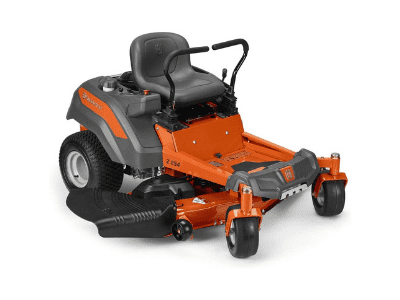 Prices pulled from the Amazon Product Advertising API on:
Product prices and availability are accurate as of the date/time indicated and are subject to change. Any price and availability information displayed on [relevant Amazon Site(s), as applicable] at the time of purchase will apply to the purchase of this product.
Husqvarna continues to live up to its reputation…
…as one of the most trusted lawn mower manufacturers with the Z254 zero-turn mower.
The model is powered by a 26-horsepower Kohler engine.
Its top speed is 6.5 miles per hour, which isn't the fastest for a zero-turn mower…
…but is enough to mow a typical lawn quickly. 
Besides the top-quality engine, Husqvarna also offered the following special features:
Its patented park brake automatically activates or deactivates when you move the lap bars inward or outward. A clean cut is guaranteed with their air induction technology in the mower deck.
The Z254 can dispose of grass clippings through mulching, bagging, or discharge, but you will need to purchase a mulching kit and bagger separately. 
But what's the best part? These premium features are available at an affordable mid-range price.
You won't find a better zero-turn mower for residential use at a better price than the Husqvarna Z254. 
Specifications:
Power: 26 horsepower
Cutting width: 54 inches
Fuel capacity: 5 gallons
Max speed: 6.5 mph
Pros:
Strong Kohler engine with hydrostatic transmission
Special technologies from Husqvarna for improved performance
Cons:
Slow for a zero-turn mower
Mulcher and bagger sold separately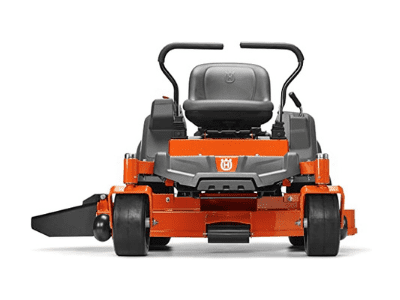 Again, Husqvarna cracks our top 3, this time with the MZ61 commercial-grade model.
Husqvarna's MZ61 has a wide cutting deck and a powerful Briggs & Stratton engine.
The Husqvarna MZ61 offers a high-back seat, armrests, and vibration dampeners.
The mower should allow you to work comfortably for hours on end.
It also has a hydrostatic transmission for easier starting like other Husqvarna mowers. 
Like its Husqvarna cousins, this mower will discharge, bag, or mulch grass clippings…
…but the bagging and mulching attachments must be purchased separately. 
Specifications:
Power: 27 horsepower
Cutting width: 61 inches
Fuel capacity: 5 gallons
Max speed: 8.5 mph 
Pros:
A Briggs & Stratton engine with a hydrostatic transmission
Large cutting width
Comfortable design
Cons:
Expensive
Mulcher and bagger sold separately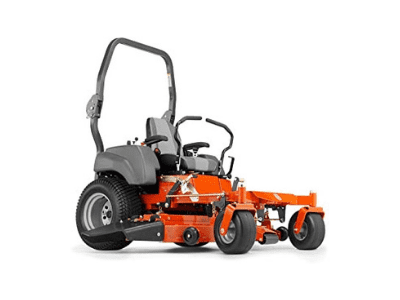 Husqvarna sells this model in the same Z200 series that we picked as our top pick.
Therefore, it features the same 26 HP Kohler V-twin engine and hydrostatic, easy-starting transmission.
The maximum speed is 6.5 miles per hour for both models. 
With a 48-inch deck and 3.5-gallon tank, the Z248F is a smaller model.
If you have a small yard and limited storage space, you may want to choose the Z248F over the Z254. 
The price, however, is one disadvantage of the Z248F.
Specifications:
Power: 26 horsepower
Cutting width: 48 inches
Fuel capacity: 3.5 gallons
Max speed: 6.5 mph
Pros:
Hydrostatic transmission with a reliable Kohler engine
Takes up less storage space
Cons:
Small cutting width
Small fuel tank
Slow for a zero-turn mower 
Perhaps you are wondering…
What to Consider When Choosing the Best Husqvarna Zero-Turn Mower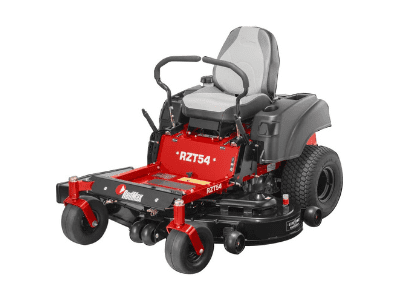 For your mowing needs, consider these important product features before making a purchase.
Yard Size and Ground Type
The size and type of terrain you will mow should be taken into consideration first.
Residential zero turn mowers are not designed to mow on rough terrain or on slopes greater than 15 degrees. They are also not designed for daily use and will wear out faster than commercial zero turn mowers if they are used the same way. Mowers like this are intended for yards between 1/3 acre and 4 acres.
The commercial zero turn mower is better suited for steep slopes and rough terrain; however, a lawn tractor is better suited for very rough terrain. Commercial zero turn mowers are also more durable and powerful, designed for repeated daily use. If you frequently mow multiple large yards or if the yard exceeds 4 acres in size, use this style of mower.
Gas vs. Electric
Although gas-powered zero turn mowers are more popular…
…recent technological advances have led to electric-powered zero turn mowers…
…that are an excellent alternative for smaller yards.
Gas-powered zero turn mowers are more common than electric zero turn mowers so their price range is wider. Gas-powered mowers are more powerful, but they also weigh more and require more frequent gas refills.
Electric-powered zero turn mowers are a relatively new innovation, and they are typically priced the same as midrange gas-powered zero turn mowers. Electric zero-turn mowers are not as powerful as commercial gas mowers, but they have a similar power output to mid-range residential gas mowers. Having an electric mower means you will never have to pay for gas – all you need to do is keep your batteries charged.
Keep reading…
Horsepower 
The horsepower (HP) of a zero-turn mower engine can range from as low as 10 HP to as high as 25 HP.
Small yards with relatively flat terrain are ideal for zero-turn mowers powered by 10 to 20 horsepower. This amount of horsepower is sufficient for one or two acres, but it isn't the best option for multiple properties. This is the case with most residential mowers.
In the residential mower category, 20 to 25 HP zero turn mowers are an excellent mid-range option. If the terrain is not too rough and inclines do not exceed 15 degrees, these mowers can handle larger yards up to 3 acres.
Commercial mowers are almost exclusively 25 HP and higher zero-turn mowers. Powerful machines like these are designed for regular, repeated work on very large plots of land, like a golf course or a large yard.
Fuel Tank Capacity 
A gas-powered zero turn mower's fuel tank capacity is an essential factor to consider.
If you run out of fuel before you finish the job, it won't matter how fast or powerful the mower is.
Choose a zero-turn mower with a 4-gallon tank or more for plots of land that are 5 acres or larger.
If you will use the zero turn mower for 4 acres or less, you can use a 3-gallon fuel tank.
You can mow your entire lawn without having to stop and refuel if your mower has a 2-gallon fuel tank.
"If your mower has a large fuel capacity, you'll be able to mow for a long time without refueling. If your mower has a small fuel capacity, though, you could potentially run out of gas in the middle of long jobs." 

Jordan Ardoin, Writer at Lawn Starter
Single Cylinder vs. Twin Cylinder Engines
Zero-turn mowers can be powered by a single-cylinder engine or a twin-cylinder engine.
The single-cylinder engine uses less fuel, but it can be very loud because of its increased vibration sensitivity. A zero turn mower with a single-cylinder engine, however, is more affordable and may be sufficient if you are only mowing once a week.
The twin-cylinder engine is better for frequent mowing since it is more fuel efficient and durable than a single-cylinder engine. This type of zero turn mower greatly reduces vibration, but it is more expensive.
Go on…
Cutting Deck
A zero-turn mower's cutting deck is the covered area where the blades rotate to cut the grass.
From a small 32-inch cutting deck that is appropriate for yards less than 3 acres in size…
…to a wide 61-inch cutting deck for golf courses or yards larger than 3 acres in size, the size of this deck can vary.
It may seem like the best option to purchase the largest deck size possible…
…within your budget to mow as quickly as possible, but this may be counterproductive.
Think about whether you have obstacles in your yard…
…that would make moving around or between them difficult.
In this case, you would be better off with a smaller deck that can maneuver around objects in your yard.
Battery Life and Runtime
Battery life and runtime are only applicable to electric zero turn mowers…
…and even then they are affected by many other factors.
The age of the mower, how it is driven, the type of terrain it is used on…
…the treads of the tire for ground grip strength…
…and the weight of the zero turn mower can all affect how long the battery lasts.
A battery's power is typically expressed in ampere hours (aH), with a typical range of 75 aH to 100 aH.
On one charge, 75 aH batteries can mow a yard that is less than 2 acres…
…while 100 aH batteries can mow up to 3 acres.
Consider investing in more than one battery if you have a large yard or multiple yards to mow.
Seating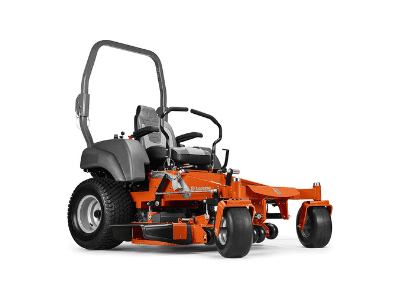 You should remember when looking for a new zero turn mower that you will be sitting on it for a long time…
…so the seat should be comfortable enough for you to ride the mower for a long time.
A generously padded seat cushion and a high backrest can reduce operator fatigue.
Also, consider a mower that has cushioned armrests and an adjustable seat…
…so you can move the seat forward or backward.
You will be able to reach the levers comfortably regardless of your height.
Controls 
In most cases, a zero turn mower does not have a foot pedal.
Instead, you have two levers that provide power to the drive wheels…
…when you push them forward (away from the driver).
On the right side of the mower, one lever controls the drive wheel.
On the left side, the other lever controls the drive wheel.
Although there are no significant differences between the controls on zero-turn mower models…
…look for a product that has soft, ergonomic padding to help reduce hand fatigue.
Using this padding will also allow you to grip the levers even when your hands become sweaty working in the hot sun.
Tires
Any vehicle or wheeled machine has tires designed to guide the movement of the object.
A zero turn mower's drive wheels propel the mower forward, as well as allowing you to turn effectively.
Zero-turn mowers have air-filled tires similar to those found on go-karts.
Think about the type of terrain you have and the amount of rain that falls in your area.
In case your zero turn mower will need to operate on very wet grass…
…or rough terrain, you might consider a product with deep treads;
…this additional traction allows you to accelerate and turn without issue, even in poor conditions.
Weight 
When you are looking for the best zero turn mower, you must also consider the weight of the mower.
Fuel-efficient lightweight zero turn mowers may not have enough power…
…to effectively complete the job if you have a very large yard or several yards to mow in a day.
The lighter zero turn mowers are also more difficult to control on rough, wet…
…or sloping terrains since they do not grip the ground as well as heavier zero turn mowers.
A heavyweight zero-turn mower typically belongs to the commercial, gas-powered mower category.
Mowers in this category cost a lot of money to operate and are expensive to fuel.
Although heavier zero-turn mowers are less fuel- and battery-efficient, they are more powerful and easier to control.
Safety
These mowers are large and powerful machines with the potential to be very dangerous.
Due to this, many manufacturers include specific safety features…
…such as parking brakes, headlights, and automatic shutdown.
For mowing sloping land, parking brakes are an essential safety feature. A simple addition to your zero turn mower can protect you if you have to get off for any reason while cutting.
Since you typically mow the lawn during daylight hours, headlights are more of an added feature than a safety feature. When the sun has set and you still have 30 minutes of mowing to do, these headlights will allow you to finish the job while ensuring you see clearly.
It is equipped with an automatic shutdown feature designed to turn off the mower when the driver is no longer seated. When you leave the mower to move an obstacle out of the way or if you accidentally fall off while mowing, this safety feature prevents it from continuing to run.
Sum Up!
Zero-turn mowers are designed to maneuver in a way that more traditional riding mowers cannot…
…using the lever to turn the mower on a zero-degree turn radius.
By turning in a full circle within its own footprint, a zero turn mower can ensure…
…that you don't miss patches of grass due to a large turn radius.
Your yard's size, incline, and landscaping will determine what zero turn mower is best for you.
It is best to consider a residential zero-turn mower if you have a yard that is at least 1/3 acre in size…
…while you would only need a commercial zero-turn mower if you have a very large yard. 
Conclusion
Grass cutting becomes much more enjoyable when you use a zero-turn lawn mower.
However, zero-turn mowers aren't only more fun. They're also faster and have more maneuverability.
Any of our three top picks would be an excellent choice…
…if you decide a zero-turn lawn mower is worth the extra money.